Rev. Joel Rivera, MSc, BHM
My goal is to provide you with a ceremony you will always remember! I am located in Vancouver and am passionate about people and my work, (both in my professional career and with the Church), which showcases my excitement to put my clients and team needs top of mind. People describe me as: engaging, approachable, and enthusiastic! As an Ordained Minister with Clergy Memorial Support Church, I will work with you to ensure that you will enjoy and cherish your wedding ceremony. I especially love inspirational, cultural and LGBTQ2S+ weddings and would be honoured to conduct your English and/or Tagalog ceremony. Regardless of the ceremony style, know that it's about the couple…understanding them and exceeding their expectations. I'm a proud Canadian having visited and/or lived in all 10 provinces and three territories of our amazing country. In my spare time, you will likely find me out and about on the seawall or experimenting in the kitchen. I also enjoy camping, hiking and trying to play tennis.
Request Joel Rivera
Areas Served
Burnaby, Coquitlam, Delta, Langley, Maple Ridge, New Westminster, Port Coquitlam, Port Moody, Richmond, Surrey, Vancouver, West Vancouver, North Vancouver, White Rock
Reviews
Minjeong & Thomas
We loved having Joel Rivera as the officiant for our wedding. His help in leading us through the process was invaluable, both in preparation and on the day itself. He made it easy to collaborate in creating a ceremony that was right for us and was ready and willing to go the extra mile in speaking a few phrases of Korean for the benefit of the bride's family, something that was much appreciated. We always felt in good hands and the day itself went smoothly with many guests commenting on how well-orchestrated the ceremony and proceedings were. We would definitely recommend Joel to anyone looking for a collaborative, warm and friendly officiant for their big day. October 2022
Helen & Bojan
Joel Rivera was a pleasure to deal with from the beginning of our contact and offered great support and guidance through out the process leading up to our special day. We would recommend his services to our closest friends or family that are looking for an officiant for their wedding. The ceremony was just like we imagined, and Joel's professionalism and energy throughout; nicely complemented the experience. Thank you for everything! Oct 2022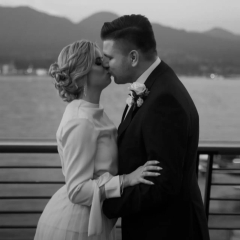 Jena & Geordon
Joel Rivera was so nice to work with. He was fun, friendly, punctual, and truly made our little ceremony so special. He was even thoughtful enough to step away to announce our first kiss so we could get some nice pictures with just the two of us. Thank you for everything Joel!! Oct 2022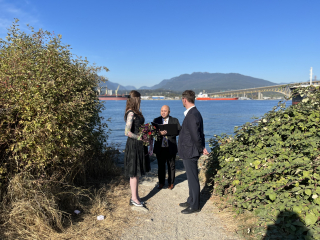 Brian & Kirby
Joel Rivera was so easy to work with and was such a big help with everything. From the dress rehearsal and his suggestions for the setup to day of helping the groom and groomsmen with their boutonnieres. He was so knowledgeable and reassuring he completely calmed down any nervousness we had and made our day absolutely amazing! Thank you so much Joel!!! Sept 2022
Deepakshi & Artun
Joel Rivera officiating our ceremony made our wedding day truly special. We feel so happy having him officiate our wedding. Joel is extremely friendly, cheerful, accommodating, personable and punctual. We did a very small celebration in our family friend's backyard and even though it was his first time meeting us, Joel just fit right in. A lot of our family thought that we knew him already and was our close friend. Before the wedding, he was very kind to do 2 zoom calls with us and get the script and vows ready for the ceremony. Joel is exceptionally organized offering us a template to work with that we could change and make it the way we wanted it. He also gave us awesome tips to make the day memorable for both of us. Most importantly, he officiated our ceremony so beautifully, keeping it full of joy and love. We would highly recommend him to anyone as he made our day truly special and memorable. Aug 2022
Miguel & Emma
Joel Rivera was more than helpful from helping us to write vows to planning the perfect ceremony itself. He was supportive and patient and made us feel very special and culturally understood at our Filipino wedding. During the rehearsal, he had a commanding presence and his experience with weddings shone through. He was assertive, yet warm. He even wore a barong tagalog (national dress of the Philippines) for the ceremony! Everyone loved Joel! He worked so well with our other vendors and they all loved him as well. August 2022
Kristin & Terrence
Thank you Joel Rivera for being such a special part of our amazing day. You were so great to work with through the whole process, your level of detail and communication was so impressive and thoughtful making sure that all the little details were covered or considered. Even going so far as to ask what the groom was wearing so he wouldn't clash. It was truly a pleasure working with you and on the day you were so perfect for our intimate ceremony. We would 100% recommend you. Aug 2022
Aaron & Katya
Joel Rivera EXCEEDED all my expectations. He went above and beyond for us. He was super friendly, positive and upbeat. We cannot say enough good things about Joel! July 2022
Adam & Caroline
We absolutely loved Joel as our officiant, he was punctual, professional, but at the same time silly and fun! Thank you so much for being apart of our special day. July 2022
Otto & Drex
Joel Rivera is very organized and friendly to deal with. Aug 2022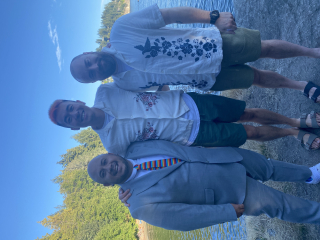 Lily & James
Joel Rivera is the perfect officiant! He is so welcoming, charming and knowledgeable, helping us feel assured throughout the whole process. He was personable throughout our consultations and meetings and was able to come help us out during our rehearsal despite the very short notice. When it came to the day, there were some hiccups with guests, but Joel was there the whole way to comfort everyone's nerves, entertain the guests and make sure that the whole ceremony ran smoothly. I'm confident when I say that having Joel with us made the day that much more special. June 2022
Valentina & Luis
Joel Rivera was amazing ! He is Very polite and friendly and was early to the ceremony. He guide us thru the process and steps really well and made everything feel really easy and quick. We were live-streaming the ceremony to our family and friends in Mexico and he was really patient with all of our antics. Thank you Joel ! You really made us feel comfortable during the ceremony and vows, we were really nervous. Ps. He carries tissues too if you are a teary bride like me. July 2022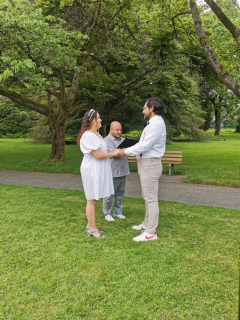 Matthew & Jesamin
Joel [Rivera] went above and beyond to make sure our special day ran smoothly. He's personable, organized, and dependable. We loved all the personal touches and cultural elements that were incorporated in our ceremony. Joel was great to work with. June 2022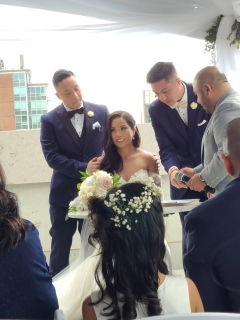 Janvier & Violeta
Joel Rivera made our day! He intently listened to our love story, taking note of how we envisioned our wedding day. Based on his experience he then helped us craft the perfect ceremony. It was heartfelt, emotive, fun and most importantly, he ensured our loved ones also felt part of our ceremony. Gracias Joel!!! Violeta and I really enjoyed the whole process with you, culminating on "It's official!" June 2022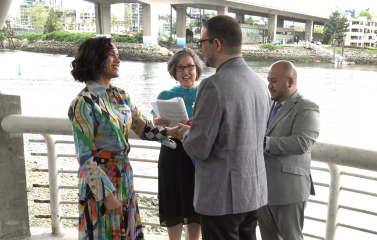 Antonio & Lanin
Joel Rivera was fantastic! It was a pleasure to have him as our officiant. April 2022
Valerie & Matthew
We had a fantastic experience with All Seasons weddings and with Joel, who was very friendly and responsive and really made our ceremony special. We would highly recommend him to other couples. October 2021
Joanna & Rith
We were so lucky to have found Joel Rivera to be part of our special day! We wanted something simple for our ceremony and Joel did just that. From the beginning, he made sure we were fully prepared to guide us through from the ceremony to the paperwork. We definitely recommend Joel and look forward to using him again in the future for our bigger wedding celebration! April 2022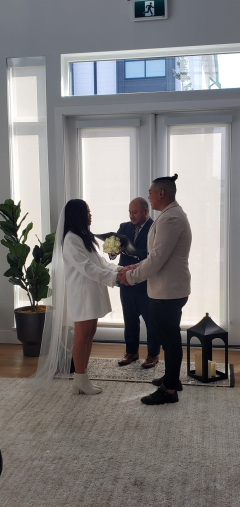 Caro & Alexander
Joel Rivera was incredible to work with. Would highly recommend him to others! Jan 2022
Abril & Matthew
We really liked Joel Riviera. He was very helpful in explaining everything to us for our wedding and made us feel so comfortable. We highly recommend him! Feb 2022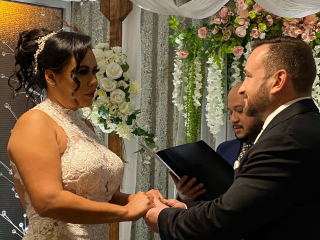 Amie & Antonio
Mr Joel Rivera is very approachable, he gave us time, offered options and advice in order to make our ceremony perfect. We are so thankful that after canceling our wedding date (twice) because of restrictions that the 3rd time it finally happened ??? Thank you so much to All Seasons Weddings for always responding every time I called or emailed them. Highly recommended!! Feb 2022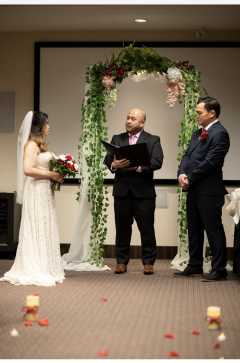 Caro & Alex
Joel Rivera was fantastic to work with. Friendly, considerate, communicative...and most of all, he put us completely at ease! It was a joy to work with him to personalize our ceremony. We highly recommend him to anyone looking for an officiant. Thanks again for making our wedding day so special, Joel! Jan 2022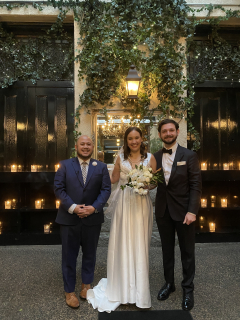 Tracey & Adam
Joel Rivera was a rockstar. He was punctual, light-hearted and very professional. We had a small gathering in a hotel suite the night before, to marry before the ceremony. We asked if we could keep it light, short, simple and sweet and he definitely delivered above our expectations We found him from the videos on his social media, and he looks amazing and would highly recommend him for a full ceremony or just a quick service like ours. Tracey & Adam August 2021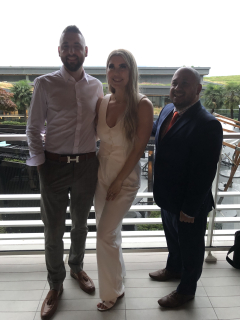 Fae & Brian
Joel Rivera was an exceptional professional at his job. He did a really good job at preparing us for the ceremony. From day 1 when we had our zoom meeting with him, we knew we wanted him as our officiant. Joel is very outgoing and friendly and we couldn't have asked for a better officiant. We definitely recommend his services for any future couples wanting to get married. Fae & Brian September 2021
Karel & Deborah
Joel Rivera was fun, easy-going and wonderful! He met with us several times via zoom before the wedding, gave ceremony ideas and arrived early to help if need be. Thanks Joel!! Karel & Deborah July 2021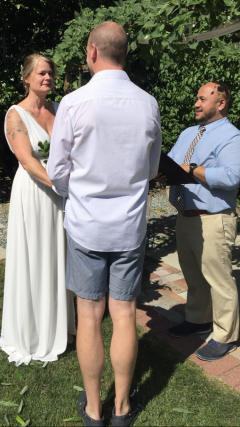 Ronald & Marnie
Joel Rivera was awesome through this whole process. Organizing a wedding during the pandemic can be strenuous in itself but Joel was there to assist and support. He helped us with out scripts and guided us before and during our special day. He speaks our mother tongue too which is Tagalog. Thanks again Joel for everything. You have one of the best and exciting jobs. You not only make the love official but you get to witness everything as it unfolds. Thank you and may you assist more Bride and Grooms in the future :) . Ronald & Marnie
Luke & Cassandra
Joel Rivera was amazing. He was super helpful the whole time leading up to the wedding and on the day he was there early helping out with all the small things while we scrambled to get ready. He even helped us both format our vows so that they were perfect His ceremony was amazing and we are so happy we went with Joel to be our officiant. Luke & Cassandra June 2021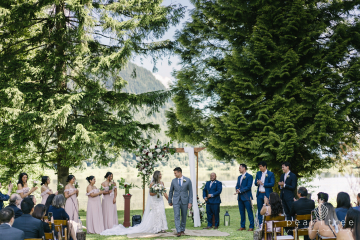 Renz & Rio
Joel Rivera was very accommodating to us, from planning our ceremony until the day of our wedding. We love his sense of humor and his personality. We definitely would recommend him as he helped/pretty much did everything for us. 5 star. Thumbs up!! Renz and Rio March 2021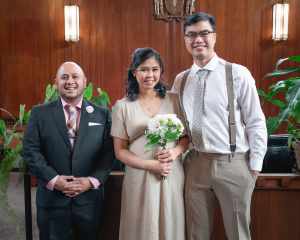 Kevin & Denise
Joel Rivera was very kind, friendly, funny and easy going. He brought such positive energy to our ceremony. Joel was very helpful and informative. From customizing our ceremony and vows to even directing us as we walked down the aisle. He was always very helpful and responded quickly to any questions we had. Joel was very patient with us and he was very organized- he even had a small pack of Kleenex tucked in his binder just in case we needed it during the ceremony! Joel's services are unparalleled and we would recommend him to anyone looking for an officiant! Kevin & Denise May 2021
Harry & Taryn
Joel Rivera was personable and reassuring from the first step of planning all the way through and beyond the ceremony. His warm and upbeat energy during our planning meeting made us comfortable and allowed us to really appreciate the moments we were planning. Joel was very professional and light-hearted in his delivery of the ceremony and did a fantastic job of helping make our big day a huge success. Thank you, Joel! Harry & Taryn November 2020
Matthew & Stacy
Joel Rivera was perfect and exactly what we wanted. He was a great help with everything from preparation for the big day, including help with the vows, as well as the legal side of marriage. He was funny, charismatic and was very well received by our family watching on Zoom. He even came prepared with a small usb mic to help with the sound on the Zoom call. He even handled our energetic dog Eddie very well. Literally no complaints about Joel, he went above and beyond expectations and we would highly recommend him to other couples getting married. Matthew & Stacy Nov 2020
Natani & Andriy
Joel Rivera was wonderful!! He really fit in with our vibe and understood exactly what kind of ceremony we wanted! Thank you Joel for making our ceremony the happiest memorable moments of our lives! Natani & Andriy Aug 2020
Leonna & Jandell
Joel Rivera is very kind and we are so happy we had him as our officiant. He really helped us out in making the ceremony the way we wanted. He is very likeable and made sure that everything was going well. We definitely recommend him to anyone. Leonna & Jandell September 2020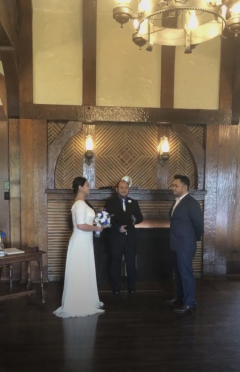 Iryna & Norbert
The booking was easy and the response was received very promptly. The deposit was completed over the phone and customer service was top-notch, the person on the other side was very polite, happy to help and congratulate us for our big day. Our Wedding Officiant, Joel Rivera, was more than we could have hoped for. Extremely attentive to every detail and knowledgeable in every aspect! Highly recommend!! Would use them again... ohhh wait... you only get married once :) this is it for me :) Iryna & Norbert Sept 2020
Natalie & Elliot
Joel Rivera was so incredibly kind, helpful, supportive, and knowledgable throughout both the lead-up to, and during our ceremony. Because we married during the pandemic, our original contact was through multiple emails and a phonecall where he answered all our questions and setup a checklist of tasks for us to complete. We were completely clueless about the process prior to speaking with him, and he took the time to explain all the steps, and then also checked in with us to ensure they were completed in a timely manner. Because we were actually being quarantined for two weeks (we had arrived from out of country to marry in our hometown Vancouver), Joel also checked in with us multiple times to see if we needed help with anything since we couldn't leave our houses. On the day of our ceremony (at a public park), he arrived early and helped setup by making sure the location was free of other people. Joel had prepared our wedding ceremony script in a bound portfolio for us to all read from, which was a very nice touch (better than the cue cards I was planning to use). He was so polite and well-spoken during the ceremony, but also personable and jovial, making our ceremony feel very intimate as if we were just conversing with an old friend. The parents and grandparents all loved him as he socialized with the crowd very naturally (and also very important - he speaks loudly and clearly they could all hear him, including our hearing-impaired grandmother!). Joel made everything easy in a time of many unknowns, and we 100% recommend him! Natalie & Elliot Aug 2020
Christopher & Aisa
The staff at All Seasons was very friendly and helpful, they were super flexible in helping us change dates and venues many times due to COVID restrictions. Our officiant Joel Rivera went above and beyond to make our ceremony a very special one. Joel helped us with a lot of details Like the writing of our vows. He even brought a tripod and a microphone to help us stream our ceremony trough zoom. I would absolutely recommend Joel if you want to make your wedding ceremony an unforgettable one. Christopher & Aisa July 2020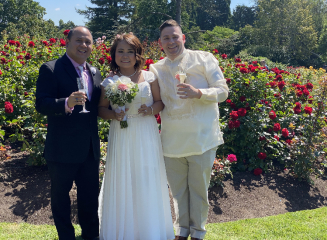 Allen & Gregory
Joel Rivera was great to work with. He was very professional, personable and went above and beyond what we asked. He was very helpful, detail orientated and was flexible with all our changes. I would highly recommend him and it was a pleasure having him be apart of our special day. Allen & Gregory July 2020
Kristen & Robert
Joel Rivera was amazing! He made everyone at the wedding feel comfortable. He was very personable! Kristen & Robert May 2020
Matthew & Stacy
Joel Rivera went above and beyond! Matthew and Stacy November 2020
Julius & Angel
Joel Rivera was soooo very kind to the point he's the one who always adjusting for us (what i want) Thank you for making our day perfect! Julius & Angel December 2020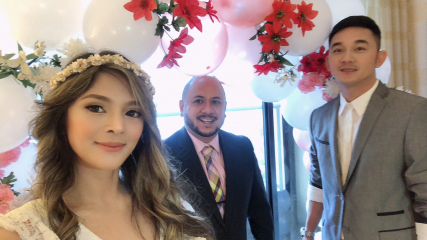 Everett & Cathy
Joel Rivera exceeded our expectations. He was informative, yet fun and made us feel at ease with the whole process. His step-by-step process of writing our vows was very helpful! Everett & Cathy August 2020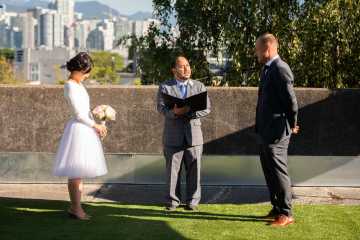 Sharlene & Ron
It was such a joy to work with Joel (Rivera) on our ceremony. The moment we met Joel we instantly felt comfortable with him -- he felt like family! Throughout the process, Joel guided us with such detail and professionalism that we trusted him completely to give us the ceremony we wanted. We asked for some custom traditional Filipino elements that he incorporated so seamlessly. Due to COVID, we had to reschedule our wedding and we had no doubt we wanted to continue to work with Joel. He accepted our change in plans with enthusiasm. On our wedding day, the ceremony went off without a hitch. I heard from family that Joel even stepped in to help out with some of the reception decor before the start of the ceremony! Our family also said they enjoyed some of the light-hearted moments and jokes he infused in our ceremony. We are so grateful we got to work with Joel. We highly recommend him! Sharlene & Ron, August 2020
Cassy & Tommy
Joel (Rivera) was amazing! His experience, organization and his fun and relaxed personality made us feel like we were in great hands. Everything went so smoothly and Joel really did such a great job at making us feel at ease from the start. He was accommodating with all our changes and his check-in emails really helped us to make sure we were staying on track. We unfortunately did not get to spend too much time time with him before or after the ceremony as we were so busy but our guests were really impressed by Joel's friendliness and professionalism. Weddings are a lot and there are so many things to worry about but definitely not with Joel! It was one of the easiest and best decisions we made! Cassy & Tommy, August 2020
Eman & Pantea
Thank you very much for sending Joel over to us as the marriage commissioner. He was a fantastic guy and had a very nice demeanor. I just wanted you to know that we had a very pleasant time with him. All the best Eman & Pantea
Stephen & Julie
We couldn't have been happier with Joel Rivera as our wedding officiant. From the very beginning of our planning process, Joel helped us work through how we wanted our ceremony to go, step by step. Joel was always great to talk to and seemed genuinely interested in helping us plan a ceremony that worked for us. One thing we really appreciated was his way of asking each of us questions separately in order to help us write our vows. It helped make our vows both heartfelt and uplifting, and made that part of the ceremony so much less stressful for both of us. We'd highly recommend Joel to anyone looking for an officiant for their wedding! Stephen & Julie August 2019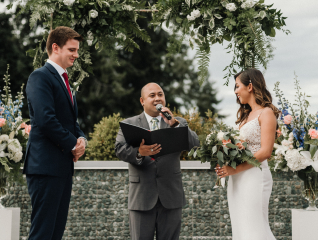 Daniyar & Nurgul
Joel Rivera was our wedding officiant and we absolutely loved him. Everything was so easy from the beginning till the end. He had answered all the questions and he always responded within reasonable time. The way he performed was very lovely. If you are looking for the officiant ,we recommend Joel Rivera ! Daniyar & Nurgul September 2019
Andrew & Alison
Joel Rivera was great. We received feedback from the guests that they truly enjoyed his service. We were thrilled with the service ourselves and will recommend him in future. Andrew & Alison November 2019
Tim & Joy
Joel Rivera was a pleasure to work with. He was immediately likable, professional, helpful and had numerous suggestions on how to make our day perfect. Joel reassured us that everything was going to work out perfectly and put us at ease. Thank you for everything ! Tim & Joy October 2019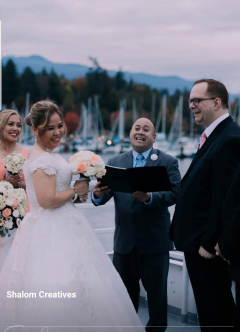 Marc & Joelle
We used Joel Rivera as are officiant and words cannot express how happy we were with him. If you are looking for an energetic, respectful, encouraging, organized individual then Joel is your guy. He helped us write our vows, was extremely accommodating and easy-going and managed our crazy family members and wedding party so well, and he was loved by all of our guests. You could tell he was sincerely happy for us. We honestly cannot say enough good things about him. Marc & Joelle October 2019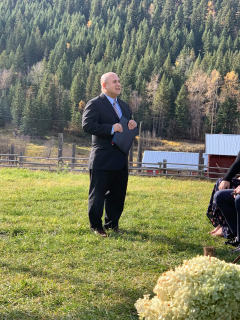 Monica & Joshua
Joel Rivera was able to provide us with a personalized, beautiful ceremony with almost less than 24 hrs notice. He was professional, friendly, easy to communicate with and made us feel at ease. Would definitely recommend him to anyone. Monica & Joshua Oct 2019
Tim & Joy
The company responded promptly and professionally. Our officiant Joel Rivera was great to work with; very friendly helpful, and calming. We even discovered a personal connection through our past histories that made things even better. He seemed genuinely excited to see us married and ensure the perfect day. Thank you Joel. Tim & Joy October 2019
Alexis & Laura
Many thanks to Joel Rivera for making our wedding perfect and taking the time to meet our Friends and family .Joel made everybody feels so relaxed and comfortable. His charm made the ceremony exceed our expectations. There was so much love and happiness around as well! Joel directed the ceremony as we requested :) MANY THANKS JOEL. Alexis & Laura September 2019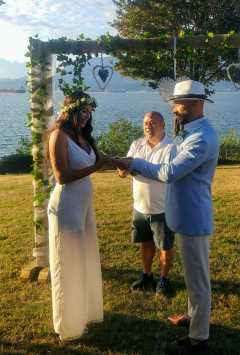 Trevor & Mary
Joel Rivera was a consummate professional throughout the entire process. His communication was clear, and the ceremony was wonderful. His conduct was such that we were comfortable, and excited to be married. We couldn't have asked for anything - or anyone - better. We would recommend Joel without any reservations whatsoever. Thank you Joel! Trevor & Mary August 2019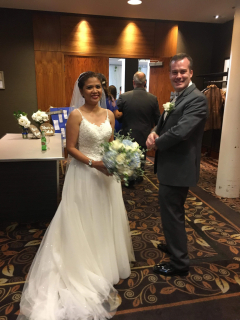 Ron & Ramon
Joel Rivera was very personable through out the process and articulated the ceremonial options available. On the wedding day, Joel was personable & confident which made us feel at ease. He is a polished Officiant that you can count on! Nice job Joel! Ron & Ramon August 2019
Kelvin & Carolyn
Joel Rivera was fantastic! He was prepared, during interviews and first meet up. He was straightforward but guided us to personalize the ceremony to the version we like and prefer. Definitely recommend Joel to anyone else getting married! Kelvin & Carolyn July 2019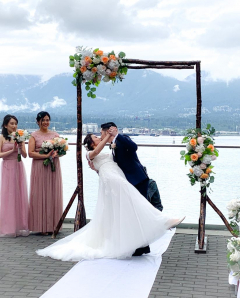 Sheldon and Hazel
Thanks for everything Joel Rivera . We had a fantastic day. It was amazing to see how it all finally came together . We are so glad we chose you to officiate our special day . Sheldon and Hazel June 2019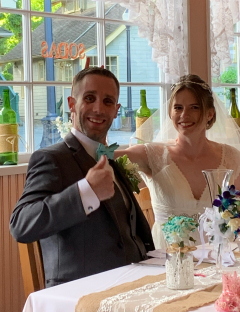 Chris & Jessica
Joel Rivera was absolutely fantastic! As soon as I spoke to him on the phone, I knew he would be the perfect choice for our wedding, and he 100% was. He was so easy to work with, genuine, funny, and organized. Thank you so much Joel for being you and for a great wedding for my husband and I! Chris & Jessica May 2019
Leo & Graham
Joel Rivera is such an amazing guy. Super friendly and beyond professional. Helped out in every way he could. From our first meeting to him helping us create our own vows, Joel was there helping in any way he could. I will be recommending him always. A big thank you to making our special day even more special. Leo & Graham March 2019
Jitin & Chirag
Just want to express how thankful we were to Joel Rivera for his services. He was so professional yet so friendly and everything was so perfect. We got so many appreciations and compliments from our family and friends for the ceremony. He made our marriage process so easy and stress-free. Coming from different cultural background and religion we were little skeptical about the whole ceremony but Joel made us so comfortable that we found it so easy as he explained to us about each process step by step. Everything was so detailed and he really did a great job. He just didn't make our wedding a memorable one but he also engaged himself with our guests and made everyone laugh and have a joyous experience. I highly recommend him as he did a wonderful job. Jitin & Chirag March 2019
Trevor & Jenna
We had Joel Rivera and he was phenomenal! He kept it short and sweet and was very funny and entertaining. His meeting with us ahead of time was very professional and engaging. We would definitely recommend him for future weddings. Trevor & Jenna Oct 2018
Jess and Loi
Joel Rivera was our officiant for our wedding that took place in August 2018! He was simply incredible! He was always prepared and made us feel at ease. He kindly walked us through everything so we were comfortable and; therefore, we felt like we were in good hands. Thanks to Joel, our wedding day unfolded smoothly. He made the ceremony fun and upbeat! Thank you so much. Jess and Loi
Anonymous
Joel Rivera did a great job. He is very open and friendly, professional and personable. Thank you for everything!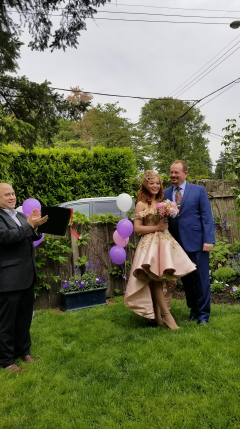 Kathira & Emmanuel
Joel was so thoughtful, professional and knowledgeable. We did not know anything about the legal part of the wedding. Thank god for Joel who educated us and kept in touch through the planning. Joel met up with us a couple times and was available anytime we needed him. He is very caring he called me a day before the wedding to see how we were doing. At the wedding Joel was a hit. Everyone loved him. He was funny and made the whole experience easy and simple which is what we were looking for. thank you Joel!! I recommend him to anyone who is getting married. You can not go wrong. August 2018.
Michelle & Jorge
Absolutely Amazing Officiant! Joel (Rivera) really helped to make our ceremony perfect. He is so much fun and is so charming and definitely eases your stress with his professionalism. He is a great communicator and always early to make sure that is the last thing you have to worry about. He also has great examples and really guides you through the process. We are beyond happy and I would recommend him to anyone who asks! Thank you Joel for everything we really appreciate it! Michelle & Jorge August 4th 2018
Linda & Keith Davies
Joel was very approachable and friendly when he approached both my husband and myself to witness the wedding of Klaus and Martina. We were both more than happy to do this and we told him he picked the perfect couple to do this. Although we just met the couple, we immediately connected with them. Tears were shed from both of us ladies. Joel was very professional and clear with his service. Although it was rainy, he was also well prepared to keep us dry with umbrellas. All and all it was a delightful service and a day we will always remember. Joel also followed through with emailing the pictures to us. I took most of the photos from his phone. Thanks for a wonderful experience.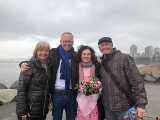 Yuki and John
Joel (Rivera) was awesome!! He took the time to chat with us on may occasions and made sure we were happy with how the ceremony was to play out. He really made our day! From the jokes to the personalized vows, our wedding wouldn't have been as fun without his help. Totally recommend his service :) from Yuki
Natalie & Edward
Joel (Rivera) was so great to work with, and checked in with us often. He was always prepared and is personable, which helped put us at ease, and we felt taken care of. I loved that he had his own copy of our vows in his book, making our vows very seamless. Thank you so much Joel! We so enjoyed getting to know you! Natalie & Edward 08/13/17
Pauline and Colin
I would like to take the opportunity to comment on our marriage Officiant Joel Rivera. We were coming from the Middle East so many emails were sent with questions of what was required from us to get married in BC. Joel was amazing on all levels very professional helping us sort out all the arrangements and making us feel very much at ease with the requirements needed to obtaining a marriage licence to sorting out the perfect location. The day of the reception was a wonderful experience. Joel was friendly, it felt like we had know each other for years - not meeting for the first time. My guests really enjoyed spending time with him not feeling rushed in any way. He really made our time special in getting married in British Columbia. A perfect day and experience we would highly recommend him to anyone looking for the perfect marriage officiant.
Yuki and John
Joel (Rivera) stands out in a sea of officiants! He was kind and friendly, but most of all made the ceremony so personalized to the couple that you could tell it was personally written and not just pulled from a book. Joel held a beautiful and fun ceremony and if you want a non cookie cutter wedding he is your man!! - Taqueesha (wedding photographer) 04/22/17
Paulina & Michael
We were getting married on a boat, so we were looking for a simple, romantic & fun ceremony. It was a wonderful, unforgettable day. We have nothing but great things to say about Joel (Rivera), he was great! He made us both feel very comfortable and created a great atmosphere. Joel made our day exactly how we envisioned, we could not asked for any better. Thank you! Paulina & Michael
Roman
I had the pleasure of planning and coordinating my Sister-in-Law's wedding and having Joel Rivera Officiate the ceremony was definitely one of the high points. Joel was super easy to work with, brought humor and levity to the ceremony, appropriately assisted the bride and groom prior to and during the wedding ceremony and engaged with many of our guests. I would happily utilize Joel's services again and would gladly encourage others to do the same. Thanks Joel!!
Michelle and John
Having Joel (Rivera) was one of the best decisions we could have made for the wedding. He was great to deal with, made us feel so comfortable and prepared us completely for what we would expect for our big day! We highly recommend Joel for anyone looking to make have their ceremony feel as personal and special for the two of us as ours did!