Joe Bartello
Joe is a Brampton native but serves a wide area, bringing a wealth of life experience to his role as a wedding celebrant. He currently provides consulting and management services to hospitals and health-related institutions across Canada. As a long-term practitioner of transcendental meditation, Joe recognizes the thread that links all living beings. He would be honoured to be your officiant at your special wedding ceremony and welcomes the union of all couples. For a professional, caring, talented, popular wedding officiant, he is your man!
Request Joe Bartello
Areas Served
Alton, Acton, Belfountain, Bolton, Brampton, Caledon, Caledon East, Cheltenham, Forks of the Credit, Inglewood, Mississauga, Palgrave, Terra Cotta, Streetsville, Georgetown, Orangeville, Woodbridge, Concord, Vaughan, Kleinburg, Hockley Valley, Milton, Halton Hills, Oakville
Reviews
Terry & Catherine
Joe Bartello was very easy to contact and so very helpful when we had a few changes to be made. It was a totally terrific day for us, our family, and guests. We found the service Joe Bartello did for us was outstanding. He made us feel totally comfortable and was a trooper during the laughs our guests and ourselves got. Thank you Joe. We will forever remember you.. Thank you for making our special day so precious. With your help you took a lot of stress off of me and Terry. Aug 2023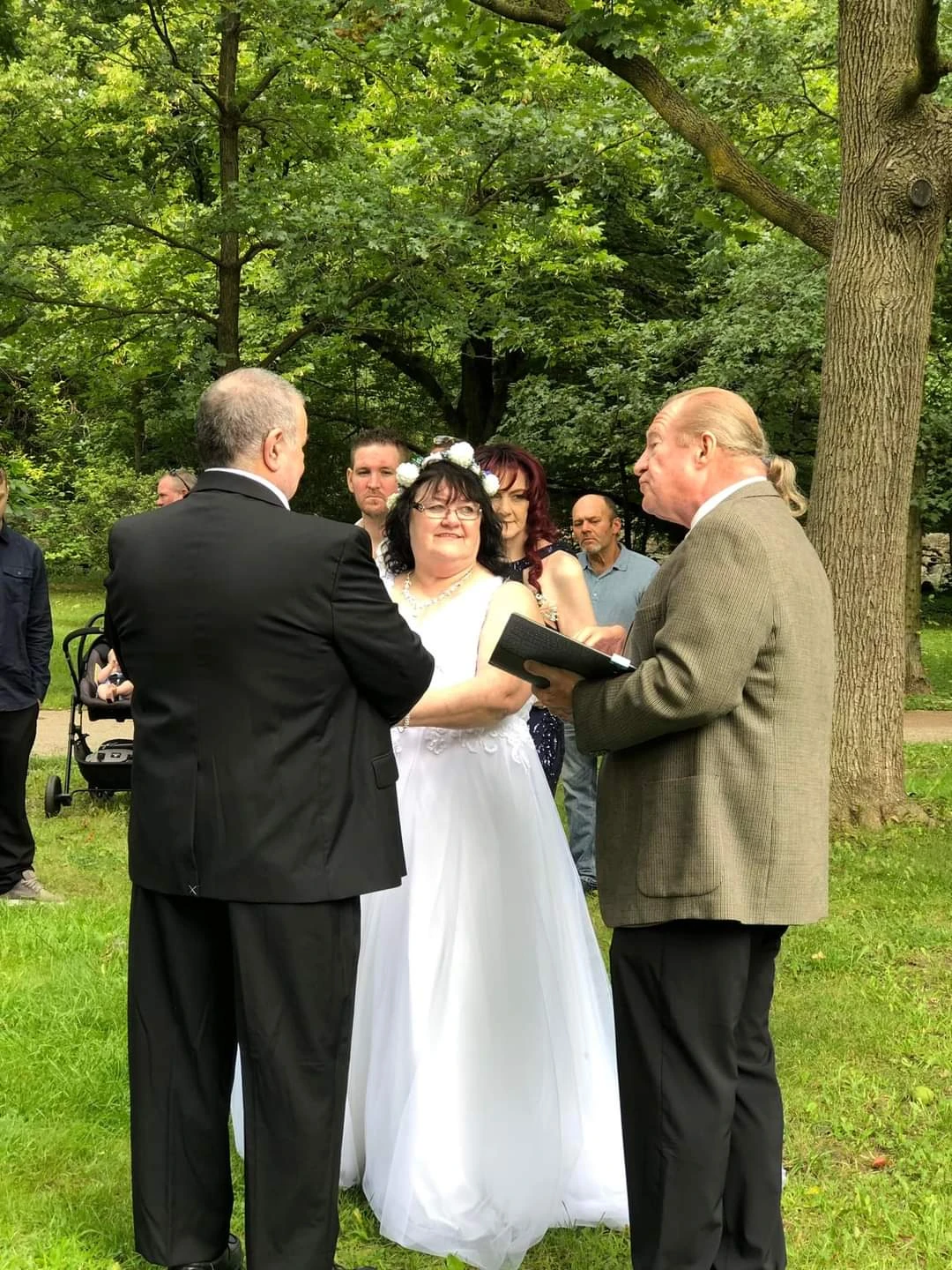 Credit: Granddaughter's boyfriend and guests.
Harry & Melanie
Joe [Bartello] was absolutely amazing, completely satisfied! Thanks for help making our day even more special. Jul 2023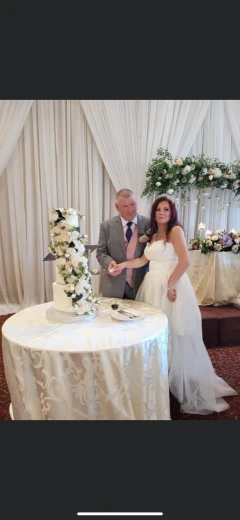 Credit: Ronnie Lee
Kim & Gina
Joe Bartello was very pleasant all my guest enjoyed him. May 2023
Vikramjot & Dolly
Joe Bartello is a very jolly person and has a great sense of humour. He has enlightened our small intimate ceremony with his presence. Our friends and family also liked him. Thanks All Seasons Wedding for sending him as our officiant. November 2022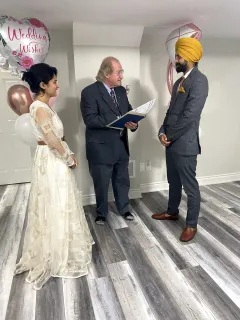 Todd & Ghazal
Joe Bartello was excellent. Before the wedding, our he communicated well via email and our in-person meeting was productive and really helped put us at ease. On the day of the wedding, he did exactly what he said he would and did so with a friendly but professional delivery. We received comments after the ceremony on how nicely he suited our wedding and how nice the marriage itself was. I'd love to attach a photo of the ceremony, but we asked for no cameras other than our photographer, and we don't have the official photos back, yet. October 2022
Alexandra & Connor
Joe Bartello was well prepared and knew exactly and did exactly what we were looking for! Joe is a top notch individual and my wife and I were beyond pleased with his service! Highly recommend. September 2022
Alison & Jon
Joe Bartello was the perfect officiant, highly recommended!! Thank you so much for the service!! September 2022
Shawn & Zarreen
Joe Bartello met and exceeded our expectations! Just a very lovey person with a calm and respectful personality. August 2022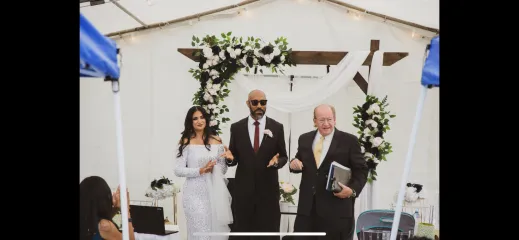 Kent & Amy
My husband and I were both very nervous to get through our vows without getting too emotional - plus we both are not comfortable with public speaking! Joe Bartello set us at ease the minute he walked in. He was so calm and kind and was able to guide us through the ceremony without issue. Joe spoke from the heart and we would highly recommend him! March 2022
Shivpreet & Parveen
Joe Bartello was the perfect Wedding Officiant for our wedding with all the Irish spiritual powers to this wedding. March 2022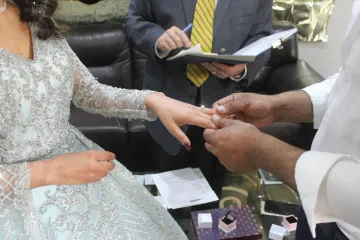 Kerul & Sahil
Joe Bartello was great and made our day even more memorable. He is awesome person. Nov 2021
Randy & Rose
Our wedding was everything we expected and more. Joe Bartello was an absolute delight. Randy & I were very pleased with your services and would highly recommend you. Thank you for your best wishes. Mr. & Mrs. Sept 2021
Nicholas & Jessica
Joe Bartello was fantastic. It was better then expected. Nicholas & Jessica February 2021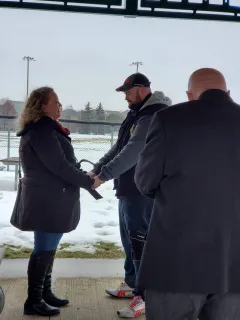 Ryan & Katrina
Joe Bartello was experienced, warm and personable - exactly what we wanted in an officiant! Planning (and re-planning) a wedding during a pandemic has had its challenges but our officiant was not one of them, thank you Joe! Ryan & Katrina October 2020
Otis & Andrea
Joe Bartello was perfect!!! Everyone loved him. Nothing but good things said about him from my guests. His jokes were enjoyed by everyone and had everyone laughing. Joe carries a happy and sweet energy with him, and I felt so comfortable and at ease with his presence. Joe's flow of the ceremony was smooth and flawless. I could not have picked a better officiant for us; he was a perfect fit. Thank you so much again Joe for being a part of our day. Otis & Andrea September 2020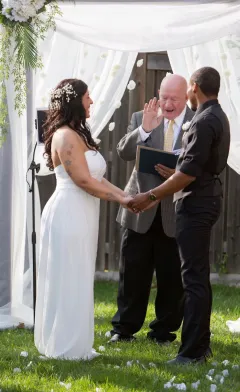 Christopher & Lindsay
After many years of referring clients to your company, there was NO WAY I was going to work with another vendor for my wedding. All my experiences (over 40 to date!) have always been positive with All Seasons! Joe Bartello was absolutely wonderful! We organized to say our own vows but for the rest of the verbiage for the ceremony, Joe took the reins and he was AWESOME! He is kind, mild mannered, has the most lovely, soothing voice and he speaks from the heart. We couldn't have asked for more :O) With absolute pleasure, I will continue to always recommend All Seasons to both my clients and any of my loved ones and colleagues. Christopher & Lindsay September 2020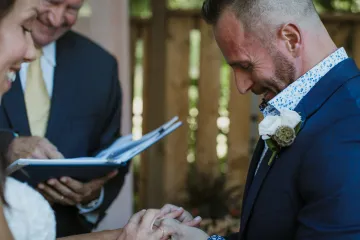 Domenic & Sandra
Friendly, professional...terrific service!! Joe Bartello was our officiant and did an absolutely amazing job! We were extremely happy with the service and would absolutely recommend Joe Bartello!!! Domenic & Sandra September 2020
Trisha
We want to thank Joe Bartello so much. He is just the most amazing person. He was friendly, kind and so passionate. We were so happy to have him! Thank you so much, Blake really loved him. Trisha Nov 2019
William & Mike
Joe Bartello was punctual, friendly and an excellent speaker for the ceremony! We would definitely refer you to any we know looking for an officiant as you made the process extremely easy and stress free. Thank you Joe you made our day perfect! William & Mike August 2019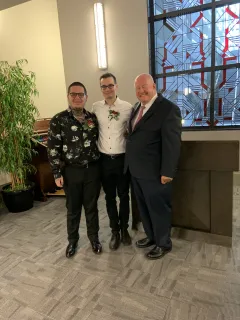 Roberta & Art
Joe Bartello was a pleasure to deal with, he arrived on time even with Friday afternoon rush hour challenges. He conducted himself in a professional manner but was still warm and friendly with a personal touch (loved the Irish prayer). We felt like he was an old friend we had known for years, Thank you Joe! Your reservations office was amazing and went above and beyond. I would definitely recommend All Seasons Weddings to anyone. [April, 2018]
Elyse & Francesco
Joe Bartello was awesome! He was super friendly, professional and made us feel at ease. Our ceremony was beautiful and our guests loved it as well. We still receive compliments! [April, 2018]
Wendy & Tony
All I can say is my wedding ceremony was the most moving, funny and amazing one I have ever experienced!! Joe Bartello was outstanding and all my guests (200 plus) are very pleased with his work. I'm definitely recommending your site and definitely recommending our officiant. Joe Bartello thanks for the bottom of our hearts for an amazing job!!
Marisol & Cosimo
Joe Bartello went above and beyond to make our ceremony as special as we both had imagined! His touch on adding an Irish poem was just the icing on the cake. The feedback from our guests was that our officiant did an outstanding job and was the best ceremony that many have been too!
Dawna & Matt
Joe Bartello was wonderful. He was funny at the right moments, thoughtful and endearing at the right moments and provided us with a wonderful ceremony.
Andrea & Ben
I can't say enough great things about Joe Bartello. Our ceremony was perfect. All our guests raved about it. It was definitely my favourite part of the whole day!
Lauren & Mark
Joe Bartello was wonderful!! He is such a lovely man, he really knew exactly what we were looking for in a ceremony and his gentle nature and sense of humor made our special day perfect! Everyone was very helpful and thorough.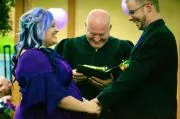 Meral & Thomas
Joe Bartello was very professional and friendly. We had no concerns or issues and made the planning more relaxing. Joe was friendly and helpful both in planning and the day of. He made us feel more relaxed and confident, and our family and friends really enjoyed him!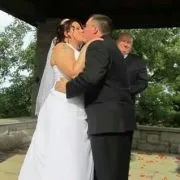 Loide
The wedding was great! Joe Bartello was wonderful, thank you for helping us have a wonderful day!!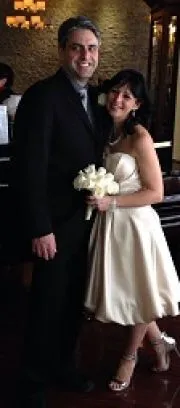 Richard and Cathy
Hello Mr Bartello! You performed our beautiful wedding ceremony. We really were touched at how involved you became during our ceremony. Right from looking sharp in your suit, to helping Richard pin his flower on his lapel.We received a lot of comments about how wonderful and personable you were. Above all, thank you very much once again for blessing our expecting baby, that really made me feel wonderful on our special day, she is already such a huge part of our lives.
Michael and Lindsay
Michael and I were a little hesitant about this on line service at first, but after meeting Joe Bartello we knew you would make sure things ran smoothly. Our wedding ceremony was heart warming, intimate and above all Personal. We received many compliments from our Guests about your performance. It is written all over your face, how sincere, caring and happy you truly were for us. We are very happy we used All Season's Weddings, and in turn found YOU to perform our wedding ceremony.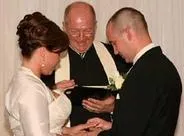 Jamie & Maria
Joe Bartello did an excellent job performing a ceremony that met and exceeded our expectations. He was able to create a ceremony for us that we will remember for years to come and that our guests truly enjoyed. Our meetings with Joe were such a pleasure and his kind and open personality made it so easy to talk to him. Thank you All seasons for all your assistance.
Michel & Zoe
Joe Bartello is a professional wedding officiant. He suggested great ideas for our wedding vows which we did use during the ceremony. He made us feel special and handled our wedding professionally. We like the fact that he wore a black gown. Thank you for recommending Joe as our marriage officiant.