Joan Godden, BA (Western)
As an Appointed Designated Minister with Clergy Support Memorial Church, it would be my pleasure to celebrate your life event and help create lifelong memories for both of you! I offer a wealth of experience and support in the Grey/Bruce region.I am a grandmother, musician, community volunteer and outdoor enthusiast. I care deeply about helping you create a perfect day with a very personal wedding ceremony that will become a treasured memory. Do you want a solemn and dignified ceremony with a variety of elements? Or something a little more relaxed and casual? Are you planning a full service wedding, an elopement, LGBTQ+, sacred, multi-cultural or a spiritual ceremony that tugs at your heart strings? I honour all traditions. Are you hoping for that perfect beach, garden, hall or cottage wedding? I offer you an atmosphere of patience, tolerance and good humour. Reach out to me knowing that you will be well cared for on your special day.
Request Joan Godden
Areas Served
Chatsworth, Chesley, Hanover, Kincardine, Owen Sound, Paisley, Port Elgin, Sauble Beach, Southampton, Tara, Walkerton, Wiarton, Saugeen Shores
Reviews
Luis & Anabela
Our whole day was wonderfull and our Officiant Joan Godden was amazing. Everything was perfect! August 2023
Ronald & Amanda
The process was smooth and stress free, highly recommended Joan Godden for an Officiant. We wanted to have a calm stress-free wedding and that's what we got. Thank you so much for all your help in making our wedding amazing. Aug 2023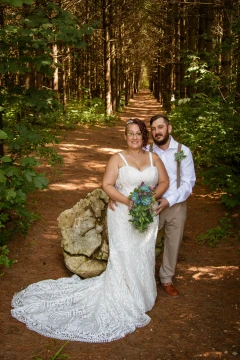 Credit: Jackie Roorda inspire photography
Alex & Georgena
We are very happy with our experience with All Seasons Weddings. Joan was very nice, easy to talk to and very accommodating, Definitely would recommend All Season's Weddings. Thanks so much Alex and Georgena. June 2023
Shaji & Joselyn
Joan Godden was awesome. Quick and efficient. Thank you Joan . October 2022
Megan & Brycen
Joan Godden was very easy to talk to and supported us so much for our big day. She was able to answer any questions ahead of time and helped us to prepare so that we weren't nervous. Thank you so much Joan, we had a great day! June 2022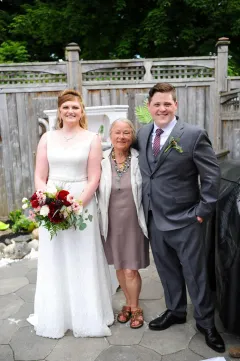 Kim & Kevin
We were so happy to have Joan Godden for our wedding. She more than met our expectations. She was very accommodating and personable. Thank you for being part of our special day and bearing the cold on the beach. Kim & Kevin January 2021
Cathe & Doug
Joan Godden was perfect for our wedding. She kept things light and fresh and sincere striking just the tone we felt was right for us, our location and our guests. Thanks so much! Cathe & Doug September 2020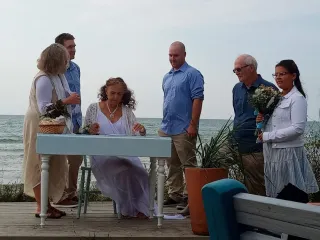 Brian & Olivia
We are SO happy we chose Joan as our wedding officiant! She is so easy going, kind and passionate. She helped us plan our perfect ceremony and allowed us to make changes right up until the day before the wedding! She came to our rehearsal dinner and did a run-through of the ceremony which made us feel at ease and definitely helped calm our nerves. She did an amazing job during the ceremony and we had a lot of compliments about her from our guests. We highly recommend her to anyone! Thank you so much Joan!! August 2020
Ken & Huong
Thank you to Joan (Godden) for a great and smooth service, especially during the pandemic! Your experience was shown in calling people to their seats, in prepping up the different pens for signing (COVID19 best practice), and for the pack of tissues for my wife. Your pacing was excellent, and pronunciation of the Vietnamese words we asked you to do was spot on and made it fun! I can keep going on all the things you did well! Thank you so much! Ken & Huong, August 2020
Warren & Lesley
Everything was perfect!! Joan (Godden) was wonderful! Warren & Lesley. July 2019.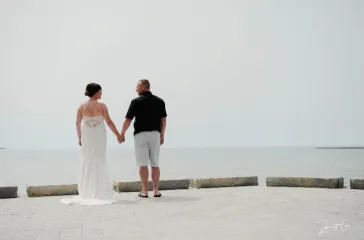 Mitchell & Charlene
Joan Godden made us comfortable at our first meeting. She was beyond helpful and calmed our nerves. Our wedding would not have been the same without her. Thank you so much Joan. Mitchell & Charlene June 2019
Stephen & Amanda
Joan Godden thank you so much for our beautiful wedding ceremony! We are so happy you said "yes" to our crazy idea of having an outdoor ceremony in February. Your personality and love of everything made everything perfect!THANK YOU JOAN. Stephen & Amanda February 2019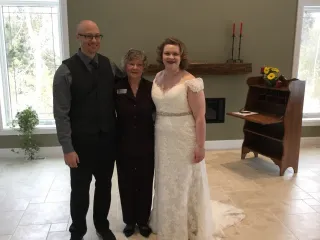 Jim & Florence
Joan Godden and All Seasons made our special day absolutely perfect. We decided to elope seeing as it was our second marriage and we wanted to keep it simple and meaningful. Our decision made and performed within two weeks. Joan was so helpful and so lighthearted. She even worked some personal jokes into our ceremony much to the surprise of my husband. It was perfect and we would recommend her to anyone. Thank you for making our special day exactly the way we wanted it. Florence & Jim Crawford June 2018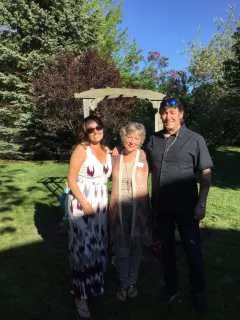 Christine & Dave
Joan Godden was exactly the right person to make our wedding ceremony personal, unique, and entertaining to our guests! She got to know us well and worked closely with us to prepare a special ceremony that even included a special section to include our daughter in our vows. She helped us to create a unique ceremony that was special for our family and fun for our guests to share with us. Her experience, passion for life, grace and smile made working with her truly wonderful. We highly recommend her to help you make your wedding as special as you dream it could be. ~ Christine & Dave September 2017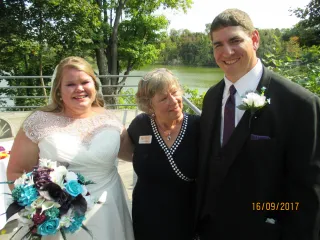 Doug & Sue
Joan Godden is an amazing woman. She was so intuitive that she presented us with the perfect ceremony to suit the two of us perfectly. She knew and was very receptive to what we needed to make our special day absolutely perfect! We can never convey how glad we were to have Joan to be the one to join us together forever!!
Maria & Patrick
Joan is an absolutely amazing person and officiant. She was exceptional in helping us throughout the planning process and then carried out her duties in such a beautiful way, making the ceremony so special. She has made a great impact in our lives and I strongly recommend her services to others. Very happy and satisfied with the whole process.
Paul & Kim
It was a pleasure working with Joan (Godden) as she made our day complete. She was very well spoken and the options she gave us for our vows were perfect. We will definitely recommend her to our family and friends.
Donna & Michael
l hope you had a wonderful Christmas and New Year! I just received pictures from my photographer from our wedding and I thought I would send over the picture we had with you. Thank you very much for marrying us and helping to make our day special!