Jessie Douglas
I've been a long-term resident of the Carleton Place area and having raised my three sons, I am now available to help others like you, celebrate your love and commitment to each other. I'm an experienced motivational speaker and I have been told that people remember my Scottish brogue. It adds something a wee bit different to any occasion.
As a happy and upbeat person, I love to read, enjoy my daily walks and visiting with friends. It would give me great pleasure to perform your ceremony and ensure it's memorable for you and your guests
Request Jessie Douglas
Areas Served
Almonte, Ashton, Carleton Place, Carp, Kanata, Munster, Town of Perth, Richmond, Smiths Falls, Stittsville
Reviews
Julie & Brodie
Jessie, "Thank you for being part of our magical day and for making it so special!" Julie and Brodie
Sam & Eddie
Thank you so much for officiating our special day. We couldn't have happier how the day went. We are so appreciative that you performed the most important part of our day. Sam & Eddie
Jenna & Dakota
Choosing Jessie Douglas to be our officiant was the perfect addition to our small wedding ceremony. She was so easy to talk to and helpful with all of our questions. We instantly felt comfortable with her and everyone enjoyed her being with us. She was absolutely amazing and felt more like an extended family member at the service. I would recommend her to everyone. Thank you for everything! October 2021
Jessica & Justin
Jessie Douglas was fabulous - she was so helpful, responsive, and flexible - especially when we needed to change our date due to Covid. She made our ceremony so special and we loved including the handfasting in our ceremony as well. We would highly recommend Jessie to anyone. August 2021
Marshall & Amanda
Jessie was lovely and even brought with her a traditional Scottish sash used in marriage ceremonies. It was a nice touch we were not expecting, and serendipitous as Marshall's family celebrates Scottish heritage. I have already referred you to others! August 2021
Katie & Kevin
Jessie Douglas was an absolute gem! Her kindness and caring nature was evident as she officiated our wedding ceremony on a beautiful albeit rainy day. June 2021
Mike & Jane
Jessie Douglas did a fantastic job officiating our wedding ceremony, we couldn't be more pleased! She helped us choose our ceremony style and vows that fit us perfectly. It was absolutely beautiful and her lovely Scottish accent was so clear and unique. I highly recommend Jessie for your special day as well. June 2021
Jeff & Bridget
Jessie Douglas was wonderful. She arrived on time and provided the perfect ceremony we wanted. She was very nice and made things extremely easy for us. We would highly recommend Jessie to anyone! June 2021
Mathew & Katrina
Jessie Douglas was very sweet, easy going, and very well organized. It was a pleasure to have her as our officiant. She reviewed our vows with us and made everything perfect. October 2020
Adam & Christine
Jessie Douglas did a great job with all aspects in her role as our wedding officiant. She was very friendly from day one and I always felt as if everything was organized. She was patient, always answering all our questions and of course did an awesome job on our big day. We would definitely recommend Jessie. June 2019
Emilie & Erick
Jessie Douglas was a fantastic wedding officiant and really made my our wedding day special. She was very professional and well organized and helped calm the nerves that are bound to happen standing in front of all of those people. The Scottish hand-binding with tartan was a special addition to our day that we'll remember for the rest of our lives. Thank you Jessie for being so fantastic to work with. Emilie & Erick August 2019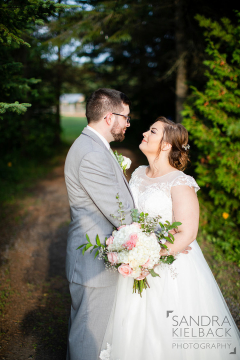 Joel & Alysha
Jessie Douglas was absolutely wonderful! She was professional, lovely and made our day so special. It was so convenient to have our ceremony in our own home, and she made us both feel extremely comfortable and provided a few laughs as well. I am so glad we chose to go with her, and we would recommend her to anyone and everyone looking for an officiant! Thank you so much, Jessie! Joel & Alysha January 2019
Jack & Marilyn
We chose Jessie Douglas as our officiant and we are extremely pleased we did. With her friendly demeanour, she made our day stress free and fun. It was evident to us that she truly enjoys her job and is great at it. Thank you again, Jessie, for being a special part of our wedding day! Jack & Marilyn March 16th, 2019
Amy & Grant
Jessie Douglas was wonderful, we cannot thank her enough for making our special day even more special. Thank you for keeping myself (the bride) on the ball and up to date with any changes or appointments.
Shannon & Tyrell
Jessie Douglas was great! We would recommend her to any couple seeking an honest, kind, helpful and knowledgeable officiant! August 25th, 2018