Jennifer Paul-O'Donnell
Jennifer lives in St Thomas. When you meet Jennifer it won't take long to see that marriage is a very important part of her life. It is an institution she celebrates daily with the family she and her husband have lovingly created over the past 35 years. Jennifer is a warm, caring people-person who sees it as a special privilege to help couples prepare for and celebrate the wedding ceremony they envision. No matter how traditional or unique the setting or ceremony Jennifer, a born organizer who pays attention to the smallest of details, brings her calm, professional presence to your most important of days. Jennifer strives to make your wedding ceremony the perfect start to an exciting marriage journey.
Request Jennifer Paul-O'Donnell
Areas Served
St. Thomas, London, West Lorne, Rodney, Wallacetown, Shedden, Fingal, Port Stanley, Port Bruce, Port Burwell, Aylmer, Ingersoll, Woodstock, Tillsonburg, Strathroy, Thorndale, Lucan
Reviews
Hayden & Cassandra
Jennifer Paul-O'Donnell From start to finish she was kind, helpful, and friendly. Thank you for answering questions timely and effectively, as well as making our legal wedding go as smoothly as possible. October 2022
Blair & Dayna
Jennifer Paul-O'Donnell did more than meet our expectations. She was available for calls, answered all our questions, was very flexible with our location. She was great. October 2022
Brian & Roberta
Jennifer Paul-O'Donnell a very caring individual. She brought an element of calmness and a perspective of commitment that was perfectly suited to an exchange of vows for a senior couple like us. Many of our guests made similar comments regarding the vows and the entire ceremony. It really couldn't have been any better. Thank you so very much. September 2022
Victoria & Jonathan
Jennifer was an absolute pleasure to work with, and we are so happy she was our officiant for our wedding!! From our very first meeting, Jennifer was so kind, organized and she helped us create a ceremony that was perfect. With all the wedding planning that needs to be done, All Seasons Weddings and Jennifer was by far the easiest company and individual we worked with! Thanks for much for making our day so special, we couldn't have done it without you! Aug 2022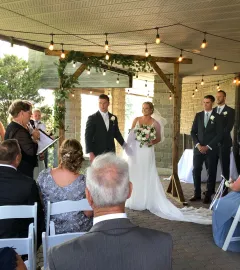 Massimo & Rachel
Jennifer Paul O'Donnell was absolutely wonderful. Although it was a quick ceremony we had planned within a month, she still made it feel so personal and special. The ceremony we had was exactly what we were hoping for. We are so grateful for Jennifer and the rest of your team. May 2022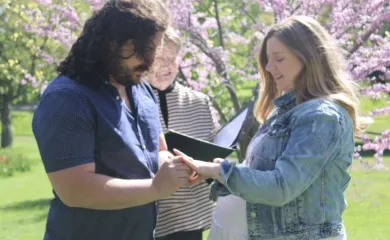 Jessica & Connor
Jennifer Paul-O'Donnell went above and beyond to make sure our ceremony was exactly what we wanted. She was fun but very professional. September 2021
Jon & Rebekah
Jennifer Paul-O'Donnell was wonderful! It was so comforting to see her kind face and hear her words. She understood our casual improv ceremony. I think she might've cried during the vows But we all were. She really was the perfect element to bring the ceremony together. Thank you Jennifer! Jon & Rebekah September 2020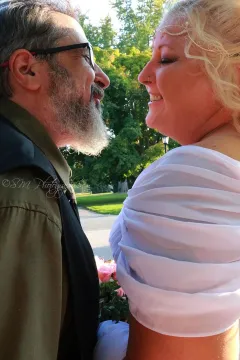 Adekunle & Andrea
Jennifer Paul-O'Donnell was amazing, she made us feel loved and appreciated.The process was flawless, thank you for making our day special. Adekunle & Andrea July 2020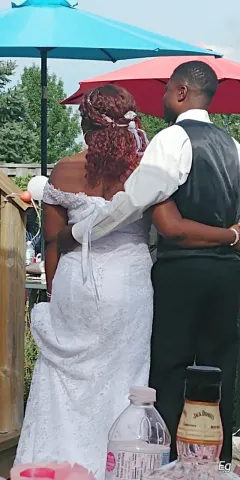 Korey & Cindy
Jennifer Paul-O'Donnell was great! Everything went off without a hitch. She was lovely during our planning meeting and guided us through the whole process, and provided a lot of helpful suggestions and precedents that we could work off to customize our ceremony. Korey & Cindy September 2019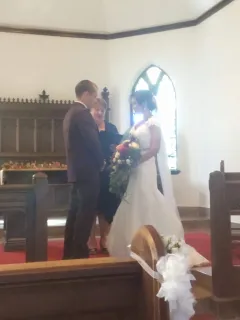 Correy & Melissa
Jennifer Paul-O'Donnell was loving, always flexible, Professional , very caring and understanding. Thank you Jennifer for everything. Correy & Melissa August 2019
Daniel & Lucia
Jennifer Paul-O'Donnell was amazing! Everything was perfected down to the last detail. I'm extremely please with the service!! Thank you for an amazing experience and also a beautiful ceremony!!! Daniel & Lucia August 2019
Brad & Sara
Jennifer Paul-O'Donnell was professional and worked closely with us so that we got exactly the service we wanted. She helped us by giving us lots of ideas, examples and suggestions which enabled us to write our very own service. Would definitely recommend. Brad & Sara. July 2019.
Shannon & Paul
Jennifer was the perfect choice for our wedding. She was professional, thoughtful, poised, and knowledgeable. We had some inclement weather on our day, but she made helpful suggestions about our ceremony and took the worry about the rain off my shoulders by working out a plan with the venue. We couldn't have been happier with Jennifer!
Andrea and Kris
From the moment we met Jennifer my husband and I both felt instantly connected to her. She is warm, confident, and truly passionate about helping couples create meaningful wedding ceremonies. To me the ceremony was the most important part of our day, and I felt 110% confident with Jennifer guiding us. Leading up to the wedding Jennifer met with is a few times in person (which she was super flexible with) and also sent us lots of emails with readings and different parts of the ceremony to help us create a ceremony that was perfect for us. On the day of she was incredible; relaxed, happy, well spoken, and there for us. I felt instantly calm the entire ceremony with her presence, and so did my husband. Her words of encouragement for us, brought me to tears. Many people at our wedding commented on how articulate and amazing Jennifer was. I would recommend Jennifer to anyone! Especially if you are looking for a meaningful and personal wedding ceremony. I will never forget her, she has forever touched our lives!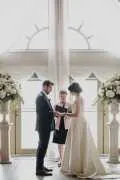 Robin & Jeff
We want to thank Jennifer for her incredible presence at our wedding. Jennifer was such a great "fit" for our outdoor summer wedding. Her professionalism, kindness, support, and guidance throughout our brief wedding planning process, through to the end of our ceremony, was a true gift. We highly recommend Jennifer to all engaged couples in the area. Thank you for adding to the specialness of our day, Jennifer! All the best, Robin and Jeff
Ange & Bob
Hi Jennifer, Bob and I want to thank you for making our wedding ceremony so special. I've been fortunate to have many "best days of my life" but our wedding day topped them all by a million times. I loved every minute of it and wouldn't have changed a thing. You did such a phenomenal job. When we sat down to meet the first time you asked us what "feeling" we wanted to leave with the audience. It's all sort of a blur because I was so excited... but I had that "feeling" and I think everyone else did too! Thank you so much for rising to the occasion of officiating our extremely quickly planned wedding, it was perfect for us!
Cheryl & Allan
I wanted to express our heartfelt appreciation for the lovely service Jennifer Paul O'Donnell provided. Her thoughtful and very kind words of wisdom and warmth were greatly appreciated. She was very helpful and a delight to work with, right from the start. Thank you so much for connecting us with her.
Caroline & Roy
Jennifer Paul-O'Donnell did an outstanding job and exceeded our expectations - she helped to make our ceremony very relaxed and easy going. This is exactly what we wanted! Her words of encouraging were very touching and will be remembered by us always. She also had great suggestions during the planning phase that helped to make our ceremony very special to us and our families. I would recommend Jennifer in a heartbeat.
Nicole & Jan
Jennifer Paul-O'Donnell was wonderful! She made us feel at ease and she did a wonderful celebration ceremony for our big day. She incorporated things to suit our family.
Stacey & Hatim
Jennifer Paul-O'Donnell was excellent. She was very friendly and sincere. Easy to talk to. Helped to calm my nerves during the ceremony. Very nice woman.
Mathew & Stephanie
Jennifer Paul-O'Donnell went above and beyond her call of duty! Let us do our own thing, gave us advice when we were unsure and let us tell her what our thoughts were! She was fantastic!
Cathy & Shea
Jennifer Paul-O'Donnell was amazing. Our ceremony was brilliant and we are receiving cards and emails from all our guests raving about how perfect it was. We feel very privelaged to have been able to have such a terrific experienceespecially since it was a simple google search that brought us to Jennifer. As it turned out, Jennifer and the grooms mother had known each other for decades but had not seen each other for a few years so it made the event even more special for us to surprise the grooms mother and to give Jennifer a reunion with an old friend.
Jen and Dan
We wanted to leave a testimonial for Jennifer Paul-O'Donnell. She was our officiant for our wedding.. She was amazing, she helped us with our vows and made them personal. She showed up early the day of the wedding made sure everything was set and ready to go... she was AMAZING and we would highly recommend her.. thank you so much!!