Jen Denys
Jen is an experienced professional wedding officiant located in Parkhill and serves London and surrounding area. She builds relationships with couples and will apply her authentic communication skills to create a wedding ceremony that honours you. Her guiding life values are trust, gratitude, and abundance. Jen is respectful, family-oriented, and community-minded. She will encourage you to pause and celebrate life whether your desire is to have a religious or spiritual ceremony. We invite you to check out her video.
Request Jen Denys
Areas Served
Parkhill, London, Exeter, Clinton, Grand Bend, Port Franks, Ilderton, St. Marys
Reviews
Owen & Kelly
Jen Denys is amazing! Her character is perfect for this role and we received many compliments on how she led our ceremony! We will certainly be recommending Jen to couples in the future. August 2022
Lindsay & Cory
Jen was amazing! I'd refer her to anyone!! July 23 2022
Nicole & Constantin
Absolutely the most caring and cheerful staff that I have ever met. Jen Denys was such a sweet soul that made our special day one I'll never forget. If you're looking to get married and need an officiant, I would highly recommend allseasons weddings. July 2022
Derek & Anastasia
Jen Denys exceeded our expectations for our special day with her professionalism and positive attitude. We would recommend Jen for any engaged couple! September 2021
Michael & Samantha
Jen Denys was so wonderful through the entire process of wedding planning. Due to Covid, our plans changed a few times and Jen was supportive and kind throughout the entire thing. She was very professional and did a great job of guiding us through the wedding ceremony planning. I would definitely recommend her to anyone we know! Michael & Samantha June 2021
Martin & Jennifer
Jen Denys exceeded our expectations. She made our unique and intimate ceremony even more special by being a part of it. The words she suggested were exactly us. Even in a tough time as this year has set upon us, she made it possible to get to know us so as to create a personal experience. We can't thank her enough for being that perfect fit in our wedding. Martin and Jennifer October 2020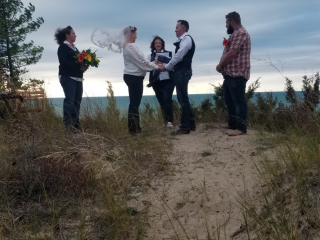 Jason & Michael
Jen Denys was incredible!! ?? She made the day so incredibly perfect. We would recommend her in a heartbeat. Jason & Michael July 2020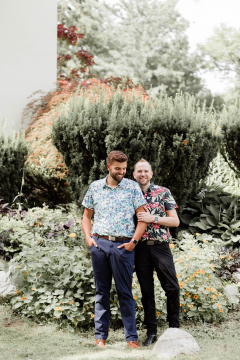 Darren & Erika
Jen Denys went above and beyond expectations. Due to the current pandemic, we needed to make significant changes to our original plans. Jen was extremely supportive and guided us through the process. Her friendly and positive manner, along with her professional experience, helped us to easily create a ceremony that was perfect for us. Thank you, Jen! Darren & Erika July 2020
James & Kristen
Jen Denys went above and beyond to accommodate us. Jen helped make our day perfect! Getting married during COVID was definitely a challenge but she delivered a beautiful ceremony. We are incredibly grateful that she helped salvage our wedding day. James & Kristen May 2020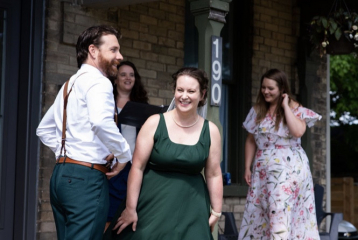 Matthew & Markus
Jen Denys was amazing! She went above and beyond our expectations and we couldn't have been happier with how everything turned out. Thank you for everything. Matthew & Markus November 2019
Rebecca & Rachel
Jen Denys exceeded our expectations! The ceremony outline she prepared was perfect, she really incorporated our personalities and made it unique to us! Jen was such a pleasure to work with and calmed our nerves on our big day!Highly affordable and great for LGBTQ+ couples! Rebecca & Rachel October 2019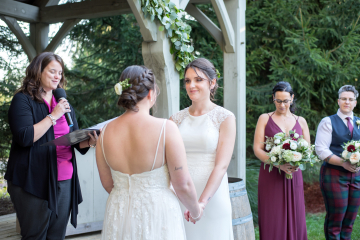 Trevor & Mallory
Jen Denys was an absolute pleasure to work with. She met our expectations and went above and beyond! Her professionalism, calming tone and loving presence made our day so special, thanks Jen for all that you are! Trevor & Mallory October 2019
Meighan & Taylor
Jen Denys was the absolute perfect fit to our day and meeting her was such a delight. She is so easy to talk to, it made the planning process a breeze! From taking the time to get to know us as a couple, having her input and suggestions for the ceremony and guiding our wedding party through a rehearsal, she truly made sure everything was perfect for us. Jen, we can't thank you enough and absolutely recommend you! Meighan & Taylor June 2019
Kirsten & Kris
Jen Denys was an absolutely perfect wedding officiant. She learned who we are as a couple and that was reflected within the ceremony. She brought out the best in both of us throughout the ceremony. Jen, thank you. We will absolutely be referring friends and family to Jen Denys in the future.
Natalie & Michael
Jen was a pleasure to work with. She took the time to get to know us as a couple and we definitely made the right decision having her officiate at our wedding. Jen Denys made sure all of our questions were answered and made us feel comfortable to reach out to her if needed. Jen played a big part in making our wedding so wonderful.
Scott & Pamela
Jen Denys did a fabulous job with our wedding. She made us feel very relaxed on the day, and delivered a ceremony exactly as we had imagined. It is not often that you can say that things turned out as you had imagined!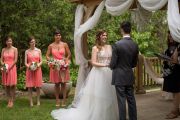 Elizabeth & Paul
Jen Denys did an amazing job with our marriage ceremony. She really took the time to get to know what we wanted. She was open to suggestions and incorporated are family vows and flower ceremony as requested. We would definitely recommend her to our friends.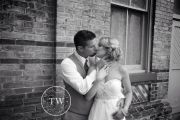 Lindsay & Matthew
Jen Denys was absolutely fabulous. She accommodated our requests and made our ceremony very intimate and special for us. I would not hesitate to recommend Jen for anyone's ceremony - she is wonderful!
Victoria & Graham
Jen Denys was extremely helpful, kept everyone calm and truly made our day fun and exciting. The office staff were warm and welcoming. Made us confident that they'd put us with the right person. Anyone who asks us will be getting your contact information. Jen was awesome. She made everyone feel relaxed. It was exactly what we wanted. We couldn't have been any happier with how she performed our ceremony.
Hi Jen (Denys), We just wanted to pass on all of the comments from our wedding guests. Many, commented on the ceremony, they loved it!!! They thought you spoke with sincerity and with a sense of humour!!! Kevin and I also thought you gave us a wonderful ceremony and we thank you for your guidance, kindness and keeping us on track!!!. We will definitely recommend you to everyone we know!! Diane and Kevin
Danielle & Corey
Jen Denys was fabulous! Very patient, well spoken and made our ceremony really special!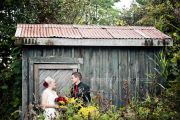 Joanne & Todd
Jen Denys was amazing! One of the nicest people I've ever met! Our ceremony was exactly what we wanted with a warm, kind, caring and friendly officiant!
Krystal & Scott
Jen Denys did a fantastic job!!!! She made the ceremony exactly what we wanted and help put any nerves that we had at ease. She was Amazing and I would completely recommend her to any one who is looking for an officiant.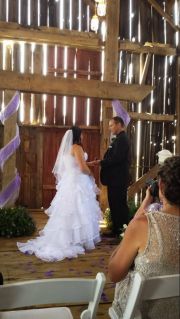 Kyle & Brandi
Jen Denys went above and beyond our expectations. She was very helpful and understanding. She helped us with making a program to fit our wedding ceremony. Jen did a very meaningful reading. Her patience and kindness during the ceremony made it even better. I will always remember Jen and highly recommend her as she works well with couples and knows the right things to say. Jen we would like to thank-you for taking the time to perform a wonderful and memorable ceremony.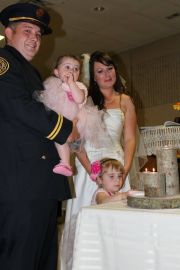 Grace and Douglas
Jen Denys did an amazing job and brought an awesome energy and excitement to our already very exciting day. We absolutely loved having Jen spend this day with us. She arrived early, she made sure we had everything in place many days before and everything went VERY well. Not to mention she helped keep me and my groom very calm as we said our vows. She was perfect! Thank you so much to All Seasons and to Jen Denys for helping give us a wonderful day! :)
Glen & Fritz
We could not have been more pleased with Jennifer Denys and are thrilled to have found her through you. She was thoughtful, flexible, friendly, courteous, bright and kind. The feedback from the service was all very positive and we were so pleased that her professionalism and warmth fostered a wonderful day for us to celebrate our marriage.