Jeffery Simpson
Jeffery is an Appointed Minister and a life-long resident of Windsor, and is familiar with the wonderful amenities and attractions the area has to offer. Jeffery's love for his community and his drive to help the troubled youth and their families has led him to volunteer most of his free time to the Maryvale Adolescence and Family Services organization. Besides his volunteer work, he enjoys learning and a good game of billiards or chess. Nothing brings Jeffery more joy than the closeness and love that accompanies a wedding ceremony. His priority is to ensure you receive a respectful and dignified ceremony, and your families and friends enjoy the moment.
Request Jeffery Simpson
Areas Served
LaSalle, Maidstone, Cottam, Belle River, Essex, Amherstburg, Kingsville, Lakeshore, St Joachim, Comber, Harrow, South Woodslee, Tecumseh, McGregor, Windsor
Reviews
Canberk & Cassandra
Jeffery Simpson was amazing . Everything was above and beyond by our officiant. He was kind, on time, patient and also super easy going! Would recommend him to anyone. October 2022
Daniel & Tien
Fantastic ceremony! Everything went really well. No complaints. Amazing job on the readings. We were honoured to have you as our officiant Jefferey Simpson! Thank you for being part of our special day. We're glad to have you in our circle of friends. July 2022
Nazia Nahid & Justin
Jeffery Simpson was most helpful & caring, and accommodating everything that became our wishes. He was very friendly & approachable, and did his best to make this wedding a very memorable occasion. We will never forget everything he did & his loving kindness towards us. Dec 2021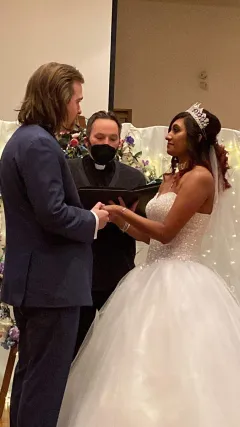 Mike & Joanne
Using All Seasons Weddings was easy and stress free. Our officiant, Jeffery Simpson was terrific. He was professional and courteous and helped us tailor the ceremony to what we envisioned. He stayed in contact throughout the process, giving us peace of mind that the ceremony portion of our day was in good hands. Thank you, Jeffery for a beautiful ceremony! October 2021
Richard & Katherine
Jeffery Simpson was amazing and he is very professional. We would highly recommend him and will be passing his name on to anyone we know that is looking to get married. Richard & Katherine July 2020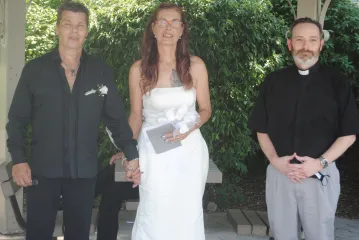 Andrey & Angela
We are so very grateful for Jeffery Simpson's excellent service and for being a key part in the success of our special day. From beginning to end Jeffrey was accommodating, reassuring and easy to talk to. The final ceremony was absolutely perfect. After our great experience we will certainly be recommending him to our friends and family in the future. Andrey and Angela March 2020
Jeff & Teri Lyn
Jeffery Simpson was our officiant for our Labour Day weekend Wedding and his services was amazing! We wanted a small and simple wedding and Jeffery provided all of that for us, along with answers to my questions via many e mails. All correspondence with him came with quick knowledgeable answers and he made the process as easy as possible. Our first meeting went great as he has a great personality. He took the time to explain everything to us and made us feel like we had no worries. He arrived to the location early to prepare for the ceremony and his performance was perfect. We highly recommend Jeffery and All Seasons and there was not one issue with using their services. Thank you Jeffery for making our big day special. All the best to you! Jeff & Teri Lyn August 2019
Bobi & Kristijana
We absolutely loved Jeffery Simpson ! From the get-go, we could feel the energy and positive vibe that he emits by being in his presence. When we looked for a wedding officiant, we looked for someone that would allow for our friend to take part in the ceremony. Jeffrey certainly delivered! Our guests left our wedding ceremony complimenting what a great job our officiant did in keeping the audience engaged with the happenings of our vow exchange so we definitely recommend him! We really appreciate the time he took to make the ceremony personal! Thank you Jeffrey for everything. Lots of love, Kristijana & Bobi May 2019
Anonymous
Jeff was extremely friendly and down to earth. He made us feel comfortable with our choice in ceremony and provided outlines and examples for our friend to participate. He was accessible for any questions and followed up with us post-wedding. We would definitely recommend Jeffery Simpson.
Anonymous
Booking our officiant with All Seasons Weddings was quick and easy and came with the added benefit of knowing that if at any point our officiant was unable to attend we would not be left high and dry. We knew who we wanted to perform our ceremony and requesting Jeff Simpson was just as easy! Jeff was wonderful and provided us the quick and meaningful ceremony we had asked for.