Jeff Hoppe
Jeff offers more than fifteen years of experience with weddings and handfasting vows. He is an IT Specialist and holds several diplomas, degrees and designations. A highly skilled communicator, Jeff has taught and lectured at various colleges for many years and is also experienced with group facilitation and performance theatre. He is very flexible and willing to work with you to create a unique ceremony for your very special day. Jeff lives in Tavistock and serves the Stratford area and other rural communities west of Toronto.
Request Jeff Hoppe
Areas Served
Harrington
Reviews
Derek & Stephanie
Jeff Hoppe was great. He added to the ceremony to make it more personal and romantic. He added things we didn't even know we wanted till we heard them. September 2022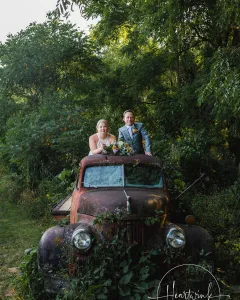 Connor & Aspen
Jeff Hoppe exceeded our expectations. It was such a pleasure working with him and the ceremony he performed was beautiful. Highly recommend. October 2021
Beverlyn & Mark
Jeff Hoppe was very easy to work with. September 2021
Reid & Holli
Words cannot describe how thankful and blessed we were to have found Jeff Hoppe from All Seasons Weddings to officiate our wedding. Not only was the process painless, but Jeff himself was a truly amazing person, very professional, and had a great sense of humor. He helped reduce a significant amount of stress and made our wedding perfect. Neither myself nor my husband are good when it comes to being the center of attention or being vulnerable in front of others (i.e. declaring our love for one another, public displays of affection etc.). Jeff's easy-going personality and the custom ceremony he provided helped us relax and made us feel comfortable through probably one of the most crazy and important days of our lives. Highly recommend Jeff as an officiant! Reid & Holli February 2020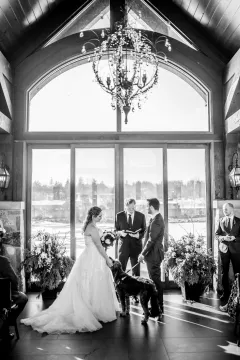 Mike & Carri
Jeff Hoppe was perfect! He was professional and knowledgeable. We are Extremely pleased! Jeff was perfect for us. Thank you Jeff ! Mike & Carri June 2019
Kate and Niall
We just wanted to extend our deepest thanks to Jeff Hoppe for the greatest ceremony last Sunday. We really had the best time. It was the most perfect ceremony we could have hoped for. Thanks Jeff for going along with our jokes and ad-libbing so wonderfully. You brought just the right amount of playfulness and legitimacy to the day. Wishing you and yours all the best. Perhaps we will cross paths in Perth County again soon. Again, thank-you so much.