Jacques Brunet
Jacques is an experienced speaker in French or English. He enjoys leading seminars and workshops for organizations across Canada. Jacques is amazing to work with, he's able to make people feel comfortable and has a good sense of humour. He will help you create a meaningful wedding ceremony. He likes reading and has written a few books himself, and when time permits he's outdoors hiking, cycling or playing a game of hockey. Weddings can be stressful and you will be happy to have Jacques on your team helping to make your day special.
Request Jacques Brunet
Areas Served
Barrie, Orillia, Wasaga Beach
Reviews
Sean & Linda
Jacques Brunet was amazing ! He helped bring our ceremony to life with exactly what we wanted and more. Thank you for everything you did for us Jacques we are truly grateful for you ! August 2022
Sean & Lesley
Jacques Brunet was amazing. His calm and confident demeanor was a lovely addition to our special day. We are so happy with the entire all seasons experience . July 2022
Carolin & Trayton
Jacques Brunet was calm, kind, helpful, and the perfect officiant for our special day. The reading he suggested was perfect. We are so grateful to have met Jacques and for him to be a huge part of our day. May 2022
Cassandra & Callan
Jacques Brunet was amazing. We received so many compliments on the ceremony and the great job he did. June 2022
Ian & Monica
Jacques Brunet was perfect! He took the time to get to know us as a couple, asked the right questions and gave us answers to questions we didn't even know we had. He made sure that we were all set and prepared for everything we needed to do and went above and beyond to make our special day magical. Ian & Monica October 2020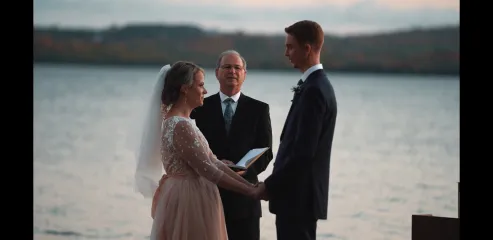 Stephen & Dianna
We found Jacques Brunet online through the All Seasons website. Planning an elopement during a pandemic can be challenging and stressful but that wasn't the case for us. We spoke with Jacques and were able to have everything easily planned and ready so we arrived at our location and were able to get right to getting wed! Jacques was an integral part of making our special day absolutely perfect. Stephen & Dianna Oct 2020
Derrick & Sandra
Jacques Brunet did a great job he is very professional. Thank you for making our day perfect. Derrick & Sandra July 2020
Andre & Lynda
Thank you so much Jacques Brunet ! A big thank you for making it a memorable ceremony; you were absolutely perfect :) everyone said you performed an amazing ceremony. Some even said it was the best bilingual ceremony they ever attended! So kudos ! Thanks again for everything! Andre & Lynda Oct 2019
Shona & Stephen
Oh my, what can we say??? Jacques was so amazing from the very beginning. We were referred to All Seasons by our good friends, but when we chose Jacques we weren't expecting such a kind, thoughtful and friendly person. When we met him he was so easy to talk with and provided us with such guidance that we walked away completely at ease, and at that moment we knew we had made the right decision. Thank you, Jacques, for sharing in our special day and making it so stress-free. Shona & Stephen Sept 2019
Maxime & Chantal
Jacques Brunetnous a aidé, nous a guidé, a toujours été extrêmement efficace et je le recommanderais à toute personne comme célébrant. Merci Jacques. Maxime & Chantal September 2019
Samantha & Christopher
Jacques Brunet was so wonderful through the whole process! Such a nice man and would recommend to anyone! Glad he could be there and make our day a truly special one! [September, 2018]
Melissa & Emil
Jacques Brunet did a great job, we were very pleased. I have already mentioned All Seasons and Jacques to a few people!
Tracy & Jason
Jay and I were very happy with our officiant Jacques Brunet. He did a fabulous job and was very personable to deal with. Thank you for helping make our day special! Tracy and Jason, July 2018