Jaclyn Ugulini
Born and raised in Thorold, nestled in the heart of the Niagara Region, Jaclyn is a lover of travel and dogs, especially her Boston Terrier Oliver. She attended Queen's University in Kingston where she graduated in 2010 and received her Bachelor of Science (Honours), with a Major in Biology. Through her schooling and travels she has met people from many backgrounds with differing stories of life and love. She believes everyone has the right to love whomever their heart desires, and she's happy to perform the wedding ceremony of your choice. She promises to bring her enthusiasm, happiness and much more to your special day!
Request Jaclyn Ugulini
Areas Served
Thorold, Niagara Falls, St. Catharines, Fonthill, Pelham, Fenwick, Beamsville, Grimsby, Port Robinson, Welland, Niagara on the Lake, Port Colborne, Wainfleet, Fort Erie, Ridgeway, Lincoln, Jordan, Smithville, Stevensville, Port Dalhousie, Crystal Beach
Reviews
Paul & Deborah
Jaclyn Ugulini is a lovely women who made us feel very comfortable. We truly enjoyed meeting her and having her officiate our wedding. Paul & Deborah April 2020
Brendon & Jaime
Jaclyn Ugulini was above and beyond anything we could have expected! Several guests mentioned that she is the best officiant they had ever heard! She had us laughing and crying alongside our guests! Brendon & Jaime October 2019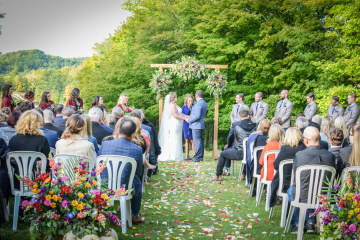 Richard & Leah
We loved Jaclyn Ugulini ! She was exactly what we were looking for and did a wonderful job!! Thank you for everything . Richard & Leah August 2019
Matt & Michelle
It was an absolute pleasure working with Jaclyn Ugulini!! She made sure our ceremony was exactly what we wanted. She was Professional and extremely easy going and friendly. It was great getting to know Jaclyn. I would absolutely recommend her, we adored HER!! Thank you for everything Jaclyn. Matt & Michelle July 2019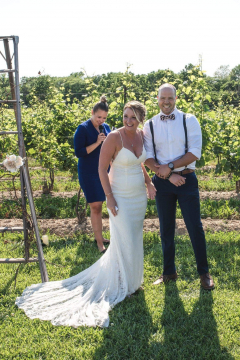 Brooklynn & David
Jaclyn Ugulini was so accommodating and helpful. She was so organized, prepared and really put us at ease throughout the process and especially on the day of the wedding.