Jack Bedard
Jack is completely fluent in French and English. He has been happily married for over 30 years and after retiring from the military, he and his wife decided to settle in North Bay. Throughout the years, he has met and worked with many people from different cultures and denominations. If you are looking for a one-of-a-kind wedding ceremony created for and by you, Jack is looking forward to helping you realize your dream wedding day. He has been an Appointed Minister with Clergy Support since early 2018.
Request Jack Bedard
Areas Served
North Bay
Reviews
Philip & Allison
Jack Bedard went above & beyond. We were very happy we chose him as our wedding officiate. July 2022
Samuel & Shanda
Jack Bedard was funny and on time , the interaction with the crowd was perfect. I'm referring you to my sister who is getting married as well. July 2022
Crystal & Kevin
Jack Bedard was absolutely fantastic. Better than we could have ever imagined! Thank you ❤️ Crystal & Kevin August 2021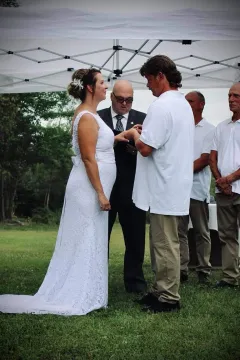 Raoul & Danielle
Jack Bedard made sure to schedule a visit with us to go through details of our ceremony. He was friendly, polite and very happy for us! Raoul & Danielle October 2020
Joseph & Kelly-Anne
Jack Bedard was absolutely amazing considering the short notice and the location of our tiny but very touching wedding.? Joseph & Kelly-Anne August 2020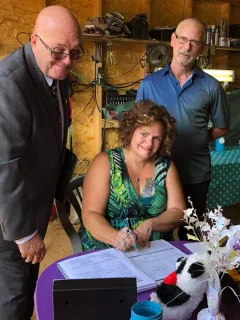 Peter & Stacie
Jack Bedard was amazing , I had so many questions as we were getting married during the pandemic and had so many questions as we scrambled to find a way to get it done during this difficult time. Peter & Stacie May 2020
Steve & Jennifer
We had our wedding ceremony on Saturday September 21, 2019. Jack Bedard was amazing! He took time on a long weekend to meet with us and go over what we wanted. He made suggestions, things I hadn't thought of at that moment. He has some great life moments that make you think, and realize that we are lucky to truly find someone who loves, and respects you. He brought much-needed laughter to the ceremony and I will not soon forget it. I would HIGHLY recommend him as an officiant. Thank you so much, Jack, for helping make our day even more amazing! Steve & Jennifer
Michel & Kasandra
Jack Bedard was amazing! He is a very funny and down to earth guy. He definitely fit right in with the group! Thank you Jack. Michel & Kasandra August 2019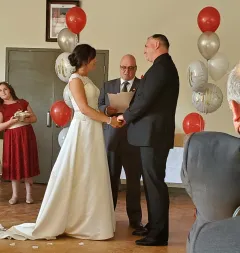 Shawn & Dawn
Amazing day! Jack Bedard, our officiant made our simple ceremony really special. Jack was okay being transported by snowmobile and was open for an adventure. The day was perfect. Thank you! Thanks Jack Bedard!
Michelle & Kent
Staff very courteous and helpful. Great professional experience from the officiant. Thank you very much! Service courtois et serviable. Superbe expérience professionnelle de notre officiant. Merci beaucoup. August, 2019.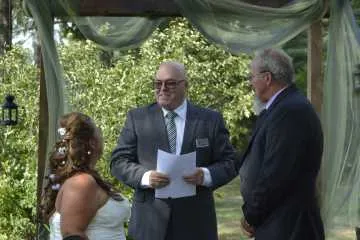 Scott & Jasmine
Jack Bedard was a great officiant for our wedding ceremony. Easy-going and thoughtful, he brought humour to the ceremony, making sure that everyone enjoyed themselves. Jack was very easy to deal with and accommodated our wishes for a simple ceremony, ensuring that we were both relaxed and comfortable. The vows he chose for our wedding ceremony truly reflected our feelings for one another, making our day that much more memorable. We are happy that Jack was the officiant for our special day and we highly recommend him! A big thank you from both of us!
Renee & Douglas
Jack Bedard was amazing! Helped us relax, was patient and explained everything to us. He had a great sense of humour and yet remained professional. He has such a great personality - I can't imagine our wedding without him! The All Seasons reservations' staff are awesome, explained everything in great detail. I hope that every couple can have the great experience we had. We wouldn't have done it any other way!
Linda & Robert
Jack Bedard was wonderful!..He made us feel relaxed and comfortable from the first we met him!