Israel Copel
A magical moment in time. I'm currently available to conduct your wedding ceremony anywhere in the Montreal/Laval area. My commitment to you is to make your moment a memorable one. My travels and many languages (English, French, Portuguese, Spanish and Hebrew) have allowed me to see and be in the presence of many different weddings, they came from all walks of life and all cultures, and they showed their love, their devotion and their willingness to make a journey together. Your vision will be my direction to provide a day of happiness, uniqueness and lasting memories. My approach to spirituality and my openness to all religions and love will make you feel that I am the best choice to celebrate your day with you. I am honoured to celebrate all backgrounds, religions and same sex marriages.
Request Israel Copel
Areas Served
Montreal, Laval
Reviews
Pascal & Jenny-Lee
Israël Copel a été parfait! Il a su nous mettre en confiance, nous faire rire et officialiser notre union à la hauteur de nos attentes! MERCI! October 2022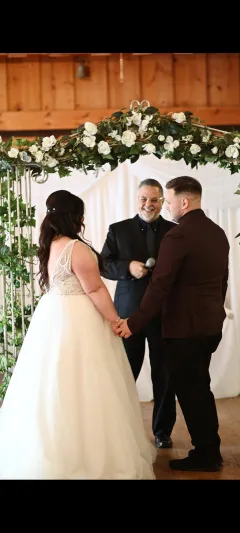 Eric & Alyssa
Israel Copel was wonderful, friendly, prepared, and delivered a beautiful service. He helped to create the most special day of our lives, and if we had to go back and do it again, we would choose to work with Israel again 100%! September 2022
Joan & Raymond
I can say this, without hesitation, Israel( worry free) Copel is awesome. He is the BEST! He put the needs of my partner and I first. From our first meeting to the rehearsal and especially on the big day. He is not only amazing with his words of encouragement and creativity, but he also shared in our vision and provided great ideas that we never thought about. Israel you are an amazing spirit. God knew I needed you had to be married by you. Thank you for taking care of everyone & EVERYTHING ..including what you didn't tell me about. LOL I wish I had your eloquent words to express to the world how grateful, honored and blessed we are that you were the one who literally join our hands in marriage. Thank you again for all your support and care. We hope to see you someday soon. July 2022
Allana & Anthony
Israel Copel did an incredible job as the officiant for our ceremony! He was sensitive about both of our religious backgrounds and ensured to include important elements of our individual faiths in the ceremony. The ceremony was beautiful, emotional, and sentimental. It was more than we could have ever expected. We were lucky to have Israel marry us! Allana & Anthony August 2022
Daniel & Anna
Israel Copel exceeded our expectations and we were so happy he officiated our wedding. He was so great leading up to the wedding, making sure everything was organized and he had everything needed for the paperwork. In our meeting before the wedding, he was also so nice and open to the adjustments we wanted to make to the ceremony reading, really adding some of the personal touches which made our ceremony feel unique. Come the ceremony, he went above and beyond, working with venue staff to make sure everything was in place for a smooth ceremony, and then was flexible with the ceremony and really matched our vibe, keeping things light and fun. We couldn't be happier! August 2022
Josée & Roger
Israel Copel a été très gentil et nous a aider a nous mettre à l'aise un énorme merci. Juillet 2022
Renee & Rocco
Israel [Copel], I wanted to send a big thank you for the awesome wedding ceremony you performed for us. We got so many compliments on you... everyone loved the words, etc! You really made it a very special day for us!! We really loved that you added Italian in the ceremony, it made Rocco's family feel so much more a part of it! Thanks again for everything!! August 2022
Megly & Eric
Israel fue no solo el oficiante de nuestra boda, también me dio mucho apoyo y consuelo durante el proceso…. Para Eric y para mi fue un consultor matrimonial. La mejor actitud y extremadamente respetuoso con nosotros y nuestra familia. Muchas gracias a Israel por hacer nuestro día más maravilloso y a all seasons wedding por darnos la oportunidad de conocerlo. 14 de Mayo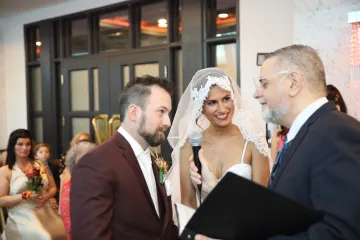 Kaiya & Carl
Très très heureux. Merci pour tout! Super service, très professionnel. Recommandé sans hésitation! juillet 2022
Marcela & James
Israel Copel was amazing! He was kind enough to let me know when he arrived and made sure the ceremony went smoothly. Would recommend 100%. September 2021
Vicky & Guillaume
Israel was great! He was very helpful with everything. Because of covid we had to postpone our wedding twice and he was very understanding and accommodating every single time. We finally got married at the beginning of August in an intimate setting! He answered all our questions and made sure that the ceremony went as smoothly as can be! We will have him officiate once more in a year when we do a second ceremony and the party for all the guests we had invited for the original date. August 2021
Benjamin & Brooklyn
Israel Copel exceed our expectations! Thank you for a beautiful day. September 2020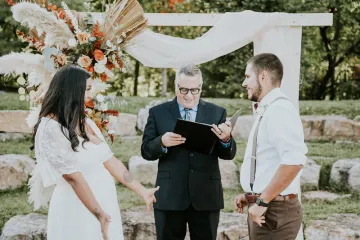 Edison & Lorena
M. Copel a été exceptionnel. Nous avons adoré la touche romantique, simple et humaine de l'ensemble de la cérémonie. Nos invités et nous-même avons adoré le charisme de M. Copel. Il a rendu notre moment magique. Ce fût une merveilleuse cérémonie qui a touchée tous nos invités. De plus, on vous remercie d'avoir introduit et conclu la cérémonie en espagnol. Nous avions diffuser en direct la cérémonie à nos familles au Chili, Peru et Espagne. Un grand merci. Edison & Lorena Août 2020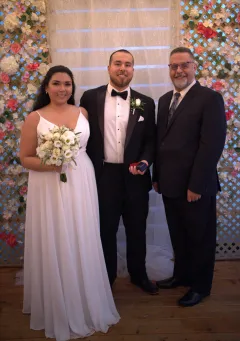 Eric & Elena
Israel Copel was great. He really adapted to what we wanted and asked for. Everybody enjoyed the ceremony a lot, it was exactly as we had imagined it. He officiated the ceremony in 3 languages, and made it very personal. The meeting with him before the ceremony was also very helpful: he had already prepared the ceremony and really he helped us understand what to expect, and what options we had. Thanks Israel! Eric & Elena January 2020
Craig & Renato
Israel Copel was so great! Not only did he provide an amazing ceremony, he was also a joy to work with getting ready that day. Everyone said he was so helpful and kind. Craig & Renato November 2019
Lorne and Sam
Israel (Copel), Thank you so much for being our wedding officiant. From the second you got to the hall you steered the ship and got everyone where they needed to be. All of our guests commented on how well you spoke. I couldn't have imagined our wedding without you. Thank you for everything! Lorne and Sam Sept 2019
Trevor and Noemie
Israel Copel was fantastic. He was so helpful during the lead-up to the wedding and especially on the day of the ceremony. We would recommend him to anyone who is looking to make their wedding extra special!
Carley and Gustavo
I just wanted to say that Israel conducted the most beautiful ceremony for us. We were thrilled! He is wonderful. His demeanor was perfect, and his knowledge of all the languages we required was perfect and so impressive. His warmth and kindness shone through his speaking. So many of the guests also commented on what an excellent officiant we had. All of his suggestions to us were really helpful, and he always responded very promptly to emails and calls. Thank you SO much! Carley and Gustavo
Elspeth and Adam
Israel Copel was wonderful, beyond our expectations.He made our wedding ceremony truly memorable. It was a beautiful, emotional and exceptional ceremony all thanks to him. Israel was 10000% always happy and eager to help. Thank you so much to Israel Copel for all you did to make our wedding so special!
Stephanie & Jamie
Israel Copel was absolutely amazing! Both my husband and myself were so happy to have him be a part of our wedding day! He provided excellent suggestions and helped us make great use of our space! We've already started referring Israel to our friends. We are so so happy that we asked Israel to be a part of our special day! He was perfect!
John and Sofia
Israel, We didn't get the chance to thank you on our wedding day, as such I just wanted to say a big thank you from Sofia and I. You truly did a fantastic job, you were amazing and made our wedding ceremony a huge success. Thank you for your exceptional service! The ceremony was beautiful! Thank you again!
Milena and Arseny
Israel, We cannot thank you enough for your incredible job at our wedding ceremony March 26th. We could not be happier or more impressed with the amazing ceremony you hosted for us and our friends and family. You are nothing short of a rock star! All the gratitude in the world coming your way, and always good vibes only, Milena and Arseny xx
Iskrena & Aleksandar
Israel Copel was very nice! From the very beginning he was understanding and ready to accommodate our every wish. He worked with us the whole time and produced a unique ceremony! Office staff was excellent. Every time I called or emailed I got a response right away. They were able to accommodate our unique wishes. I would definitely recommend your company. Price is pretty much the same with the service at the Palais de justice, but with Montreal Weddings you really get the value for your money. You can have your wedding the way you want it, at the unique place you want it. Excellent work!
Ariane et Romeo
Notre mariage a eu lieu le 3 septembre 2016. Cette journée était magnifique, magique et inoubliable. Grâce à Israël, la cérémonie a également été un moment mémorable. Dès le début des préparatifs Israël s'est démontré très flexible, à l'écoute, disponible, compréhensif et d'un grand support! Le jour du mariage, il est arrivé à l'avance pour nous apporter son support, s'assurer que tout était en ordre et pour être certains que les gens du cortège soient coordonnées. Il a réussi à bien personnaliser la cérémonie et faire en sorte que celle-ci représente ce que nous sommes. Israël a réussi à faire une cérémonie touchante, drôle, intime et à notre image! Merci! Merci! Merci! Israël pour ton support, pour ta gentillesse, pour ton professionnalisme et pour ta sensibilité. Il est clair qu'être un célébrant est vraiment une belle passion pour toi! Nous te sommes très reconnaissants! Avec beaucoup de gratitude et d'amour, Ariane et Romeo.
Amber & David
I just wanted to say thank you for Sunday (July 31, 2016), you were great and so well prepared! I received tons of great feedback about the ceremony you had orchestrated. A lot of people even said it was the nices ceremony they had ever been to!! Thank you so much for everything!!!
Charlotte & TR
Hello Israel, I hope this finds you well. Charlotte and I want to thank you so very much for the beautiful ceremony. It was wonderful and heartfelt. You are a good human being in a world with few to find. Charlotte & TR, Nov 20, 2016.