Ila Sisson
Ila conducts weddings in English, Spanish and French. For Ila it is an honour to join with you in to help you plan and celebrate one of the most joyful events in the life of a couple. Ila's openness to the dreams and desires of the couple, her open heartedness and creative and organizational abilities combine to make your marriage ceremony deeply meaningful and memorable for all involved.
Request Ila Sisson
Areas Served
Acton, Alliston, Barrie, Bolton, Brampton, Caledon, Etobicoke, Georgetown, Halton Hills, Holland Landing, Milton, Mississauga, Newmarket, Orangeville.
Reviews
Gordon & Sydney
The process of booking our Officiant Ila Sisson with All Seasons was seamless! Ila did a lovely job on the ceremony. Her guidance was amazing and she added so much value and thoughtfulness to our day. We couldn't have had a better person officiate our wedding! June 2023
Alec & Pasqualina
Ila Sisson exceeded our expectations! She was so warm and friendly. She made us feel so comfortable and loved throughout the entire process. She was super accommodating when we needed to switch our wedding date and eased our worries. She made our experience so memorable! We will never forget our special day. Thank you, Ila! January 2023
Matthew & Holly
Ila Sisson was wonderful . Everything went perfect and the ceremony was performed beautifully. I'm very impressed with all the help and services provided. December 2022
Geoff & Shaunna
Ila Sisson was wonderful and our ceremony was perfect! September 2022
Robert & Gabriela
Hello, I just wanted to share that Ila was the most amazing officiant we could ever wish for, she listened to us, guided us through out the entire process. Was aware of our cultural needs. Added her amazing energy to our wedding, It was like if a family member was marrying us... She is so inspiring! has the most wonderful tone of voice! We were beyond fortunate to have her as our officiant. September 2022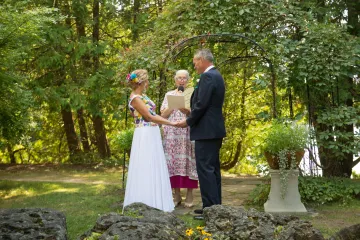 Amelia & Christopher
Ila Sisson was so wonderful pre, and during our wedding. Our family raved about her warm presence and I would highly recommend her and your services to anyone. September 2021
Michelle & Christopher
Ila Sisson was wonderful, friendly and so kind. Michelle & Christopher July 2021
Azza and David
"Ila was the perfect officiant for us! She had such an incredibly calming, nurturing, and supportive presence. She was so easy and flexible to work and was available for a chat with us throughout the process. She delivered our ceremony exactly the way we wanted it and had great feedback for us when we were putting it together. We got married at a weird time- during the COVID 19 pandemic- and Ila was so respectful and equally concerned for our and everybody's safety and comfort. We have already had several friends comment on the amazing energy that Ila had at our wedding. Would highly recommend her, over and over again!"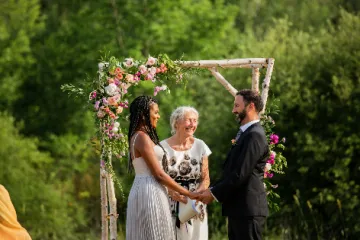 Daniel & Stephanie
Ila Sisson is amazing. Her presence is very loving and caring. I could not imagine anyone one else being part of our ceremony. I highly recommend her to anyone who is looking for the right officiant. She kind of made us slow down with any wedding stress and reminded us to enjoy moment. She completely guided us throughout the ceremony effortlessly. Daniel & Stephanie September 2020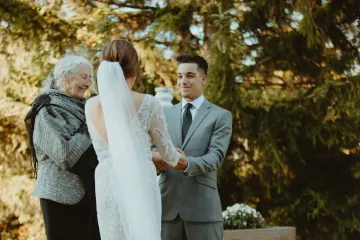 Juan & Dolores
Ila Sisson was very friendly and we loved our ceremony. Thank you for making our day happen. Juan & Dolores July 2020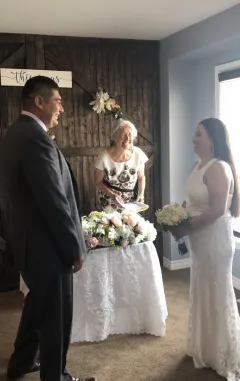 Mark & Melanie
Ila Sisson couldn't have been more accommodating or generous. We had a whirlwind wedding on Christmas Eve when all of our family would be in town. Not only did Ila fit us into her personal schedule for the holidays, but from our very first connection she made us feel at ease and *excited!* Her loving spirit radiates from her, and we are lucky that she was able to officiate at our ceremony. Mark & Melanie December 2019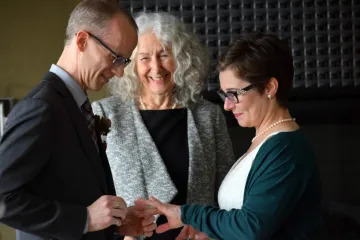 Christine & Matthew
Ila is so kind and warm, so detail-oriented and streamlined - the perfect combination of business and care to officiate our wedding! We are beyond pleased with how the planning and ceremony was conducted. Thank you, All Seasons Weddings for making Ila available to us. Ila is truly a dream to work with and will make any wedding ceremony special!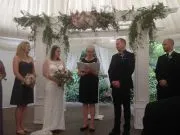 Jason & Erika
Ila (Sisson) was the officiant for our wedding in May 2016 and we could not have been happier. Ila was a perfect fit for us, down to earth, easy going, professional, and detailed. She made us both feel very comfortable, relaxed and even preformed the ceremony in English and Spanish as we had some guests who did not speak English. We received a lot of compliments from our guests about how much they enjoyed the ceremony and the job she did because she seemed like one of our family not someone there just to do a job, she is really sincere and this is obvious in the way she handled the whole event from the planning to the ceremony. We would definitely recommend Ila to any of our friends and family who want a great official. Thank you again Ila!! Jason & Erika
Rose & James
It was a pleasure meeting Ila Sisson. A very lovely, caring person!
Marissa and Nelson
Ila Sisson was amazing! We really enjoyed meeting her. She was able to conduct our ceremony in English and Spanish as we requested. She was very easy to communicate with and very diligent in making sure that our ceremony was put together properly in both languages. We were very happy that she married us. Our ceremony was very magical and it was in part thanks to her.
Bethany and Terry
Ila Sisson was so easy to work with. She is professional but also very warm & helps create a relaxed event for everyone - not just the bride! We communicated with email at times & she was very efficient & detailed in all cases. We met in person & loved the discussion & her preparedness. She is experienced & it really shows! We loved how she put the ceremony in a little book to read from - it looked so neat & organized. She was dressed perfectly for her role in our special day! Her expertise was much appreciated & welcome. Ila arrived at the perfect time before the wedding, had a chance to familiarize herself with the key people & our venue. She is a pure hearted person who genuinely enjoys doing what she does & it shows! She brought even more love to us & our families.