Hilde Atkinson
There are few days in a person's life as important as their wedding day and Hilde strives to help you make it exactly what you want it to be. Her years of leadership, mentoring, and public speaking experience gives couples confidence when selecting an officiant for their wedding.
Hilde has been married for over 30 years, she has two children and six grandchildren. She enjoys an active lifestyle -- loves to go hiking, take in a play, host dinner parties, and rock out to live music. But what she enjoys most is traveling, and experiencing the wonder of new cultures, languages, cuisines, and people.
Hilde believes that a wedding ceremony should be a true reflection of the love you and your partner share. It's all about you and your special day.
Request Hilde Atkinson
Areas Served
Kitchener, Cambridge, Waterloo, St. Jacob, Elmira, Hawksville, Conestogo, Bloomingdale, Rosedale, Maryhill, Breslau, St. Agatha, Baden, New Hamburg, New Dundee, Roseville, Guelph, Ayr, Glen Morris
Reviews
Brian & Judy
We were very impressed from beginning to end. The process of booking an Officiant was very easy! Hilde Atkinson, was very professional and accommodating! She came to our home to get to know us. After meeting us she said she would make a few changes to our wedding. The introduction was changed to more suit us as we have been together for 20 years! She was very easy to talk to and made us feel very comfortable ♥️ Would highly recommend All Seasons Weddings and already have!! Jun 2023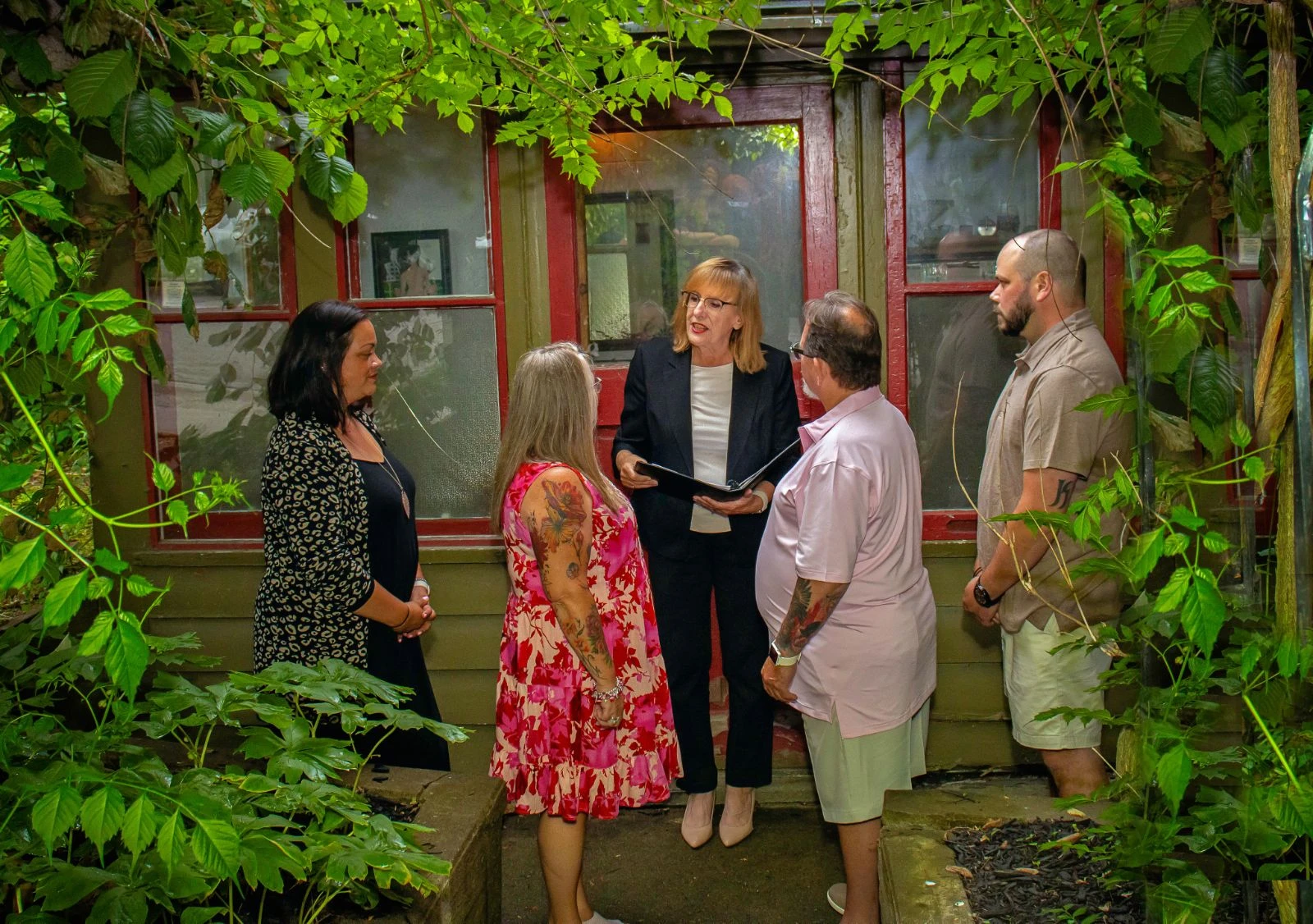 Joshua & Marlee-Ann
All Seasons Weddings process was very easy and clear. It was also interesting to read through all of the Officiant bios and helped us make our decision. The best part of our wedding was getting to marry each other! Hilde was a great officiant. We definitely would recommend All Seasons Weddings. Thanks very much! May 2023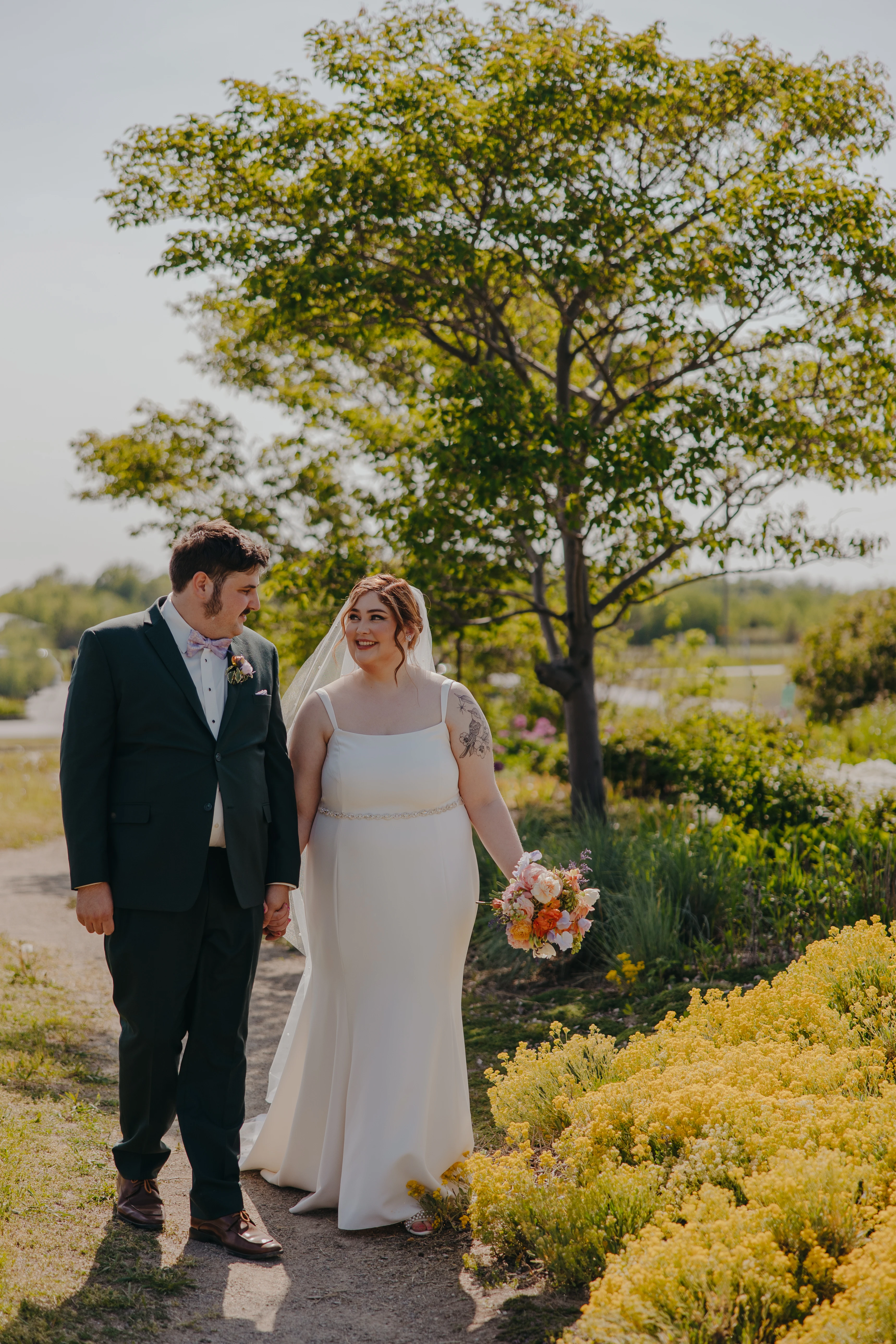 Credit: Lisa at Honey House Photography. Instagram: @honeyhouse.photography
Ken & Marilyn
Hilde Atkinson was great. She was very professional and very kind. And on time! We had a small wedding in our apartment with just family. She made us comfortable with the process. I would highly recommend Hilde to any friends who wished to marry in a small setting like ours. Thank you for recommending her! October 2022
Karlis & Marwa
We loved working with Hilde Atkinson. She was very friendly and kind. Aug 2022
Dan & Amanda
Hilde Atkinson was amazing in every way. I cant say enough good things about her. She took the time to get to know us and Introduce herself to us. She was very welcoming, so nice and made us feel so comfortable. She helped prepare us with all the necessary papers we needed prior & on the day. She made us feel at ease and reminded us that it was our day and all about us. Highly recommend Hilde. She will add the perfect amount of humor and take all your nerves away. She's the perfect addition to your day. We were very lucky to have her present on our day. September 2022
Maria & Kevin
Hilde Atkinson was fantastic! She delivered such a sweet ceremony. Sept 2022
Vickie & Lennon
Hilde Atkinson was amazing. She made our special day that much better. We truly loved her and appreciate everything she did for us!! September 2022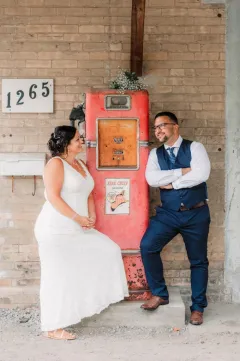 Gabriel & Julia
Hilde Atkinson was sweet and cheerful. She showed up on time, was super accommodating and communicative, and made our whole experience great. August 2022
Sandra & Sareeta
Hilde Atkinson surpassed our expectations as an officiant. She was kind and thoughtful. We had an online meeting where she made us feel welcomed. She went through the details of the ceremony with precision and many helpful suggestions. She added such a flare to the service by researching where we came from and the very long distance we travelled to get wed. She is so personable and friendly. Never once did she rush us. She was fully involved in guiding us from suggestions with our vows, to walking down the aisle, to celebrating with us. She has a great sense of humour and even hummed the wedding march for us since we had no music. Our wedding ceremony was perfect. We could not have hand picked a better person, and now friend, to get us married. We were able to be matched with Hilde who was perfect and we could not have asked for anything more. The success of our ceremony was due to having such an experienced and dedicated officiant such as Hilde Atkinson. Well done. May 2022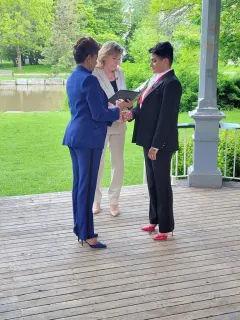 Matthew & Michelle
Despite us springing our wedding on Hilde Atkinson with only 2 weeks to go, she made planning our ceremony absolutely perfect. Throughout the planning, she pointed out things we would never have considered and thus avoided quite a lot of potential awkwardness when things mattered most. She was very flexible with the overall structure, and made sure we understood everything that would happen so there were no surprises - we are planners at heart and appreciated the in-depth timeline. The ceremony went smoothly all thanks to Hilde. Thank you so much for making our day super special! May 2022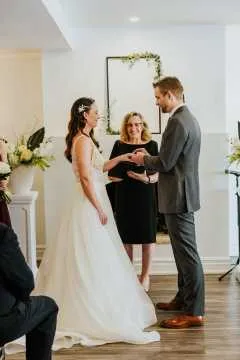 Jami & Laura
Hilde Atkinson was so wonderful, warm, and welcoming. We had the Make it Legal package as we were marrying for legal reasons before the big wedding and she still made our day romantic, intimate, and special. April 2022
Emily & Armin
Thank you Hilde! Hilde Atkinson was our officiant, and she was wonderful to work with. She guided us through the process calmly and competently, and delivered a wonderful, bilingual ceremony with warmth and humour - and we extra-appreciate her flexibility as we had to make some very last-minute pivots due to Covid. We'd highly recommend Hilde! Jan 2022
Shane & Jennifer
Hilde Atkinson was great! Our wedding was very small and she made it a special day. She was very professional and friendly, I am happy to have had Hilde officiate for us. December 2021
Emily and Eric
Thank you Hilde! Hilde was our officiant, and she was wonderful to work with. She guided us through the process calmly and competently. She delivered a wonderful, bilingual ceremony with warmth and humour. We extra-appreciate her flexibility as we had to make some very last minute pivots due to Covid. We highly recommend Hilde! Emily and Eric
Mr. & Mrs. Hamish Macfie
Good afternoon Hilde… Thank you for everything yesterday! The service was beautiful and we will have such great memories of our special day! All the best! Mr. & Mrs. Hamish Macfie
the Wills'
Thank you for everything Hilde. We were so happy to meet you and appreciate you coming out to the park, we couldn't have asked for a better officiant! Thanks again for everything. You made the day so simple and easy for us. We appreciate it so much, no stress, no worries, just happiness. Couldn't of had a better day. We wish you well! Thanks, from the Wills's!
Brian and Orecia
Hi Hilde, We just wanted you to know how incredibly special and memorable you made our wedding ceremony. We were absolutely in awe and so were all of our guests. We cannot thank you enough for officiating our special day, it went way beyond what we ever imagined. Brian and Orecia
Ricky & Samantha
Hilde Atkinson was so wonderful! She has such a calming presence about her and immediately made us feel at ease from the moment we said hello on our first Zoom call. There is so much stress in planning for your wedding day that having someone like Hilde involved is the best decision you could make. She was always available for any questions we had and took the time to walk us through step by step how the ceremony would unfold. And on wedding day she checked in with both of us and made sure that our bridal party knew exactly where to walk and where to stand. Having Hilde standing up at the front with us made us feel as comfortable as if she was an extension of our family. Thanks again! Ricky & Samantha May 2021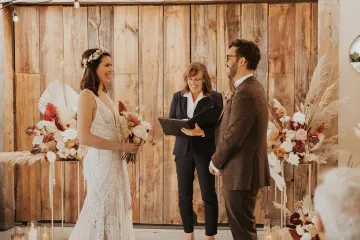 Peer and Brittany
Hi Hilde, I just wanted to thank you again for Saturday, I'm so over the moon with how the ceremony, and whole day went. I felt a tad nervous before walking down the aisle, but having the kids there quickly me made feel right at home. Thank you for keeping everyone in line, and being a part of our special day. Thanks again, it was such a pleasure meeting you! Peer and Brittany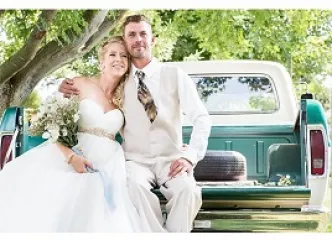 Shawn and Tanya
Hi Hilde, first off, I wanted to thank you for an incredible ceremony. Tanya and I had such a wonderful day and you made everything perfect. We thank you so much for everything. I am sorry that I did not get a chance to sit and have a drink with you! Everything seemed so busy in transitioning the room from ceremony to dining. We feel blessed to have you there and marry us. Thank you Shawn and Tanya
Jennifer and Simeon
I just wanted to say thank you for officiating our wedding and that it was so lovely to meet you. It was such a beautiful ceremony and a perfect day! Thanks again. Kind regards, Jennifer and Simeon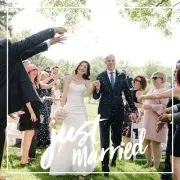 Stacey and Eric
Hi Hilde I just wanted to thank you very much for being with us on our wedding day. I was a bit overwhelmed with everything that was going on and didn't have much of a chance to chat with you. We were very pleased with how everything went and will not hesitate to recommend you to friends. I hope you have a wonderful New Year,
Seanna & Scott
Hilde Atkinson was wonderful. She was very giving of her time and resources. We met with her before selecting an officiant to make sure we were a good fit. She did a wonderful job of walking us through the process, and sharing resources to help us prepare our ceremony. She was on time and organized during our wedding, and always was really pleasant and kind.
Chris & Joy
Above and beyond. Hilde Atkinson made it very easy for us, even though we were living out of province. She was fantastic! Everything went perfectly at the ceremony and it was all thanks to Hilde. She really was great and we greatly appreciate everything she did for us. Highly recommended