Hilde Atkinson
There are few days in a person's life as important as their wedding day and Hilde strives to help you make it exactly what you want it to be. Her years of leadership, mentoring and public speaking experience gives couples confidence when selecting an officiant for their wedding. She strives to make your guests feel welcome and included and is well-versed in handling those sensitive family situations that invariably come up during the wedding process. Every couple is unique and every wedding is special and different. Hilde is committed to helping you create a personalized and meaningful wedding ceremony. No reruns or cookie cutters, it is all about you and your special day! Hilde can celebrate your ceremony in English, German or Croatian!
Request Hilde Atkinson
Areas Served
Kitchener, Cambridge, Waterloo, St. Jacob, Elmira, Hawksville, Conestogo, Bloomingdale, Rosedale, Maryhill, Breslau, St. Agatha, Baden, New Hamburg, New Dundee, Roseville, Guelph, Ayr, Glen Morris
Reviews
Ricky & Samantha
Hilde Atkinson was so wonderful! She has such a calming presence about her and immediately made us feel at ease from the moment we said hello on our first Zoom call. There is so much stress in planning for your wedding day that having someone like Hilde involved is the best decision you could make. She was always available for any questions we had and took the time to walk us through step by step how the ceremony would unfold. And on wedding day she checked in with both of us and made sure that our bridal party knew exactly where to walk and where to stand. Having Hilde standing up at the front with us made us feel as comfortable as if she was an extension of our family. Thanks again! Ricky & Samantha May 2021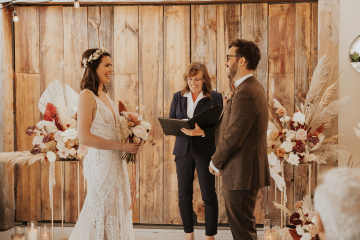 Peer and Brittany
Hi Hilde, I just wanted to thank you again for Saturday, I'm so over the moon with how the ceremony, and whole day went. I felt a tad nervous before walking down the aisle, but having the kids there quickly me made feel right at home. Thank you for keeping everyone in line, and being a part of our special day. Thanks again, it was such a pleasure meeting you! Peer and Brittany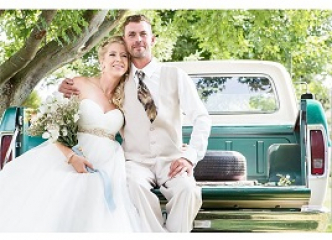 Shawn and Tanya
Hi Hilde, first off, I wanted to thank you for an incredible ceremony. Tanya and I had such a wonderful day and you made everything perfect. We thank you so much for everything. I am sorry that I did not get a chance to sit and have a drink with you! Everything seemed so busy in transitioning the room from ceremony to dining. We feel blessed to have you there and marry us. Thank you Shawn and Tanya
Jennifer and Simeon
I just wanted to say thank you for officiating our wedding and that it was so lovely to meet you. It was such a beautiful ceremony and a perfect day! Thanks again. Kind regards, Jennifer and Simeon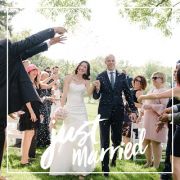 Stacey and Eric
Hi Hilde I just wanted to thank you very much for being with us on our wedding day. I was a bit overwhelmed with everything that was going on and didn't have much of a chance to chat with you. We were very pleased with how everything went and will not hesitate to recommend you to friends. I hope you have a wonderful New Year,
Seanna & Scott
Hilde Atkinson was wonderful. She was very giving of her time and resources. We met with her before selecting an officiant to make sure we were a good fit. She did a wonderful job of walking us through the process, and sharing resources to help us prepare our ceremony. She was on time and organized during our wedding, and always was really pleasant and kind.
Chris & Joy
Above and beyond. Hilde Atkinson made it very easy for us, even though we were living out of province. She was fantastic! Everything went perfectly at the ceremony and it was all thanks to Hilde. She really was great and we greatly appreciate everything she did for us. Highly recommended