Heather Marchand
Heather lives in South River in the Muskoka region. She has lived in the Almaguin Highlands for 30 years. She has been a volunteer for Girl Guides (25 years); Canada Revenue Agency (30 years) and the Royal Canadian Legion (25 years) for a combined total of 80 years. In her spare time, Heather knits and sews for charity. Heather has ten years experience performing weddings in many settings both time honored and modern. Heather looks forward to helping you have a wedding that fits your personality and will be remembered forever.
Request Heather Marchand
Areas Served
Sundridge, South River, Magnetawan, Burk's Falls, Trout Creek, Powassan, Golden Valley, Port Loring, Loring
Reviews
Katie & Greg
Heather Marchand was great and did exactly as we wanted! Katie & Greg August 2021
Carl & Meghan
Thank you so much , our day was beautiful & Heather Marchand was amazing... she came to see me personally the morning of our wedding to ensure everything went to plan . She had even brought a beautiful card for me to give to my Mother , knowing brides at this time are forgetful. Very pleased with the service provided for our day ! ❤️ Carl & Meghan October 2019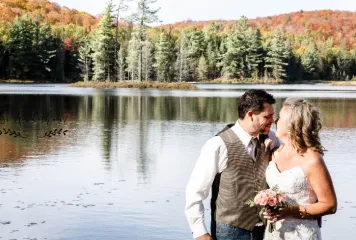 Stephanie & Derek
Heather Marchand was absolutely wonderful! Always available by phone or email and willing to drive quite the distance to meet with us. The reservations office was great. We only communicated by email but they replied quickly and gave lots of great ideas. I would definitely recommend Heather and All seasons to anyone.
Jon & Megan
Heather Marchand was great. Especially with such short notice. If we ever get married again we'll call you. Just kidding! Thanks Heather!