Hal Wagar
Hal, who lives in Mount Forest, and is a retired police officer. He has been conducting weddings for over 14 years. Hal scuba dives, loves motorcycles, and hunts with a camera. Hal is comfortable in all wedding settings and knows how to create a warm and friendly ambiance. Hal has a great sense of humour and your guests will love his work.
Request Hal Wagar
Areas Served
Gorrie, Lakelet, Belmore, Mildmay, Carlsruhe, Hanover, Dornoch, Mount Forrest
Reviews
Adam & Keri
Our officiant Hal [Wagar] was wonderful, so many inquired about him! He was the perfect fit for our wedding! We will definitely be recommending All Season Weddings and Hal [Wagar] to inquirers! Our ceremony was perfect length and a mix of serious and humorous encounters. Aug 2023
Credit: Claire Sutherland
Devon & Alexis
We loved working with Hal! He made it clear we could reach out with any questions or concerns before and after the wedding, he's funny, easy to work with, and made sure the details were taken care of. Our ceremony was just what we wanted. Thank you Hal!! June 2022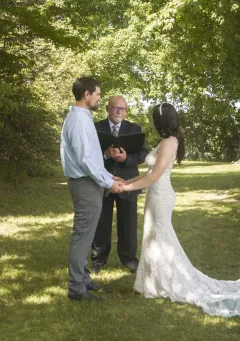 Jan-Willem & Dieneke
Hal Wager was amazing, relaxed and professional and we were so happy to have him officiate our wedding! June 2022
Adam & Rebecca
Hal Wagar was fantastic and made our day that much more. We would recommend him to everyone. Thanks again for all your help. Adam & Rebecca July 2021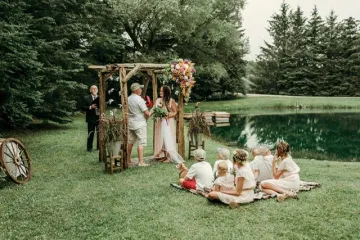 Adam & Rebecca
Hal Wagar was a fantastic officiant. Very involved with details and has an excellent personality. He fit our ceremony perfectly. Thank you so much!! All Seasons was so quick and wonderful to work with, especially with a last-minute venue change. I would recommend your services to anyone. Thank you Adam & Rebecca July 2021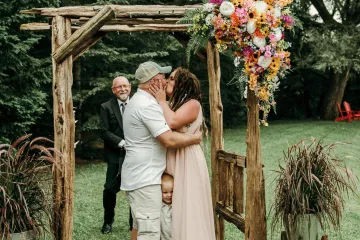 Eric & Sarah
Hal Wagar was perfect. Knew what he was doing and what to expect. Would recommend to anyone looking for an officiant.
Amy & Luke
Hal Wagar was great, kept everyone relaxed. Made the ceremony smooth, calm and very enjoyable.
Alison & Richard
Hal Wagar was everything we hoped he would be. Professional and relaxed. He suited our personalities well. When people asked where we found our officiant I let them know about your website and services and how professional and convenient you are.
Megan & David
Mr Hal Hagar was absolutely amazing. Dave and I loved the ceremony and we feel he was perfect in every way. He was very accommodating and patient, he helped us pick the ceremony perfect for us, he showed up on time, and was calm and supportive throughout.
Dianne & Kendrick
I just want to say that Hal Wagar was so considerate. Not only for us but for our families also. It was such a pleasure having him with us on our day. It was like bing married by your favorite uncle. Thanks for Hal and your team for making our day one that will forever be percect in our memories.