Gerri Humphries
Gerri, a Campbellford resident, is happily married with two children. Gerri is an avid environmentalist and an active volunteer within his community. His experiences has given him a deep appreciation for life's memorable moments spent with loved ones. Gerri has the right combination of understanding, professionalism, grace and humor to help each couple have the unique and personal wedding ceremony that they envision. Gerri really enjoys being a part of a couple's wedding and celebration of their love. As a wedding officiant he can create for every couple a wedding day that they will remember for the rest of their lives.
Request Gerri Humphries
Areas Served
Municipality of Trent Hills, Campbellford, Warkworth, Hastings, Percy, Seymour Township.
Reviews
Lucas & Liz
Gerri Humphries was so wonderful! He was very easygoing and it was a pleasure to work with him. He did a great job during our ceremony and offered awesome tips to help us out. August 2022
Amberlee & Dale
Gerri Humphries was great! We picked our vows from the template and made one small change he was professional and guided is what to expect for the ceremony Amberlee & Dale August 2021
Terry & Carla
Gerri Humphries was personable, professional and safe through our covid-19 elopement. He was so helpful through the whole process, and we couldn't be more grateful. Thank you so much!! Terry & Carla December 2020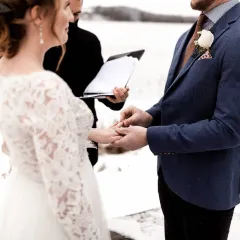 Matthew & Melissa
Gerri Humphries was very professional and created a very well laid out ceremony that captured our relationship perfectly! Thank you! Matthew & Melissa November 2019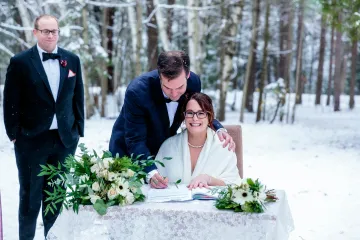 Christopher & Michael
Gerri Humphries was an absolute gem to work with! We worked with him for a number of services, in addition to his officiating duties, but as officiant he was very helpful in planning the ceremony in advance, leading our rehearsal, and picking up on our cues for a more relaxed ceremony filled with laughter. Any couple that finds Gerri is in fantastic hands! Christopher & Michael June 2019