Gary Faris
Gary was born in Belfast, Northern Ireland but came to Canada as a youth. He lives with his beloved wife and 3 daughters and is committed to finding the sacred in all beliefs, experiences and life situations. Gary believes in the sanctity of relationships and that two people who make a public commitment to each other can have the world at their feet. A deeply caring person, Gary will bring to your wedding compassion and an easy-going atmosphere. His 18 years in the counselling and mediation industry lends itself towards his approachable manner. Gary says: "Being invited into the lives of others at such a special time is a privilege not to be taken lightly – let's make this a truly wonderful experience."
Request Gary Faris
Areas Served
Belfountain, Shelburne, Loretto, Tottenham, Orangeville
Reviews
Joe & Joanne
Gary Faris was great, everyone loved he sense of humour, he made everyone so relaxed. We are so happy to have had him for our officiant. He made our day perfect. May2022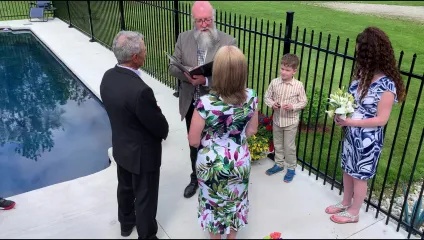 Carrie & Daniel
Gary Faris was very friendly, and complimentary as well. He gave us a sense of spirit and calm. It felt like we knew each other but it was the first time we had met. We got Exactly what we wanted and we were not disappointed. June 2022
Brian & Amanda
Gary Faris was unbelievably amazing! He was funny, personable and brought a calming presence. Couldn't of asked for a better man to marry us! May 2022
Matt & Morgan
Gary Faris was fantastic! His humour made our crowd laugh, and his words really brought the ceremony together. I also appreciate him allowing me to do something funny before I said "I do"! September 2021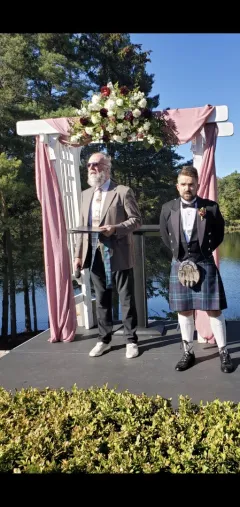 Andrew and Kaitlyn Aug 2021
Gary went above and beyond our expectations. He kept the ceremony light and added humour. We had so many compliments on his service. Thank you again!
Scott and Amy Aug 2021
Gary was great! Couldn't have been happier. Friendly and relaxed, organized and patient. Emails back and forth were also very helpful before day of. Our approach to our wedding was taking everything in stride and this was a perfect fit. Thank you!
Dave & Corina
Gary Faris Exceeded our expectations. We loved Gary and were so happy to have him as part of our day. The guests loved him as well and kept asking us, "where did you find him?". Thank you again for Making the day perfect! Dave & Corina September 2019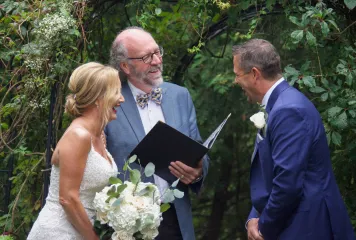 Chris & Jackie
Gary Faris was absolutely wonderful! Gary Faris is so personable, full of life and lots of fun! Exactly what we wanted.Thank you Gary. Chris & Jackie July 2019
Jerry & Alison
Gary Faris exceeded our expectations! He listened to what we wanted and made our wedding ceremony exactly the way we wanted. He was professional, energetic, humorous, which we love, and just so genuine and kind. Thank you so much!! Jerry & Alison June 2019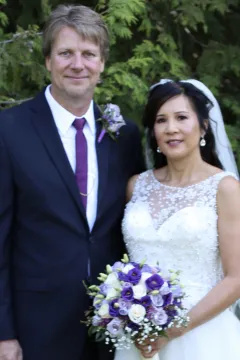 Brandon & Sinead
Gary Faris is one of the most authentic person I've ever met ,it came shining through during our ceremony! So many commented on his beautiful delivery, making our ceremony, our vows and our wedding so deeply special. Thank you Gary! Brandon & Sinead June 2019
Lesley & Ken
Gary Faris was truly amazing. He made the ceremony light and funny and was just exactly what we wanted. He involved all our children and grand-children and we had nothing but positive feedback from our guests about him too. We cannot say enough about how great Gary was.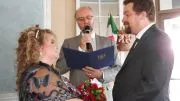 Zoey & Andrew
Gary Faris was fantastic. We really enjoyed his laid back style and humour, it was exactly what we wanted. He was extremely kind, helpful and generous with his time in meeting with us to prepare for the ceremony. He incorporated our suggestions and cultural traditions in a way that flowed perfectly. As we reflect back on our big day, we know Gary made a big difference in setting the tone for the rest of they day, and what an amazing day it was! Thank you Gary!!!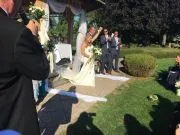 Nazia & Jesse
Jesse and I cannot thank you enough for creating a wedding for us that far exceeded our expectations. I could not have dreamt a more beautiful wedding. Words truly cannot express how happy we were with everything you did. It was the most beautiful wedding because of your charismatic character and wonderful wife's planning behind the scenes. All of our family and friends are still talking about how awesome the officiant was and how he kept it light, funny and kept the meaning of love in the forefront. Thank you!! You are truly the best at what you do!!
Vanessa & Grant
Thank you so much Gary for making our day so special. Your energy was contagious and you can make anyone smile. We could not have had a more perfect person perform our ceremony and for that we thank you. Ann also deserves a standing ovation for all her help and guidance through the process, thank you Ann.
Sarah & Daryl
Gary Faris was absolutely wonderful! Such a pleasure working with him. He really made our day special. I got so many compliments about how fantastic Gary was. I am incredibly happy we choose him!
Jennifer & Brian
Gary Faris was fantastic! We received a lot of very postive comments from our guests about him. I would absolutely recommend him to anyone who is getting married. He really helped us to create and execute exactly what we envisioned our ceremony to be!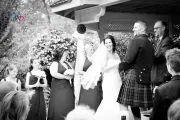 Amy & Greg
We had several compliments on our ceremony and our officiant. Gary Faris made everything easy, fun and relaxed. We especially loved how he said the vows that we were to repeat into our ear instead of the mic for us to repeat, this way when our guests heard our vows it was from us.
Gema & Craig
Gary Faris was fantastic. He was like a warm hug and he made sure our marriage ceremony was a perfect reflection of who we are. He easily wove our family into the ceremony which made it all that more special and memorable for us. Gary is a kind and special man and we consider ourselves lucky to have had him with us on our wedding day. Great experience from beginning to end. Thank you!
Becky & Jeff
Gary Faris was amazing!!! Such a wonderful ceremony!!!!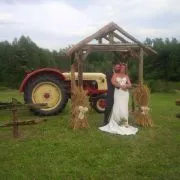 Andrea and Brian
Gary (Faris) is absolutely amazing!!!! He helped make our special day that much more special. Our guests absolutely loved him!! He listened to exactly how we wanted to make our ceremony special and it made it unforgettable for everyone. We could not be happier. Thank you again Gary for your time and passion. You are truly an amazing person. Thanks again Andrea and Brian
Teresa & Paul
Gary Faris didn't meet our expectations, he exceeded them and then some. What a wonderful man. The time he took with Paul and I and our daughter Jenna, who sang at the wedding service was remarkable.
Cheyenne and Paul
Hi Gary,there are seriously no words to describe how incredible you made our wedding ceremony. I have never witnessed a ceremony so personal, so touching, so fun and so perfect.You have a true gift. We had countless people coming up to us saying "Where did you find him?". It was the little things you did like put your hand on Paul's shoulder when you saw him get tearful when he first saw me, to standing to the side and whispering the vows in our ears, to getting down to little Jaden's level and giving him "props" when it was time for his vows. All Seasons Weddings and the couples who have chosen Gary Faris to perform their ceremonies are VERY, VERY lucky!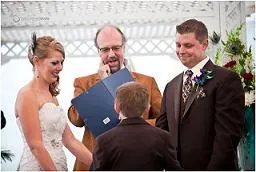 Carl and Joan
I wanted to make sure to follow up on the great website you have and the amazing Wedding Officiant we chose. We chose Gary Faris perform our ceremony and he was truly a gem to work with. We found that Gary is very generous with his time and he even met with us twice (went out of his way). Gary a wonderful sense of humour and a very huge heart.We are so impressed with his professionalism and the way he presents himself. He has long hair which is pretty trendy in terms of being old fashioned and yet up to date and well kept. I would hope that no one would judge him by his hair. There are plenty more serious things in the world to worry about other than Gary's hair. We love him! I would highly recommend Gary Faris for any special occasion.