El-Farouk Khaki, LLB (UBC)
El-Farouk is our pastoral ambassador to the Rainbow Muslim Community in Toronto creating dialogue and deepening relations between the two faiths. He lives in the city with his husband and 3 cats. He has been a Designated Minister with Clergy Support since Oct 2016. El-Farouk has been celebrating and supporting same-sex and mixed-sex Life Celebrations for many years. In addition to this ministry, he is also a refugee lawyer who represents refugees, primarily those fleeing persecution due to their gender, sexual orientation/gender identity and/or HIV status. His ministry also includes being a human rights and spirituality activist which is expressed in his work as the co-founder of the Toronto Unity flagship El-Tawhid Juma Circle network of LGBTIQA affirming, gender equality in mosques. He is eager to work with any and all couples in creating a celebration of your love that affirms who you are.
Request El-Farouk Khaki
Areas Served
Central-Downtown Toronto: including The Annex, The Beaches, Cabbagetown, Casa Loma, Distillery District, Forest Hill, Kensington Market, Lawrence Park, Leslieville, Parkdale, Riverdale, Rosedale, St. Lawrence Market, Toronto Island, Yorkville
Reviews
Casey & Tara
El-Farouk was lovely, accommodating and exceeded our expectations. It felt so great to have him there for our special day. I am glad that we live in a place where we can not only get married, but have an officiant like El-Farouk. September 2021
Casey and Tara
El-Farouk was fantastic. He made our day memorable, was so accommodating and gave us the perfect heartfelt and inclusive ceremony. We felt honoured to have him officiate our wedding! Thanks again for everything, Casey and Tara
Morgan and Jay
El Farouk did a phenomenal job in officiating our wedding! We have received nothing but stellar feedback about his service, in particular the way he blended religious and secular aspects of service. Thank you Morgan and Jay
Kaanu & Conrad
El-Farouk Khaki was kind and his message was very personal to us. He made the ceremony feel intimate and unforgettable. Most of our guests joined via video call due to pandemic and El-Farouk made all of them a part of the ceremony. He guided us before, through and after the ceremony with ease and warmth. His message was both spiritual and from the heart. Kaanu & Conrad August 2020
Tony & Alyah
Thanks for helping us to find El-Farouk for our wedding! He was an amazing officiant, very friendly, funny and accommodating, especially in these uncertain times. We are super grateful that when our original venue cancelled on us due to the pandemic, he was willing to go to another venue which we found on short notice, which was outside of the areas he usually serves. Due to the circumstances, we had an extremely small wedding, with only our parents and siblings in attendance, and El-Farouk was very affable (our moms loved you!). Both of us were a little bit nervous during the ceremony, but El-Farouk was calming and guided us along the process at every step. We couldn't have envisioned a better wedding with any other officiant. Thank you so much for helping us get married, El-Farouk! Thanks Tony & Alyah
M & V
I wanted to thank you for your services and helping us find El-Farouk. He's a great guy and made our special day even more special. I would recommend your platform and his services without hesitation. Thank you sincerely. Feb. 2020
Nicholas & Lisa
El-Farouk Khaki was organized, responsive, and accommodating of our preferences for the ceremony. He was calm and knowledgeable, and offered great advice. He is very personable and funny, and was a delight to work with. Many of our guests commented on how great he was, and how he suited our laid-back style. I would definitely recommend El-Farouk! Nicholas & Lisa September 2019
Mark & Michael
My husband Michael and I had the pleasure of being married by El-Farouk Khaki in September 2019. As we only recently started planning our wedding, El-Farouk helped us with everything to do with the ceremony, alleviating all of our worries and questions. He was very professional but also really friendly and down-to-earth and made the planning and the ceremony an enjoyable and rewarding process. We loved how he added a sense of fun to the event and this was so appropriate for our non-traditional wedding. It was an absolute joy and honour to be married by him and we would highly recommend his services. Thank you so much El-Farouk! Mark & Michael
John & Ed
We could not have been more pleased with the service provided by Mr. Khaki. Our wedding was a complete surprise to our guests, and Mr. Khaki began by addressing them with warmth and humour, telling them why we had decided to marry and how concerned we were that the many years of our relationship prior to the wedding not be disregarded as insignificant. He then conducted the service in a relaxed but dignified manner, guiding us through our vows and the exchange of rings. Later he steered us and our witnesses through the process of signing the many forms necessary for registering our marriage, professionally and efficiently. When that was done, Mr. Khaki mingled with our guests and charmed them with his wit, intelligence and charm. Many of them told us how much they had appreciated how well he handled the event from start to finish. We would be happy to recommend Mr. Khaki to any of your clients who are seeking to choose an officiant. Thank you El-Farouk Khaki! John & Ed May 2019
Ahbhisheik & Kelly
Mr. Khaki was our first and only choice for an officiant and he far surpassed the expectations we had for him which were high. He was incredibly receptive to a slight last second change and was flexible with his time. His words were quite beautiful, especially the poem he read after the rings were exchanged. He's a genuine man with a big heart and you can see it when you hear him speak. Thank you El-Farouk Khaki. Ahbhisheik & Kelly May 2019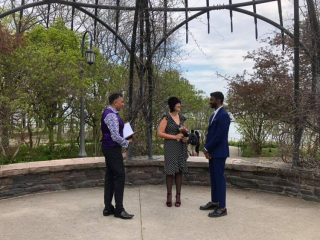 Diego & Samantha
We chose El-Farouk Khaki was our officiant as we felt tightly aligned to his values and world view. We could not have asked for a better person to officiate our wedding. El-Farouk is kind, fun, passionate and caring. He respected our wishes for a short, sweet, and secular wedding ceremony and was easy to communicate with and is genuinely a lovely person! Diego & Samantha April 2019
Livia and Linda
My partner and I are fortunate and very grateful to have had El-Farouk as our officiant! His presence reflected much kindness, genuine respect for the spirit of Love in all forms, open-mindedness, and a charming sense of humour. Thank you for honouring our special day! Livia and Linda Jan 5th, 2018
Myia and Semhar
El-Farouk (Khaki) was our dream officiant and we chose him specifically, creating a ceremony that deeply represented and celebrated both who we are and the building of community as part of our love and relationship. El-Farouk brought his own beautiful words and offerings to the ceremony and many of the people present said it was the most beautiful ceremony they had witnessed. Working with All Seasons was very straightforward and supportive and we are grateful to have had an officiant who could hold and celebrate us well.
Ian and Sam
We would like to thank El-Farouk from the bottom of our hearts for a beautiful ceremony! He is a kind, compassionate and gentle soul. The moment we met him, we knew he was the perfect person to marry us. With an elegant balance of attentiveness and tranquility, El-Farouk eased our stresses and brought his loving energy to our special day. El-Farouk is an accepting and inclusive officiant who projected warmth and positivity throughout the evening. There is no one else we could have imagined bringing our souls together than El-Farouk. THANK YOU El-FAROUK - WE TRULY LOVE YOU! Ian and Sam 06/10/17