Ed Walzak, H.B.B.A. (Laurier).
As an Appointed Designated Life Celebrations Minister Ed lives in Kitchener. He came to recognize his passion to help couples while presiding over not one, but two of his siblings' wedding ceremonies. Ed is a talented public speaker, trained in the toastmaster system. His natural charisma ensures his comfort with groups of any size. A champion for children through World Vision, Ed believes in the awesome power that love brings to the world. He considers being included in your special day a great privilege and dedicates his creativity and humour to your wedding ceremony. Together you will enjoy a truly customized celebration of your commitment and the perfect start to your lifetime together.
Request Ed Walzak
Areas Served
Ancaster, Ayr, Brantford, Breslau, Cambridge, Dundas, Elmira, Guelph, Kitchener, New Hamburg, Paris, Saint George, St. Jacobs, Stratford, Tavistock, Waterdown, Waterloo, Woodstock
Reviews
Michael & Irene
All Seasons web site was very easy-to-use. We chose Ed Walzak as our Officiant. He was great! The vows were our favourite part of the ceremony! August 2023
Credit: Ricky nguyen
Paula & Andre
Thanks so much for everything, Ed Walzak. He was a wonderful officiant his energy and kindness radiated our wedding in a very beautiful way. Paula & Andre August 2023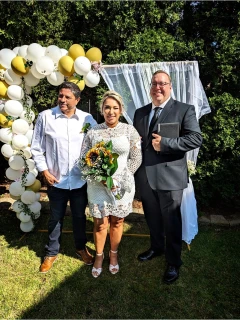 Wade & Lori
It was very easy to book an Officiant with All Seasons. Every part of our day was perfect except the rain. Ed Walzak was fantastic. Everyone enjoyed the ceremony and said what a great job he did. He was so easy to work with and always had a smile on his face and such a calming nature. July 2023
Brendan & Kelly Ann
Ed Walzak was a fantastic Officiant, very professional and helpful! September 2022
Rebecca & Steven
Ed [Walzak] was amazing! When we met, he picked up on our personalities right away and helped guide us through our ceremony and added personal touches that made it our own. Ed provide excellent recommendations for us to review readings and quotes that we could incorporate. Ed was fantastic on our big day, made us all at ease, got some laughs and kept us on track. I highly recommend Ed for any couples looking for an officiant! July 2022
Christopher & Megan
Ed Walzak was incredible! We loved him so much and our guests did as well. Many commented on what a great job he did. We found him extremely helpful and patient with us during the planning process, and he was so genuine with just the right amount of humour during our ceremony. Thank you so much Ed for helping make our day so special!! July 2022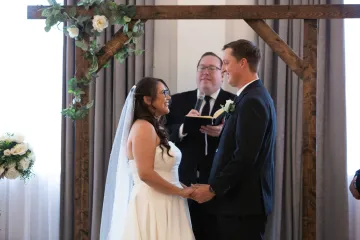 Christina & Paul
Ed Walzak was great! He guided us through the whole process and made it really easy for us. We got married at the Cambridge Butterfly Conservatory and it was super hot that day. Ed smiled through the whole ceremony even though there was sweat dripping off his face! June 2022
Chris & Amanda
Ed Walzak was fantastic. He was very easy to talk to and was extremely helpful in planning the ceremony. Ed was very helpful throughout the entire process and made us feel very comfortable. We had a wonderful night and Ed definitely helped make the day memorable. Chris & Amanda October 2020
Connor & Michelle
Ed Walzak was excellent! Super friendly and easy to work with. The ceremony he came up with was perfect. Connor & Michelle October 2020
Colin & Britta
Ed Walzak was great and welcomed our request to have a friends as our 'officiants'. He also provided the much needed structure and coaching for prep and rehearsal! Thanks so much Ed - you were awesome! Colin & Britta June 2019
Jesh & Caroline
Ed Walzak was amazing. Our wedding day included rain so we had to change our venue last minute and he didn't bat an eye. I am so grateful!
Danielle & Matthew
Ed (Walzak) was great! Friendly, easy to deal with and delivered exactly what we asked for. He helped us plan our ceremony when we weren't sure exactly what we wanted. I would highly recommend him and All Seasons!
Sarah & Scott
Ed Walzak was fantastic! He is so flexible, willing to meet with us on our schedule, allowed us to create our ceremony but also provided us the tools to create a wonderful day. Ed is so down to earth and easy to talk to, we highly recommend him to others
Matthew & Jessica
Ed Walzak was awesome! He made the ceremony fun and worked with us to make it all great. Would definitely recommend him for anyone!