Donna Macey
"True Love is now, forever to the end of all time." Donna is a true romantic who loves to see people who have found their soul mate. Her commitment to you is to make your wedding ceremony the most memorable, unforgettable day of your lives. Donna is a long time resident of Kawartha Lakes, and is happily married with three grown children and a beautiful grandson. Donna is a licenced pilot and owns a vintage 1959 plane that she and her husband have restored and fly. You may know Donna through their radio commercials that aired on Country 105.
Request Donna Macey
Areas Served
Bobcaygeon, Bolseover, Coboconk, Fenelon Falls, Kawartha Lakes, Kirkfield, Lindsay, Minden, Norland
Reviews
Robert & Melanie
Donna Macey was knowledgeable, friendly and really ensured everything was exactly how we wanted it. We had a great phone call back in December and she didn't pressure us to book her for our wedding. Once we chose her as our officiant she took the time to write out the ceremony and make all of the changes we wanted. The weekend of the wedding she was on-time for the rehearsal (unlike many people in my bridal party) and was very patient with us - she put up with all of the boys jokes that she's probably heard many times! At the ceremony she was loud enough for everyone to hear, knew exactly was she had to say and didn't stumble over any words. We felt very comfortable working with her and felt at ease knowing that she was a professional! Thank you Donna! Robert & Melanie September 2019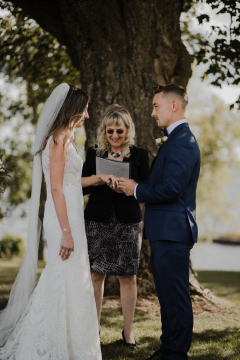 Jamie & Rachel
Donna Macey was amazing, very positive and flexible to our needs. We have had many positive comments and feedback from friends and family that the church ceremony was beautiful, very relaxed and had a natural flow to it. Donna's style/demeanor was very professional and relaxed, which was perfectly suited to our wedding ceremony needs without question. Jamie & Rachel. July 2019.
Jamie & Darby
Donna Macey was amazing. She hit us right on the head with everything she said. She had the perfect ceremony for us and our story. Everyone commented on how perfect and lovely it was.Thank you for sharing in our very special day! Jamie & Darby June 2019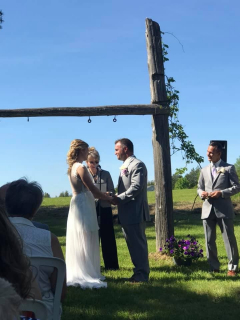 Toni & Brandon
We had a great experience with Donna Macey! She was so flexible with our requests and vision for the day. Thank you Donna!
Kate & Drew
Thank you so much, Donna, for being so flexible with the timing of our ceremony, and for waiting out the rain! Your easy-going approach definitely made our wedding perfect, and I can't thank you enough for that.