Donna Bekkers-Boyd, BA, B.Ed
Donna and her husband are thrilled to have recently settled in the jewel of Canada, Victoria, to pursue their passions of outdoor life, year-round! Cycling and running for years now, she hopes to take on one of those skulls at the Harbour soon!! Donna enjoys connecting with people and loves the opportunity to hear couples' stories and help with one of the grandest events of their lives …Marriage! She has the ability and experience to calm a couples' natural nervousness up to and during their wedding ceremony. Loving weddings, she feels weddings love her; "Marriage is that special treaty of HOPE in the world…the treaty that brings family together; the treaty that is the beginning of an exciting new story to tell, to treasure and to sign for life!" Donna treats each wedding as if it were for one of her family members and cherishes her responsibility to deliver a truly remarkable ceremony for you.
Request Donna Bekkers-Boyd
Areas Served
Brentwood Bay, Central Saanich, Deep Cove, Colwood, Esquimault, Langford, Metchosin, North Saanich, Oak Bay, Point no Point, Shawnigan Lake, Shirley, Sidney, Victoria, View Royal
Reviews
Ian & Jenny
It was very easy to find and book our Officiant Donna Bekkers-Boyd. Donna's personality and enthusiasm were amazing. She completely captured the essence and mood of the event. Everyone commented on how beautiful the ceremony was. Thank you Donna August 2023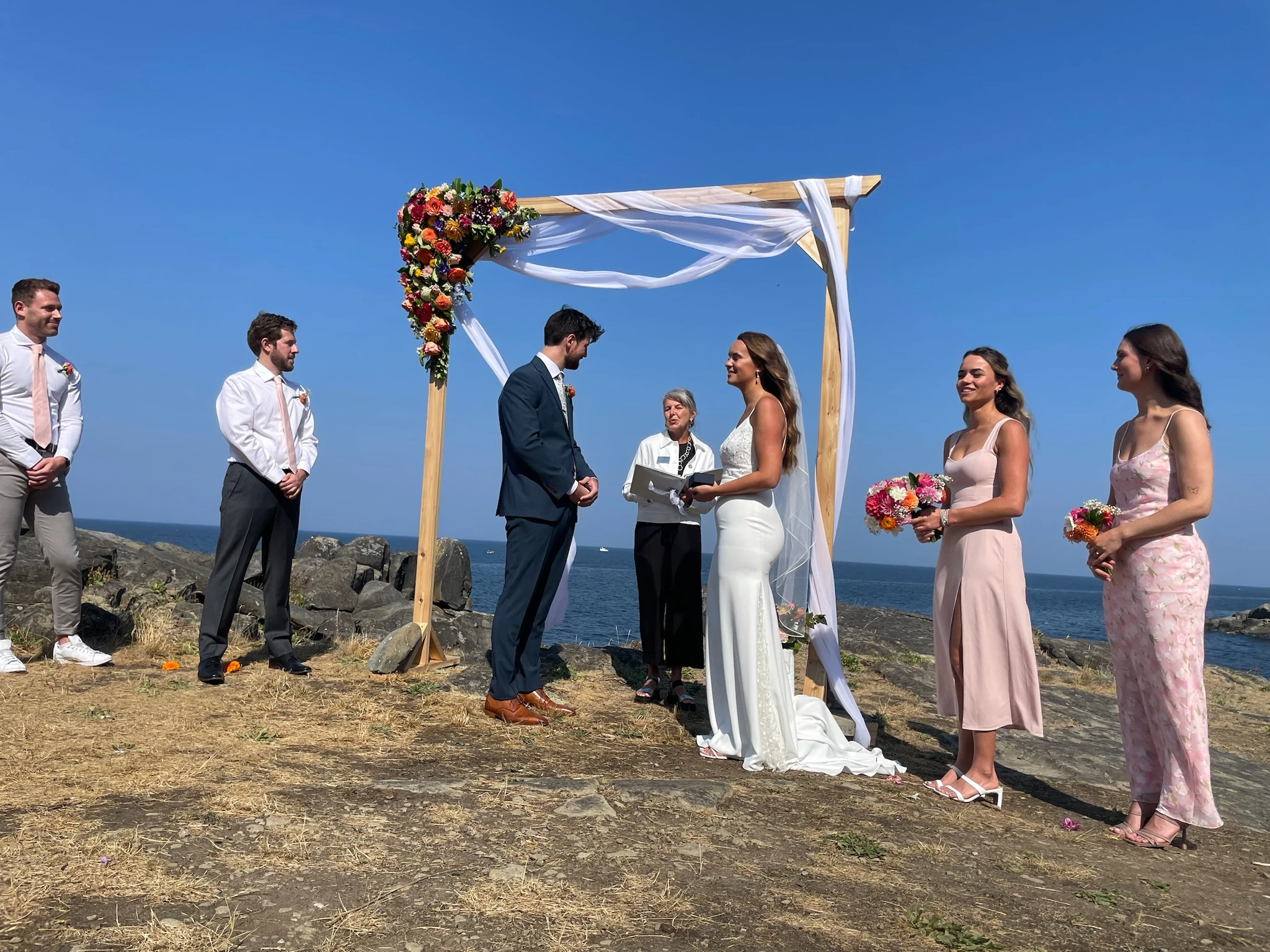 Credit: Greg Caws
Zach & Emily
Hi Donna, We wanted to say THANK YOU! Your warm presence, kind words, and genuine enthusiasm made our ceremony truly special and memorable. We appreciate your dedication and attention to detail in crafting a ceremony that reflected our love and commitment. Your calming demeanor and ability to connect with both of us and our guests created a warm and intimate atmosphere. You truly captured the essence of our relationship and delivered a ceremony that touched our hearts and those of everyone present. It was a joy to have you guide us through this important milestone in our lives. Thank you for your professionalism, flexibility, and guidance throughout the planning process. Your experience and expertise were invaluable in helping us navigate the various aspects of the ceremony. We both felt truly at ease with you there. Emily & Zach - May 203
Tyler & Janaée
Donna Bekkers-Boyd was amazing! She was so kind, attentive, professional, and did a beautiful job officiating our ceremony. She even added in a special touch about golf as she knew my husband is a golfer. We will absolutely recommend Donna to our friends getting married and we hope that we get the pleasure of seeing Donna again :) August 2022
Fratiene & Tyler
Donna is amazing!! We are so lucky she is our officiant on our wedding! She did make an effort in everything, meet us before the wedding, she did hard copy of our personal vow. She made our ceremony memorable and remarkable, we got lots of positive feedback from family and friends that we have great officiant, highly recommend!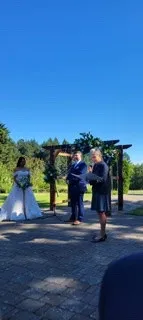 Tim & Stefanie
Donna Bekkers-Boyd was spectacular on every front. Great demeanor. Very engaging, organized, warm, confident and welcoming. I had many people comment that they really enjoyed her part of the ceremony. She was also flexible and open to making the ceremony tailored to us. It was a wonderful day - thank you Donna! June 2022
Reno & Barb
Donna Bekkers-Boyd was excellent. Donna was friendly, knew what we wanted. I would highly recommend Donna to anyone getting married . December 2021
Louis & Anita
Donna Bekkers-Boyd exceeded our expectations. She was a delight to have as our officiant. Warm and friendly, everyone thought she was excellent, funny and personable. She made me giggle during the ceremony and that put my nerves right at ease. I would defiantly recommend her to anyone getting married. December 2021
Robert & Sarah
Donna (Bekkers-Boyd) went above and beyond our expectations. In these crazy times of Covid planning and re-planning a wedding, she has been a calm source of strength and knowledge. Rob and I do not have enough good things to say about her. We had to drastically downscale our wedding to accommodate this new world and she was an integral part of making our wedding always feel special and formal. We highly recommend her, she is a gem! Robert & Sarah, August 2020
Whitney & Eric
We really enjoyed working with Donna Bekkers-Boyd to plan our ceremony. She was so helpful in our pre-planning meeting, providing lots of examples of other ceremonies and readings, and guiding us to write a ceremony that fit our style and what we were looking for. She was also excellent in working with the venue & DJ to coordinate a microphone, timing, and overall execution on the day of the wedding. We would absolutely recommend her to anyone looking for a detailed and organized officiant! Whitney & Eric, September 2019
Doug & Shirley
Donna Bekkers-Boyd exceeded our expectations and provided a wonderful wedding ceremony. Doug & Shirley, July 2019
Heather & Shaun
Donna Bekkers-Boyd officiated our wedding in May 2019 in downtown Ottawa. We were so fortunate to have her officiate our wedding ceremony. We appreciate the time she took to meet with us before our wedding. Her guidance, sense of humour, warm smile and encouraging words immediately made us feel at ease. Her kind and encouraging messages were very touching and deeply appreciated. Leading our wedding ceremony, her wonderful personality helped us stay relaxed and comfortable. The ceremony was absolutely perfect and we were truly blessed to have her marry us. We highly recommend Donna! Heather & Shaun, May 2019
Ken & Megan
Donna Bekkers-Boyd was simply wonderful and made our already perfect day even more so. Her friendliness, professionalism, guidance, and overall style worked so well for us and our ceremony. If you are looking for someone who will make your wedding ceremony go off without a hitch, please consider Donna, you wont be disappointing! Ken & Megan June 2nd, 2018
Keely & David
Donna Bekkers-Boyd was great. We had an untraditional ceremony and she was very open and helpful to us in getting it organized. For sure would recommend. Made the process of the technical stuff very easy for us. Thank you! Keely & David