Rev Dianne Brownie
Dianne is appointed as Designated Minister with Clergy Support Church. Dianne has an outgoing and dynamic personality and lives on an Abbotsford hobby farm with her husband and their two teenage sons. She loves the farm with their pony, llamas, chickens and fabulous pack of dogs. Her love of weddings comes from her love of love and the perfect wedding ceremony she had over 20 years ago. Your day is all about you and she wants you to experience the best wedding ceremony you've ever dreamed of. Whether you exchange vows and rings in the park, on the beach, in a decorated ballroom, or with a small intimate group of friends, Dianne would love to help you make your dream come true!!!
Request Dianne Brownie
Areas Served
Abbotsford, Aldergrove, Coquitlam, Langley, Maple Ridge, Pitt Meadows, Port Moody, Port Coquitlam, Surrey, White Rock
Reviews
Nathan & Jessica
Very quick I loved how we went over everything so that the text spoken met our point of view. On THE day ,things got a little chaotic to say the least but Dianne kept her cool. We are forever grateful. August 2023
Todd & Mary Jane
The process was really simple. In the middle of planning a wedding, there are so many things to deal with and so many things to remember. Booking Dianne to perform our ceremony was the easiest part. The day was perfect; friends and family, ceremony, venue and weather. Arranging our ceremony with Dianne was fun. I was pleasantly surprised how upbeat and friendly she was. Gave us great suggestions. We felt like we had known her a long time. August 2023
Graham & Leanne
The process of booking an Officiant was easy and pretty quick. Our whole day was relaxed and everyone had fun. Our Officiant Dianne Brownie did a great job. She spoke clearly, was professional and kept it short and sweet just like we asked for. July 2023
Mike & Holly
Dianne Brownie was wonderful! Couldn't have found a better fit for our small family ceremony. She was friendly, flexible, funny and kind. We would recommend her to anyone who is looking for an officiant. January 2023
Lindsey & Kel-Shannon
Dianne Brownie is a kind and caring woman. This shows in her personality and her voice. She speaks from her heart when she is officiating. She had some wonderful ideas for including all the children of the family. Made everyone feel special. I would highly recommend her. Thank you for making this day even more amazing!! Oct 2022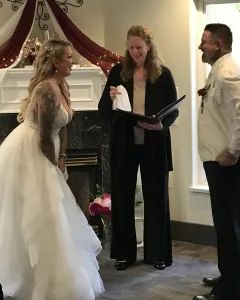 Brooke & Jason
Dianne [Brownie] was lovely. Would 10/10 recommend. July 2022
Stephanie & Tyler
Dianne Brownie was a great officiant super friendly and helped get rid of any pre-wedding jitters! Was great to get to know her for the short time we had together. I highly recommend her. Thank you for all your help with our wedding day! June 2022
Mark & Anne
Dianne Brownie was absolutely wonderful! It was important for my (now) husband and I to feel comfortable with our officiant. We agreed that we wanted our officiant to be supportive, positive and flexible, and Dianne was exactly that. We were very pleased to start our marriage with someone who embodied all of those things! Thank you, Dianne! February 2022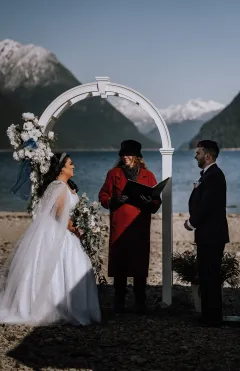 Douglas & Michele
Dianne Brownie was so wonderful ,she exceeded our expectation! We absolutely loved her. Douglas & Michele November 2020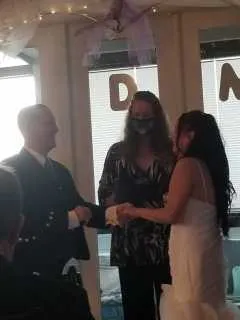 Patrick & Mary-anne
Dianne Brownie made us feel very comfortable. She kept it simple as we requested. She was great. Thank you for making your day perfect. Patrick & Mary-anne August 2020
Ryan & Rebecca
Dianne Brownie stepped up last minute for us during these crazy pandemic times! With only a few days to figure things out she showed up to the rehearsal and ceremony on time and upbeat and positive! I highly recommend her! Thank you Dianne, you made our wedding dreams come true! Ryan & Rebecca March 2020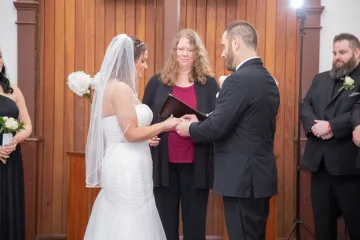 Stephen & Karen
Dianne Brownie was absolutely amazing, I wouldn't hesitate in recommending her. Thank you so much. My wedding was absolutely perfect, the best thing I did (apart from say I do ) was picking Dianne to marry us. Anyone who does won't be disappointed! March, 2019.
Travis & Jo-Anne
Dianne Brownie did an amazing job. She was professional, welcoming and made our day very special. I would highly recommend Dianne. May, 2018.