Diane Paquette
You will appreciate having Diane perform your wedding ceremony. She is a sympathetic and joyful people person. Diane has lived in eastern Ontario for over 40 years, has devoted her life to her marriage, her two grown children and her teaching career. She is fluently bilingual. Her background in Social Work and as a guidance counsellor have prepared her well to offer a ceremony according to the couple's wishes. She is at ease with various situations and will assure you a memorable day. Diane is licenced in Ontario and Quebec.
Request Diane Paquette
Areas Served
Rockland, Casselman, Cumberland, Orleans, Ottawa East, Ottawa Center, Wendover, Plantagenet, St Pascal, Alfred, Bourget, Cheney, Hammond, Carlsbad Springs, Kenmore, Buckingham, Masson, Hammond
Reviews
Francis & Chelsea
Diane Paquette was a lovely officiant to work with. She offered many ideas on how to make the ceremony unique, while also being very flexible when we shared our wishes for how the ceremony would unfold. We felt like we could really count on her at all points in the planning process, as she was very generous with her time and kept in touch consistently. We received very positive feedback from our guests - everyone loved Diane, including us! Would recommend her to others in a heartbeat. May 2022
Herby & Meg
Diane Paquette was fantastic. I was so pleased to have as the officiant. Thank you for a beautiful ceremony . October 2021
Tyler & Gowoon
Diane Paquette went above and far beyond our expectations, offering advice and helping us beyond what she was required to do. We will absolutely recommend you to others. October 2021
Francine and Robert
Diane Paquette was an absolute pleasure to deal with. She took the time to send us ceremony examples, to call us and to make sure we knew about the new COVID restrictions that were implemented a week before our big day. Diane was friendly with the guests we had on that day, pleasant and attentive to us all. We wholeheartedly recommend Diane. Thank you Diane and thank you All Seasons Weddings for having her as one of your officiants! Sincerely, Francine and Robert September 2020
François & Kayla
Diane Paquette went above and beyond! She was very professional through every meeting and on our wedding day. We had so many compliments from our guests about how wonderful our officiant was. We really appreciated how she helped contribute to making our wedding so lovely! Thank you Dianne! François & Kayla September 2020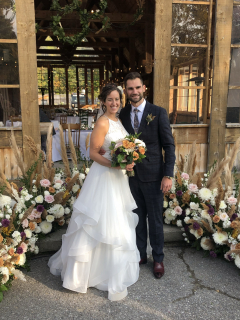 Brian & Monique
Diane Paquette was amazing ! We could not have asked for a sweeter, attentive and caring officiant. She took care of all our paperwork, and offered continual guidance and support. She made our day so very special and it will not be forgotten. Brian & Monique September 2020
Pierre & Chantal
We are so happy that we had Diane Paquette as our officiant!! She is so friendly, puts you at ease right away. Very professional, great personality, great smile and she gave me great advice. Always made herself available for concerns or questions. Our family and friends were so impressed with Diane.. We recommend Diane 100% Pierre & Chantal August 2020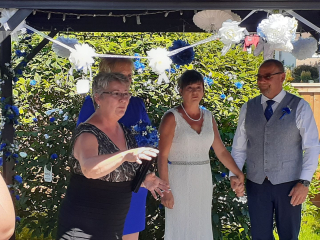 Donald & Elena
Diane Paquette was great, Ceremony was beautifully done, Diane made everyone feel so relaxed. She is truly a gem. Donald & Elena July 2020
Bryan & Veronique
Diane Paquette was professional, attentive, very good sense of humor and very personable! Thank you for making our ceremony perfect. Bryan & Veronique October 2019
Serge & Diane
Ce fut une journée extraordinaire ! Diane Paquette était magnifique. La cérémonie était exceptionnelle. Diane a très bien dirigé le tout avec un sens de l'humour et un très beau sourire. Elle est très professionnelle. Nous avons eu plusieurs beaux compliment sur notre célébration. Le grand BONHEUR !!! Ne pouvait pas demander mieux que cela . SUPER A+++. Très satisfait. un gros MERCI ! :) Serge & Diane October 2019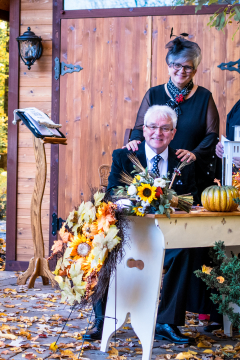 Isabelle & Chris
Dear Diane, from the day I recognized your name and photo on this website, it seemed that it was a sign that you were meant to be our officiant. You taught me in high school! Chris and I wanted to thank you for the beautiful ceremony (conducted in French) you helped us create. From the day we first spoke on the phone, you were able to put our mind at ease that there was nothing to be nervous about and that you would guide us throughout the process. You did just that! Despite the technical difficulties with the music which delayed the ceremony a bit, our guests commented about how you managed the situation with grace, calmness and humour, making everyone feel at ease, and some not even noticing that there were issues at all. I am sure that should any of our guests decide to tie the knot someday, they will ask us for your contact info. Merci encore!
Geneviève et Mark
Le 31 décembre 2014, nous avons eu en soirée, le mariage de notre fille Geneviève et Mark. Comme parents de la mariée nous voulons remercier Diane Paquette pour une cérémonie des plus signifiantes. Diane a été très disponible et ouverte pour la préparation de la cérémonie. Lors de l'engagement elle a su être chaleureuse, y mettre un brin d'humour et avoir une présence attentive au couple et à toute l'assemblée. Merci Diane pour ta touche personnalisée qui en a fait une cérémonie inoubliable! Denise et Jean-Pierre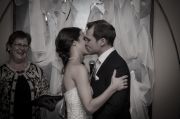 Geneviève et Louis
Bonjour Diane! Un gros merci à toi, nous avons eu plusieurs plusieurs commentaires positifs sur toi! Tout le monde a bien aimé ton sens de l'humour et ta sincérité :) En effet, quelle belle cérémonie nous avons eu! Vraiment, merci encore une fois.
Jason and Josée
Hi Diane, thank you so much. The ceremony was amazing and we had many people speak to us afterwards about how lovely it was and how great you were. Your presence and officiating made a wonderful day that much more memorable for us and everyone there. Thanks again.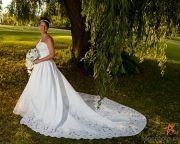 Rachel & Didier
We can't thank you enough for doing such a great job last night at our wedding ceremony. Everything exceeded our expectations and it was so nice to have an officiant who was so "present" and immersed in the excitement and emotion of it all!! Everyone was raving about the ceremony and what a great job you did. Your approach to the ceremony was perfect...sincere and formal but with enough laughter and humour to keep our nerves in check and the guests engaged. Great job!!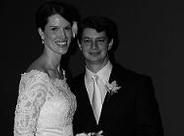 Jennifer & Anthony
Diane Paquette was GREAT and offered many great ideas during the planning process. We were referred to All Seasons Weddings by my brother and his wife who were married by them 2 years ago. We are very happy for their referral and couldn't have picked anyone better then Diane to perform our ceremony.
Wanda and Jamie
Thank you so much Diane Paquette, for everything! It has taken me awhile to return calls and emails and get myself organized after a couple weeks of pure hectic! Now that the dust has settled a bit I have more time. Our wedding day was perfect in everyway Diane. The weather was the one thing I was never worried about and I what a beautiful day it was in more ways than one! Beantown is such a perfect place to get married, I cannot say enough about it. I still get emotional when I think about it :) Thank you Diane for everything you did and being so flexible with our schedule. You made our day complete with your warming personality and inviting smile. I"m still gettting comments from family and friends on how you conducted the ceremony and on what a nice person you are. We cannot thank you enough from the bottom of our hearts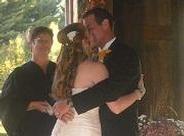 Sue and Pat
Thanks Diane Paquette for for your role in our wedding ceremony, a ceremony that was all we desired – warm, intimate, loving….and humorous. Meeting you was like meeting an old and dear friend. My daughter said that she would ask you to perform her marriage ceremony as well in the near future. Thank you for making our day so special, you really made us feel comfortable and your help was appreciated. We will definitely be recommending you to our friends in the future....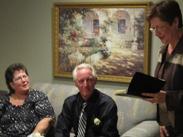 Phil and Monique
Bonjour Diane (Paquette) Un gros merci encore, la cérémonie était très belle et je n'ai eu que des commentaires positifs sur ta participation à notre grand évènement."" Si jamais tu as besoin de références n'hésite pas de nous contacter!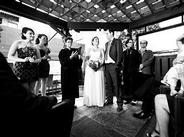 Jennifer & Jean-Guy
We were extremely pleased with Diane Paquette. Due to living in another city, we were only able to coordinate one short meeting with Diane, but we felt very comfortable with her from the first. Her background was so similar to ours, she almost felt like family! The ceremony was exactly what we wanted. Intimate, simple and allowing for the participation of friends and family.
Matt and Laura
Merci infiniment pour une si belle cérémonie! Diane, tu as su concilier notre thème et tous nos élans d'inspiration, tout en t'assurant que nos familles et nos proches se sentent inclus... autant les francophones que les anglophones! You made us laugh and you made us cry (happy tears only!). The tone and style were perfectly adapted to our personalities and our vision of the big day. You held our hands every step of the way, and we really appreciated benefiting from your experience for great tips and ideas, based on our own style and preferences. Diane, we have already recommended you to all of our friends who are planning to get married! Selon notre expérience avec toi et les compliments qu'on a reçu à ton égard, on n'aurait pas pu mieux choisir!
Chantal and Jean
Je recommanderai Diane Paquette n'importe quand, elle dégage une énergie tellement positive et elle nous a tellement mis à l'aise que nous n'étions aucunement stressés. La famille nous a même féliciter de notre célébrante. Pour nous, nous ne pouvions choisir meilleure célébrante. Haut la main pour Madame Diane Paquette!!!
John and Cathy
John and I want to extend our warmest thanks to ASW for making our very special day memorable!!!!! The process was hassle free, the service was immediate and our officiant, Diane Paquette, was warm, welcoming and personable. You would never know that we had all only recently met!Given the opportunity to do it all over again - we would not hesitate to use ASW services and we will definitely recommend their services to anyone getting married in a traditional or less than traditional setting like we did!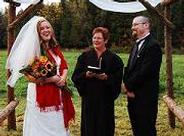 Hélène and Jean
Bonjour Diane Paquette. Juste un petit mot afin de vous remercier pour la belle cérémonie de mariage. Nous avons beaucoup apprécié le déroulement de la cérémonie malgré sa simplicité et surtout pour l'aisance avec laquelle vous pouvez guider les principaux intervenants. Nous nous sommes sentis très à l'aise malgré certain passages très touchants. Nous avons remarqué des notre première rencontre, le professionnalisme avec lequel tu exerçais tout en nous plongeant dans une atmosphère très amicale. Nous tenons encore une fois, Hélène et moi à te remercier pour cette magnifique journée qui demeurera à jamais dans nos souvenirs et nous n'hésiterons jamais à vous recommander. Amicalement, Hélène et Jean