Debra Taylor
Debra is an award-winning wedding officiant. She services Goderich and area on summer weekends and London, ON during the week and off-season. As well as being a wedding officiant and accomplished public speaker, she is deeply into holistic health care. Debra is an active volunteer for charities and non-profits. She loves to golf and travel. Her energy, warm and inviting personality makes everyone comfortable immediately. She is flexible and open minded and has a great sense of humour. Debra celebrates all wedding ceremonies and would be honoured to not only participate in your wedding but to help you create a wedding ceremony that is unique and truly reflects who you are as a couple.
Request Debra Taylor
Areas Served
Summer weekends May to Sept: Goderich, Port Albert, Donnybrook During the week and off-season: Aylmer, Dorchester, Dutton, Ingersoll, Lambeth, London, Lucan, Mount Brydges, Port Stanley, Ridgetown, St Mary's, St Thomas, Strathroy, Thamesford, Thamesville, Tillsonburg, West Lorne, Woodstock
Reviews
Aaron & Amanda
Debra Taylor is absolutely wonderful! She made our ceremony feel so special and intimate. Debra made us feel comfortable and it was like we have known her for years! Aaron & Amanda June 2021
Patricia & Joyce
Debra Taylor did a wonderful job. She knew exactly what type of ceremony we wanted. She was respectful, attentive, helpful with suggestions, humorous, and a real pleasure to work with on our special day. Thank you Debra for making it that way! Patricia & Joyce May 2021
Mitchell & Shannon
Debra Taylor was great through the whole process, our ceremony was wonderful. We had lots of laughs and that made us feel so comfortable. Thank you Debra! Mitchell & Shannon September 2019
Jamie & Anastasiya
We hit it off with Debra Taylor from the get go. She is outspoken, witty, confident and knows exactly what she's doing. Debra discussed all the details with us ahead of time and prepared us for what's to come. When she arrived to great us before the ceremony, she took her time to talk to each of us separately. Debra made sure our ceremony was smooth and felt intimate, despite the audience. All in all, we are very satisfied with her services and will definitely be recommending her to all future brides and grooms. Jamie & Anastasiya September 2019
Cody & Leah
Debra Taylor did an awesome job! The ceremony was beautiful and unique. Debra exceeded our expectations , we will recommend her for sure . Cody & Leah August 2019
Alisha & Geoff
Debra Taylor went beyond our expectations! She went through every single detail beforehand to make sure we were well prepared. She gave us the idea to use the ring warming during the ceremony and it made our day that much more special. She has a calming and confident personality that was a perfect fit with our ceremony. The reservations staff were very helpful with every aspect. We will definitely be referring you to others
Barb & Rob
Debra Taylor was wonderful, performing our ceremony as we wished adding humour, love and family.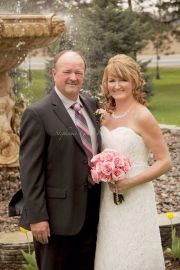 Julia & Derek
I was pleased with how easy it was to use your service. We were extremely pleased upon meeting Debra Taylor. She did a fantastic job, was on time and organized. She was a perfect match for us and we loved the service.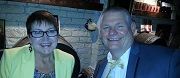 Mathia & Lacey
We can't thank Debra Taylor enough! She was so well spoken and organised, we received lots of nice comments from friends and family about how the ceremony was performed. We would highly recommend Debra to anyone, shetruly made our special day even more special. Thank you again.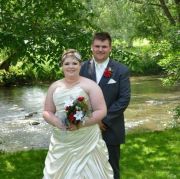 Nicole & Brian
Debra Taylor is an eloquent, well-spoken officiant who beautifully orchestrated our ceremony with grace, poise, vibrancy and love. After meeting with her in person, she knew exactly what verses would fit our personalities and energies for a non-denominational ceremony and our family, and wedding guests were overjoyed by her service. We HIGHLY recommend Debra to anyone who is looking for a wedding officiant. SIX Stars :)
Sara & Carmon
Debra Taylor more then met our expectations. When we met with her before hand she understood what we wanted out of our ceremony and gave us lots of helpful hints to make it run smoothly. She was stright forward and specific with what she needed from us and what to expect from her. We really liked that.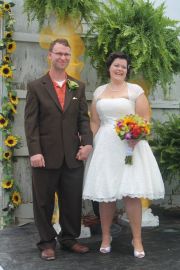 Anita & Scott
Debra Taylor was wonderful. We had a wonderful initial meeting with her and felt very comfortable with her. The ceremony was beautiful. Debra was very supportive and assisted when we got a little emotional during our vows. We could not have asked for more. Thanks Debra for a great day. Our guests couldn't stop talking about what a wonderful emotional ceremony it was.
Andrea & Dylan
Debra Taylor was a perfect fit for us! She was full of energy and excitement, and helped keep our nerves at ease with her constant reassurance and guidance!
Shannon & Michael
Thanks to Debra Taylor for an incredible ceremony. From the time I first spoke with her on the phone right up to the end of the ceremony she was supportive and so helpful, helping us every step of the way with a great sense of humor and a calming manner about her. Our guests were very complimentary of Debra and she really helped to make the ceremony an unforgettable one.
Kelley & Scott
Debra Taylor was an absolutely wonderful officiant! She made us feel so comfortable, listened to what we wanted for our special day, and made us feel so important. It is clear that Debra takes pride in her job and makes the couple her number one priority. I cannot imagine our wedding being performed by anyone else. Thank you, Debra! You definitely helped make our day so special!
Collette & Jim
Debra Taylor was wonderful. When Debra showed up to do the wedding there were 4 other weddings going on the same day and she got directed to a different bride. This bride was stressing out really bad and Debra was able to calm her down and get her ready to walk down the isle. When she was finally directed to me she made me laugh because she told me what had just happened. She is truly a great lady to deal with. She is relaxed and down to earth. She makes you smile because she has a great personality, and is always smiling. I'm so happy we chose to go with Debra. She made our day just that much more special.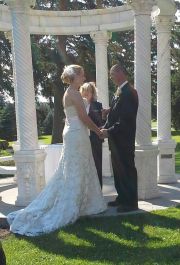 Sarah & Thane
Debra Taylor was professional, fun and caring. She went out of her way to adapt the ceremony to include our son. Our family and friends were also impressed with our beautiful ceremony and the personal touches Debra was able to incorporate.