Debra Harrison
Debra, who is an experienced celebrant credentialled by Clergy Support Memorial Church, lives in Sherwood Park and also serves Edmonton and many of the surrounding communities. She has a passion for people and is caring, compassionate and sensitive to the wide range of human choices. She can be trusted to conduct your traditional, spiritual or same-sex wedding ceremony in a manner that is both professional and friendly. Debra looks forward to meeting with you to discuss your wishes for your special day and ensuring it is a unique and memorable day for you.
Request Debra Harrison
Areas Served
Edmonton, Sherwood Park, Ardrossan, Fort Saskatchewan, St. Albert, Nameo, Leduc, Beaumont
Reviews
Josee & Jared
We were lucky to have Debra Harrison as our officiant. Her role was very important to us, and she exceeded our expectations. Definitely made us feel like she was a part of our family! July 23 2022
Brian & Anna-Mae
Debra Harrison was incredible, I will be recommending her to everyone! This whole process was so smooth! June 2022
Randy & Sarah
Debra Harrison was amazing. Very friendly, personable and professional. Thank you so much for the easy process, quick and very accommodating. Feb 2022
Claude & Sharon
Debra Harrison was lovely ! We felt truly blessed to have her with us to share our day ! March 2022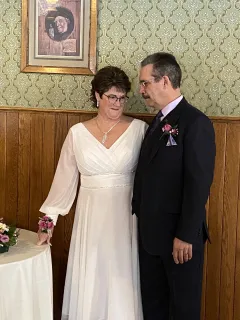 Robert and Dayna Sept 2021
Debra was very kind, friendly and professional. She did a great job as officiant. It was a pleasure meeting her and having her a part of our big day.
Robert and Deanna Aug 2021
The officiant Debra Harrison made the ceremony personal and beautiful. Extremely professional and very highly recommended. All communications from All Seasons were answered in a very timely fashion and answered every single question. Everyone has been so great that we have already passed on the name of the company to many. Thank you for bringing together a beautiful ceremony.
Jesse & Jocelyn
Debra Harrison was Absolutely amazing. She was just lovely! Very attentive, quick and to the point just what we wanted. Jesse & Jocelyn February 2021
Chase & Jessica
Debra Harrison was very nice and very polite. We will refer friends to use her for sure! Chase & Jessica August 2020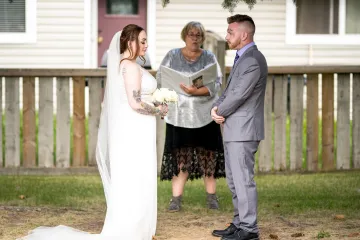 Roger & Valerie
Debra Harrison was absolutely perfect for our wants and needs. Arrived at the optimum time, was personable with our guests and I was thrilled with how comfortable she was and made us all. Debra was a huge factor that our day was exactly as we wished it would be. Roger & Valerie August 2020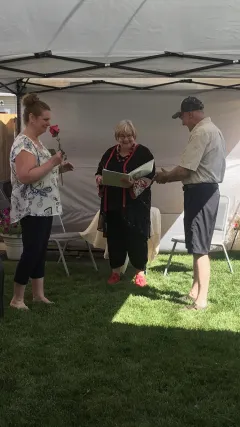 Elena & David
Debra Harrison married us on August 24, 2019 and we cannot say enough about how she made the process so seamless. Her thoughtfulness and attention to detail were extraordinary and allowed everything to come together perfectly. We really appreciated Debra's willingness to customize the process and bring our ideas to life. We would absolutely recommend Debra to couples who are looking for the perfect officiant to compliment their big day! Thanks again for all your help. Elena & David August 2019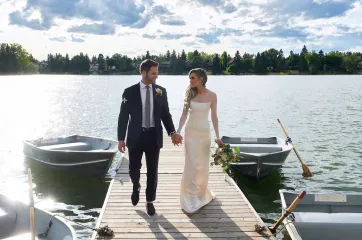 David & Krista
Debra Harrison was an absolute pleasure to work with. She had great ideas for the ceremony both in regards to her part and other member participation. We were worried about giving the wedding bands to the young ring bearer, and Debra suggested we tie fake rings to the pillow. This suggestions, along with multiple others she provided worked out perfectly. Our ceremony was exactly what we wanted, and a large part of that we attribute to Debra. David & Krista September 2019
Sean & Emily
We had Debra Harrison as our officiant for our wedding , she did an absolutely amazing job! She was extremely helpful throughout the process, and let us customize our ceremony to suit our needs. If you're getting married, I highly Debra! Sean & Emily September 2019
Emilie & Gilles
Debra Harrison was very knowledgeable, very professional. We wanted a ceremony that wasn't traditional, she played the part and made our day amazing. Thank you Debra! Emilie & Gilles July 2019
Gordon & Sharon
Debra Harrison was very kind and super friendly and we all worked great together. Debra was very accommodating to all of our ideas and very helpful with helping us piece our ceremony together. We had an amazing day and we were blessed to have Debra as our officiant! Gordon & Sharon July 2019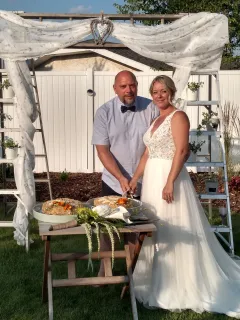 Greer & Andrew
Rev Debra Harrison exceeded our expectations, she was warm, welcoming and beyond knowledgeable. Debra was amazing and we could not have imagined a better officiant for our special day. She met with us and quelled any of our anxieties and prepared a touching and fitting ceremony. The readings she helped us select were perfect and suited us and our guests incredibly well. [September, 2018]
Cassandra & Andrew
Debra Harrison instantly made us feel comfortable from our first phone conversation to the day of our wedding. We never felt any pressure from in and she made our ceremony about us. She is so helpful and made great suggestions. I would absolutely refer Rev Debra to any of my family and friends. She is such a kind person and extremely helpful with the process.
Russell & Samantha
Debra Harrison was extremely professional, kind, and attentive to the wedding we wanted. Happy all around! August 18th, 2018
Lauren & Lane
Rev Debra Harrison was warm and kind. She made our day so special by giving us exactly what we wanted and more. We could not have dreamed of having a better officiant! [July 2018]
Ashley & Kyle
Debra Harrison was amazing to work with and adapted well to our back-up plan since it was an outdoor ceremony and it had been raining. [June, 2018]
Shelley & Fritz
Debra Harrison officiated our wedding on July 14th. She exceeded our expectation in every way. She was very easy going, accommodating and has a wonderful sense of humor. We couldn't have asked for anything more! I would highly recommend her. She has a knack for making everyone around her feel comfortable especially when emotions are running high! Thank you so much Debra!! Shelley & Fritz
Corey & Destiny
Debra (Harrison), Thank you so much for everything. Corey and I loved our vows. You did an amazing job! Thanks again. Corey & Destiny, July 2018
Heather & Chris
Thanks you so much Debra (Harrison)!!!! You made our day so special. We had so many people say what a great job you did. We couldn't be happier. Thank you for everything, Heather & Chris 06/23/18
Natasha
We loved using All Seasons Weddings to find our officiant! It was so nice to read the bio's of the officiants to see who would best suit us, who's in our area and the website made it easy to set up, book and finalize for our officiant. Debra Harrison was amazing! She really helped us with planning our ceremony and she was very accessible, professional, and easy going. She really made our special day great! Thank you so much Debra and All Seasons Weddings!
Sean & Juan
Debra Harrison was wonderful. Such a warm and caring person, She performed our ceremony perfectly and I can honestly say it wouldn't have been as special without Debra's smile and dedication to our ceremony. Every exchange with All Season's Weddings was amazing and informative. Thank you so much. We had a wonderful ceremony and our day felt very special even though it was last minute.
Paul & Lisa
Debra Harrison was excellent: patient, good humoured, and willing to accommodate our slightly out of the ordinary requests. I would definitely choose her again.
Liv & Dylan
Debra officiated our wedding on July 1st. She exceeded our expectation and made sure everything went smoothly for us. Debra was very easy going and accommodating towards anything we wanted for our ceremony. She was wonderful to deal with and answered any questions that came up. We couldn't have asked for anything more! Thanks so much Debra!
Taryn & James
My husband and I would like to say a few words about our officiant, Debra (Harrison). Upon meeting Debra at our initial meeting this past summer we realized that she was very much on the same page as us. She incorporated traditional aspects as well as some original aspects, which we loved very much. Debra made sure to give us a voice in our ceremony and she incorporated everything that was important to us. On our wedding day, Debra had a very calming presence and was very comforting as the nuptials began. Thank you so much Debra for contributing to our perfect day!
Kara & George
Debra Harrison was so great. She was personable, caring, thoughtful and punctual.
Andrew & Maricar
We were very delighted by our wedding Officiant Debra (Harrison). She was able to meet or exceed our expectations for a small wedding and she also allowed us flexibility to do it our way. That might include an Oilers theme and about 10 dogs(children) running around during the ceremony. She was very professional and everything went off without a hitch. Would recommend her or this company in a heartbeat