Deborah Redman, BA, MDiv
Congratulations! My passion is to provide a great wedding ceremony experience for all who call upon me. For me, the ceremony is the focus and heart of your wedding day. I love to work with couples who want their ceremony to reflect their values and what they love about each other. I'll provide a caring, authentic presence during this important and meaningful day of your life, and help create a cherished memory for you both. I'm an ordained minister with Clergy Support Memorial Church located in Sidney, BC. I have presided at hundreds of weddings since 1989, from very formal large weddings, to an intimate gathering at the beach.
Request Deborah Redman
Areas Served
Brentwood Bay, Esquimalt, Goldstream, Millstream, North Saanich, Oak Bay, Saanichton, Sidney, Victoria, View Royal, Colwood, Langford, Metchosin
Reviews
Steven & Carolina
Deborah Redman was simply amazing. We are so luck she was our officiant. Thank you for making our last minute wedding possible. It was a dream! January 2023
Owen & Clio
Deborah Redman was amazing! We were so happy with our ceremony and she helped to make it such a special moment in our wedding. Deb was extremely friendly, professional, helpful, and provided us with excellent templates and examples to use in our ceremony and vows. September 2022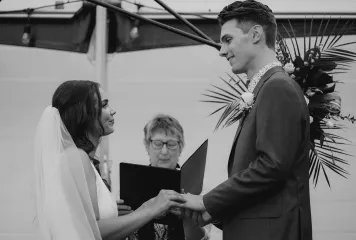 Ashley & Bradley
Deb [Redman] did an exceptional job! She made the ceremony feel special even though it was short and sweet. She was warm and kind. Absolutely, I would recommend Deb. August 2022
William & Lorraine
Deborah Redman was so lovely, picked a fantastic beach location for our ceremony as we had no idea where to start. Thank you Deborah! April 2022
Gage & Tia
Deborah Redman was amazing. We are beyond happy with our experience with Deb! She was extremely friendly, helpful and provided us with examples to use in our ceremony and vows. Gage & Tia June 2020
John & Mary
Deborah Redman was kind ,obliging and considerate especially of John who was a little fragile after his brother past away not long before the wedding. She include my son and John's grand daughter in the ceremony . It was a wonderful, loving and peaceful time for all of us. Exactly what we were up for and wanted. John & Mary December 2019
Blair & Janet
Rev Deborah Redman explained everything to us in a very polite and professional manner. Even though our wedding was very casual, she made us feel relaxed and ready to enjoy the moment. Thank you for everything! The few bits of info about our lives I passed onto you, you included them into our service which made it all the more "ours" Thank you for keeping the reading I altered, (Bob Marley) and included into your own list for others to share. Blair & Janet August 2019
Jason & Nikki
Deborah Redman was amazing! Thank you for everything. Jason & Nikki August 2019
Derrick & Beverly
Thank you so much to Deb (Deborah Redman) for everything she did, and for the beautiful ceremony! Our day was perfect- thank you for being a part of it! Derrick & Beverly. July 2019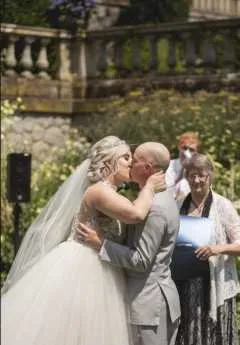 Matthew & Emma
Deborah Redman was absolutely fantastic and tailored our ceremony to the exact way we wanted it. 10/10 would recommend! Matthew & Emma May 2019
Elizabeth & Doug
Deb Redmanwas fantastic! She was so friendly, warm and very knowledgeable. I would use her again in a minute! She made our wedding day so very special
Shannon & Mark
Rev. Deborah Redman was amazing!! She listened to all our ideas, thoughts and feelings. She gave great feedback and suggestions. She gave us her time and was easy to set up times and dates to meet with. She got back to us very quickly. She was personable and adapted to all our needs. She was a big part of making our wedding day the great day it was. Thanks so much.
Misty and Randy
Wow! What an amazing wedding ceremony you helped us to put together, Deborah (Redman). Our guests are still talking about it - even the most jaded wedding veterans! They commented that it was the most meaningful and heartfelt ceremony they'd ever been to. Thank you for your grace-filled presence on our special day!
Catherine & Les
Deborah Redman carried forth a very beautiful ceremony as we had discussed, no surprises.
Sarah & Ramsay
Deb Redman did an amazing job and worked with us to provide a ceremony that really suited us. Lots of feed back from guests that she did a wonderful job. We highly recommend her.
Tais & Trent
Rev. Deborah Redman was great and communicated well with me in regards to the ceremony plans. She was excellent during the wedding. She has a touching smile and friendly attitude. We liked her very much! God Bless her.
Carrie & Chris
Deb Redman was so genuine and made our ceremony one to remember. By having our pre meeting via video chat we were able to plan our ceremony to fit our tight time schedule. Thank you Deb! You were so accommodating during the pre meeting, and the ceremony was one that touched us and will be remembered always.
Lisa & Graeme
Rev. Deborah Redman is awesome and we are so glad she was our officiant. She helped us create a unique ceremony and she was super flexible about adding and changing things around to make it about us. She had great advice and wisdom to share about the ceremony. She is super friendly, warm, and kind. She did an excellent job on our wedding day and all of our guests could hear her perfectly (even without a microphone). She was calm, cool, and collected and it made us feel a lot better standing up there. I would highly recommend her to any couple.
Sharon & Michael
My husband and I were renewing our vows after 18 years and we wanted a special ceremony at our home that would include our grown children and grandchildren. Rev Deborah Redman met with us about a month before the ceremony and took note of what we envisioned and then helped us out by giving suggestions and different possibilities. On our renewal day, she was at our home promptly as scheduled and met with the family before commencing the ceremony. We were so touched and astounded really at the beautiful ceremony Deborah had created just for us, it was far more than we had ever imagined, she seemed to know us and our story more than the 45 minutes or so we had met with her could have allowed for. Even our photographer had tears in her eyes and said how touched she was by the ceremony. Deborah is very professional and it's obvious she loves what she does beyond the monetary level. She helped make our special day forever memorable for us and our family.