Debbie MacDonald
Rick and I live in Brockville, have six children, plus we have been blessed with three granddaughters. I have always been the go to person in the family for gatherings and special occasions. I look forward to working with you to make your personalized ceremony a memory that will last a lifetime. My background was in the Retail Financial sector so putting clients at ease is now second nature to me. I'm a warm, friendly and outgoing person and I would ensure to my utmost ability that your wedding day would be all that you have imagined it would be.
Request Debbie MacDonald
Areas Served
Brockville, Athens, Smiths Falls, Gananoque, Prescott, Kemptville, Spencerville, North Gower, Morrisburg, Cardinal Merrickville, Perth, Westport, Maitland, Toledo
Reviews
Tyler & Emily
Debbie MacDonald was incredible!! Extremely professional and very sweet. The ceremony was perfect . October 2022
Jeremy & April
Debbie MacDonald was great in making our special day memorable! She braved the freezing rain for a quick outdoor February wedding. Thanks again Deb ! February 2022
Stephen & Michelle
Debbie MacDonald was wonderful. The day was amazing, weather was beautiful and the ceremony went very well. We were extremely happy with our day. Thank you for everything Debbie. Stephen & Michelle August 2020
Michael & Paula
Debbie MacDonald was amazing! She made our day just as we wanted. Thank you Debbie. Michael & Paula July 2019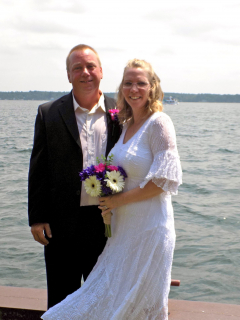 Chantal & Victoria
Debbie MacDonald was great! She was very respectful and professional through the entire process from our first of emails, to our first meeting, till the end of our ceremony. She was very professional and understanding and followed our intentions for our ceremony. We were both very comfortable with her from the very beginning, she made it all seem so easy! It was also very nice to have someone who respected same sex marriage and at no point made us feel either awkward about it or that we "were special" because of it. We were another couple in love and so unbelievably ready to get married, that's all that mattered and she demonstrated that. She also gave us a few pointers to make sure everything goes as smoothly as possible. Thank you Debbie for being part of the most important day of our lives!