Rev David Moss-Cornett
David was voted by his peers as the 'Most Popular Wedding Officiant in Owen Sound' at the prestigious International Wedding Industry Experts Awards, in both 2016 and 2017. He is a caring, kind, and compassionate minister whose energy is directed towards encouraging and uplifting people. His goal is to provide couples with a place in which there is freedom from intolerance so that they can shape and experience their special moment in the way they desire. David is an experienced public speaker, active listener and he brings cheerful hospitality to all his endeavours. He plays flute and guitar, enjoys canoeing, photography and appreciates art. David is ordained with Clergy Support Memorial Church. Due to David's busy schedule, he has limited availability.
Request David Moss-Cornett
Areas Served
Allan Park, Allenford, Big Bay, Cape Croker, Chatsworth, Chesley, Clarksburg, Blue Mountain ,Clavering, Collingwood, Colpoy's Bay, Craigleith, Desboro, Dornoch, Durham, Elmwood, Eugenia, Flesherton, Hanover, Hepworth, Heathcote, Holland Centre, Holstein, Inverhuron, Keady, Kemble, Markdale, Maxwell, Meaford, Mount Forest, Neustadt, North Bruce, Owen Sound, Paisley, Park Head, Pinkerton, Sauble Beach, Saugeen Shores, Shallow Lake, Southampton, Tara, Thornbury, Underwood, Walters Falls, Wiarton, Williamsford, Bognor
Reviews
Chen & Yushan
David Moss-Cornett was absolutely amazing ! Thank you David ! September 2022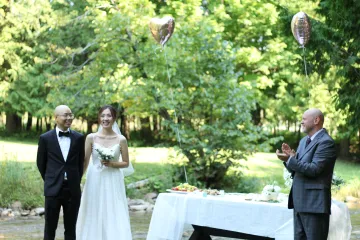 Michael & Michael
David Moss-Cornett was an amazing and warm officiant. Thank you for a beautiful ceremony . August 2022
George & Karin
David Moss-Cornett did an excellent job , we would truly recommend him to anyone. Thanks so much!! George & Karin August 2019
Ryan & Eden
David Moss-Cornett exceeded our expectations. David was friendly and accommodating. He went above and beyond to make our ceremony special and he genuinely seemed excited to do so. We had a great experience and most definitely will refer to others. Thanks for everything!
Angela & Darren
We feel very fortunate to have met David Moss-Cornett. He put us right at ease as we planned our wedding ceremony. We appreciated all the sincerity, wit, and sensitivity that David brought to our ceremony, and many people commented that is was one of the most touching ceremonies they've witnessed. We thank David for being part of our special day. Angela & Darren
James & Cathy
David Moss-Cornett was the absolute best officiant we could have asked for! From the very beginning he made it a priority to meet with us both in person and via Skype to get to know us a little bit as a couple and it showed in his heartfelt delivery of our vows. We had guests comment on how wonderful and sincere our wedding ceremony was and it's thanks to David. He put us at ease and was the utmost professional throughout the entire process. No small detail was overlooked, he even thought to step aside during the first kiss so that the photographer could capture just the two of us during that moment. David was a wonderful addition to our special day and we are so happy he was the one to marry us! Thanks David! James & Cathy
Ang & Steve
Our wedding officiant, David (Moss-Cornett), did a fantastic job at our wedding! We have had so many positive comments. The whole day was fantastic and everyone really enjoyed the humour in the wedding ceremony! Thank you!
Gillian & Jeff
Thank you for doing such an amazing job performing our wedding ceremony. You captured what we wanted to convey perfectly!
Robert & Sarah
Thank you so much for being a great officiant, and for allowing us to have our friend be such a huge part of our wedding ceremony. This meant a lot to us.
Cody & Susanne
We were lucky enough to get David to officiate our small wedding for us back in May at a cottage on Georgian Bay. Since we live far away, we weren't able to meet in person until a few days before the wedding. But that's okay! David took the time to Skype with us well in advance and was always fast to respond to our emails. He did a wonderful job of personalizing our ceremony and making sure that it reflected us and our values. On the day of, he was really awesome in helping us prepare for the ceremony, including supplying us with a glass vase that we used for a memorial candle and even helping a bit with the groom's tie. Most importantly, he helped calm our nerves and made sure that everything went smoothly. We couldn't have asked for a better officiant!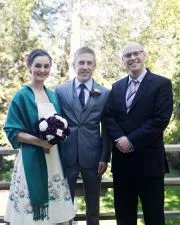 Emily & Jason
David Moss-Cornett was great, made us both feel at ease! He did such a wonderful job officiating our intimate ceremony and my family enjoyed his presence too, My sister and her fiance in attendance ended up booking him they were so impressed! Thanks a lot David, you really added to our special day!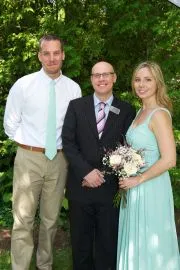 Michelle and JP
"David was great to work with. He made himself available months in advance for a planning Skype session and up to the day for our last minute changes and revisions. He was super friendly. He made an effort to get to know our guests and family. He has a calming presence; and his organizational skills made us feel very comfortable during our ceremony. David took a lot of the stress off of us. He performed our ceremony beautifully. We would definitely recommend him to anyone!" Michelle and JP
Stacey and Kyle
We are so thankful for David being a part of our wedding day. We loved every moment of our ceremony and we think David did an excellent job! We also cannot begin to tell you how much we appreciated his help and understanding with the issues we had. David went above and beyond for a wedding officiant, and that meant the world to us. Thank you again!
Traci and Clinton
Our officiant David Moss-Cornett exceeded our expectations. He took the time to speak to my family, and make everyone feel comfortable. I had recently lost my mother 2 months before my wedding and David helped me find a way to include her in our day with out it being too much on my little siblings. David also helped guide my father through the process of giving away his daughter during such an emotional time. When it came time to collect the rings from my 6 year old ring bearer and it was discovered that one was missing, David made light of the situation and managed to find the ring within 2 minutes. Then to make the little guy feel better he got the whole wedding to clap and cheer in celebration of a job well done. I am so lucky to have had David Moss-Cornett as a wedding officiant. He truly made our wedding day feel special, and my whole family agrees. David is an amazing personable man and I wish him all the best in the future. It was a great service that was easy and affordable. I will definitely recommend All Seasons to anyone looking for an officiant.