Dale Morrison, BEd (U of Victoria)
Following 35+ years in the education system, Dale has continued her professional advancement as a Designated Minister. Her experience in public speaking and a great sense of humour inspires her to celebrate wedding ceremonies with a more personal and memorable feeling. A resident of the beautiful Sooke area of Vancouver Island, she enjoys kayaking, gardening, and sharing her voice with various community singalongs as well as other community projects. Dale would be elated to chat with you and share in making your wedding ceremony one that will be remembered for years to come.
Request Dale Morrison
Areas Served
Colwood, East Sooke, Esquimalt, Highlands, Langford, Metchosin, North Saanich, Oak Bay, Saanich, Saanichton, Sidney, Sooke, Victoria, View Royal
Reviews
Daniel & Olivia
Thank you, Dale! You guided us through one of the most heart pounding half hours of our lives and made us feel comfortable so we could soak in the moment that we became husband and wife, and for that we will be forever grateful, and we want to thank you from the bottom of our hearts. May 2022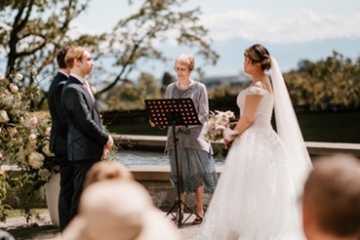 Merle & Ted
Thank you Dale… we had an amazing day! Thank you for being part of our special day and including the handfasting, it was a highlight for us! May 2022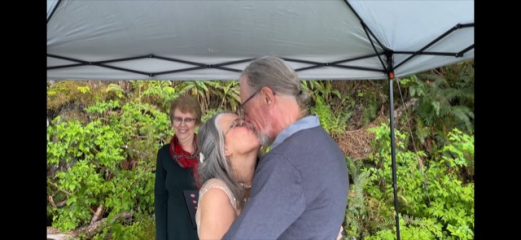 Megan and Dave
My goodness - what an experience! From the bottom of our hearts, thank you for guiding us through this process. We could not have asked for a better person to officiate our wedding. Your kindness and reassurance were priceless. Megan and Dave
Sarah and Chad
Sarah and Chad August 2021 Thank you so much for being a part of our day! It truly was so special. We loved every minute of it and I had a feeling you would love our property!! Warmest wishes to you!!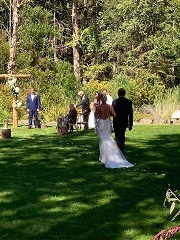 Lorraine and Christian
Thank you so much for performing such a beautiful ceremony for us. It truly was a perfect day. Lorraine and Christian
Sarah and Chris
You were wonderful!!! So happy that everything worked out and that we had you there officiating. We couldn't be happier!! Thanks!! Sarah and Chris July 2, 2021
Shannon & Chris
We just wanted to say thank you for finding Dale to substitute in for us and she did a fantastic job. Shannon& Chris, May 2021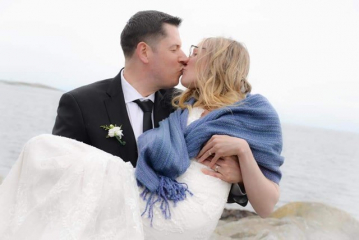 Lara and Trevor
Thank you so much, the ceremony was beautiful and the Rosemary is so perfect. Lara and Trevor, April 2021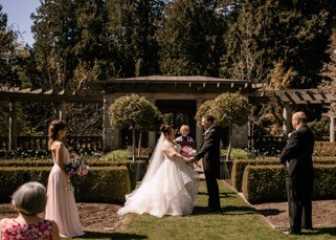 Sandra and Roberto
Thank you so much Dale for marrying us! We are so very happy! Sandra and Roberto, April 2021
Al & Sharie
For celebrations of love and life, Dale Morrison is the ideal choice to officiate. In her strong, clear voice, she will share all your special words with the kindness and compassion of a friend. Al & Sharie, October 2020