Cynthia Beare, BEd (U Calgary), MA (Gonzaga U)
Cynthia, a.k.a. The Red Shoe Reverend, lives in Calgary. As an Outreach Minister with Clergy Support Memorial Church she also offers bereavement and counselling support. Early in her career, Cynthia was recognized as the Most Popular New Wedding Celebrant in Canada by the prestigious international Wedding Industry Experts Awards. She also has a good command of Spanish and can perform bilingual English/Spanish ceremonies. Cynthia relishes the spontaneous world of substitute teaching and unwinds by creative meal creation, outdoor pursuits, gardening, travelling to the topics and romantic historical fiction escapism reading. Cynthia believes that, Love is LOVE and is committed to make your ceremony unique and unforgettable. She is one of the most popular officiants on our roster and books up quickly!
Request Cynthia Beare
Areas Served
Calgary, Cochrane, Airdrie, Okotoks, Priddis, Chestermere, Bragg Creek, Balzac and De Winton.
Reviews
Cynthia & Colby
Thank you for being part of our day! Cynthia & Colby, July 2021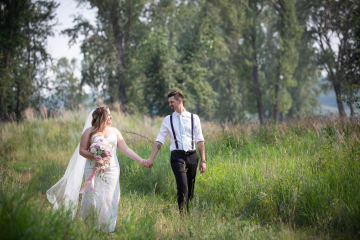 Fern and Jordan
Cynthia, thank you so much for making our day all be could have imagined. The background is Mt. Yamnuska. Wishing you all the best Fern and Jordan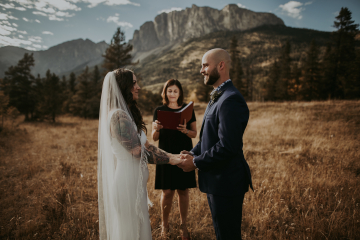 Mitchell & Melissa
Cynthia Beare was amazing to work with. Was more than willing to work with us as our wedding plans changed due to the pandemic. Her suggestions, and post wedding package full of useful information has been super helpful. Thank you for everything. Mitchell & Melissa July 2020
Juan & Jacibe
Cynthia was a pleasure to deal with, She was on time and had everything ready for our wedding ceremony. She even had to fill out the paperwork on the grass as the tables and decoration we had set up were all blown by the wind. As good Latinos, we were late and Cynthia was very patient and with a great attitude about it. She did the entire ceremony in Spanish, which was very well received by the Spanish crowd. We definitely recommend Cynthia for your marriage event. Aug. 2020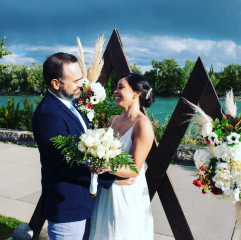 Dale & Catalina
Cynthia Beare was amazing . Her ceremony was relevant on the day that it had a heavy rain storm ... "A hands that bind" along that line made us all very comfortable despite of the bad weather. Dale & Catalina June 2020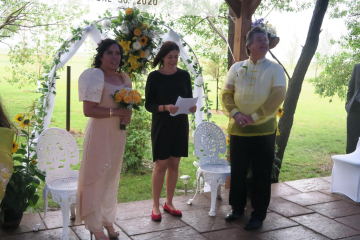 Richard & Christine
Cynthia Beare was amazing! She provided multiple options for us to choose what was read, she kept me in the loop on day-of when she arrived, and even provided a nice package afterwards for 'next steps' for getting our certificate and how to do the name change. I cannot speak more highly of her! Richard & Christine June 2020
Romeo and Annmarie
Thanks Ms Beare, we enjoyed our ceremony a lot. You're the best. Romeo and Annmarie June 2020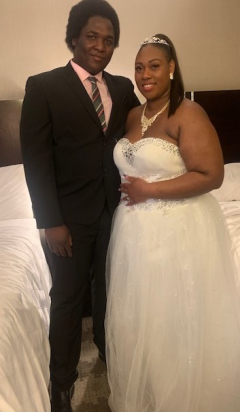 Taylor and Olasha
Cynthia Beare rocked it! The brides were thrilled to have her perform the ceremony for their special day. Her suggestions on how to customize their vows was helpful...loved her red shoes and her endless glowing smile! Taylor and Olasha January 2020
Joshua & Jessie
Cynthia Beare was very pleasant & happy. We couldn't of asked for a better ceremony! Thank you for everything ! Joshua & Jessie November 2019
Douglas & Xuehong
Thank you Cynthia for being a part of our small wedding. You did a wonderful job! Douglas & Xuehong October 2019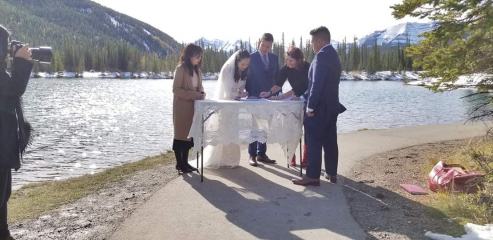 Marc & Ali
Cynthia Beare was amazing! Thank you for being a part of our special day. It was beautiful. Marc & Ali August 2019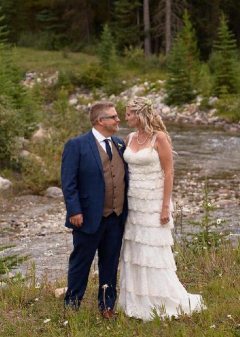 Josh & Natasha
Cynthia Beare is so lovely and incredibly helpful. She really made the process easier for us and we would recommend her to anyone looking for an officiant. Josh & Natasha August 2019
Sean & Sarah
Cynthia stepped in and saved our wedding last minute. We reached out to Cynthia who despite having less than two weeks to prepare, ensured us that she would make sure we were ready in time. It was such a smooth process. We picked the unique parts we wanted to add and Cynthia pieced our puzzle together. She showed up early and prepared. Our guests loved our ceremony and gave us plenty of compliments about Cynthia. Having known us for less than two weeks, she completely captured the dynamic of our relationship and fit it to our unique outdoor ceremony. We can not express how great she was and would recommend her to anyone for any type of ceremony. She was wonderful. Thank you so much, Cynthia! Sean & Sarah June 2019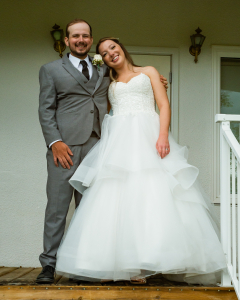 Sean & Neena
We want to thank Cynthia Beare for making our wedding special! Sean & Neena March 2019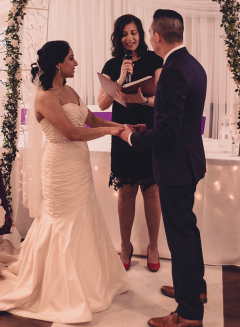 Daniel & Christine
Cynthia Beare was THE best officiant we could have ever dreamed of. She is kind, patient, heart warming and gentle. She hold everyone accountable for their actions but also knows when to have fun and that is exactly what our wedding ceremony was: fun. An abundance of laughter, tears (happy) and just pure love and joy. We couldn't thank Cynthia enough. It was an honor to have her marry us. We would do it all over again, with her by our side. Thank you Cynthia. I hope every other couple gets the same amount of love you gave us on Daniel & Christine August 2019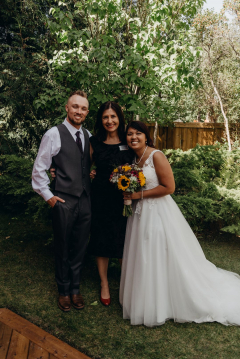 Karam & Mimi
Cynthia Beare went above and beyond our expectations and we could honestly not ask for anyone better. We loved Cynthia and will recommend her to others getting married! Thank you for everything, Karam & Mimi August 2019
Aaron & Tanya
Cynthia Beare was absolutely amazing!! She made us feel so comfortable. She really helped our dreams come true that day!! Thank you ! Aaron & Tanya August 2019
Derek & Naomi
Cynthia Beare was amazing. Very organized, and made sure everyone was ready at the rehearsal and very professional. Derek & Naomi July 2019
Jonathan & Blaire
Thank you for everything, Cynthia Beare. The ceremony was exactly what we wanted - quick and easy! A lot of people as well came up to us saying how much they loved the simplicity of it. Jonathan and Blaire June 2019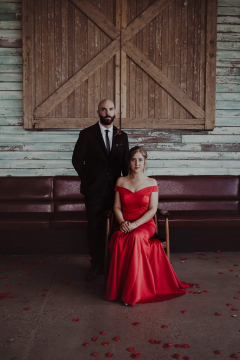 Paola and Melodie
Cynthia, We are more than happy with the beautiful ceremony. Thank you so much for all your help and your beautiful letter. Paola and Melodie - April 2019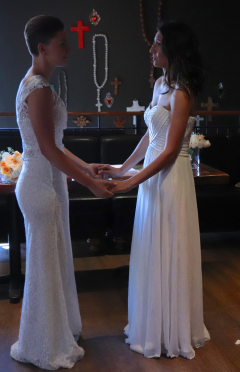 Tommy & Kandi
Dear Cynthia, Thank you so much for making our special day super special. We are so grateful to you and so appreciative of your generosity and your calm demeanor we when needed it most. Throughout the whole marriage process you were available to us and made us feel in control and calm. Thank you for your gift - we love hearts! Tommy & Kandi September 2018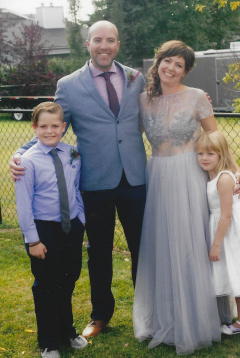 Tori & Alex
We went with Cynthia Beare from All Seasons Wedding to officiate our ceremony. Cynthia was a pleasure to work with from start to finish. She made sure we understood every step prior to our wedding day. She met with us to go through each step so we felt comfortable with every part of her service. She allowed us to make our ceremony exactly how we envisioned it. Cynthia was so patient and kind. She helped us take control of our large wedding party to ensure everyone stayed on track and felt comfortable with their part. Cynthia was so encouraging and made sure we felt calm during our rehearsal and our ceremony. Her words were calm and gentle and she put everyone at ease to ensure a smooth ceremony. We are so grateful to have had Cynthia be part of our day. She made sure it was very special for us both. Our beautiful ceremony was definitely the best part of such a perfect day and a big part of that was Cynthia. Thank you Cynthia! September 15, 2018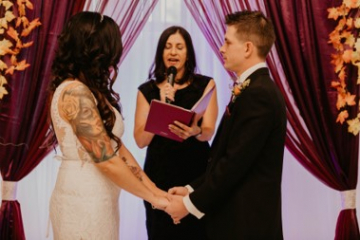 Jennifer and Dustin
We contacted Rev Cynthia Beare through All Seasons and it was a positive experience all the way through. We met her and she was very polite and professional. She was well prepared and gave us a reprieve from all the worry and stress of planning our big day. She had much insight and helped us out a lot. Her energy and presence at our wedding ceremony was a lovely experience that many of our guests, as well as us, have shared since. From the two of us, a sincere thank-you to Cynthia for being a part of and helping to make the best day of our lives that much more memorable.
Brett & Suheily
Rev Cynthia was a pleasure to work with and fulfilled both of expectations. She was very helpful in providing recommendations on how the ceremony should be executed based on her extensive experience. August 18th, 2018
Allyson & Elliot
Finding and having Cynthia as our wedding officiant was a blessing. She was organized, proactive, listened to what we wanted, and genuinely cared about making our moment it's most authentic and meaningful for us. After meeting with Cynthia just once we both felt very confident in her and trusted she would do a great job, which she did. Her energy helped us both to feel very grounded on the big day and we highly recommend her for your ceremony. Thank you, Rev Cynthia, for helping us create a unique and memorable ceremony that we will cherish forever. Elliott & Allyson August 11th, 2018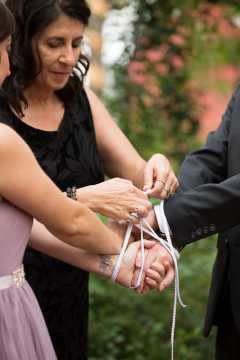 Christina and George Ames
We were absolutely thrilled to have you, Cynthia, be the officiant at our wedding. Months before the wedding Cynthia touched base with us and asked us what our vision for our wedding was and if we wanted something in-particular for our ceremony. She then took our thoughts and ideas and provided us with sample ceremonies. About 2 months before the wedding, Cynthia touched base again and arranged a meeting to make sure we were all on the same page. At the meeting, Cynthia had a list of questions/things to think about that had not crossed our minds and we super appreciated her taking the time to share her expertise and experience in having the small details figured out before the big day. Having small details arranged makes everything run so much smoother and it gave us the opportunity to just relax and be in the moment on our special day. I loved that Cynthia took the time to come see me, the bride, before the wedding began to make sure I was feeling good and was ready to begin our day. It was a very nice and personal touch! The ceremony was wonderful. Cynthia had our vows printed and ready for us to recite. She had the signing of the register table already organized and labeled tabs as to where everyone signed so it was seamless and easy. Cynthia was always aware of where our photographer was and made an effort to remove herself from the "first kiss" photos. I am so so so happy with our experience and we thank Cynthia so much for making it absolutely perfect!
David y Stephanie
We are so grateful that Cynthia Beare was able to preform a bilingual (Spanish) wedding ceremony. Everyone mentioned how beautiful and unique to us our ceremony was. Cynthia was flexible to work with, even when unexpected events arose. She was knowledgeable and made planning for our ceremony a breeze. Cynthia is well organized, easy to work with and dedicated to making your wedding ceremony exactly how you envision it. Cynthia went above and beyond what we had expected and we would strongly recommend her officiant services. Thank you again Cynthia for all of your help and guidance along the way, as well as for being a part of our special day! Gracias, David y Stephanie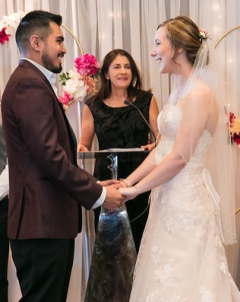 Doug Mann and Carrie Joerisson
Cynthia did a great job. Our first meeting went well. She answered all our questions and also gave us suggestions for the wedding day to help us be more prepared.
Kyle and Elsie
Words cannot thank you enough. Your patience, detail and warm personality were exactly what we needed for our wedding. Thank you for your guidance and attentiveness towards planning the ceremony and adhering to all of our requests. We are truly grateful for your assistance and will always cherish the beautiful day you helped us create.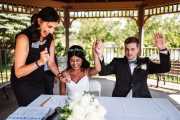 Jessica and Adam
Cynthia, Thank you very much for being our officiant and for making our wedding special. Jessica and Adam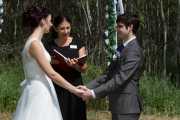 Michelle & Jorge
Cynthia Beare was wonderful. She made us feel at ease and helped us every step of the way through the ceremony.
Andee & Kyle
Cynthia Beare was absolutely wonderful and our guests even complimented how great she was! (Photo: Jayden Campbell Photography)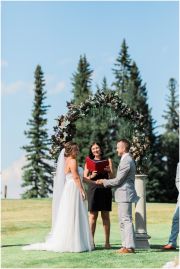 Heidi & Jason
We just got back from our honeymoon and we wanted to give you (Cynthia Beare) our warmest thanks for helping our wedding day be so special. You were amazing to work with and we couldn't have asked for a better officiant! Thanks for being so well-organized and for helping us get through an anxious but fun day! Heidi & Jason 05/27/2017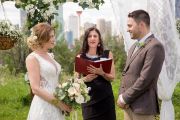 Alinda & Bill
Cynthia Beare was the officiant that our daughter arranged as a surprise for our vow renewal! We have a very warm, fun loving family and she fit in perfectly! The ceremony touched on how we met and our life together over the past 50 years. What was very special to us was having the Vow Renewal Certificate signed by our children and grandchildren. My mother who will be turning 100 years young this October, was also in attendance and she has witnessed our 25th vow renewal (which was also a surprise!) and now our 50th. However, the story doesn't end there, Rev. Cynthia Beare will also be the officiant at our daughter's wedding this September!! Thank you for making our anniversary such a memorable and happy celebration. ❤ Alinda & Bill, June 16, 2017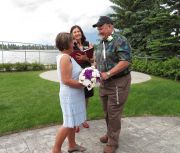 M & S
Thank you for everything! Gracias por todo! Mr. and Mrs. Didsbury, June 17, 2017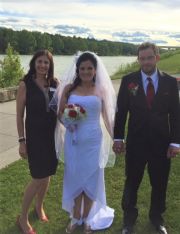 Jessica & Stephen
Cynthia Beare was wonderful! She was supportive and friendly, and helped us create a ceremony that represented our values, and how we feel about each other. She radiates happiness and makes you feel at ease in front of everyone!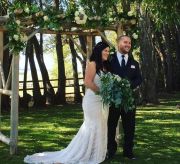 Shauna & Martin
Thank you (Cynthia Beare) so much for the amazing ceremony! You were absolutely perfect! Thank you for the gift also, it was a lovely touch, we love it! Thank you again for being a part of our AMAZING day! June 25, 2017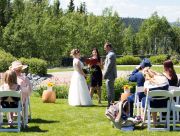 Christie & Patrick
Cynthia (Beare) officiated our Intimate mountain elopement at Moraine Lake. She was fantastic! From the beautiful ceremony that included personal additions, to her professionalism, to her amazingly bright and positive energy, Cynthia was the perfect person to officiate our wedding. She was completely flexible when we changed our venue location from lake Louise to Moraine Lake 24 hours before the wedding date. We ended up having a very chilly day and Cynthia was such a trooper. She still showed up early and was up for the short hike to our ceremony location. Thank you Cynthia for making our day extra special.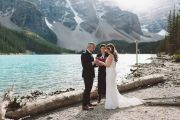 Melissa & Joseph
Cynthia Beare offered everything and more! She was able to put one of my favourite love poems into the service as well as our personal vows. She was very engaging with our guests as well. She gave us a sweet little glass heart as a gift. I couldn't have asked for a nicer, more passionate person to officiate our wedding. The reservations office were helpful when I was making the deposit. You called back at your most convenient time and it was fast and efficient. I've already referred All Seasons Weddings to a few engaged friends !! :) Cynthia is the absolute best definition of a wedding officiant ! She is also a teacher so I knew our ceremony would be worded properly which also gave me peace of mind.
Margaret & Manuel
Cynthia Beare, Thank you so much for what was an amazing wedding ceremony. We truly appreciated your flexibility, guidance, and professionalism. We were so happy to be able to include our families and friends in Chile and Mexico through live streaming. We wouldn't have been able to do it without your Spanish officiating! We will let people getting married know about you for sure!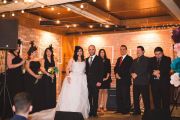 Kayla & Neil
Cynthia (Beare) thank you for making our ceremony such a wonderful part our day. You were so kind and patient with us and the dogs. Thank you for all the laughs, tears, and even some barking it made for a memorable day. Thanks again making our day so special. Kayla & Neil Oct 1st, 2016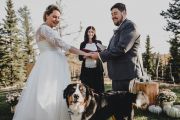 Matthew and Eric
Thank you again for a beautiful ceremony Cynthia (Beare).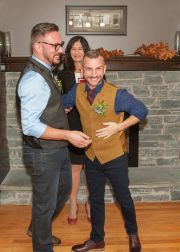 Sharly & Randy
Thank you again for being our Officiant Cynthia (Beare). We, and everyone else, loved that the ceremony was quick and went smoothly!
Ashley & Mariamanda
Thank you again so much Cynthia (Beare)!. It truly was a beautiful ceremony. Our wedding wouldn't have been complete without you organizing and completing the wonderful ceremony for us. My wife and I are so grateful for our bilingual same-sex ceremony. For anyone who is looking for an officiant for your ceremony Cynthia (Beare) is the best! She is easy to work with and she will do all she can to make your day as special as possible. Thank you again Cynthia, you are amazing! Ashley & Mariamanda 08/06/2016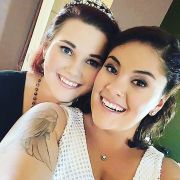 Dan and Holden
Thanks for a memorable ceremony!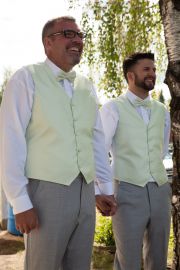 Kathleen & Cody
Cynthia Beare was a wonderful officiant for our wedding. In all our meetings she was kind, prompt and very organized. She helped us write our ceremony giving great advice! We would recommend her to anyone looking for a wonderful, simple officiant for their wedding! All staff at All Seasons Weddings were great and prompt.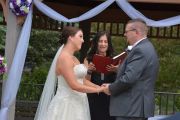 Kris & Greg
When we were deciding on someone to officiate our wedding, we knew we wanted someone that had a great sense of humour and a willingness to not do a normal ceremony. From Cynthia (Beare)'s red facinator to her beautiful words written in honour of Mum, she went above and beyond what we had hoped for. She is a lovely lady and we are so blessed to have had her unite our two families. Thank you Cynthia for all you did to help make our day as perfect as it was!!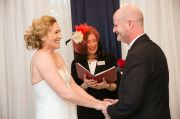 Raegan and Derek
Cynthia (Beare) Thanks again for being a part of our day, Raegan and Derek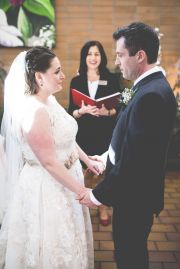 Dean and Jenelle
I couldn't have been happier with our selected Officiant, Cynthia Beare. She made the very detailed process a breeze with her organization and punctuality. She was down to earth and easy to work with, and really took interest in making the ceremony as personal as we wanted to make it. You truly get the idea that she loves love, and is happy to help merge the lives of two individuals on their special day. 5 Star rating!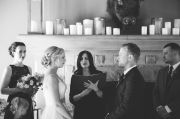 Katie & Tom
Rev Cynthia Beare: Thank you so much for doing such a beautiful job of our wedding ceremony. It was so special to have someone who knew us and created such a personalized ceremony(Yet Christian), that portrayed our love for each other perfectly. We will cherish that day for the rest of our lives! Thank you for the beautiful heart rock as well. We will have it as a reminder of that day forever!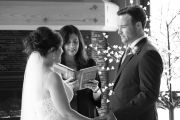 Jenneth and Ian
Thank-you Cynthia (Beare)!! Such a warm and wonderful person. Our wedding ceremony was perfect and beautiful. Thank you for your hard work and for helping make our wedding special. Cynthia made us feel at ease the moment we met her. We wanted a unique ceremony and she went above and beyond. Jenneth and Ian 10/15/2016
Heather and Joseph
To Cynthia Beare: Thank you so much for officiating at our wedding! It truly was a special day and you were such an integral part of making it as special as it was! It was a pleasure working on the ceremony and we were lucky to have someone as attentive as you. We would love to recommend you in the future to our friends looking for officiants! The memories made on our wedding day will be with us forever, so thank you for making it so special! Heather and Joseph
Sofia & Walid
Dear Cynthia, From the bottom of my heart THANK YOU! You made our wedding perfect, we couldn't be more happy! There are no words to explain to you how we feel, and how much we appreciate all your help, and all your patience Gracias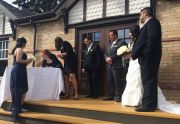 Marie & Cliff
We were so grateful to have Cynthia Beare as our marriage officiant. She was peaceful, kind and gentle. We could not have wished for a better person! Thank you so much for accommodating us so well and on such short notice! ❤️❤️❤️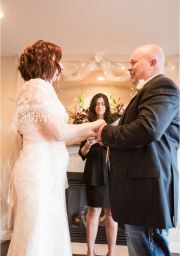 Chris & David
Cynthia, we wanted to thank you for a wonderful and flawless ceremony. You made our day great and we are incredibly grateful.