Colleen Heidman
Colleen is a vibrant and caring officiant who has been serving her community and conducting weddings since 2006. Located in Sudbury, she cares for people and loves to help couples plan their big day. She has extensive experience with custom wedding ceremonies. Colleen is passionate about weddings and has excellent organizational skills to help alleviate stress. Her willingness to listen to your every wish and try her hardest to make it a reality will capture the romance in each ceremony. She is credentialed as a minister.
Request Colleen Heidman
Areas Served
Azilda, Blezard Valley, Capreol, Chelmsford, Coniston, Copper Cliff, Dowling, Falconbridge, Garson, Hanmer, Lively, Markstay, Skead, Sudbury, Val Caron, Val Therese, Wahnapitae, Wanup.
Reviews
Daniel & Tracy
Colleen Heidman was excellent . Amazing weather and the ceremony was perfect, very satisfied. July 2023
Adam & Kim
The booking process was very easy and we had amazing communication with our Officiant Colleen Heidman!!! We loved her personality.. we asked for simple and sweet. She delivered that 100% It was perfect. June 2023
Brigitte & Michael
Colleen Heidman was just amazing. The entire process with All Seasons Wedding was great. October 2022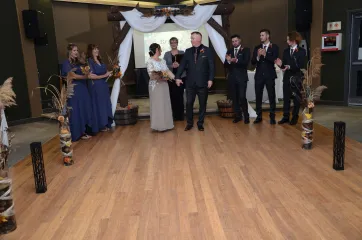 Michel & Christel
Colleen Heidman was amazing! She had great suggestions for when we had questions and she made our day the best it could be. We had a great meeting prior to the wedding, which was almost an hour, and we discussed every single possible thing. I would highly recommend Colleen as an officiant for anyone looking to obtain All Seasons Weddings as a vendor for their big day. September 2022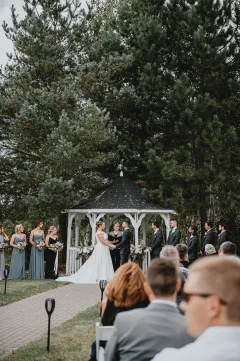 Casey & Huston
Colleen Heidman was absolutely wonderful. She did such a great job and spoke very well. We are so grateful she was apart of our special day. Thank you Colleen. June 2022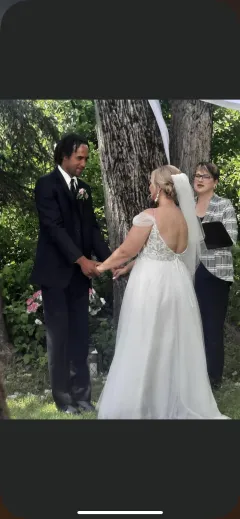 Ryan & Sara
Colleen Heidman was very friendly and polite, quick and efficient, which is exactly what we were looking for. Thanks Colleen! April 2022
Jatin & Kavana
We really appreciate the service Colleen Heidman and all the Officiants from All Seasons Weddings are providing. The fantastic work that your team is doing in helping couples to get married is amazing. March 2022
Emilie & David
Colleen Heidman was amazing to work with. She was quick to respond to questions by email, provided clear and helpful information and was extremely kind throughout the process. She was a trooper and performed our ceremony outdoors on a cold winter day and we really enjoyed having her! We would recommend Colleen to anyone getting married! Feb 2022
Leslie & Jim
Colleen Heidman exceeded our expectations! We had a surprise wedding, not for us but for our immediate family over Christmas she was flexible with her timing and preparation which we very much appreciated. In terms of the ceremony Colleen was able to hit just the right tone of fun and seriousness while respecting the intimacy we wanted she also gracefully handled the little bit of chaos that having a 19-month old attend inevitably brought. Dec 2021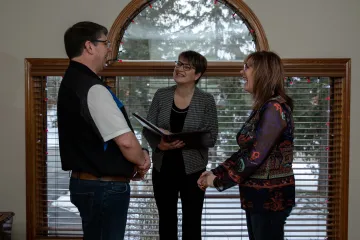 Allan & Tammy
Colleen Heidman went above and beyond. She truly is and was the best person to have as an officiant. She is very professional but at the same time friendly and accommodating. We are over the moon that Colleen was a part of our special day. October 2021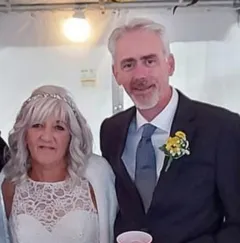 Lisa and Louis
Colleen Heidman went above and beyond! She even incorporated a pop culture reference that was very special to my family and she nailed it!Thank you so much, Colleen! You made our day perfect, and all of the guests said how impressed they were by you. I think the picture attached is at the "I now pronounce you..." part. We are just over the moon. Thank you again or an absolutely amazing ceremony and day! Lisa and Louis February 2020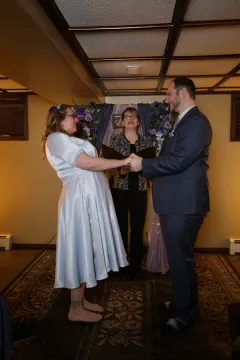 Peter & Elaine
We were very happy with the ceremony conducted by Colleen Heidman . She was extremely helpful in preparing our unique ceremony script and walking through all of the little details that we hadn't thought about. Colleen's speaking skills were great and she led our warm and intimate ceremony perfectly. She was happy to accommodate our readers and ceremony quirks. Peter & Elaine September 2019
Dave & Linda
It was a distinct pleasure having Colleen Heidman perform our ceremony - she was professional, fun, personable and on point. She helped us create the ambiance we wanted and let our personalities shine through. We would highly recommend her! Thanks, Colleen! Dave & Linda October 2019
Todd & Celynn
Colleen Heidman was amazing. She fit our style perfectly and gave us many suggestions to which we never thought of. We highly recommend Colleen. We truly enjoyed her professionalism and sense of humour. Colleen was really great with our wedding party and our flower girl. Colleen answered all of our questions and explained everything so well. Our guests and parents even commented on how impressed they were with her. Thank you for everything. Todd & Celynn September 2019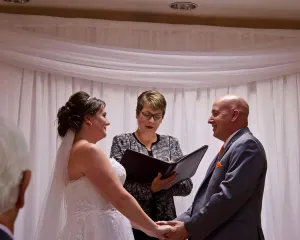 Justin & Athina
Colleen Heidman was an exceptional officiant! We highly recommend her if you are looking for a wedding officiant! I have nothing but great things to say...she is absolutely wonderful! Easy to get along with, approachable, professional, very nice, down to earth and very organized. She helped us tailor our wedding script to suit our needs, and gave great tips along the way which helped us make some very important decisions. We are very happy and grateful that she was the officiant for our wedding - hands down an EXCELLENT OFFICIANT! It is very clear that Colleen loves the work she does! Justin & Athina August 2019
Paul & Rose
Colleen Heidman was very personable and professional. She was great when delivering the ceremony... couldn't have been more perfect. My overall experience was great! Thank you for a ceremony that was filled with fun, yet it was still classy and elegant. Colleen's experience was evident in her delivery and I couldn't have asked for more! Paul & Rose July 2019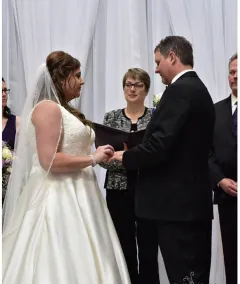 Ray & Sarah
Colleen Heidman was extremely helpful, friendly and professional throughout the entire wedding process. We highly encourage anyone who is looking for an officiant who truly has the bride and groom's vision as their highest priority, to work with Colleen. Thank you, Colleen! It was truly a pleasure working with you. You're a natural! Ray & Sarah. July 2019.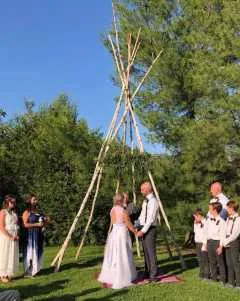 Blake & Molly
Colleen Heidman was so sweet and funny. She really made our day very special. Thank you for everything you have done for us! Blake & Molly June 2019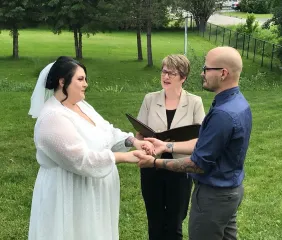 Daniel & Tanisha
Colleen Heidman was amazing! She went above and beyond our expectations and was SO helpful in any way she could be. She is funny, very kind, personable... everything you want in an officiant. I would highly recommend Colleen to anyone because she has such a love for what she does, it radiates through her into your ceremony. Regardless of what kind you're doing. We're so glad she was part of our special day, thank you so much Colleen!! Daniel & Tanisha June 2019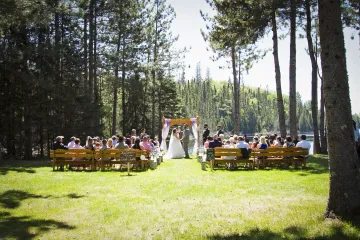 Hailey & Bryce
If you want someone who is fun, professional, organized and is truly passionate about what she does, Colleen Heidman is definitely that person. She married my daughter and son in law this past weekend and I can't imagine having anyone else, the ceremony was perfect. They met with Colleen before the wedding and we also did a rehearsal the night before, highly recommended. She was great to give us her professional opinion but also let us all make suggestions as well. You don't know how much is involved in the actual ceremony until you are there and having someone like Colleen was definitely as asset. It did not seem like someone that was hired but a real part of the wedding. We had many comments from guests as well that were very impressed with the ceremony. Thanks again to Colleen I will be definitely be recommending her to family and friends. Cheryl on nehalf of Hailey & Bryce Feb 2019
Kelleen & Martin
My husband and I were so grateful to have chosen Colleen Heidman as our Wedding Officiant. We decided to have a surprise backyard wedding, where our guests thought they were going to be surprising us with an engagement party, but instead we surprised them with our wedding! Colleen met with us in our backyard oasis and offered us some great ideas and suggestions for both the ceremony and the set-up. She also provided us with a variety of resources for vows and ceremonies. Colleen was not only open to our crazy ideas, but allowed us to create our own entire ceremony. During our ceremony, Colleen was poised and professional, included our guests as an important part of the ceremony, and made sure everyone could hear and enjoy the ceremony. She truly made our day quite special with her big heart, her genuine and kind personality, and her ability to connect with people. We would highly recommend Colleen to anyone who is looking for an officiant who clearly loves what she does and is really fantastic at it!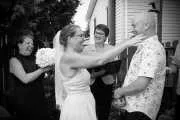 Josh & Sylvie
Colleen (Heidman) was absolutely amazing! Her experience made the whole ceremony planning process easy and her spunk made her a perfect fit for our wedding! She has enthusiasm and a sense of humour and added a special touch to our wedding! Thank you for everything Colleen! Josh & Sylvie July 14th, 2018
Chris & Char
If you want someone down to earth, who will work with you to make your day amazing, book Colleen. My husband and I wanted to rock our wedding from beginning to end, and considering the rain and tornado warnings of the day, I would say we pulled it off. We couldn't have done it her without her. Colleen worked with our people to change venues mid ceremony and continued without issue.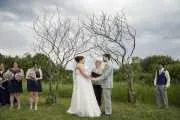 Bruce and Heather
After more than 20 years building a life together having a large wedding was not something we wanted. Colleen was THE perfect fit for us. She was genuinely interested in making our day our own. With expertise she guided us though writing our own wedding plans. Her experience and suggestions were the perfect complement to our vision of a small family wedding in our home. She delivered our heartfelt ceremony to our family as if it were her own. These simple words on a page do not properly convey how happy we are to have had her solemnize our wedding. Many thanks.... Bruce and Heather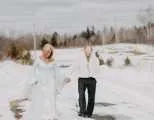 Jenn and Steve
We would like to sincerely thank Colleen for the beautiful wedding ceremony. She showed an excellent mix of professionalism and adhered to our request to also have a fun ceremony that everyone is still talking about. It was also a nice touch that she included a copy of our ceremony in our marriage envelope! We are extremely happy with how the ceremony went and we will definitely be referring Colleen to everyone we know. Thanks again, Colleen  Jenn and Steve
Chad & Katie
Chad and I would like to Thank You for such a personable and beautiful wedding ceremony. You created an unforgettable day for us and you handled our crazy family with such grace. We love your down to earth and laid back personality, which made it feel like you were part of the family. You have a wonderful talent and we would love to recommend your services to all our friends and family. Thank you again for helping make our day so perfect. Love, Chad & Katie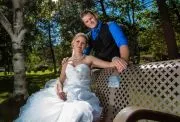 Tracy & Brent
Colleen is very professional and was always prepared and organized. She provided valuable input and suggestions as we planned our ceremony and kept us calm and relaxed along the way. We felt extremely comfortable with her right from our first meeting. We highly recommend Colleen, she was a big help in ensuring that our ceremony ran smoothly and we are very thankful.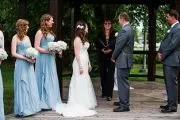 Rhonda & Danny
Colleen Heidman was great and made all of us very relaxed and comfortable.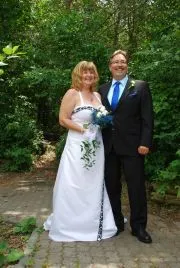 Lindsay & David
Colleen Heidman was wonderful to work with! She was able to answer any questions we had and helped us organize the rehearsal to ensure the wedding day went off without a hitch. Thank you Colleen !!!!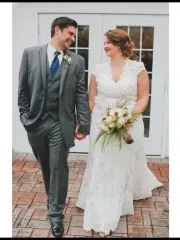 Tina & John
Colleen Heidman met with us before the wedding day, and explained things so well, and asked the right questions. We had a Halloween wedding, and Colleen was more than willing to put on a costume and that meant a lot. She put us at ease, and guided us through the entire ceremony smoothly. I think that Colleen was having fun, too. She also put a lot of important information in the package for AFTER the wedding day as well. Very helpful.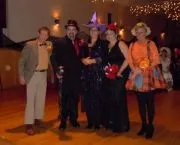 Jessica & Kevin
Colleen Heidman was wonderful. The delivery of the cermony was very eloquent and there were many compliments from our guests. It's very easy to tell that Colleen loves her job by the way she glows throughout. Thank you Colleen!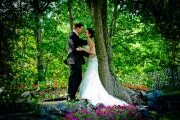 Tracy & Trevor
Colleen Heidman was very professional yet friendly and welcoming. She gave us many suggestions but encouraged us to make decisions we were most comfortable with. She pointed out many small details that may have been overlooked until the wedding day. Colleen offered support if needed with planning the wedding, she responded to emails quickly and was early for both the initial meeting and the ceremony itself. She delivered the ceremony clearly and addressed our guests as well as ourselves with amiability. Colleen even provided us with a beautiful copy of the ceremony as a keepsake. My email requesting information was answered very promptly. I received written confirmation of the booking along with an example of a ceremony. I have nothing but good things to say about the service and the wedding officiant we had to deliver our service. The fee was comparable to other services but not all officiants provided the same level of guarantee. The website was informative and easy to use. Confirmation of our wedding date & a receipt for the deposit was made quickly by email.
Alyssa and Drew
Colleen Heidman was amazing. She followed our script exactly and was so sincere in her delivery of the ceremony. Colleen was extremely helpful, from providing ceremony ideas and materials to our final preparation call. She gave us very, very helpful tips in planning our ceremony blocking and leading our own rehearsal. I would recommend Colleen to anyone! Thank you Colleen from making our wedding ceremony absolutely perfect. And for having a Kleenex ready when my maid of honour fell short :)
Ginette & Joseph
Thank you very much Colleen, the ceremony was everything we wanted and more.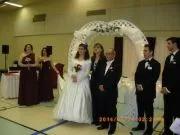 Michelle & David
Colleen Heidman was a perfect officiant for our wedding. Very understanding of our needs. All and all a perfect day.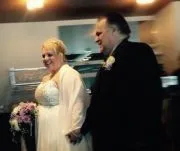 Kim & Richard
Colleen Heidman was very friendly and put us both at ease. She was warm and professional and I'm very glad we selected her. I would definitely recommend All Seasons as well as Colleen for an officiant.
Shannon and Kevin
Collen Heidman. When Kevin and I were thinking about planning our wedding we decided we wanted to have the ceremony in front of all of our friends and family. The ceremony that you performed for us was exactly that. It was simple but it was lovely and we got to share it with all of them. In respect to your character we love how easy going you are, you made both of us extremely comfortable which allowed us to really enjoy our wedding day. Thank you again for everything you did for us, it will never be forgotten.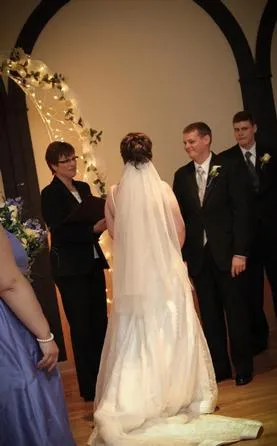 James and Jenna
Colleen Heidman was a pleasure to work with. She is fun, interesting, down to earth and kind spirited. She gave us the freedom to write our perfect ceremony, and give us advice when we needed it. Not only was she wonderful the day of our wedding, she was a huge help and influence during the weeks prior to the wedding. She was even able to keep me calm during the last few days before the event. She gave great suggestions and we trusted her whole heartedly. I would recommend Colleen to any couple looking for a wedding officiant. We could not be more happy with her quality of work and recommend her fully. Thanks again Colleen for being such a wonderful part of our big day!