Cobi Barneveld
Allow me to help you make your wedding day a day you will remember. Whether it is a religious ceremony, a traditional ceremony, or one that is unique and different I would be happy to help you make it suit your needs. I have performed a number of ceremonies and each one is done to reflect the personality of the couple. You have looked forward to this day and it should be one of the best days of your life. I have a lot of experience planning various events for the city. Some were large events and some were small intimate events. In my spare time I love to read, watch my grandchildren play various sports, and take my dog for walks.
Request Cobi Barneveld
Areas Served
Alvinston, Corunna, Forest, Oil City, Oil Springs, Petrolia, Point Edward, Port Lambton, Sarnia, Sombra, Warwick, Wyoming
Reviews
Andrew & Kayla
I am so thankful It was small and intimate .Cobi is an absolute wonderful lady. We loved her care and appreciation on our special day. You can tell how warm and kind she is. Thank you so much for everything August 2023
Mike & Kim
It was very easy. Cobi Barneveld was very professional and personable. She did an amazing job. July 2023
Mike & Stacey
Cobi Barneveld was amazing and always ready and willing to make changes when I needed something changed and added to the vows. May 2023
Debra & Murray
Cobi Barneveld went beyond our expectations. She was very helpful in getting our wedding together. Not only is she a friend but when it came to doing her job she took it seriously and was more then fantastic as far as getting things arranged. August 2022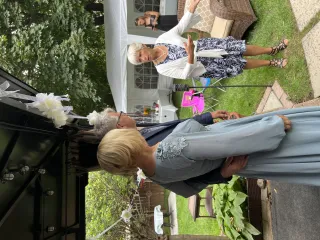 David & Marie
Cobi Barneveld was great and made us very comfortable. I would recommend her for other ceremonies. We will tell everyone about this service and Cobi. June 2022
Caitlin & Andrew
Thank you so much for helping to make our special day even better than I ever dreamed! I love the print of our vows - they remind us of our promises to and our love for each other. Caitlin & Andrew, October 2020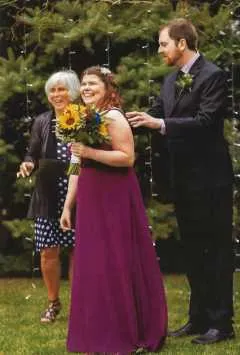 Michael & Thomas
Cobi Barneveld showed up on time, dressed beautifully, ceremony was great, would recommend her to anyone. Michael & Thomas October 2020
Erik & Nicole
We highly recommend your service, it was simple with immediate results. Cobi Barneveld was the perfect officiant. Contacts with her went smoothly. Cobi was perfect as a special officiant. We highly recommend her. Thank you for everything! Erik & Nicole September 2019
Adam & Leah
Cobi Barneveld was very helpful and answered all the questions we had. She gave us lots of guidance and was very respectful in helping us have the ceremony that we wanted. Thank you Cobi! Adam & Leah June 2019
Vicki and Dean
First of all I would like to say that we were very happy with your service. And Thank you so much for being with us on our wedding day. October 2018.