Christina Harden, BA, BEd (Windsor)
As a long-time minister with Clergy Support Church, Christina would be honoured to help create a wedding ceremony that is romantic, meaningful and personal. She is a true Essex County resident; raised in Windsor, educated at the University of Windsor and recently retired from a rewarding secondary school teaching profession. This mother of three is happily married and enjoys volunteering in her community, playing volleyball, golf and the piano. She will make family and friends feel welcomed and included, and ensure that your wedding ceremony reflects your dreams and desires. She looks forward to making your special day a memorable event.
Request Christina Harden
Areas Served
Amherstburg. Belle River, Comber, Cottam, Emeryville, Essex, Essex County, Harrow, Kingsville, Lakeshore, La Salle, Leamington, Maidstone, McGregor, Ruthven, St.Clair Beach, Stoney Point, Tecumseh, Tilbury, Windsor, South Woodslee
Reviews
Shantel & Murad
WOW! Where to even begin! Our wedding day was pure magic, and Christina Harden being our officiant was the best decision! She made our love a beautiful story for the guests and we got plenty of compliments on how perfectly the ceremony was executed! If you're looking for the best in the business, look no further! She really helped make our day what it was and we couldn't be happier!!!! Nov 2022
Kellie & Brandon
We are so happy with the way our ceremony turned out. Christina Harden did an amazing job capturing our personalities and was very well-spoken. It was playful and romantic, the perfect mix of both. We are very happy we chose Christina as our officiant. Sept 2022
Leslie & Geoffrey
Christina Harden was amazing! She took the stress out of ours vows and made sure the ceremony ran smoothly! August 2022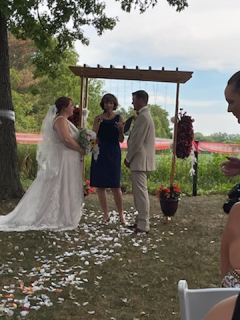 Mike & Maria
Christina Harden was very professional and we really enjoyed the service. Her suggestions for the vows were great and the service was quick and well prepared. We would highly recommend her as your wedding officiant. Aug 2022
Josh & Inessa
Christina Harden was awesome. We heard about her from one of my bridesmaids. She made herself available through email, met up with us to learn "our story" and took time to perfect the script. She was so helpful giving us preplanned scripts and tips on how to make our ceremony unique - which it was!! She made our ceremony special - adding in, "what made you choose your partner?" That made everyone's eyes glisten a little with happy tears. Lovely ceremony and all things went smoothly! July 2022
Andrea & Boris
Christina Harden is very approachable, kind, and professional. She took the time to explain the entire ceremony and marriage paperwork process to us. She helped us plan out the ceremony exactly the way we wanted it and helped us incorporate different aspects that were meaningful and special to us. We highly recommend her! July 2022
Dave & Patty
Christina Harden did a wonderful job! We tied the knot on the beach and it was perfect. Thank you Christina. Dave & Patty September 2021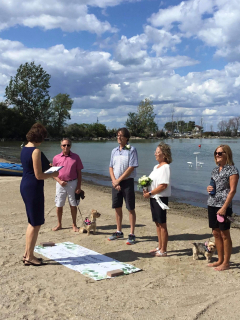 Carly & Christian
Christina Harden was absolutely perfect as our wedding officiant. From the moment we met her over our zoom meeting, we knew she would deliver our love story memorably. Christina was so down to earth, easy to talk to and really helped us piece together and personalize our wedding ceremony. We can't thank her enough for the beautiful service she provided and recommend her to any couple looking for an officiant! Carly & Christian September 2021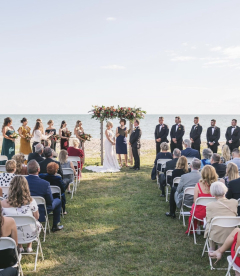 Dan & Sam
Christine Harden was awesome! She made our guests feel like she has known us for years. Her personal touches were awesome! She made our big day special! Dan & Sam August 2021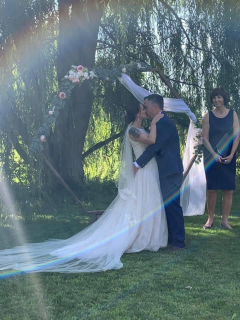 Peggy & Bruce
On August 7 Christine Harden officiated at our wedding which took place in our friend's backyard beautifully situated on the shore of Lake Erie. It was a twice 40 birthday party ending in "I Do". The wedding was kept as a surprise for the guests and Christine kept the secret until the very last minute. We loved how she played along when she arrived but mostly how she helped us through the ceremony. She is such a lovely person and our day was perfect. Peggy & Bruce August 2021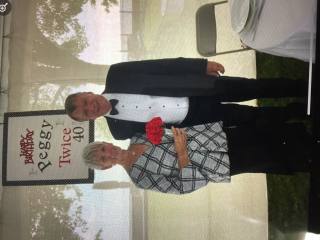 David & Amanda
We are so delighted to have booked Christina Harden as our officiant! She was delightful, dedicated, and committed to creating a ceremony that was personal to me and my husband. We highly recommend her to anyone in the Windsor-Essex area looking for a warm and lovely officiant! She even kept her composure as a storm blew in off the lake during our ceremony! Thank you for marrying us, Christina! All the best, David & Amanda August 2021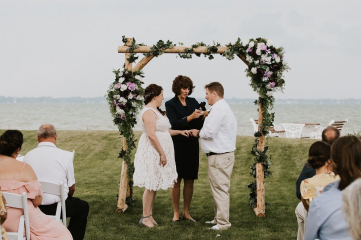 Steven & Erin
Christina Harden was amazing to work with, she brought a personal touch to our ceremony and I felt like she went above and beyond to learn about us as a couple so she could really personalize our ceremony. We had to postpone our wedding (multiple times) due to Covid and we also changed the venue several times as well. All Seasons and Christina were so wonderful and accommodating with our constant changes. Christina always answered all of our questions quickly and thoroughly and always put us at ease. Planning a wedding can be stressful but Christina and All Seasons definitely took a great deal of stress away for us!! Thank you Christina for helping to make our special day an absolute perfect one!! Steven & Erin June 2021
Bruce & Pamela
Christina Harden was absolutely amazing from the first email we got, to the video call meeting, to officiating on our special day. Our wedding, during the pandemic, required agile planning and I am not sure how we would have done it without Christina. She was attentive, supportive, compassionate, just what we needed to reduce the stress. She also added such personal touches in the ceremony that made it extra special. Now looking back on our day, it was Christina that made it special. We highly recommend her, as she will make your day special like she did for us. Thank you so much Christina! Bruce & Pamela February 2021
The Lochs
Our day would not have been the same without Christina as our officiant. From the beginning of our engagement through the many changes due to the COVID pandemic, her kindness and support meant more than we can express. She truly went above and beyond to ensure our day was exactly how we wanted. Our guests loved how personal our ceremony was; lots of laughs and happy tears. Thank you so much Christina for helping make our day so memorable <3 xo The Lochs October 2020
Jodi and Laurie
Christina Harden was absolutely the perfect fit for our wedding. From the first contact we had made to our wedding day, Christina was not only helpful but very accommodating in all of our plans for a non-conventional COVID wedding! She captured our personalities to a T and added a great mixture of aww moments and laughter. We truly recommend her services and appreciate Christmas efforts in making our day special! Jodi and Laurie August 2020
Joshua & Kyla
Christina Harden officiated our ceremony, it was everything we had dreamed of and more! Prior to our wedding Christina arranged a meeting with us both to get to know us and learn a little bit more about our relationship and us as individuals. Christina made sure that our ceremony was incredibly personal and tailored to our relationship. I received SO many compliments from guests about how beautiful our ceremony was. A wedding is undoubtedly the most special day of your life and we can't recommend Christina enough! Joshua & Kyla November 2019
Matt & Tayle
Christina Harden officiated our wedding. She was exceptional and unforgettable!!! From the moment we met with her she was so sweet and extremely supportive with all the decisions we made. She made us feel very comfortable and took the time to get to know my husband and I and our love story. She listened to every word we had to say and shared a little short story during the ceremony. It was amazing! She was beyond accommodating. She even went along with our "free-styling" vows! It was a lot of fun! After the ceremony our friends and family were complimenting her because she's simply perfect. We highly recommend her, as she will make your dreams come true! Thank you so much Christina for making our wedding ceremony so memorable. We are truly grateful for your service! Matt & Tayle September 2019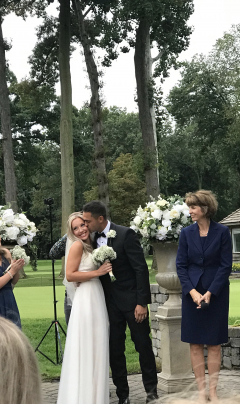 Srdjan & Vanessa
Christina Harden was an exceptional officiant. She was so sweet to talk to in the midst of chaotic wedding planning from afar, she was a breath of fresh air! She was so readily accessible and always responded quickly to text, phone calls or e-mails. She was very supportive and helpful in the process of making our dream wedding ceremony include everything we wanted it to. We are very grateful for her service and hope that others choose her as their officiant, they will not regret it! We had family, friends, photographers, videographers compliment her style and they way she presented the script we chose. We could not be more delighted to have found her! Thank you again Christina for playing such a big role in our special day! Srdjan & Vanessa September 2019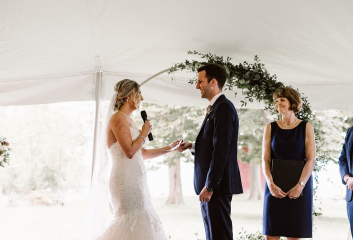 Stephen & Markie
Christina Harden was wonderful to work with! All of our guests at the wedding commented on how well she did our ceremony. Steve and I wish we were getting married again so that we could work with Christina again. Our ceremony was put together perfectly. We loved the personal touches Christina put on our big day and we would recommend her to any couple is planning a wedding! Stephen & Markie September 2019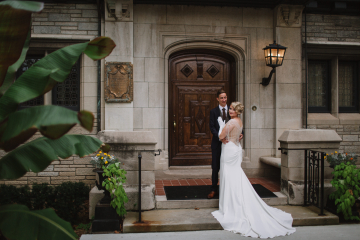 Alyssa & Alex
Christina Harden was extremely helpful, professional and easy to work with throughout the entire process. We felt like she took the time to get to know us as a couple and it really showed throughout our ceremony. Christina had the amazing idea of us reading our vows to each other during our first look and looking back it was one of our favorite moments of the day. Thank you for everything Christina! -Alyssa & Alex
Yousef & Meagan
Christina Harden is both professional and full of compassion. She allowed us to have the wedding ceremony that suited our personalities and the intimate, outdoor setting and she was a real trooper about all of the rain too! We received so many compliments from family and friends wondering how we found such a special person to perform our ceremony. Thank you to Christina and to All Seasons Weddings. Yousef & Meagan July 2019
Austin & Rachel
Christina Harden was absolutely wonderful to deal with. She was extremely professional, very kind, and did a wonderful job officiating our wedding. On the day of the wedding, Christina was on time for the ceremony and allowed us to customize the ceremony to our liking. I would highly recommend her to anyone. Austin & Rachel September 2018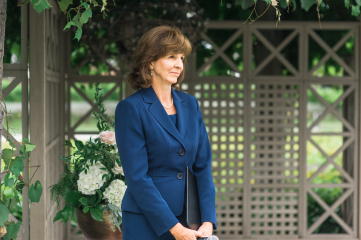 David & Angela
Christina Harden performed a fabulous ceremony for us, she was warm, caring, spiritual and funny! I would absolutely recommend your service and will do so when I get the opportunity.
William & Sandra
Christina Harden was very professional. She tailored our service to our wishes and it was nicely nicely personalized. Beyond expectations.
Chelsi & Ryan
Christina Harden did an outstanding job. We were most pleased by the tips and suggestions she gave to make our day really special. She really made us feel really comfortable and we had a good connection since our first meeting.
Anonymous
From the first email to the day of our ceremony, Christina Harden was absolutely fantastic. She made us so comfortable and put special touches into our ceremony that we will forever be grateful for. Thank you Christina!
Julia & Sean
Christina (Harden) officiated our wedding on August 24th. Words cannot describe how perfect she made everything for our ceremony. She is very caring and took the time to hear our story and what we love about one another on our first meeting. She perfectly described how Sean and I first met and added personal touches. She even added some humor to our ceremony which the crowd loved. I strongly recommend Christina to anyone looking for an officiant and she went above and beyond our expectations. Julia & Sean, August 2018
Marni and Jesse
We had such a wonderful experience with Christina (Harden). From our first meeting to our email communication and our actual wedding. Christina made our ceremony very personal and special and even encouraged us to include some cultural family traditions. We are so grateful to have had her be a part of our special day! Thank you for everything! Marni and Jesse July 15th, 2018
Anonymous
Christina Harden was a most pleasant ,efficient , professional and personable officiant. She helped us add in personal touches to the ceremony which made the ceremony more personal and unique. I would highly recommend her as your officiant and would not hesitate to have her perform a renewal of vows in the future . Thank you for everything Christina!
Rose & Chris
Christina (Harden) was amazing. She made our day very special. The ceremony was beautiful and she made us feel so comfortable -- like we have known her forever. Rose & Chris, June 2018
Mike & Tracy
Christina Harden was absolutely wonderful. We met with her prior to our wedding to get to know each other. She made us feel at ease right away. She wanted to know how our love story began, and incorporated that into our ceremony, making it extra special. We received so many compliments from our family and friends about Christina. We would highly recommend Christina to anyone getting married Thankyou so much Christina for making our wedding so special. Sincerely Mike and Tracy Hlywka
Sarah
Christina Harden was simply AMAZING! We cannot say enough positive things about this wonderful officiant. She was easy to work with and our families thoroughly enjoyed her perform at our ceremony. We wanted a quick and simple ceremony and she made that happen. Thank you, Christina, for all your efforts to make our day special!
Colin & Kaitlyn
We just want to say a big thank you to Christina for officiating our wedding! Our outdoor ceremony at Mackenzie Hall was everything we ever dreamed of. When we met with her for our planning meeting and told her a bit about ourselves, she made a script with our story and it was so incredibly perfect. Everyone was commenting on her after the ceremony, how great it was! She was very professional and humerous and kept the mood great. We would recommend her to everyone. She really takes the time to get to know her clients and we have nothing but great things to say. You helped make the best day of our lives perfect!
Patrick and Keely
We just wanted to thank All Seasons for the referral to Christina Harden. She married us recently on 7 May 2016 in Windsor, Ontario. We felt completely at ease and comfortable with Christina from our very first meeting. She is warm and open and really made our wedding stand out. She took the time to personalize everything, really paying attention to who we were individually, and as a couple. Our guests have and continue to comment on how romantic the ceremony was and how much it really reflected who we are. Christina was so great and we would highly recommend her as she will go the extra mile to make your day special, and memorable! Patrick and Keely