Christina Haig
I have lived in Campbellford all my life with my husband Tom. We have three grown children, and three grandchildren. As a Designated MinisterI have a strong commitment to marriage and family and wish nothing but years of happiness, for you both. I would be excited to have the opportunity to officiate your personalized wedding ceremony. During my photography career, I took time as a Youth Leader to make two mission trips to Cuba with teens. Our family loves the outdoors camping and kayaking. We have 2 cats, which are twins!
Request Christina Haig
Areas Served
Campbellford, Colborne, Brighton, Castleton, Trenton, Frankford, Foxboro, Belleville, Peterborough, Hastings, Havelock, Norwood, Marmora, Madoc, Springbrook, Tweed
Reviews
Samantha & Jeff
Christina Haig did an amazing job, she was very friendly and made sure everything was the way we wanted. Definitely will recommend. Nov 2021
Keven and Jessica Aug 2021
Christina was an amazing officiant. She customized our ceremony to for our needs and was so kind and professional. Highly recommend Chris for your up coming celebrations.
Lisa & Jason
Thank you Christina Haig! You made our day so special, including our daughter in the ceremony and with being accommodating to a Skype call from a mother who could not be there. We are forever thankful for all the help and support through the planning process. Our day could not be any better then what we hoped for. Lisa & Jason August 2021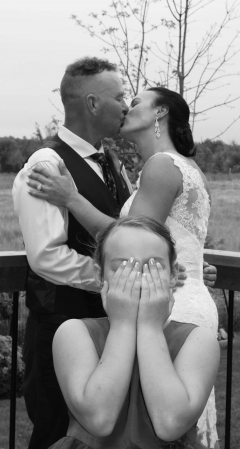 Adam & Leanne
Christina Haig responded to emails and checked in with us prior to the wedding. She was easy to communicate with friendly and down to earth. We are so thankful she was available to officiate our wedding! Adam & Leanne June 2021
Gregory & Shelley
Christina Haig was very professional and did a fantastic job. She made us very comfortable and discussed the various wording and options to us so that our day was perfect!! I've had several people ask me since our wedding who our officiant was because they want her too. Thank you so much Christina for helping make our day perfect!! Gregory & Shelley October 2019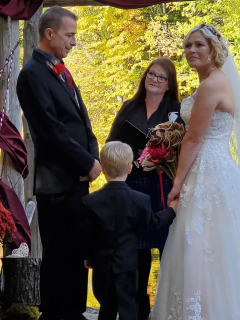 John & Rebecca
Christina Haig was amazing! She made sure everything was good with our paperwork, showed up in plenty of time and was able to marry us with only two weeks notice!!, She was professional in her emails and loved the Harry Potter theme wedding ceremony I had given her! She preformed our ceremony perfectly and out guests loved how it was done especially those that caught on it was Harry Potter inspired! Amazing woman and we highly recommend her! Thanks again Christina and all seasons weddings!❤️ John & Rebecca October 2019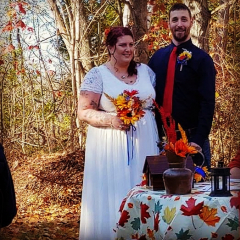 William & Adrienne
Christina Haig was so accommodating given that we live 3 hours from where we got married. She went out of her way to make contact over the phone and email at times that were convenient for our work schedules. She came to do a rehearsal with us and made us feel so comfortable and calmed our nerves on the day of the wedding. She made a couple of changes for us the day before the wedding and helped us feel so at ease about the day to come. We also made a couple special requests as my husband has a very large blended family and she were so appreciative of that. Overall I would highly recommend Chris and would like to thank her for making our day so much more special! William & Adrienne September 2019
Adrienne & William
I just wanted to express our utmost appreciation to Christina Haig for officiating our wedding ceremony. She was so accommodating given that we live 3 hours from where we got married. She went out of her way to make contact over the phone and email at times that were convenient for our work schedules. She came to do a rehearsal with us and made us feel so comfortable and calmed our nerves on the day of the wedding. She made a couple of changes for us the day before the wedding and helped us feel so at ease about the day to come. We also made a couple of special requests as my husband has a very large blended family and we were so appreciative that she was able to accommodate. I would highly recommend Chris and would like to thank her for making our day so much more special! Adrienne & William Sept 2019
Cindy and Bill
I just wanted to say how happy we were with Christina (Haig). Not only was she very accommodating but she was also warm and personable as well. She was very kind and helped to put us at ease. I would highly recommend her. Thank you Christina! Cindy and Bill July 21st, 2018