Cheyenne Wood
Cheyenne lives in beautiful Huntsville, where all is possible. She is a kind-hearted and fun-loving teacher, wife and mother, who considers herself a life-long learner. As a good listener, she is open to couples' ideas and visions for their ceremonies. She has a passion for creating memorable celebrations and loves to witness others achieve their dreams. Cheyenne would be honoured to be a part of your journey to new beginnings. Her warm heart will be shared with you both from the day you plan your wedding to the actual day of your wedding ceremony.
Request Cheyenne Wood
Areas Served
Muskoka, Muskoka Lakes Districts, Huntsville, Bracebridge, Gravenhurst, Dwight, Dorset, Baysville, Port Carling, Port Sandfield, Rosseau, Port Sydney, Lake of Bays, Glen Orchard, Utterson, Bala, Windermere, Uffington, Raymond, Severn
Reviews
Ryan & Josie
It was super easy and stress free to book our Officiant with All Seasons. Cheyenne Wood, our Officiant was wonderful. She was so kind and sweet and helped me when I was nervous. We wouldn't have changed a thing - everything was good. August 2023
Linda & Melissa
Cheyenne Wood was amazing and made us feel so comfortable and helped us to just enjoy our moment. We would definitely recommend her. August 2022
Ryan & Savannah
Cheyenne Wood exceeded my expectations! Thank you! August 2022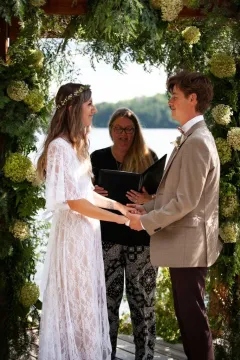 Eileen & Norm
Cheyenne was amazing in a very professional manner and kept things light and happy. July 23 2022
Justin & Marisa
Cheyenne Wood was great! Easy to work with and spoke beautifully. May 2022
Sean & Cassandra
Cheyenne Wood was an absolute pleasure to work with! All of our guests mentioned how welcoming, warm, and wonderful she was. She helped us every step of the way and was always more than happy to help when we were unsure of what we were doing. We could not have picked a better officiant for our big day and she helped make our ceremony as perfect as it is. Thank you so much, Cheyenne! Sean & Cassandra June 2021
Noel & Kate
Cheyenne Wood was lovely - very quick to communicate back to us and just a nice demeanor and attitude. We Loved having her as part of our special day and she made it very easy and simple for us! Noel & Kate November 2019
Ryan & Tori
Thank you, Cheyenne Wood , for performing our wedding ceremony. It was extra special having you officiate ?. Everything was well organized and went exactly as it was laid out. We would highly recommend this service to others. Ryan & Tori October 2019
Adam & Pam
Cheyenne Wood was amazing. She was sweet, fun, flexible and supportive.We couldn't have been happier with the entire process. We would absolutely recommend her ! Adam & Pam October 2019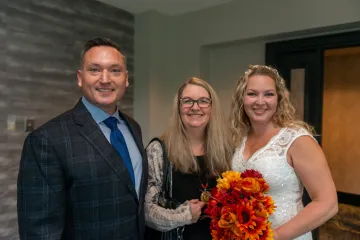 Adam & Pam
Cheyenne Wood was amazing. She was professional, warm and fun. She made us all feel very comfortable and relaxed. I would highly recommend her. Thanks so much for making our surprise wedding a reality. Adam & Pam October 2019
Samuel & Allison
Cheyenne Wood was amazing to work with and she made our special day perfect. She was flexible when we need to have our meetings and she arrived well before our ceremony. She was lovely to work with and we would recommend her to anyone who's planning their wedding. She was very easy to work with and everything was straight forward from the beginning to the end. Thank you for helping us through the planning of our ceremony. We appreciate it very much. Samuel & Allison August 2019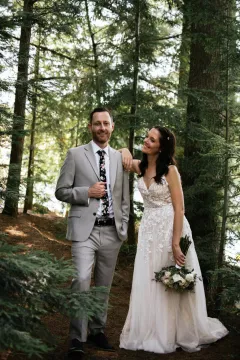 Steve & Devon
Cheyenne Wood was so lovely to work with- we highly recommend her and All seasons to anyone getting married in Muskoka! She was very responsive to all our questions, was friendly, accommodating, and professional. Couldn't have asked for better. :) Steve & Devon June 2019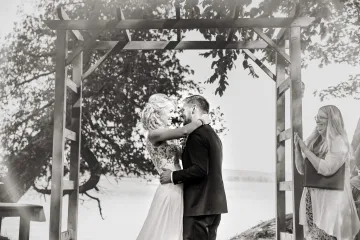 Kourtney & Nathan
Cheyenne Wood was fabulous made us feel so comfortable and kept me calm I would recommend her thank you!!
Katie & Brad
Cheyenne Wood was absolutely fantastic! She was incredibly helpful, flexible, and put us at ease. We are so grateful that Cheyenne lead us through our most special day. She is an excellent officiant!
Naomi & Robert
Cheyenne Wood was wonderful - warm, engaging, professional, and friendly. She even brought tissues in case we got "emotional" (we did). Thanks again, Cheyenne!
Lindsay & Chris
Cheyenne Wood was absolutely fantastic. Was always there for us when we had a question and performed a beautiful ceremony.
Elysha & Andre
Cheyenne Wood was sweet and helpful. She walked us through how the day would go, what we needed before, during and after. She was very receptive when we changed our mind a few weeks before and decided to write our own vows. It was great to have her be a part of our day.
Merryn & Kevin
Cheyenne Wood was fantastic! She was warm, friendly and had us both at ease. We couldn't have wished for anyone better to marry us! Great service considering I was organizing everything from overseas by email. Thanks so much Cheyenne , we will always remember you!
Arden & Thomas
Cheyenne Wood was great! Really smiley and flexible throughout the whole process. She made everyone feel super comfortable.