Catherine Skinner
Catherine Skinner is a mother, writer, coach and entrepreneur who lives in St. Catharines, ON. With a background in performance and extensive experience as an event producer and coordinator, she is perfectly at ease speaking in public and understands the nuances that each little detail lends to a special day. Catherine passionately believes in every person's right to love, family, tradition and ritual however unique their approach may be. Large gatherings or small, traditional or non-conventional; whichever your choice, Catherine feels deeply honored whenever she can be a part of such cherished milestones. She is credentialed as a designated minister with Clergy Support Church.
Request Catherine Skinner
Areas Served
Queenston, Niagara-on-the-Lake, Virgil, Niagara Falls, Welland, Fort Erie, Wainfleet, Crystal Beach, Ridgeway, Port Colborne, St. Catharines, Lincoln, Grimsby, Pehlham, Thorold, Stoney Creek
Reviews
Kurt and Angela
"Catherine led us through our wedding ceremony with great poise and elegance. Her presence established a serene and reverent atmosphere. She was a joy to work with during preparation, especially as we wrote our own vows, and was always prompt at getting back to us. We can't recommend Catherine strongly enough!!" Kurt and Angela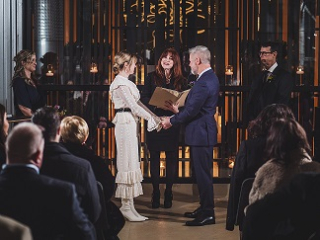 Maria & Jay
Hello, my name is Maria and my husbands name is Jay. We are newlyweds and just got married a few days ago. We chose Catherine Skinner as our officiant and we are so glad we did!! We love you Catherine!! She is so super sweet, kind, and helpful in every way. Every time I had a question she was always there to listen and answer. I would definitely recommend her as an officiant as she is not only fun, sweet, kind, and caring but she is beautiful inside and out. Thank you for everything Catherine!!! Feb 2022
Jessica & Ralph
Catherine Skinner was wonderful! She provided the ceremony exactly as we wanted it. She listened to us when we met the week before to plan the ceremony and performed flawlessly on the day of. She was prompt and courteous and we'd enthusiastically recommend her in the future! Thanks Catherine! Nov 2021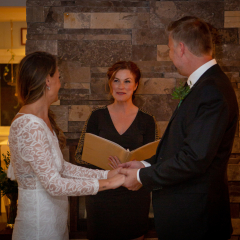 John & Annisa
Catherine Skinner was warm, friendly, prepared and did an amazing job. We were so happy we chose her. October 2021
Jeffy & Elisha
Catherine Skinner was friendly, professional, flexible, and a pleasure to work with! We're so glad we chose her to officiate! October 2021
Maksat & RJ
Catherine [Skinner] met all our expectations. She is an amazing person: kind, polite and very pleasant. We strongly recommend her. October, 2021
Taylor & Matthew
Thanks very much Catherine Skinner for making our ceremony so perfect. In the limited time we spent with you prior to the wedding I feel you were able to get a great sense of who we were both as individuals and as a couple and reflected that in your comments. You have a special way of connecting with people that is very unique. Thank you for being a part of our ceremony. August 2021
Gerrard & Marta
Catherine Skinner was absolutely amazing. She is such a warm and wonderful person, we couldn't have made a better choice! September 2021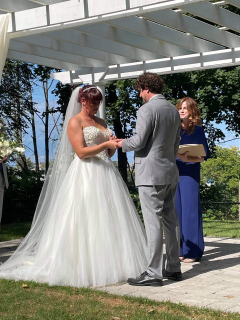 Peter & Gina
Catherine Skinner exceeded our expectations! She was completely professional and organized. The only question Catherine had for us when she showed up was "how are you feeling?" which was a glorious relief after a day of fielding questions from every direction. Not only did we feel that we were in good hands the moment that Catherine showed up, but she helped us pause and appreciate the moment by asking us to take a breath together as soon as we had both walked down the aisle. It was so quick, no one else noticed, but it helped us both immensely. Catherine led our ceremony calmly and with grace, but we and our guests could tell she was also emotionally invested in the ceremony, and it meant to much to us and both of our families to have someone who genuinely cared standing up with us. We can't say enough good things about Catherine! Photo credit to Davidiam Photography September 2021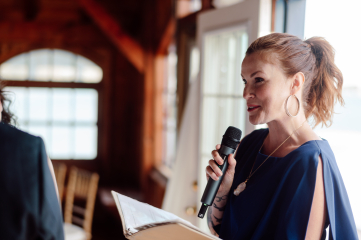 Anthony & Sandra
Catherine Skinner was amazing. She was very professional and kind in our meetings leading up to the wedding. Her ceremony and choice of readings and vows were perfect for us. She spoke clear, had a fantastic cadence to her script and was so calming to listen to. She made us feel comfortable and dressed really nice and presented really well. Would recommend Catherine to anyone for sure. June 2021
Eli & Katie
Words cannot express how amazing Catherine Skinner is. From the moment of our initial meeting, she just "got us". She was everything and more we could have ever imagined for our officiant. Not only was she calm, and welcoming to our Jewish and Catholic backgrounds; she provided such grace combining our morals and unity as a couple. Simply put, we felt like a friend was marrying us. Without hesitation, I hope in 10 years Catherine will be there at a vow renewal. June 2021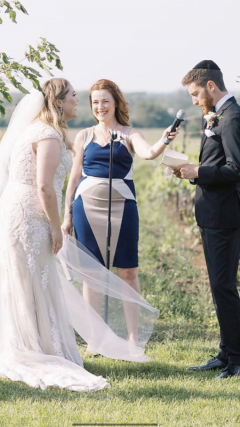 Adam & Sarah
Catherine Skinner was absolutely lovely! From our first phone conversation we loved the ease with which she communicated and how interested she was in getting to know us. Even through the pandemic, it was lovely to meet with Catherine via Zoom and she ensured we were well prepared for our special day - even under all of the COVID-19 restrictions. Catherine made us both feel at-ease during the ceremony, starting with a deep breath, and she guided us through everything so beautifully. She really fit the tone of our day, and the enthusiasm of our friends and family. November 2020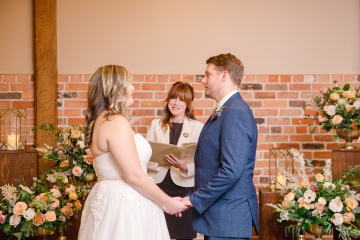 Dylan & Kelsey
Catherine Skinner was amazing, we couldn't have asked for a better person to officiate our wedding! October 2020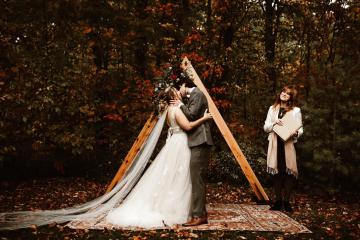 Brandon & Tanaisha
Catherine Skinner far exceeded the expectations we had, in every way possible. She was comforting and gave off a very soft and lovely vibe. Brandon & Tanaisha September 2020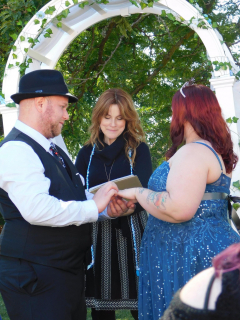 Dave & Hillary
Catherine Skinner exceeded our expectations . She was the absolutely perfect fit and gave off the best vibe for the day. I would recommend her and your service to anyone. Dave & Hillary September 2020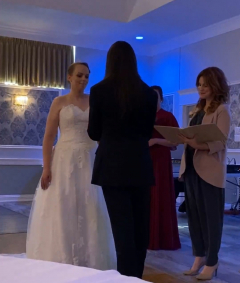 Drew & Kimberly
Catherine Skinner is incredibly sincere, genuine and a pleasure to work with. When it comes to your special day, the officiant is by far the most important decision--they actually marry you! The dress, the cake...it really doesn't matter. For us, getting married in front of our family and friends was extra special.Many of our guests were super impressed because she is so lovely and of course, made us feel especially relaxed during a very emotional and nervous time. Drew & Kimberly September 2019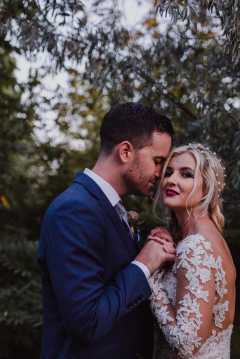 Gene & Julie
We were so thrilled to have found Catherine Skinner . She was exactly who we wanted to marry us and just felt like the final perfect touch for our wedding. She is attentive and warm and has a wonderful ability of bringing people into the moment. Our whole experience with All Seasons was excellent and we would definitely recommend your services! Gene & Julie October 2019
Julie & Gene
We met with Cat Skinner and knew within minutes she was the officiant for us. She seemed to just "get" us as a couple and we don't think we could have found someone better suited to marry us. She has such an original, vibrant personality and she made our ceremony absolutely perfect. We give her sole credit for both of us being able to focus and be in the moment rather than be distracted or nervous and that just made it so much more special. Many of our guests commented after on what a perfect job she did and it was a perfect touch to the joy of our day. We cannot thank her enough! Julie & Gene October 2019
Mark & Jenn
Catherine Skinner really helped calm our nerves at the beginning of the ceremony. Taking a minute telling us to take a breath. Catherine went beyond our expectations. She is Punctual, kind, warm, laid back and so accommodating. She was a perfect addition to our day and conducted our ceremony in a warm, friendly way. We couldn't be more thrilled. Thank you. Mark & Jenn September 2019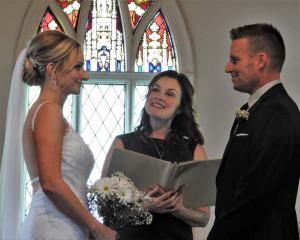 Richard & Jessica
Catherine Skinner was so amazing and did such a wonderful job on our ceremony. She keep things very relaxing and fun also had people laughing. Thank you for everything , we would recommend her to anyone getting married! Richard & Jessica September 2019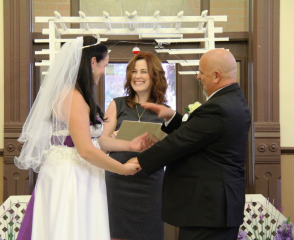 Mark and Jenn
Catherine Skinner with All Seasons Weddings did a remarkable job officiating our wedding ceremony. She added so much warmth to our special day and was great to work with throughout the planning process. Would highly recommend her to anyone looking for an amazing officiant! Mark and Jenn
Warren & Danielle
We cannot begin to express how amazing Catherine Skinner was at our wedding! She made the process so incredibly easy leading up to our big day and delivered exactly what we were hoping for during the ceremony. She listens very closely to what her clients want (and even threw a few nerdy messages into the outline for us)! We were able to customize the outline and were completely confident in her abilities. She was a joy to work with; our friends are still talking about how amazing she was over a month later! We highly recommend Catherine for anyone looking for an officiant! Warren & Danielle June 2019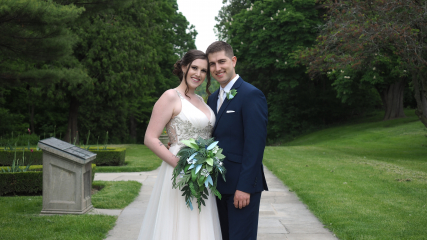 Stephen & Aranka
From reading previous feedback on the All Seasons Weddings website about Catherine, we knew she was exactly what we were looking for as an Officiant. Right from our first meeting with her in person, she was exactly as others described! We knew we selected the right person for us! Catherine was easy going and relaxed. She was what we wanted and were looking for as the person to marry us. We wanted a brief ceremony without the pomp and pageantry that so many get caught up in. Catherine was easy to work with. We wouldn't hesitate to recommend Catherine! September, 2018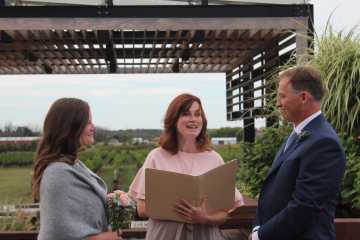 Alicia & Andrew
Catherine Skinner exceeded our expectations in every possible way! She responded in a timely manner when emailed about any questions or concerns we had, and was so approachable and friendly when we met her. We knew right away that she was who we wanted to marry us. I would highly recommend Catherine to any couples looking to have a kind, friendly, and professional officiant. May, 2018
Laura & Jon
Catherine Skinner was an absolute gem. She saw our vision and worked with us to create it. Her demeanour and respect for love made her the absolute PERFECT fit. I would recommend Catherine to ANYONE! September, 2018
Andrew & Emma
Catherine Skinner was fantastic throughout the entire process! She was friendly, caring and did an amazing job delivering our ceremony! Highly recommend her! August 2018
Francine & James
The moment I met her I went up to her and gave her a hug, realizing we had only spoken on the phone and I may have seems overly friendly. But that's the feeling I had with her. That she was friendly and I felt comfortable. I am very picky with who I want apart of my wedding and I have to like them and feel comfortable. Catherine Skinner was amazing every step of the way and I recommend to her everyone, she was just so wonderful!
Jessica & Patricio
Catherine's wonderful warm nature showed right through. She was patient and understanding of the forces beyond our control. We got married on an awful, stormy day which caused delays and she did not rush us. We definitely recommend her 110%!
Ashley & Trevor
Catherine Skinner far exceeded our expectations for our wedding officiant. Not only was she very accommodating of our requests for our ceremony, but her warm demeanor calmed our nerves leading up to, and during, the ceremony. We instantly felt her great energy the first time we met, and we couldn't have made a better choice to trust our ceremony with anyone else. We received many great comments about Catherine after our ceremony, and we gladly referred her to everyone we talked to during the reception, and we will continue to do so.
Giselle & Chris
Catherine Skinner was exactly what we were looking for in our officiant. She is very personable and had a great sense of humour. From beginning to end this was a great experience. We will definitely recommend your services to our friends.
Joseph & Daniel
Catherine Skinner was so personable and warm and we felt like we knew her for a long time already. Catherine was awesome and made us feel so comfortable. We would recommend her for sure!!!
Holly & Sonny
Catherine was wonderful! She made everything run smoothly and was super accommodating!
Jordan & Bryan
Catherine was amazing!! We couldn't have asked for a more magical wedding day, she made everything run so flawless and easy. Thanks for everything Catherine!
Joe & Daniel
Catherine Skinner was so personable and warm and it felt like we knew her for a long time already. She was awesome and made us feel so comfortable we would recommend her for sure!!!
Brittany & Gregory
Catherine Skinner exceeded our expectations to be honest. She was friendly and humorous, exactly what we needed! Choosing our officiant was one of the easiest and rewarding decisions we had to make during out entire process.
Aidan and Billy
Catherine performed our ceremony this past winter and it couldn't have been a better fit. We couldn't have imagined our ceremony without her. Although we had met only once, her warm and open personality made us feel completely comfortable and very grateful to have had her been a part of our very special day. Thanks again, dear Catherine! Billy and Aidan ❤️
Samantha and Eric
I can't say enough good things about Catherine! She was a pleasure to meet from the start- very vibrant, warm and professional. I was a nervous wreck during the ceremony but she kept me centered with her calmness and humor. She's a pleasure to work with and we are so glad we found her!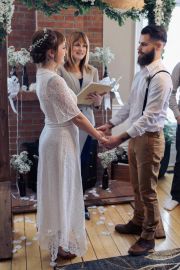 Kandis & Ken
Catherine Skinner was easy going, helpful and friendly. As soon as we met her we felt 100% confident that she would make our day perfect. Thank you Catherine, we could not have chosen a better officiant!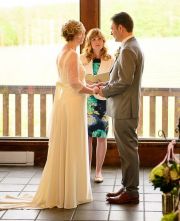 Ruth & Amy
Catherine Skinner was simply incredible. The ceremony was beautiful and her presence and energy really made it so very special. We could not of had a better officiant and indeed would not have wanted anyone else.
Justin & Amanda
My husband and I had been looking for an officiant kind of last minute. I stumbled upon Catherine online and ran with it. Not thinking that it mattered much about who we had marry us, I can't say I put too much thought into it. When we met with this lovely vibrant soul, I expected some stuffy and boring individual who would treat this strictly as a paying job, do the bare minimum and call it a day. I was so very wrong about all of the above. When we had the chance to meet Cat, I realized how limitless her energy was, and I found her sarcastic and witty nature to be not only relatable, but straight up awesome. She would be an absolute asset to our wedding, and I can now confidently say that she was. Look, if you're going into your wedding thinking that the officiant role can be done by anyone, you're sadly mistaken. Catherine doesn't treat this like a paying gig, but rather, an honour. My husband and I both were super happy with the wonderful job she did, and best of all, she catered her role to US and OUR story, not some generic one told a thousand times before. You will want her energy and spirit to make your ceremony all the more special, and you will have guests approaching you afterwards telling you what a great job she did. Take it from me, a happy bride and now wife who unknowingly hit it out of the park by choosing this woman. Plus, she's a red head, and they're always pretty rad.
Emily & Timothy
Catherine is an amazing officiant and a very beautiful person - inside and out! We were looking for a very short and sweet backyard wedding and she made it all so easy! She has such an open and loving heart that comes out so freely in the way she speaks and how she carries herself that makes it easy for anyone to fall in love with her spirit. Not only were we pleased with her from start to finish but all of our guests were asking us where we found her and where they can find her contact information! She gave us excellent input while also catering to our own unique ideas of what we envisioned our wedding to be. If you are looking for a wedding officiant for your ceremony of any kind, you will be far from disappointed by choosing Cat! I highly recommend her to anyone and everyone!!! Xx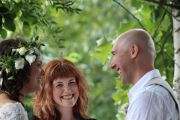 Jules & Mish
Originally my partner and I had planned on a no fuss civil ceremony in NYC but as luck would have it the timing just wasn't right and when I realised Canada would work I sent off a few emails and Catherine responded immediately. Everything fell into place within days and then on the day when we wanted to stand in the midst of the mist of Niagara Falls Catherine just smiled and said sure thing! It was amazing! We had a perfect rainbow behind us, thundering water beyond us and even though we had just met Catherine, she was so genuine and warm not even the drenching mist could dampen our spirits. We cannot thank Catherine enough for her efforts in making our special day exactly that - incredibly special. I honestly felt like we were all old friends she was just so personable and a great soul. Thanks too for our wonderful witnesses who made us feel welcome and not strangers. Truly beautiful people have the incredible ability to make others feel their warmth and compassion, Catherine Skinner you truly are one of these people, thank you so much.