Caroline Hallsworth, BA Hons. (Trent), MLIS (Western)
An experienced wedding officiant with a romantic heart, Caroline honours your wedding with something special; be it her lucky red wedding shoes or her Granny's pearls, once worn under a bug jacket to hike to a mountain top ceremony. Caroline loves the Northern Ontario outdoors, in all seasons. She plays tennis in the Igloo, gardens amidst the rocks, reads historical fiction and plays euchre badly. Travel adventures include climbing Mt. Vesuvius and sleeping in a 16th Century brewery. Her family's magical place is their Killarney cottage, shared with friends and the odd dog. After a decade officiating City Hall weddings, Caroline joined Clergy Support Memorial in 2019.
Request Caroline Hallsworth
Areas Served
Sudbury, Greater Sudbury, Azilda, Blezard Valley, Capreol, Chelmsford, Coniston, Copper Cliff, Falconbridge, Garson, Hanmer, Lively, Naughton, Rayside Balfour, Val Caron, Val Therese, Wahnapitae, Walden.
Reviews
Meaghan & Thomas
Caroline Hallsworth was fantastic! She was so much fun and made our ceremony personal to us. She went along with our relaxed approach to the ceremony and even made a few jokes and laughed along with us. She embraced our quirks. And I love that she wore her Grandmother's pearls to the ceremony, as I had my own Grandmother's pearls with me. She was thorough throughout the planning process and her experience showed every step of the way. She gave great advice from previous ceremonies she had performed. We were thrilled to be her 100th ceremony, it made our day extra special that we could celebrate her accomplishments with her! September 2023
Nicole & Marc
Caroline Hallsworth was the perfect fit for us. We spoke on the phone on one occasion, then corresponded through email. She was always professional, she listened to exactly what we envisioned. She had fantastic ideas. When we met her the day of the wedding, we just all clicked right away. She made us feel comfortable, and was friendly with the guests. Caroline explained everything to our guests and those participating. Our ceremony was more than what we envisioned because of her. You will not be disappointed. Thank you, Caroline. August 2023
Marc & Nicole
The whole process of choosing out Officiant Caroline Hallsworth was very easy. We really enjoyed out short and sweet ceremony. Our guests enjoyed that the ceremony didn't drag on. Our experience with Caroline was amazing. August 2023
Brigitte & Nick
Caroline [Hallsworth], You were amazing! What you did for us was so perfect and we cannot thank you enough. We are beaming with joy! The ceremony was our favourite part! 😊 xo August 2023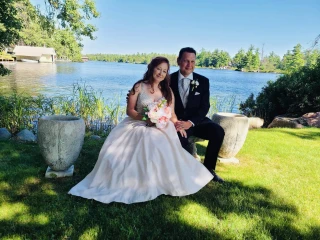 Mallory & Thomas
Caroline Hallsworth was incredible! We felt fully prepared for the ceremony and had very few questions because she knew what we would have asked with all her years of experience officiating. We felt comfortable and at ease through the whole process and will definitely be recommending her to our friends and family! Thank you, Caroline, for being our officiant and spending that evening with us. March 2023
Andy & Nikki
Caroline Hallsworth was warm and professional, we knew we were in good hands. May 2023
Samantha & George
Caroline Hallsworth was fantastic!! Extremely helpful, kind and genuine to the core! Her attitude was so positive and lovely it made the process and the day that much more enjoyable! I found she went the extra mile for us and I couldn't have asked for a better officiant! Thanks, Caroline for making our day so magical! Dec 2022
Vanessa & Joseph
Caroline Hallsworth was excellent from start to finish; August 2022
Caroline & James
Caroline Hallsworth was a monumental part of our special day. From the rehearsal to the ceremony, she didn't miss a beat. She answered all our questions and helped guide us when in doubt. We cannot say enough good things about Caroline, we are so lucky to have had her to share in our special day. Sept 2022
Andrew & Charlotte
Caroline Hallsworth did such a great job officiating our ceremony. It's obvious she has done this for a long time and her experience was invaluable. We had the perfect ceremony thanks to Caroline. I would recommend her in a heartbeat. Aug 2022
Kayla & Matt
Caroline Hallsworth we can't thank you enough! Thank you for answering all my emails and questions so promptly. You were so patient with us as we picked the perfect reading for our ceremony. You guided us so smoothly, without a rehearsal. We were at ease & able to enjoy our special moment. Even though it was short (as we wanted) it is a great memory that we will cherish forever. Rest assured that by picking Caroline you are in great hands.. she is a true professional who loves what she does and it shows! July 2022
Michael & Andrea
Did she meet our expectations? She not only met them, she exceeded them! She made this entire process easy, smooth and non-stressful. Caroline Hallsworth was an absolute pleasure to deal with :) August 2022
Kayla & Zachary
Caroline Hallsworth was well organized and efficient. She made sure the ceremony would run smoothly and had everything prepared in advance. She was on the ball with providing us with kind reminders re: ceremony prep. She even agreed to a rehearsal on Canada Day! My husband and I truly appreciated her kindness and flexibility. We would most definitely recommend her as a wedding officiant to our friends! July 2022
Amanda & Jonathan
The loveliest lady ever! Caroline [Hallsworth] was friendly, kind and easy to get to know. She helped make our day extra special. We would absolutely recommend her to anyone looking for an officiant! July 2022
Travis & Marguerite
Caroline Hallsworth was professional and did a fantastic job. We enjoyed working and sharing our day with her. June 2022
The Berries
Caroline Hallsworth is the absolute best! She's very resourceful and went above and beyond when answering our questions. She was helpful with ensuring our day was special. We highly recommend her! Feb 2022
Amber Zachery
Caroline Hallsworth was absolutely fabulous! If I had any questions or concerns Caroline was always helpful!! Caroline went above and beyond to help make our day very special! She was friendly, and an amazing officiant!!! Jan 2022
Ann Treesa & Jees
Caroline Hallsworth went above and beyond and provided all of the resources for a successful ceremony. She had a positive attitude and made us feel relaxed throughout the ceremony. I am so grateful and relieved that everything went just as planned. Feb 2022
Hailey & Paul
Caroline Hallsworth was outstanding as our wedding officiant. Her experience was clear from the start of our conversations with her, and she guided us and offered valuable suggestions throughout the process. She worked with us to tailor our wedding script, and was highly adaptable leading up to the ceremony. Her enthusiasm and energy toward the ceremony and the wedding in general contributed meaningfully to our day. On top of this, she worked closely to include a grandparent as the co-officiant for the non-legal components of the ceremony, and did so with kindness and a gentle touch, while executing the ceremony seamlessly. She was an important part of our day and we were very fortunate to have her as our officiant. Thanks so much Caroline! October 2021
Caitlin & Christopher
Caroline Hallsworth was absolutely splendid. She was very supportive as we had to reschedule due to COVID. We would recommend her to anyone looking for a officiant. Caitlin & Christopher June 2021
Gabrielle & Ryan
Caroline Hallsworth was phenomenal!! We would highly recommend her to anyone. Gabrielle & Ryan August 2021
Kaitlin & Ryan
Caroline Hallsworth was an amazing officiant, she is very kind and made everyone feel comfortable! She went above and beyond with providing us information about the area and was very accommodating. We couldn't have asked for anyone better to be a part of our special day! Kaitlin & Ryan August 2021
Heather & David
Caroline Hallsworth was wonderful in making our wedding ceremony beautiful and so memorable. My husband was diagnosed with brain cancer and we decided we wanted to get married before he passed away. Heather & David July 2021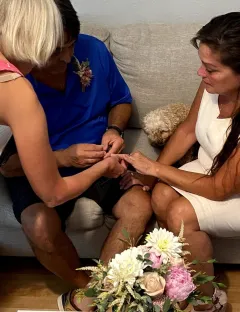 Rob & Kelsey
Caroline Hallsworth was an absolutely delight to work with, she stayed calm and diligent while we navigated through a reschedule due to Covid. She is incredibly professional, and abundantly kind. She truly added something very special not only to the time leading up to the ceremony, but to the ceremony itself. Rob & Kelsey June 2021
Josh & Marissa
Caroline Hallsworth went above and beyond to make our special day go perfectly! She thought of everything and had constant communications with us leading up to the big day. She was flexible with plans and helped us out, using her local knowledge of the area to suggest amazing locations! Cannot recommend her highly enough! Josh & Marissa June 2021
Tina & Steve
Caroline Hallsworth made our wedding day a memorable day. Our meetings with her leading up to our wedding were very helpful and she made things non stressful as I had many meltdowns with all the changes we had to make. We will highly recommend All Seasons Wedding and especially Caroline as an officiant. Thank you Caroline. Tina & Steve May 2021
Steve & Tina
Caroline Hallsworth was absolutely wonderful. She was very helpful and patient with us considering we had to change our date 3 times due to covid. Steve & Tina May 2021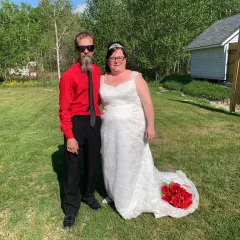 Evan & Rachel
Caroline Hallsworth was very open-minded and did a great job of helping us achieve everything we wanted for our special day. She made herself available to us always, answered emails quickly and even had a Skype meeting with us before the wedding. We wore sneakers to our wedding and she made sure she did too :) Evan & Rachel August 2020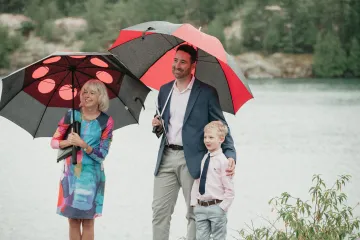 Adrianna & Christopher
Caroline (Hallsworth) is a beautiful soul who made our ceremony truly special. We are so thankful for her and all her hard work making our day flow with ease and filled with love! We highly recommend Caroline for your wedding day! Adrianna & Christopher, August 2020
Nicole & Dillon
Caroline (Hallsworth) was an absolute joy to work with! She made planning and organizing easy and was always available if we had any questions along the way. The day of our wedding she was amazing and so helpful, even brought a personal touch by wearing a bracelet that went perfectly with our union ceremony! Overall, we couldn't have asked for a better officiant, she was able to make our ceremony unique to us and made this a stress free experience. Thank you Caroline! Nicole & Dillon, August 2020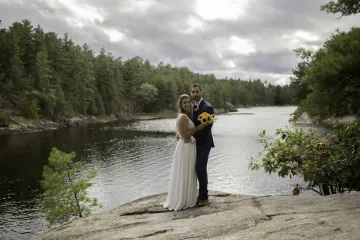 Karley & Jeff
Caroline Hallsworth agreed to be our officiant for our last minute Killarney hiking elopement since COVID restrictions prevented us from following through with our original plans for a big wedding. She went above and beyond to ensure the day was perfect for us. From hiking 2 hrs up a mountain and then back down (during black fly season!), to adding little special touches like a pebble toss off a bridge and wearing her granny's pearls for goodluck since she didn't have her lucky red wedding shoes with her. She was absolutely invested in making the day flawless. We would highly recommend Caroline for any couple! Karley & Jeff June 2020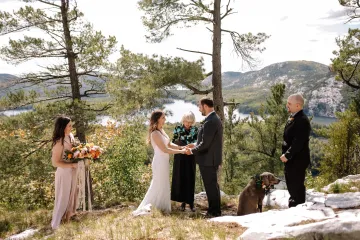 Barry & Susan
We want to thank Caroline Hallsworth for all she did to make our wedding ceremony memorable and beautiful. She was sincerely enthusiastic about the aspects we wanted to incorporate, some of which were new to her. She made extra effort to learn and practice the infinity knot she created during the Handfasting part of the ceremony. It was greatly appreciated that she was so interested. As we worked through the details of the ceremony, her suggestions were thoughtful and added to its overall beauty and meaningfulness. I think her experience performing weddings in the past helped ensure a relative state of calm for the bride and groom to be! We were able to focus on other aspects of the planning and had no concerns about this part of the wedding. We had complete trust in her. Caroline ensured she understood the 'big picture' of our wedding, asked us questions to be sure she had this picture and really went to great lengths to make it so lovely. When she understood some of the losses in the family, she asked if it would be appropriate to reach out to some of our family and offer her care and support. This was greatly appreciated. She is truly a loving and caring person who we would happily recommend to others. Barry & Susan Sept 2019
Arif & Nicole
We had such a great experience with Caroline Hallsworth ! Neither my Husband or I like the idea of public speaking or being the center of attention. She made us feel so at ease. Caroline was super professional and accommodating to my 1 year old who decided to have a melt down about 5 minutes before the start time. Caroline was also incredibly kind and helpful with tips about the area as we are from out of town. She made our day just that much better. we cannot recommend enough! Thanks for everything Caroline! Arif & Nicole August 2019
David & Samantha
Caroline Hallsworth was so great and we could not be happier with how things went. She was very informative before the ceremony and she did what was needed to make things flow smoothly. Thanks again Caroline! 15 out of 10 stars!!! David & Samantha June 2019