Carol Fulton
Carol lives in Kingsville with her husband Mark and their dog Bella. She is a graduate of Queens University in Mental Health Leadership, has trained in Toastmasters and has spent her career in the field of Human Resources. Carol loves to travel, golf, spoil her husband, and cook for family and friends. Carol has a fresh, energetic and passionate approach to everything she does. On one hand she has a great sense of humour and on the other hand she is the ultimate professional, especially when it comes to your wedding ceremony. You would swear you've known her all your life, she's just that type of person. She looks forward to meeting you.
Request Carol Fulton
Areas Served
Kingsville, Leamington, Belle River, Essex County, Windsor, Harrow, Town of Lakeshore, Lasalle, Amherstburg, Tecumseh, Ruthven, Oldcastle, Point Pelee.
Reviews
Elaine & Mike
Carol [Fulton] was fantastic from our first initial phone conversation, to meeting her in person, right up to the ceremony. Our ceremony was beautiful with great thanks to her. She is professional, personable, prepared & organized. She is an amazing lady with an enormous heart and a great personality. I would recommend her in a heartbeat…..so grateful for the service she provided to us. She gave us a day we will never forget.❤️ September 2022
James & Megan
Carol Fulton was completely wonderful, both during the "big moment" and before/after with all of the details that we hadn't even thought of. Working with you made things very easy, one area of our wedding we did not have to worry about in the least. July 2022
Amy & Ben
Carol [Fulton] was assigned to us as our original officiant was unavailable and we could not have been happier. Carol was very accommodating, came to our house as we have small children and it was easier for us, and she made every effort to get to know my husband and I so she could create the most personalized ceremony. Everyone complimented us on the ceremony afterwards, saying it was beautiful and Carol even made sure to include an acknowledgement for my mom who passed away two years ago. She has a great sense of humour, and is very comfortable to talk to and spend time with. Thanks for making our ceremony as beautiful and memorable as you did! June 2022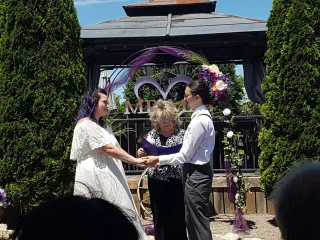 Joseph & Jenna
We never for a second hesitated hiring Carol once we met her she was so warm kind and funny we knew she would be the perfect officiant for us. She came to our ceremony prepared with a book containing our love story and a photo of us and our dog so that our beloved Molly could be there during our ceremony. Not only did she arrive on time, but she was early to make sure everything was in place and ready so I didn't have to worry. I've been to weddings where nobody understands what anybody is saying and can't hear anything in the officiant isn't clear but Carol was nothing like that. Everyone commented on how wonderful and thoughtful the ceremony was. It was truly something special. We thank Carol for everything she did for us and making our day as wonderful as it was. Joseph & Jenna November 2019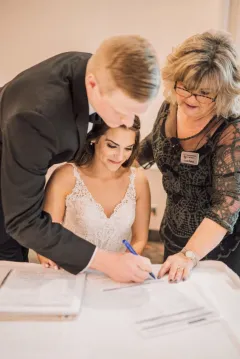 Stephanie & Jamie
We had the pleasure of choosing Carol Fulton to be our officiant for our wedding. She was completely amazing and went above and beyond for us. I wouldn't hesitate to recommend her to anyone else getting married. She made out ceremony so special and unique and we absolutely loved her. Thank you so much for being apart of our special day! Stephanie & Jamie Sept 2019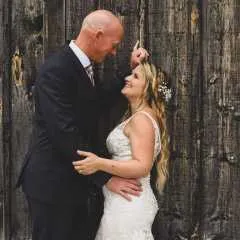 Rob & Brad
Carol Fulton was such a pleasure to work with! We had no idea where to start, but she guided us through the process with helpful suggestions any time we found ourselves unsure. She was there to guide us on the walkthrough and made sure both of us knew what was going to happen, as well as all of our wedding party members. During the actual ceremony, the joy she brought was genuine and contagious! We could not recommend her more highly. Rob & Brad Sept 2019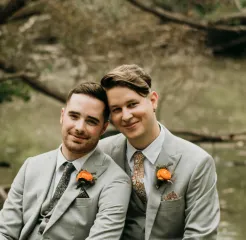 Brit & Yuri
Carol Fulton was an amazing officiant! She is so warm and personable and you can tell that she takes a lot of pride in her work. She does her utmost to ensure that your day is perfect, and that it was. She did a wonderful job helping us to customize our ceremony and make it more personal to us. She did a lovely job and we couldn't be happier with her! - Thank you Carol!! Love, Brit & Yuri September 2019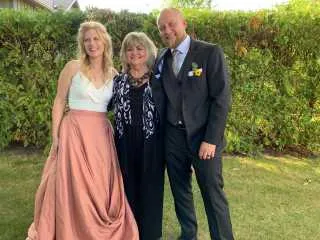 Daniel and Justine
Carol Fulton was absolutely amazing in every way. When we first met Carol she came to our parent's house. We spent time getting to know each other and discussed what our wedding day would look like. Coming from divorced families she was able to help us come up with solutions to ensure sure everyone felt included and special on our wedding day. Within the first 15 minutes of talking to Carol in our initial visit I knew that I wanted Carol to be our officiant. It felt as if I knew Carol of years and she became a friend. Carol stayed in touch throughout the whole wedding planning process. She provided advice, support and encouragement. Carol is funny, kind, nonjudgmental and loving. Closer to the wedding we met at her home and went over all the fine details and we planned out the ceremony. Carol was very organized and encouraged us to write our own vows, which was the best thing she could have done. On the big day, Carol was organized and ready to go! The ceremony went perfectly and everything was amazing! Everyone loved our ceremony and Carol had made it perfect and personal to us. All Seasons Weddings is very lucky to have Carol on their team because she is truly one of a kind. I would highly recommend carol to anyone. Thank you Carol for everything. Daniel and Justine. July 2019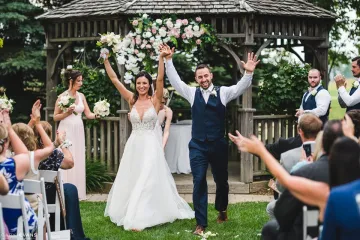 Kyle & Kate
Carol Fulton was a pleasure to have as our wedding officiant. She made the process stress free and simple. We immediately got a good feeling about Carol. She's easy going and flexible. Her service was exactly the way we wanted it. Carol was professional and confident which also made us feel at ease. Carol, thank you very much for making our wedding ceremony so special and memorable. Thank you, Kyle & Kate July 2019
Joshua & Amy
Carol Fulton is an absolute gem! From the moment she sent her first email, Carol provided us with heartfelt advice and made sure that we were on track. When she walked into our home for our mini meet and greet she was beaming with excitement for us, and it was a pleasure for me to finally meet her face-to-face. My husband was previously acquainted with Carol, which is why we reached out to her for our special day. We could not have imagined a better Officiant to lead us through our Wedding Ceremony. We were blessed to have Carol there with us. We cannot thank Carol enough for her unique and vibrant touch to our day, if we could marry each other again we would not hesitate to involve Carol. THANK YOU Carol, we think you are wonderful and we feel blessed that you were with us. Joshua & Amy Feb 2019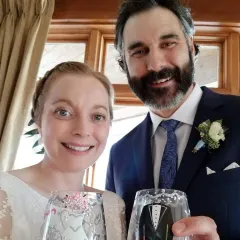 Reginald & Kristie
Carol Fulton was absolutely amazing in every way. When we first met Carol she came to our house. We got to know one another and had a conversation of how we thought our big would look like. She was so easy to talk to, it was like we have known her for years! After that meeting we met once more closer to the wedding date at the venue, which was my parents backyard. This meeting we figured out exactly what was going to happen the day of. She was very organized and had lots of ideas and tips on how to make the day go smoothly and make it as special as possible! Once again, the meeting was wonderful and it was as if a friend was their for a visit! On the big day, carol came early, was organized and ready to go! She surprised us with a beautiful book of our vows and paperwork. The ceremony went perfectly and everything was amazing! All seasons weddings is very lucky to have Carol on their team because she is truly one of a kind. Thank you Carol for all that you did! Our day was perfect because of you! August 18th, 2018
Koalby and Nick
Carol (Fulton) was FABULOUS. She made our day seamless and prepared all the documents ahead of time so it made the signing fast, easy and enjoyable. She even came to our house! Carol was always available with any questions or concerns we had. We would highly recommend her for anyone looking for an officiant. Love always, Koalby and Nick Aug 11th, 2018
Anonymous
Carol Fulton is absolutely amazing! I could not have picked a better person to officiate our wedding! Thank you for everything, you did exactly what we wanted!!