Brenda Whiteman
Brenda Whiteman is well known and respected in the Peterborough area and is a passionate advocate for living a healthy and happy life. Nothing speaks to the beauty of emotional health and well-being than the hopeful and faithful nature of the decision to marry. Brenda studied Philosophy and Religion as an undergraduate student at the University of Toronto and is a Registered Social Worker. Brenda spends her time reading, writing for professional journals and dabbling in interior decorating. She feels honored to serve as a Wedding Officiant and will bring your personal vision of a spiritual or interfaith wedding ceremony to your day. She is also pleased to do vow renewals, baptisms and naming ceremonies.
Request Brenda Whiteman
Areas Served
Peterborough, Douro, Bridgenorth, Norwood, Lakefield, Lindsay, Millbrook, Downeyville
Reviews
Kirk & Stacie
Brenda Whiteman was our officiant for a beautiful chilly fall wedding. She was wonderful! October 2022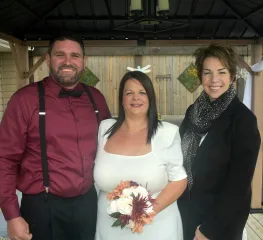 Matthew & Tash
Brenda Whiteman exceeded our expectations with her care, patience and attention to detail. She made The entire process very easy and stress free, even on the most stressful time when we thought our wedding could not continue. She helped make our day run smoothly. She was always very positive and helpful. She gave us lots of options and made all of our interactions upbeat and fun. Lovely experience overall. Brenda was so easy going, offered space for us to make our experience our own and was thorough. Everything was perfect. Based on our experience with Brenda, I would very confidently recommend her to other couples. Aug 2022
Nida & Scott
Brenda Whiteman is an awesome officiant. We chose to have a very small wedding and we couldn't have asked for anything more or anyone else on our big day. I would highly recommend Brenda to anyone looking for an officiant. July 2022
Erica & Steven
Brenda Whiteman was spectacular, we couldn't be happier! We requested Brenda a month before our wedding date, after our officiant abruptly quit. We read some great reviews online and were not disappointed! Brenda met with us within a week of our request at her place of business. She was patient and kind in helping us plan our special day and provided us with suggestions wherever we had gaps. The rehearsal dinner and ceremony went just as we planned! We were so grateful Brenda was able to accommodate us on such short notice and we would recommend Brenda to anyone looking for their special day to go smoothly. Her warmth and kindness translated into a wonderful ceremony we couldn't be happier with her. October 2021
Ryley & Marita
Brenda Whiteman did a fantastic job officiating our wedding. She was so great and easy to work with and didn't let a little rain phase her or disrupt our ceremony. Several family and friends commented how friendly and wonderful she was. - Ryley & Marita, July 2021
William & Rebecca
We loved working with Brenda Whiteman! William & Rebecca May 2021
Glen & Nancy
Brenda Whiteman went over and above. She made it personal and warm and loving. All my expectations to the day of my dreams. In these crazy times of Covid, and trying to keep a social distant wedding personal, Brenda made it all happen. Everyone who attended had their own personal positive comments to how well she performed the ceremony. Glen & Nancy August 2020
Michael & Paula
My wife and I recently got married and had the pleasure of having Brenda Whiteman as our officiant. She was super helpful and accommodating leading up to our big day. We really enjoyed having Brenda as our officiant for our special day. We would highly recommend her to anyone searching for an officiant! Michael & Paula Oct 2019
Ashton & Johanna
We had no idea really what we were looking for when we contacted All Season Weddings. We Skyped with Brenda Whiteman and she asked us a lot of questions and helped us decide what style of ceremony would suit us. She was so friendly and sent us some readings so we really didn't have to stress about it. She was perfect on the day and we couldn't have asked for better. Ashton & Johanna Sept 2019
Patrick & Alanna
Brenda Whiteman was amazing! She was so friendly and so accommodating to everything. She knew her stuff and was truly the best officiant I could ask for :) Patrick & Alanna July 2019
Chris and Carol Ann
Brenda was the soul of grace and warmth during the ceremony, lending the perfect air to what became a once-in-a-lifetime event for us. She brought a sparkle and delight to the assembly that will be remembered a long time. We felt like we cemented a bond of friendship. Thank you so much Brenda!
Ola and Dan
Brenda Whiteman was the officiant at our wedding and we couldn't be more pleased with our choice! Brenda with her open mind and attitude was perfect for the type of marriage service we were looking for. We really needed a ceremony that combined specific themes and even personalized vows that reflected both of our true selves but did not omit either one of our perspectives. Brenda immediately understood our desires and carefully helped us work through every moment of the ceremony to ensure that even the smallest detail was exactly what we were both comfortable with. She supported us throughout the process and we felt that we could trust her to make our day our own. Brenda has a warm, inviting and professional approach as an officiant and she made our wedding so special. We would definitely recommend her to other couples like us ; who were looking for a personal ceremony that honoured us both. I imagine anyone who chooses to have her as part of one of the most important days of their lives, will not be disappointed! Ola and Dan
Crystal and Colin
As soon as we had our first conversation, Colin and I knew we made an excellent choice to have Brenda officiate our wedding on August 18, 2018. Our meet and greet with Brenda was amazing - we shared stories of our relationship, we expressed our wishes for the ceremony and we reviewed details for the day. With only meeting Brenda for a visit before our wedding weekend, Brenda made us feel incredibly comfortable by her genuine presence and authentic interest in our story. Brenda's commitment and enthusiasm was evident through every email, phone call and multiple changes / revisions to the ceremony outline. Brenda was kind, courteous, on time, respectful and flexible during the rehearsal. Brenda even pulled me aside for a quick moment to look at some outfit choices - so very thoughtful! For our wedding ceremony, Brenda's calm and strong leadership guided us through our dream ceremony! The ceremony went by so quickly and months later only a few memories stand out - I can clearly remember locking eyes with Brenda as I started to tear up during the vows and we both took a deep breath together. What a special moment! Brenda's leadership, gentle approach, and the ability to build rapport and make strong connections makes Brenda an incredible officiant! We were so lucky to have Brenda join our special day. Many thanks, Crystal and Colin
Laura and Mark
Having an excellent officiant to guide you beautifully through this most memorable and poignant of occasions, is something that will echo through the remainder of life. Brenda Whiteman was perfect for our wedding process from the beginning. Her many questions during the comfortable interview gave us the impression that she was carefully customizing our wedding experience. She communicated with us responsively and clearly, which put us at ease. Her countenance was that of grace and reverence, adding gravitas to the ceremony without being theatrical, or overbearing. We put so much effort into our wedding, preparing for months, restoring a barn, curating everything ourselves for the perfect occasion. Inevitably, one must hand over the reins to the officiant, and to our delight Brenda's poise, wonderful voice, deliberate pacing, and warm expressions completed our experience, joined us together, and we shall never forget her standing with us as we were united. Thank you so much Brenda for creating an incredible ceremonial experience, and one we will always cherish with great fondness and delight. Kind regards, Laura & Mark