Brenda Honsinger
Brenda, who lives in London, is a good listener, reliable, organized and articulate. Her warmth and sense of humour will quickly put you at ease and as a certified wedding planner, she can facilitate a wedding planning process that is both relaxed and worry free. If your search for happiness includes being in a committed relationship, Brenda would be honoured to help you celebrate this, the most important day of your lives. She is a member of the Southwest London Optimist Club as well as a volunteer with Tiny Paws Dog Rescue Canada. Time spent with family and friends is treasured time well spent. Throw in a concert, a movie and/or dinner out with the girls and life is good! Brenda is one of Clergy Support Memorial Church's experienced and skilled designated ministers.
Request Brenda Honsinger
Areas Served
Ailsa Craig, Arva, Beachville, Denfield, Granton, Ingersoll, Kilworth, Komoka, London, Lucan, Mount Brydges, Port Stanley, St Mary's, St Thomas, Strathroy, Thamesford, Thorndale
Reviews
Kayla & Justin
Brenda Honsinger was wonderful to work with, she made our ceremony very special. She was also very funny which helped the awkwardness of standing up there in front of a bunch of people. I would definitely recommend her to my friends if they were getting married. August 2023
Curtis & Sheryl
Brenda Honsinger far exceeded our expectations! She made our experience personal and wonderful. We are very appreciative and thankful for Brenda and all her hard work. Definitely a friend for life! May 2023
Shawn & Darrell
There was only one person I thought of when we needed an officiant, and it was Brenda! I had worked with her repeatedly at many weddings (as a wedding photographer) over the years, and she's the first person I thought of, and she did not disappoint! She made us comfortable, made us laugh, her ceremony was on-point, fit the vibe of our day, and she's just an all-around pleasure to be around! :) She's professional, down-to-earth, friendly, fun, and very good at what she does! September 2022
Sarah & Andrew
Brenda was easy to work with and had a great sense of humour. Our wedding ceremony was wonderful. We would definitely recommend your services and Brenda as an officiant. July 2022
Elizabeth & Kadri
Brenda Honsinger was an excellent officiant! She was very helpful during the planning process and was amazing for the wedding. She was kind, funny and thoughtful. We would recommend Brenda for any wedding ceremony, especially a same-sex wedding. My wife and I were very conscious of who we were picking to marry us and Brenda hit the mark! We felt very welcomed and celebrated. Thank you Brenda! June 2022
Joe & Paige
Brenda Honsinger was an absolute gem of a human! She was so kind and compassionate leading up to our day. We had a meeting before and she eased our anxious minds and assured us all will go well. The day of went off so smoothly and without any concerns with Brenda. We want to thank her so much for being part of our special day! May 2022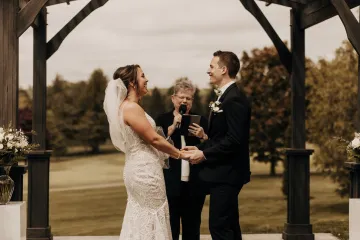 Kadri & Elizabeth
Hi Brenda, The day was absolutely perfect and magical! We are so grateful you helped make it that way for us! Thank you, Kadri and Elizabeth
Carolyn & Jeff
Brenda Honsinger was great. She was very professional and joyful! Made it a lovely experience. Feb 2022
Robert & Linda
Brenda Honsinger was wonderful and met all of our expectations. She listened to all of our ideas. She made us feel comfortable and at ease. August 2021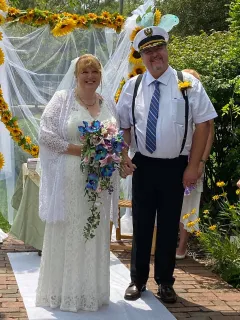 Jayne & Mark
Thanks so much for being a part of our "make it legal" ceremony!! You were definitely a perfect fit for us!! We really appreciated your sense of humour and jovial personality!! Jayne & Mark
Tanya & Cristian
Brenda Honsinger was great! Met with us a few weeks in advance so we could get to know her a bit and personalize our ceremony. Despite the weather being very cold and rainy, everything went well and Brenda ensured everything went as planned. October 2021
Summer & Dylan
Brenda [Honsinger] was amazing! Making sure everyone knew where to stand and the list goes on! She went above and beyond for us. Through emails, texts and calls she was so quick to respond to any questions we had before the wedding. Truly made our wedding special. Thank you again Brenda. ❤ We will never forget our special day! Summer & Dylan, September 2021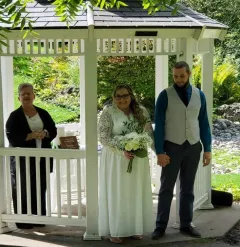 Teri & Ian
Thank you so much for officiating our wedding! The ceremony went smoothly and it was just what we had hoped for. Teri & Ian September 2021
Marlon and Stephanie Aug 2021
Brenda was amazing! Planning our wedding during the pandemic was so stressful, Brenda was available when I reached out with questions, and so easy to talk to. She is quick to laugh and puts you at ease as soon as you meet her. Thanks for being part of our wedding!
Simone & Aaron
Brenda, Thank you so much for your help and time. Everything was fantastic! Simone & Aaron. August 2021
Karen and Gary
The ceremony was great thanks to you and we had an amazing day. Thanks so much. Karen and Gary August 2021
Lisa & Glenn
Dear Brenda: You are amazing!!! Thank you so much for making it effortless! Lisa & Glenn. August 2021
Laura & Joe
Hi Brenda! The whole entire day went perfect! Thank you for doing such an awesome job with the ceremony. It was perfect! My family and Joe's and some of our friends mentioned it was presented very well and they enjoyed it. You did a great job! Thank you! Laura & Joe July 2021
Zhenxian & Shanshan
Hi Brenda, thank you for facilitating our wedding today! It was simple but meant a lot to us. Thank you for doing a great job! Zhenxian & Shanshan
Jose & Jessica
Brenda Honsinger was wonderful! She worked with us and accommodated us during this wild time. She is so lovely and kind, I couldn't imagine another person helping me marry my best friend! Jose & Jessica October 2020
Kane & Allison
Brenda Honsinger was a delight to work with! When we first met her, my husband and I knew that she was the officiant for us. She kept both of us calm right up to the ceremony! I'd definitely recommend working with Brenda to any other couples in the London area looking for a down-to-earth ceremony. Kane & Allison Oct 2019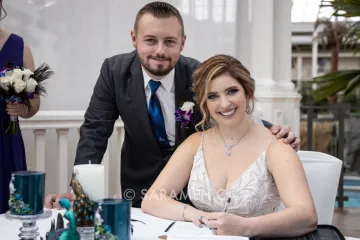 Kane & Allison
Brenda Honsinger was great to work with and easy to get along with! Kane & Allison October 2019
Andrew and Nick
Dear Brenda: We loved having you as our officiant and it was a pleasure meeting you as well! Thanks so much! Sincerely, Andrew and Nick
Katie and Chris
Thank you again so very much for performing our ceremony. You did an amazing job. It truly was the best day of our lives. We will definitely apply online so that we can track it! Take care and all the best, Katie & Chris
Laura and Patrick
Hi Brenda, Thank you so much for officiating on Saturday and being a part of our special day! You were terrific and we couldn't have been happier with the ceremony! Thank you again and we wish you all the best! Laura & Patrick
Sherman & Lee Ann
Brenda Honsinger was excellent. She by far met our expectations. Her mannerism provided stress release and made us feel very comfortable. Not only did we love her as our officiant, our guests did as well. We high recommend her!! Sherman & Lee Ann September 2019
Carleh and Preston
Brenda Honsinger was amazing, she helped make the day special , it was perfect! Thank you for being apart of our day and making the day run smoothly ! Carleh and Preston July 2019
Song & Kristy
Brenda Honsinger was friendly, knowledgeable, professional and did it all with a great sense of humour. We were very glad to have her officiate our wedding. Thank you for everything ! Song & Kristy June 2019
Stephanie and Rob
Thank you so much! The day was absolutely perfect. It was everything we wanted and more. Stephanie & Rob
Aly and Nicole:
Thank you so much for your kind words and for officiating last night! You did a wonderful job and we really appreciate your professionalism and good humour. Kind regards, Aly and Nicole
Victoria and Harley
Good morning Brenda! Thank you so so much for yesterday. It was perfect. Harley and I are so happy with how the ceremony went. You were the added touch. Victoria and Harley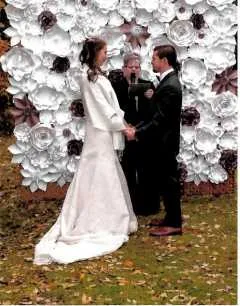 Lauren and Mathew
We were so glad you were there with us to celebrate! Thank you so much again for everything. We were so happy with how everything went. Lauren and Mathew
Victoria and Kyle
Hi Brenda (Honsinger)! A huge thank you from both Kyle and I for all you did for us!! We had so many compliments on our ceremony. Thanks again! Victoria and Kyle
Alex & Cristina
Hi Brenda (Honsinger), Thank you again for making our ceremony so special. We absolutely loved it! Thank you for your best wishes, it was truly a pleasure to meet you. Alex & Cristina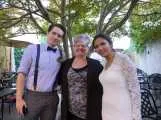 Allison and Chris
Hi Brenda (Honsinger), Thank you so so much for everything you have done for Chris and I the last few months. Our wedding was perfect. Allison and Chris
Kala and Trevor
It was all wonderful! Brenda (Honsinger) was fabulous! Kala and Trevor
Page and Keith
Hi Brenda (Honsinger), Everything was great! We were very pleased with the whole process and everything involved. Not too formal or official, you fit the vibe of our ceremony perfectly. Thanks for everything! Page and Keith
Leanne and Mario
Hi Brenda (Honsinger) Mario and I just wanted to send you a quick message to say thank you for officiating our wedding. The ceremony was perfect and it still feels like it was all a dream!! Everyone was commenting on how beautiful the ceremony was and we can't thank you enough for helping us make our day so special! All the best, Leanne and Mario
Katie and Jason
Katie and I want to thank you Brenda (Honsinger) for helping us create such a beautiful ceremony. We are so glad we found you! Thank you! Katie and Jason
Christine & Derrick
Thank you so much Brenda (Honsinger) for being part of our wedding day. The ceremony was exactly what we wanted and it was perfect. Thank you so much for everything! Christine & Derrick
Linda & Greg
Hi Brenda Honsinger. Thank you for making our day calm and relaxing. We had a great ceremony and we were very happy. Thanks again, Linda & Greg