Bill Judge
Mary, the love of my life, and I recently moved to Elmira, Ontario (after a few years in Kitchener, and many years in Milton). We are the proud parents of Alex, a Robotics Engineer and in-laws to the lovely Breigh as we celebrated their wedding in June 2019. I cherish family time and love to travel. With a diploma from Ryerson's Hospitality Program (1980), a career in hospitality and then industrial customer service, I have had a lifelong passion of working with and serving people. I am an outgoing people person with a sense of humour, yet I have a serious side too. I would like to help couples reflect their personality & values in this – one of life's most important days. Now as an appointed minister and experienced public speaker, I look forward to making your wedding ceremony a fun, joyous and memorable experience for all involved. I believe its your day, your way at your location and that matters!.
Request Bill Judge
Areas Served
Aberfoyle, Alma, Arthur, Atwood, Ayr, Baden, Belwood, Breslau, Cambridge, Drayton, Elmira, Elora, Erin, Fergus, Grand Valley Guelph, Harriston, Hespeler, Kitchener, Linwood, Listowel, Millbank, Milverton, Morriston, New Dundee, New Hamburg, Palmerston, Preston, Puslinch, Rockwood, St Agatha, St Jacobs, Shakespeare, Waterloo, Wellesley, West Monkton.
Reviews
Suzanne & John
Thank you so much, Bill, for making our day so personal and fun!!! We so appreciate all you did in giving us the perfect ceremony!! Your ideas and the way you conduct yourself is so true to our own values and quirkiness!! 😊😜 Thank you for embracing a touch of crazy !! July 2023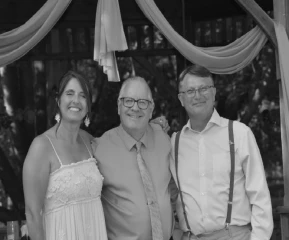 Emily & Joseph
Bill [Judge], We appreciate your guidance throughout the process and your sense of humor. I liked the hands in the middle 'go team' cheer. Emily's parents commented that the sticker placement with the kids was adorable and it was so nice to include them more. We think that you add a really nice personal touch and will definitely sing your praises to our single friends. September 2023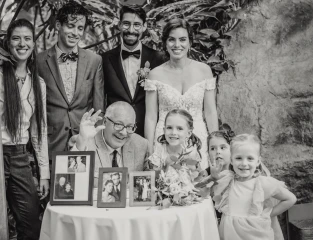 Thomas & Rachel
BILL JUDGE IS FANTASTIC 10/10 would and will recommend him to others! We really really appreciated Bill including the flower girl into the signing process. It meant more than you know to that little girl!! Thanks Bill!! May 2023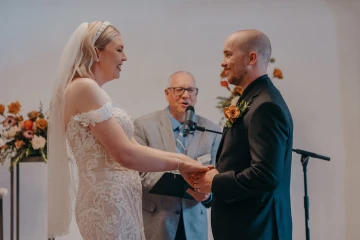 Taylor & Brady
Anyone who's looking for an easygoing, fun, and personable officiant, I HIGHLY recommend Bill. After meeting with Bill, we knew right away that he was our guy. He joked with us and truly got to know us before our wedding. Even leading up to the day, we appreciated his emails the months leading up checking in to see how we were doing with our vows. He provided us an in depth script/structure for the ceremony and readings and allowed us to modify it how we saw fit for our ceremony. It made our lives so much easier and allowed us to personalize our ceremony. We wanted a fun, but romantic ceremony and Bill absolutely made that work for us. At our rehearsal, he joked with our wedding party and kept everyone in order and brought laughter in our ceremony. It felt like we had a dear old friend officiating our day. He truly made our day special!
Paige & Brady
Bill Judge was absolutely fantastic. He helped us create a unique to us ceremony that our family and friends LOVED. He was incredibly helpful with all my questions and changes. I would highly recommend him to anyone and everyone!! October 2022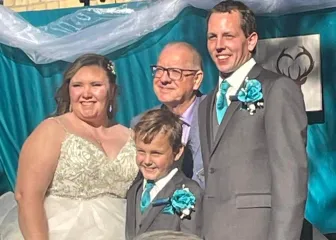 Emma & Jordan
We are so glad we got to work with Bill on our big day! He made the whole process leading up to the marriage a breeze. We loved that we were able to personalize our ceremony script beforehand so that everything resonated with us. We're so grateful to have had Bill leading our special day, he was exactly the type of officiant we hoped to have.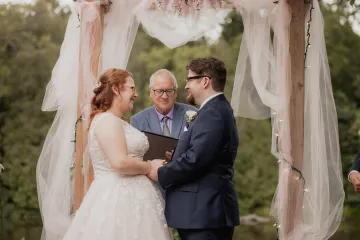 Zachary & Kasey
Bill Judge was awesome! We were so worried about having an officiant that might make the experience full, but Bill was great from the moment we met him! He made the experience of planning the ceremony enjoyable and easy. He really made the whole process fun, and all of our guests raved about him!! 100000% would recommend to anyone and everyone I know looking to get married! September 2022
Chris & Kate
Bill Judge is the best! So kind and answered all of our questions, all of our guests thought our ceremony was so us - thanks Bill! September 2022
Craig & Jill
Bill Judge was fantastic! He was friendly, humourous and really helped to make our personalized ceremony special. September 2022
Ricardo & Monica
We had a great officiant named Bill and he was amazing! He was very experienced and made us very comfortable. He was also flexible, helpful, and kind. I will recommend Bill always. July 2022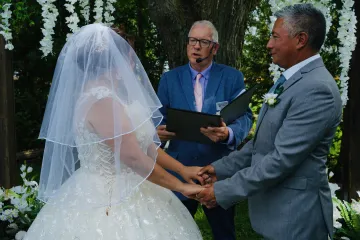 Alyssa & Sean
Bill Judge was amazing to work with and my husband and I would 100% recommend him! He was so quick to respond to questions, always professional and added a very much appreciated element of calm and just a touch of humour to our ceremony. Thank you so much Bill! Dec 2021
Judy & Keven
We absolutely loved Bill Judge. He helped with my stress mode by making little jokes & making us laugh. He knew exactly what we wanted. & preformed our ceremony beautifully. I would recommend him to anybody that is planning a wedding. Thank you Bill for making our day Perfect. Nov 2021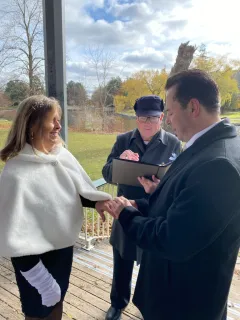 Randi & David
Bill instantly made us feel like family and that our ceremony was THE MOST IMPORTANT ceremony of the day, though he had 2 or 3 other weddings to officiate. He is warm, kind, friendly, funny as all get out, and guided us through our ceremony with grace and laughter. He tailored the ceremony to our family's needs, honored those who could not be with us in body but only in spirit, and made everyone around us feel comfortable and relaxed. We are so thankful we got to meet Bill and hope we run into him again someday!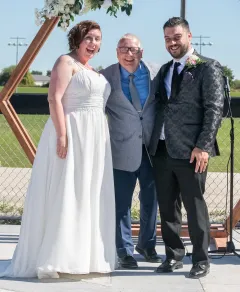 Natalie & Bryan
Bill Judge was a wonderful officiant. He was easy to get along with, very organized and delegated a beautiful ceremony! During the ceremony, I began to tear up and there was Bill to save the day and hands me a kleenex, so discreetly to the guests. This meant a lot to me! Bill was detailed with all his paperwork and kept the process very simple. He eased our emotions with his calm demeanor. Thank you Bill for a wonderful wedding ceremony! November 2021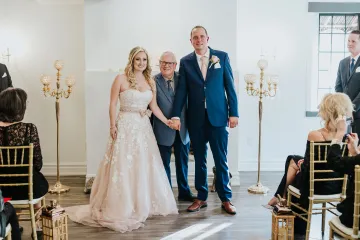 Christine & Dylan
Everyone absolutely loved the service and thought you made our ceremony personal and beautiful. Thank you for being a part of our big day.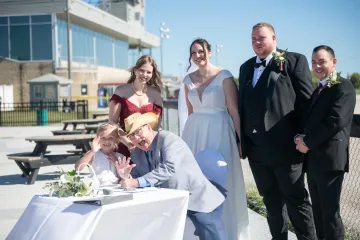 Andrew & Shauna
Bill Judge made our ceremony so special and wedding experience easier. He was very organized and obviously knows what he's doing. We went over the ceremony and he made sure we were happy and comfortable. My guests commented on how enjoyable Bill made the ceremony and loved his style. We were very comfortable with Bill and he was even smart enough to get out of the way for our I Do kiss! Thank you Bill. September 2021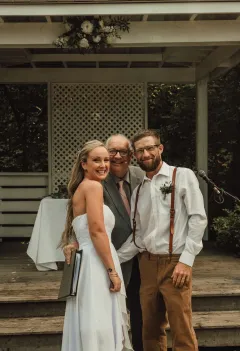 Jessica & Spencer
Bill Judge was the best officiant (I've only had one but I just know). So kind, friendly and he blended in with my whole family and friends. Thank you for making our day extra special❤️ October 2021
Christian & Nikki
Bill [Judge] was amazing. Bill was the first officiant we met with and we had set up with some other officiants to meet later that week but ended up canceling them. We liked Bill right away and couldn't have pictured our day without him ! He was absolutely amazing. August 2021
Emily and Matthew
"Bill officiated our wedding on Sept 10, 2021 and we could not have picked a better officiant! After reading multiple positive testimonials and meeting with Bill virtually, we knew we were in great hands! Bill was friendly, charming and funny which created a relaxed and enjoyable ceremony. The atmosphere he created with his officiating-style allowed us to stay calm, cool and collected (which allowed for some amazing photos!). Many of our guests also had positive things to say about the ceremony and Bill asking "Where did you find him?! He was fantastic!". Needless to say, we could have never imagined anyone else marrying us. Bill was amazing! - Emily and Matthew Sept 10, 2021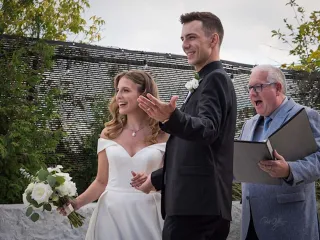 Melissa and Mark Aug 2021
Bill was great to work with, he made everything such a breeze. A little issue arose with timing and he very quickly was able to make an accommodation. Unfortunately out of my control, our ceremony started later putting a little extra pressure on Bill. Nonetheless he was extremely Positive and helpful and always kind. I especially liked that Bill was able to include our flower girl in our ceremony on top of her flower girl duties. This was a wonderful surprise and she felt very special. I would recommend Bill to anyone needing an officiant.
Agazdeep & Jashandeep
Hello Bill, The ceremony was so beautiful and thank you for your services and everything. We had no idea what we were going to do but you made it so simple and lovely. Thank you.
Kelsey & Andrew
Choosing to get married during a pandemic can be stressful at times but with Bill's help in ordaining the ceremony , it was smooth sailing. He was kind, courteous and funny, and for that it was greatly appreciated . We would highly recommend Bill's service to any other couples . Lots of love the Young's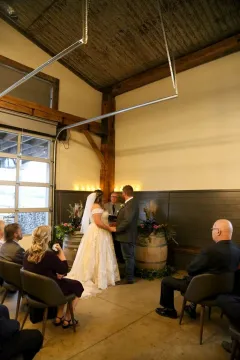 Rachel & Dwayne
We were very grateful to have Bill be such an important part of our day! We are a fun loving couple and Bill joined right int making our ceremony beyond memorable for us and all the people that attended. Bill took the time to meet with us and get to know us and ensured that Covid didn't impact our day. Our guests are still commenting how much they enjoyed him. And we are blessed to get to know him and have him take good care of us on our day. Wouldn't hesitate to recommend Bill in a heartbeat! Rachel & Dwayne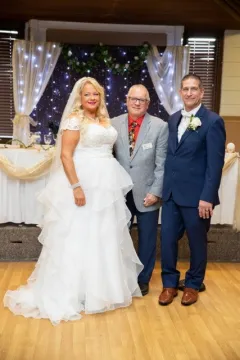 Sarah & Troy
Thanks so much Bill for officiating our ceremony; it was lovely! While having our wedding this year meant adapting to everything going on, we appreciated your assistance as we figured out the ceremony location. Troy & I couldn't be happier. Thanks again! Sarah & Troy September 2020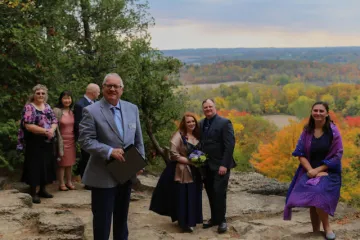 Stephen & Karen
Bill Judge was a very good officiant for us, he was pleasant and friendly with just the right amount of humour. All was terrific and everything met our expectations! Thanks again. Stephen & Karen September 2020
Anthony and Jordan
Bill Judge married us in our backyard this past September (2020). Despite us changing plans many times due to venue changes because of covid 19 Bill was happy to accommodate us every step of the way. I love how our whole new family was included in the ceremony and even signed our 'certificate' to which was framed immediately of course. Thank you from the bottom of our hearts bill for marrying us during this crazy time. It truly means alot to us. Best Wishes Anthony and Jordan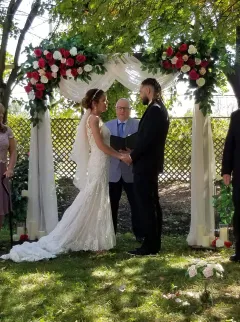 Dwyane and Luviana
Thank you Bill Judge, for being our wedding officiant, It felt like we knew you for years, you are such a kind person and happy we picked you for our special day, it was nice to meet you before the big day and got to know you better and you us. It was a lovely ceremony and thankful to have you there for us, there was a little humor, a few tears,…… it was the best day ever!! Thank you again for being there with all the lovely words for our day, we could not be happier to have you in our pictures and by our side. September 2020 Dwyane and Luviana ~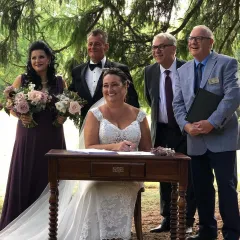 Jason & Carey
Bill Judge was absolutely amazing. He was funny and delivered the perfect ceremony for us ! Jason & Carey August 2020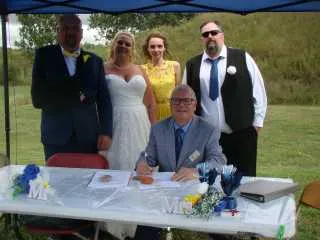 Megan & Lucas
Bill was an amazing officiant who I will forever cherish as he is the reason I can now say I am married to the love of my life. When we started looking for an officiant I told my husband I didn't want a stranger to marry us. Bill was perfect because he took the time to get to know us . He asked about who we were as individuals, our jobs, our education etc. He asked about our relationship, how we met, how long we had been together etc. I immediately felt comfortable knowing he would be there for us. Even with COVID-19 bill made every effort to make the process easy for us and gladly showed up to our ceremony where we said I do. Bill preformed the perfect ceremony for us. Thank you Bill for everything! And most of all thank you for pronouncing us husband and wife!" Megan & Lucas August 2020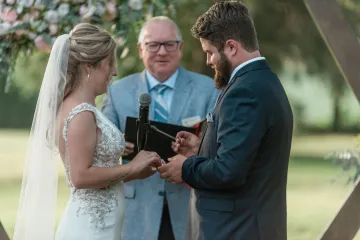 Kin & Scott
Thank you Bill for officiating our wedding, you did a great job especially with dealing with the heat ! Kin & Scott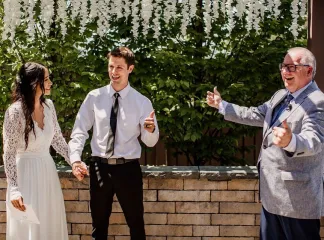 Emma & Jimmy
As an officiant, Bill did far more than just "fit the bill". When looking for an officiant we were specifically looking for someone down to earth, charismatic, and flexible; who would help make our ceremony something to remember. This is exactly what we received. Bill was easily accessible and helpful during the planning stage. He took the time to get to know us. He give us some guidance and tools that would help us to develop a personalized wedding ceremony. Ultimately, he performed the ceremony with a unique style that was casual, yet professional, charming and sincere. He captured the moment perfectly. Many of our friends and family complimented us on our choice of officiant. Emma & Jimmy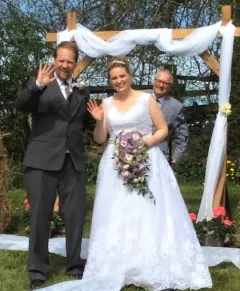 Vanessa & Serxho
"Bill was a fantastic officiant! He's very professional, met with us ahead of time, helped us understand what would happen on the day of, and made sure that all of the paperwork was in order so that our day would run smoothly. He injected his own fun personality into the ceremony, bringing a humorous charm and adding life to an already memorable moment. He's an excellent man, and while we may never need his services again, we highly recommend him to anyone looking for someone to guide them through the happiest time of their life."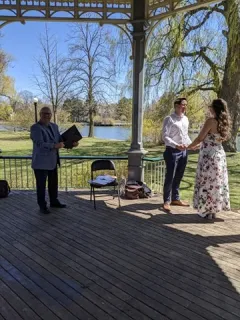 Grace & Spencer
Thank you to Bill for being able to marry us in such a different time. Our marriage was nothing like we expected, but Bill was able to provide us with a short and sweet ceremony that we were able to live stream with our friends and family. Spencer and I are glad to have kept our date and share this special time with our loved ones virtually. Grace & Spencer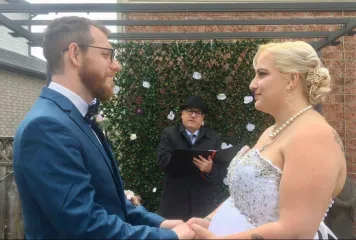 Veronica & Kevin
Having Bill Judge as our officiant has been both a pleasure and great honour! Kevin and I wed during the spring of 2020 while Ontario was under emergency status. Throughout our planning Bill remained supportive and flexible to the changing circumstances. We are very grateful for Bill's beautiful contribution to our lives for he held the most wonderful private ceremony within our home. His professionalism, positive attitude, and sincere personality will always be cherished by our families. We highly recommend Bill Judge as an officiant! Veronica & Kevin May 2020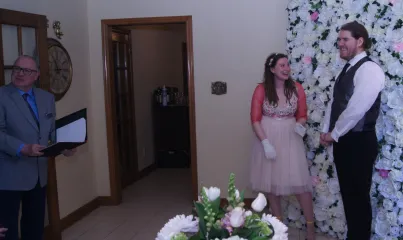 Wayne & Brenda
Thank you Bill Judge for making our wedding day so special. It was a very heart felt ceremony. I'm glad that we were able to meet beforehand to go over our concerns (seeing this was our second time around getting married). You helped make us feel very comfortable! Wayne & Brenda February 2020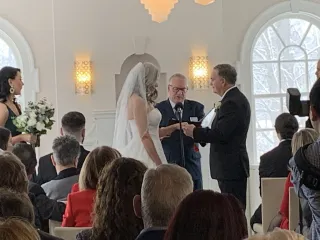 Haeden & Amber
From the first phone call we had with Bill Judge we knew that we wanted him to be our officiant for our special day. Not only was he extremely knowledgeable with the whole process, including making sure all of the paper work and documents were completed correctly, he had such a friendly and relaxed attitude that really helped to calm our nerves. Bill was the perfect officiant for our small wedding, for he was able to interact with our guests and not be thrown off while our one year old son was running around and screaming throughout the whole thing. He made our ceremony feel very intimate and full of love which is exactly what we wanted. We would not have changed a single thing from our ceremony, and we would definitely recommend Bill to anyone looking for an officiant! Haeden & Amber October 2019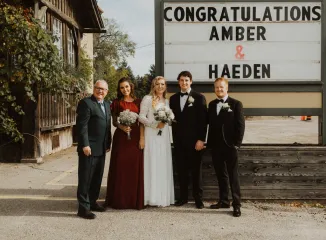 Stephanie & Ken
Bill did a great job officiating our wedding. In the weeks leading up to our wedding, he guided us step-by-step through what to expect at the ceremony so we were confident that everything was taken care of. His calm and lighthearted demeanor helped to ease our nerves during the ceremony and was enjoyed by all the guests. Thanks so much Bill! October 2019
Brandon & Alyssa
Would highly recommend Bill Judge as your wedding officiant! He kindly respected our wishes for a non-denominational ceremony and provided us with a ceremony example that we were able to customize to our liking to fit our personalities! He showed up on time, ensured I knew he was there so I could remain stress-free, chatted with our guests, and ensured everything ran smoothly. He was also good about answering all of our questions prior to the day of, and getting back to me in a timely manner. Thanks for adding sincerity, charisma, and just the right amount of humor to our wedding ceremony, Bill!'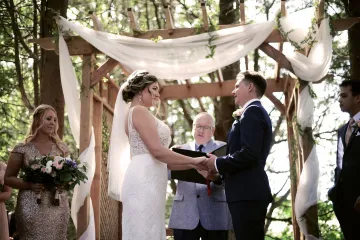 Sue & John
We would like to thank Bill Judge for officiating our wedding. He helped us craft the ceremony and vows that truly reflected the mood and message we wanted to share with family and friends. He was very easy to work with - everything was excellent! March 2019
Vanessa & Shawn
Bill Judge was our wedding officiant and he did an amazing job. He did a great job communicating and getting to know us. He made sure everything went off without any issues. Even with no practice run, everything went well. It was his first outside wedding that was put inside due to weather, but everything went well. He is a very calm and patient man. I am so glad that we went with Bill. The wedding wouldn't have been the same without him. May 2019
Jessie & Ryan
We could not be more thrilled with our choice in Bill Judge for our wedding officiant! As two young people entering our life together, Bill was able to steady any nerves we had, and bring us the comfort of knowing our ceremony would be in good hands. We were so pleased with the light heartiness, laughs and care Bill brought into our ceremony & our entire day! My husband and I would recommend Bill to anyone looking for a professional, down-to-earth officiant who takes all the pride in his work and the couples he marries! Thank you so much again, Bill! May 2019
Shauna and Ian
Bill was really great to us during our wedding. With all of the stress that comes with a wedding day, Bill was calm, cool and collected. He was able to think on his feet and not get flustered. He listened to us, and made sure we felt comfortable. Thanks Bill! – Shauna & Ian, January, 2019
Staci and Paul
Thank you for giving us a wonderful ceremony that led to a memorable day. We won't forget it anytime soon! September 22nd, 2018.
Andrea and Chris
Bill Judge is fantastic! I would definitely give him my recommendation for an officiant. He is very pleasant, friendly, fun and helpful. September 2nd, 2018
Melissa and Steve
Bill was absolutely perfect! Thank you so much for making our ceremony everything we wanted!! It was again, perfect. October 6th, 2018
Naz and Rob
My wife and I are so pleased to have selected Bill as our wedding officiant. It was clear from the start his desire to help was always top of mind and provided us ideas on how to proceed once we explained what we were looking for. His friendly personality and appreciation of what we wanted for our ceremony made us both feel we made the right choice. On the day, Bill greeted us and put us at ease right away, he went through the ceremony exactly as planned and made sure the celebration was about us. He joined us for dinner, participated in some of the dancing and then prior to leaving addressed our guests with a lovely message to both of us. He is a true gentleman and we highly recommend his services. Thanks Bill, for helping make our day one we will never forget. Thank you, September 29th, 2018
Chantel & Brian
Bill Judge was great!! He did an amazing job officiating our wedding, and he made sure to include my daughter in the ceremony. I would refer to others, overall I was happy with the service!
Ron & Sudha
Bill was personable and professional. Allowed us to make it our day and adapted to all the little quirks that happened throughout the ceremony with patience and a great sense of humor! Also appreciate that he stuck around afterwards and socialized with the guests. Ron & Sudha July 2018
Melissa & Colin
Bill Judge exceeded our expectations - he was great!
Sharon & Dave
Bill Judge went out of his way to accommodate any special requests we had especially related to one part where we had a symbolic collage. Family were to be involved and one person was missing from the collage. He worked with it easily. He also jumped in quickly when our original officiant was not able to attend - so thank you for that!
Tiffany and Nick
Nick and I were very pleased with having Bill for our wedding officiant. He made our day more laid back and comfortable with having a sense of humor while still keeping it traditional and sweet. Nick and I would highly recommend him.