Rev Bevan Carrique
Bevan is a Minister with Clergy Support Memorial Church who lives in Barrie. He would be very pleased to officiate your wedding ceremony. Bevan wants your wedding hold many special memories for you both. He will wear what you request to the ceremony: suit and tie, robes, or Highland attire. He enjoys playing in Pipe bands. As an active Shriner and Rotarian, Bevan has been involved for many years in community activities and enjoys working with people. He would be delighted to be a part of your very special wedding day as you begin your new lives together.
Request Bevan Carrique
Areas Served
Alliston, Angus, Aurora, Barrie, Beeton, Borden, Bradford, Blue Mountain, Collingwood, Cookstown, Elmvale, Innisfil, Horseshoe Valley, Midhurst, Newmarket, Stayner, Stroud, Wasaga Beach.
Reviews
Dave & Tara
Everything about booking our Officiant Bevan Carrique was easy peazy! It was all done with extremely short notice. Everything was great! September 2023
James & Dayna
Everything about booking our Officiant was easy! Bevan Carrique was able to help us make our ceremony exactly what we wanted. Thank you so much Bevan. Everything was perfect. August 2023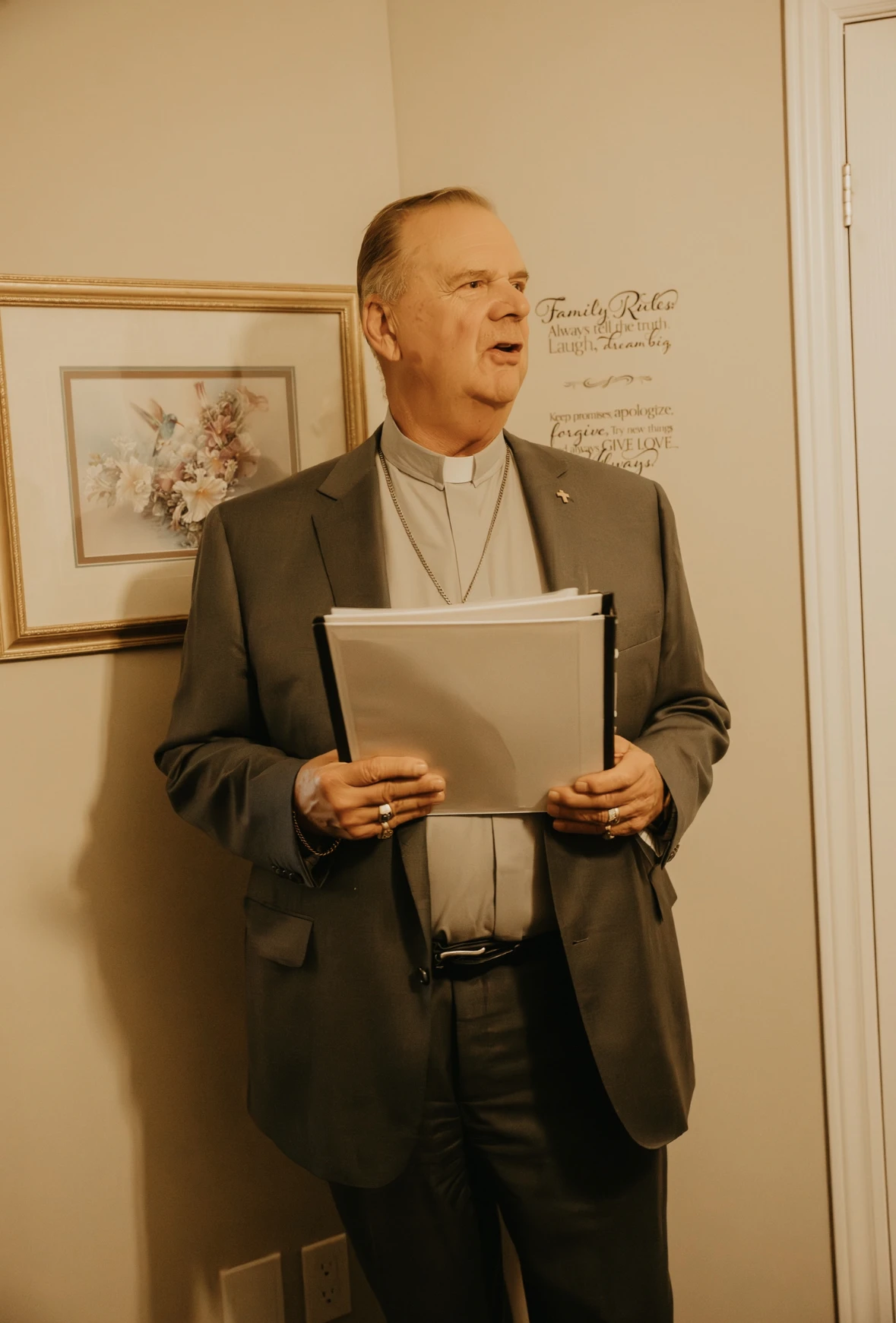 Credit: Shannon Barrett
Mannia & Paveen
We cannot express the happiness you have brought us. Thank you for officiating out wedding. You helps us create a beautiful ceremony that we will always cherish. We sincerely that you for celebrating our joy and for being part of our special day. Mannia & Paveen April 2023
Allan & Barbi
Bevan Carrique exceeded our expectation . Thank you for a beautiful ceremony ! September 2022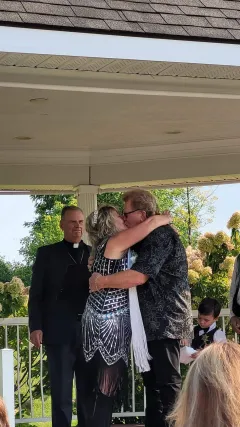 Dan & Shannon
We were so honoured to have Rev. Bevan Carrique officiate our wedding. He met with us beforehand, answered all of our questions and made us both feel incredibly comfortable with what would happen the day of our ceremony. The short and sweet package was absolutely perfect!!!!!!! August 2022
Barbi & Allan
Thank you so much, I didn't get a chance to hug you & thank you as all of sudden you were gone. We are very thankful for you & everyone that shared our day with us. Barbi & Allan
Michelle & Jeremy
I want to thank you from the bottom of my heart for the beautiful ceremony and for quickly stepping in to make sure our day was wonderful. I wish you all the best and again can't thank you enough for helping to make our day so very special and memorable. Sincerely, Michelle and Jeremy
Shannon & Dan
Thank you for everything. The ceremony was absolutely perfect!!! I had so many people tell me how much they loved it :) Shannon & Dan
Emily & Christopher
Aug. 2021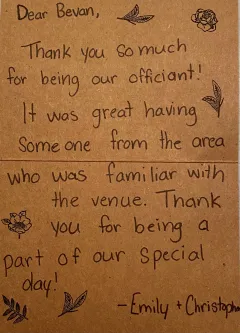 Taylorr & Matthew
Bevan, Thank you so much for doing our Wedding. It was so nicely done and beautifully read. Thank you again for your best wishes.
Rebecca & Corey
Thank you so much, Bevan! We had an amazing time. Thank you for all you did for us.
Stacie & Patrick
Thank you so much for being a part of our wedding day Bevan Carrique .We can truly say that it would not have been the same without you. For the past week while we have been away, Patrick and I talked so much about the wedding; what a perfect day it was and how it was everything we thought it would be and more. One of my favorite memories of the day was of course, the ceremony. Again and again, we talked about what a magical moment that was and how it was joyous, serious and uplifting. Thank you! Stacie & Patrick August 2019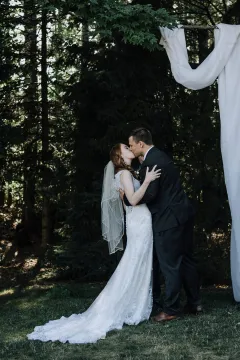 Tanya & Dan
Hi Bevan, We both want to thank you so much. Our families and us thought you had a warm way of delivering our ceremony. Thank you so much!!!
Colton & Thi
Hi Bevan, We would also like to say a huge thank you to you as well for doing a wonderful job on our ceremony. It was better than we had ever dreamed of. We will definitely be referring you to our friends for their future weddings. Thank you.
Nicole & Philip
Bevan Carrique was great, very willing to incorporate all our requests into the ceremony. Very friendly. Would highly recommend him.
Amanda & Ian
Hi Bevan, Ian and I would have liked to have touched base with you after the ceremony to express our gratitude but, as I'm sure you are aware, things were hectic. Both Ian and I really appreciated your flexibility with our ceremony! It had just the right tone and both we and our guests really enjoyed it. All the best.
Doug & HaiYan
It was a real pleasure having you officiate over our ceremony. My family spoke very highly of you afterwords and appreciated the atmosphere you generated. Thanks again!
Ruxandra & Reid
Melanie & Matt
Thank you Bevan for guiding us down this path/journey called marriage. You were truly amazing! We wish you all the best as well!
John & Shelley
It was a pleasure having you perform the service. You gave quite an impression given the number of guests kind comments. Our wedding would not have been so wonderful without you.
Amanda & Clancy
Clancy and wanted to send an email to thank you for being the officiant at our wedding! With all of the excitement on the day I didn't get a chance to thank you in person! We are very grateful for your assistance and professionalism and we will most definitely be recommending you to anyone in need of the service. You helped make our ceremony perfect. Thank you!
Shanon & Mathew
Bevan Carrique was on time and friendly. The ceremony was perfect. The reservations staff were very helpful and emailed us a copy of a simple ceremony we could use.
Carolyn & Aaron
Bevan Carrique was extremely accommodating and flexible in meeting our needs and expectations. Words cannot express how meaningful our ceremony was to us. We had specifically requested Bevan as our minister, knowing the possibility of distance might not work, but he agreed to drive the distance and drove all the way from Barrie on two occasions! Bevan went above and beyond both times and we were truly honoured to have him unite our marriage.
Amy & Todd
Bevan Carrique was absolutely amazing. He made the whole process very seamless and we both enjoyed our ceremony very much. The office staff made it so easy for us to organize our wedding – especially on such a short time line. I would absolutely refer your service to anyone looking to get married. It was simple, easy and your staff was lovely to work with.