Beth Foster, MEd
Your day, your way! Beth is an award-winning officiant who brings an open, warm and compassionate nature, combined with years of experience in public performance and events, to your special day. With a passion for and understanding of the ritual, and an established background as a drama teacher and improvisation coach, Beth will work calmly and efficiently to ensure your ceremony is personal, meaningful and magical! Besides weddings and naming ceremonies, Beth indulges in travel, theatre, yoga, cycling, kayaking, gardening and hiking. She is also a certified Nature and Forest Therapy Guide.
Request Beth Foster
Areas Served
Barrie, Orillia, Bradford, Angus, Innisfil, Thornton, Cookstown, Horseshoe Valley, Snow Valley and Oro-Medonte, Utopia
Reviews
James & Mitchell
Beth Foster was beyond fantastic, she was kind, helpful and a joy to have share this moment with us. December 2022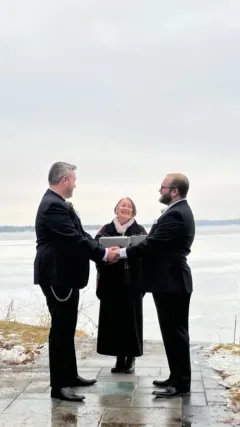 TJ & Erin
Beth Foster was great, easy to communicate with and extremely friendly. October 2022
Brad & Darci
Beth Foster was amazing. She was organized, and always on time. September 2022
Dalton & Maggie
Beth Foster was absolutely the perfect addition to our day. She tailored the ceremony to exactly what our wishes were and did a fantastic job. We received so many compliments from our guests about Beth. We would suggest her to anyone who is getting married! September 2022
Brent & Sarah
Beth Foster exceeded our expectations as a wedding officiant and we would recommend her very highly to anyone. She was professional, personable, and made us and our guests feel welcome and feel love during the beautiful ceremony! September 2022
Meghan & Kelly
Beth Foster exceeded our expectations! June 2022
Brent & Emily
Thanks Beth Foster for all of your help and support throughout the process. It was very reassuring to have you by our sides on this very important day! June 2022
Herculano & Barbara
Beth Foster was wonderful. She helped make our day a very special one and everything went perfectly.. Thank you Beth, God Bless! May 2022
Brittany & Scott
Beth Foster was so kind and friendly and pleasant. Beth was a huge reason why the day was so special. Nov 2021
Charlotte & Kyle
Beth Foster was amazing I knew her from high school and she was very friendly and kind to everyone on our amazing day. September 2021
Keith & Denicea
Beth Foster was a great choice. We felt extremely comfortable with her. It was as if she was a friend officiating our big day.. job well done.. we only wished she could've stayed to celebrate with us.. that's how comfortable we felt with her.. very pleasant and she made sure we were ok with everything being said before hand. September 2021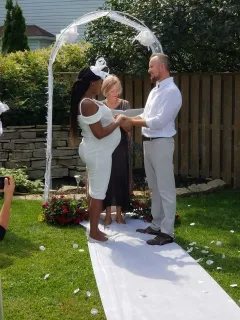 Sarah & Josh
Beth Foster did such an amazing job on both weddings. Because of COVID we had to reschedule our wedding last year but decided we would get married in front of our parents and kids since we were allowed 10 people outside. We also booked Beth for this year to do our big wedding in front of all our family. She did a great job. We very much appreciate it. Sarah & Josh August 2021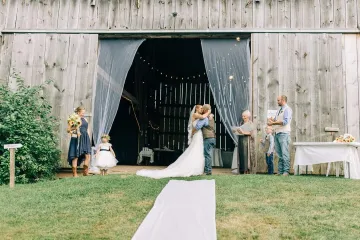 Jesse & Chantal
Beth Foster was amazing. She was so pleasant and we really felt that she enjoyed being there and valued how important her job is. We are so so happy she was matched with us for our special day. Jesse & Chantal June 2021
Scott & Nicola
Beth Foster was absolutely phenomenal, we could not recommend her enough. She was not only incredibly kind, but accommodating. 2020 didn't allow for our wedding to look how we planned, but having her there made it extra special. Scott & Nicola December 2020
Mathue & Pam
Beth Foster was wonderful from introduction to her discreet exiting the day of our wedding after the ceremony took place. She was thoughtful, kind and considerate of all the things that are important to us both. She eased our anxieties and any concerns we had leading up to the day of and was a great added support throughout the whole wedding process. Her kindness and professionalism was very much appreciated. She made our ceremony a memorable and sweet one and we would definitely recommend her to anyone looking for an officiant with great experience. Mathue & Pam October 2020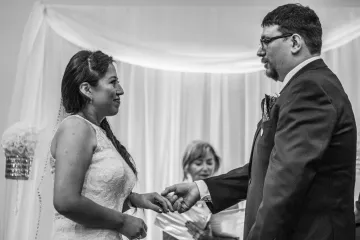 Eric & Kristin
Beth Foster exceeded our expectations. She was kind, positive, cheerful and put us at ease. She personalized a special ceremony for us that we couldn't have been happier with and delivered it so beautifully. We'd highly recommend her to anyone. Eric & Kristin September 2020
Michie & Erin
Beth Foster was fantastic! Our day was perfect :) Michie & Erin August 2020
Brent & Kaley
Beth Foster was absolutely amazing! She went above and beyond for us. Will be recommending her to all our friends, which we already have! Brent & Kaley July 2020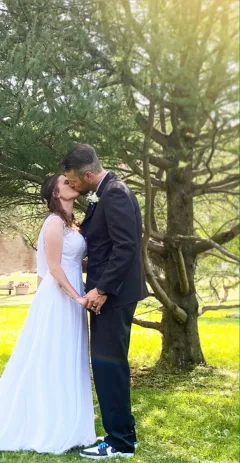 Daniel & Meaghan
Beth Foster exceeded our expectations! She was professional, compassionate, caring and flexible from start to finish. She took the time to really to get to know my husband and I in our first meeting, unlike any other officiant that we interviewed. We were delighted to receive a personalized draft of a ceremony very quickly after our first meeting, and she worked with us to create content that suited our special day. She was very knowledgeable and prompt at answering questions, and really helped to guide us through the legal process of getting married. When the COVID-19 pandemic hit, Beth was beyond compassionate and reassuring that she would continue to work with us and get us married despite the challenging circumstances. We couldn't have picked a better officiant and highly recommend Beth to anyone looking for her services. She was phenomenal! Daniel & Meaghan June 2020
Oscar & Sue
Beth Foster was amazing. From the first time we met her she made us feel at ease. She performed the perfect ceremony for us in our home. Everyone commented on how great she was and how seamless she made it when rolling with the punches. Thank you Beth for being a part of our perfect day! Oscar & Sue December 2019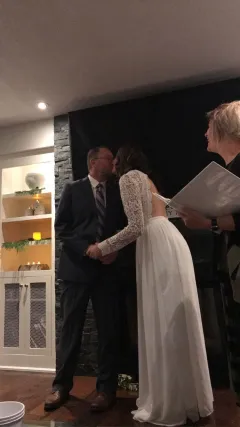 Suzanne & Claude
We sincerely want to thank you, Beth, for taking such care with preparing and conducting our ceremony. It was exactly what we wanted. Oct. 2019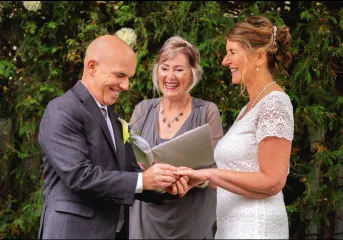 Marcus & Kelly
Beth Foster was amazing! We loved every moment we got to spend with her. She personalized our ceremony perfectly. She is truly a lovely person! Thank you for what you did for us. Marcus & Kelly September 2019
Mitch & Candace
We had such an amazing ceremony and we loved it so much! Beth Foster was awesome and so accommodating we couldn't have had a better day!! Mitch & Candace August 2019
Joshua & Kady
Beth Foster was amazing! She was so nice and great to work with. She took all our ideas and created the best ceremony! Everyone at our wedding loved her and she helped make our day extra special and magical! I would highly recommend Beth for everyone's wedding you will not be disappointed! Thank you Beth for all you did ❤️ Joshua & Kady July 2019
Kyle & Shannon
Beth Foster went above and beyond to make our ceremony specific to us. It was beautifully written and more beautifully said! She reached out multiple times to ensure we were comfortable before the day arrived. Thank you Beth! Kyle & Shannon July 2019
Mike & Kim
Beth Foster was absolutely amazing!!!! she was personable and friendly from the moment we met her. She asked all the right questions, completely personalized the ceremony to fit us, and helped create the perfect day! I would recommend Beth Foster to absolutely anyone. Mike & Kim May 2019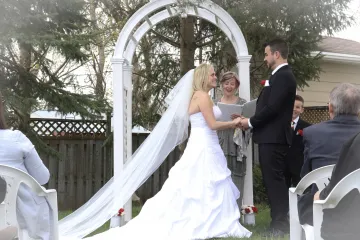 Stephen & Selena
Beth Foster was incredible from start to finish. From our first meeting, we knew she was a perfect match for us. She was so warm, yet professional and she knew exactly what we wanted. She was amazing and we are so happy. Thank you Beth! ox Stephen & Selena May 2019
Shawn & Manda
Beth Foster was simply amazing! No other words to describe her. She came highly recommended to us by someone who knew her personally and she did not disappoint. Beth always arrived on time, she responded to emails immediately, she sent follow up and check in emails. Beth helped us tremendously and it was a joy to have her as our officiant. Shawn & Manda Feb 2019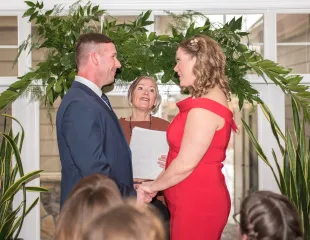 Ashley & Deryk
Beth went above and beyond to make our day special! There were some last minute changes due to weather and she was on board and easy going every step of the way! Ashley & Deryk, July 2018
Kristina & Alexander
Beth Foster was amazing for our special day, she made sure we were organized and even talked to us at the moments we started to get overly happy and lose ourselves a little bit. Beth Foster was amazing for our special day, always answered every email I sent her. Always answered every question I had, and didn't hesitate to meet us on the days that we requested for our meetups with finalizing everything. She was very happy to be part of our day, and even when the day came. Showed up early and made sure everyone was good to go. I was very pleased, and if I were to get married again in the future (which I hope I don't :P) I would definitely have Beth again for my big day. Anyone that asks me for an officiant to use for their wedding day, Beth Foster will be the first person to come to mind. [July, 2018]
Holly & Robbie
Beth Foster was exceptional from the moment we met her. She was very attentive to our needs and was open to our suggestions for making our ceremony perfect. She was a joy to work with and we felt an immediate connection with her right away. She helped bring our ceremony to life in a beautiful way. Beth was always fast to respond to us and was always checking in to make sure our ceremony was what we wanted it to be. Thank you Beth. I strongly recommend Beth if you want someone who is open minded and genuinely there for you as a couple. I was drawn to Beth from the moment we met as she is a gentle soul and eager to get to know the couple she will be marrying. All around great service and Beth made our wedding day truly memorable.
Danielle & Jessie
Beth Foster was amazing! When we first met with Beth we knew she was the perfect fit for us and that she would make our ceremony special. Beth is genuine and we felt she really cared about us and our day and making it perfect. Beth is so sweet and caring, she made us so comfortable. The ceremony was perfection! Thank you Beth!
Alicia & Kyle
Beth Foster was easy to contact and she had no problems making any changes to the ceremony. It was an absolutely wonderful experience working with her for our wedding! Office staff were prompt with emails and any questions I had were answered quickly and appropriately. All in all, the experience was quite pleasant from start to finish working with All Seasons Weddings!
George and Randy
Thank you to a team of dedicated people who get the impossible done. We had an incredible quick service wedding with a wonderful officiant. You all made our day go from panic to a very special day that will always be a special memory in our minds. Thank you from George and Randy 10/14/2016
Candice & Cal
Beth Foster was absolutely amazing. It was hard finding an officiant at first. But when we did we knew Beth was the one. The day of our wedding Beth went through everything with easy and grace and just gave a genuine feel to the whole ceremony. Even when we had technical difficulties she got through the ceremony with ease. Thanks again!!!
Deanna & Jason
Beth Foster is personable and easygoing and she goes out of her way to make your ceremony special and unique. It was easy and no fuss to plan our ceremony with All Seasons Weddings. Thank you so much Beth for creating our day and being so helpful and reassuring. I don't think we could have asked for a better officiant to have at our wedding!!
Deb & Stacy
Beth Foster was great. Meeting with her felt very comfortable and she was happy to incorporate all our changes and she answered all our questions. Being a friend, her personal touch made a big difference to us by making the ceremony a reflection of us and our sense of humour. If I were to get married again, I'd ask for her help/services again without question. Merci! I would happily recommend your service and especially Beth. This photo makes me happy because Beth was herself and let us be our goofy selves during the most beautiful ceremony of our lives. :)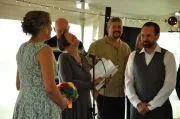 Stephanie & Richard
Beth Foster was wonderful to work with! She was more than happy for us to create the ceremony that represented us and guided us along this path. She was very prompt in responding to emails which was great considering most of our communication was online due to us living on the West Coast.
Amanda & Jeffrey
Beth went above and beyond our expectations. She was extremely courteous, open-minded, and helpful in all aspects leading up to our special day. She had some excellent suggestions that made our ceremony perfect. Very patient on our rehearsal night due to some unforeseen circumstances. Beth was perfect.
John & Laura
We were extremely impressed with Beth Foster's professionalism and warmth through the entire process. It was a pleasure working with her.
Erika & Cory
The service was great. We loved having Beth Foster share our day and I have recommended your service, and specifically Beth to many others!
Julie & Sebastien
Beth Foster was AMAZING!! she made our day even sweeter and more special that we could have ever imagined. She is a very special person and we were lucky to have her there!! Honestly-she was just amazing and phenomenal, patient and kind!
David & Devon
We could not have asked for a more wonderfully kind, sincere and passionate person than Beth Foster to officiate our wedding. She was simply superb! A pleasure to work with. Once again, we would like to thank Beth for her wonderful officiating at our wedding.
Leanne & Kelly
Beth Foster was exceptional. I had so many people tell me it was the best wedding they had ever been to. If we ever renew our vows, we will contact Beth for sure!!!