Deborah-Lynn Beauchamp
Deborah-Lynn and her husband retired to live in Shawville in 2013. She's a great communicator, fluently bilingual in English and French and is a very energetic person who loves children. Deborah-Lynn has been married for over 37 years with two grown sons and two beautiful granddaughters. She enjoys spending time in her community, getting to know great people and enjoying the scenery. Being a member of the Daughters of Isabella allows Deborah-Lynn the opportunity to provide pastoral services and give back to this amazing community of hers. She is comfortable conducting any ceremony you choose.
Request Deborah-Lynn Beauchamp
Areas Served
Shawville, Clarendon, Luskville, Pontiac, Bristol, Quyon, Ladysmith, Otter Lake, Charteris, Danford Lake, Fort Coulonge, Mansfield, L' Ile-du-Grand-Calumet, L'isles aux Allumettes, Chapeau, Waltham, Campbell's Bay, Bryson, Portage du Fort, Litchfield, Renfrew, Haley Station, Cobden,
Reviews
Trevor and Manon July 2021
Our wedding took place in July 2021 and our Officiant was Deborah-Lynn Beauchamp. I would like to recommend Deborah-Lynn. We wanted a simple and quick ceremony, and she made it happen. We were very pleased with her service and how well she was organized. She told me exactly what I needed to provide to her in order to get things on track, I had no worries. She is a joy to talk to, and made things so easy to understand and she was there for me if I had any questions. She told me all the steps prior, during and after the wedding. I am very satisfied, and I reassure you that she will listen to your wishes to make your memorable day as you intend it to be.
Manon & Trevor
Deborah-Lynn is a joy to talk to, and made things so easy to understand and she was there if I had any questions. She told me all the steps prior, during and after the wedding. I am very satisfied, and I reassure you that she listen to your wishes to make your memorable day as you intend it to be. Manon & Trevor July 2021
Christopher & Makayla
Deborah-Lynn did an amazing job as our Officiant. She was very professional, friendly and kept our ceremony stressless. We were able to easily communicate with her ahead of our big day and she even came to our rehearsal the day before to ensure we knew how the ceremony would unfold. We would recommend Deborah-Lynn to any newly engaged couples looking to get Married! Christopher & Makayla September 2021
Amélie et Yann
Merci encore de vos services, ce fut un plaisir immense de travailler avec vous! Du début à la fin, vous avez su répondre à toutes nos questions avec patience et humour. Le processus était facile et sans stress et vous avez su transformer notre cérémonie en un moment émotionnel et inoubliable. Merci encore! July 2021
Alicia and Brody
We give your services 10/10. Thank you so much for being so efficient and helping us make the day exactly how we envisioned. Many thanks, Alicia and Brody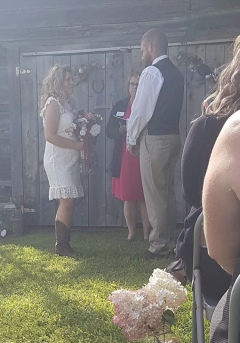 Ursina & Andrew
Deborah-Lynn, Thank you so much for the awesome day! It was perfect. Thank you! Ursina & Andrew
Robert & Mariette
Deborah-Lynn Beauchamp is the most wonderful person to perform a wedding ceremony. She is helpful and goes out of her way to make sure she understands what you and your future spouse want for your wedding. She answers all your questions and concerns and helps you find what you need to make your wedding day your Very Special Day. Thank you for everything Deborah-Lynn!!! Robert & Mariette Dec 2018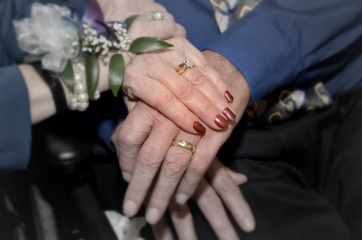 Samantha & Philip
Hi Deborah! Thank you so much for performing our wedding ceremony. You were an absolute delight to work with. Very accommodating, you kept everything light and stress free. Everything was how we had imagined, and then some. So happy I found you in the short time- period leading up to the wedding. It couldn't have been more perfect! I would definitely recommend your services to future couples. Thank you again so very much! [Sept. 29th, 2018]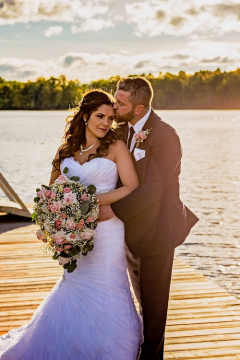 Timothy & Tannas
Deborah was amazing – very easy to work with and A LOT of fun, my new Husband and I would definitely recommend Deborah [07/07/2018]