Anne Harvey
When looking for a wedding officiant, most people are looking for someone who has a sense of humour and is easy going. Well look no further – Anne's sense of humour, patience and imagination will help make your wedding ceremony perfect. Anne is open-minded and would be honoured to conduct any type of ceremony you prefer, in the venue of your choice. Her greatest joy is helping people. Anne would love to meet with you and help you create memories that befit your special occasion. She is located in Trenton and serves Quinte West.
Request Anne Harvey
Areas Served
Belleville, Brighton, Colborne, Prince Edward County, Trenton
Reviews
Robert & Sarah
Anne Harvey was a wonderful officiant to work with. She was kind, funny, and spoke very well! She listened to what we wanted, addressed any changes that we needed, she was on time and did a wonderful job. Thank you! Robert & Sarah July 2021
Andrew & Kendra
Anne Harvey was amazing. She was so friendly, funny and kind. We can't thank her enough for officiating our wedding not only during a pandemic but also taking time during the holidays to make our day so special. She was very patient with us even when we were running behind. She made us laugh and feel so comfortable. I would recommend her to anyone in the Quinte area. Andrew & Kendra December 2020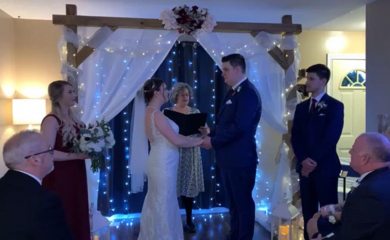 Brett & Jennifer
Anne Harvey was outstanding ! Thank you so much for making the day wonderful. Brett & Jennifer August 2020
Michelle & Dustin
Anne Harvey met our expectations plus some! She was perfect. Very charming and she kept it light. Michelle and Dustin December 2019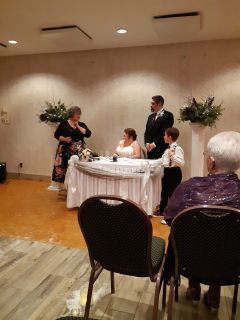 Beverly & Yvette
Anne Harvey was absolutely delightful to work with. She was professional with a great sense of humour. Thank you . Beverly & Yvette December 2019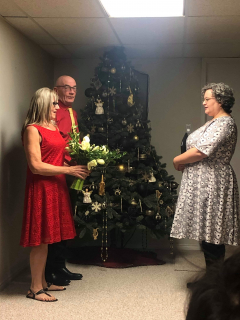 Dale & Rebecca
Anne Harvey was fantastic!!! She did such a wonderful job with our ceremony. We couldn't imagine having anyone else do our ceremony. She keep everyone at ease and was just phenomenal!! Thank You Anne Harvey for such a wonderful day!!! Dale & Rebecca September 2019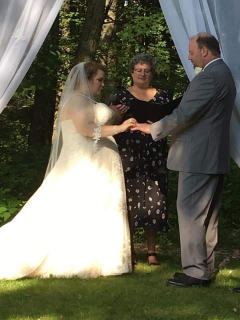 Nadine & Norma
Anne Harvey was excellent! Everything was perfect! Thank you for Anne for a beautiful Ceremony. Nadine & Norma July 2019
Allastair & Andrea
Anne Harvey was incredibly warm, caring and fun to work with! April, 2019.
Jeff & Rebeccah
Anne did a ceremony that was so well suited to my brother and sister in law even though she met them only minutes before the wedding. She had the right words and added some humour. Jeff and Rebeccah could not have been more pleased as they wanted a simple family wedding and Anne was excellent. All Seasons' office staff were very pleasant when I called and Rebeccah also called with questions. We can't thank Anne enough for helping make the day special for Jeff and Rebeccah!
Nicole & Josiah
We had such a wonderful experience from start to finish. Anne Harvey was very great and helpful with any questions we had. She was very organized and efficient with anything we asked her about and helped make our experience amazing. Thank You for everything! Nicole & Josiah Aug 18th, 2018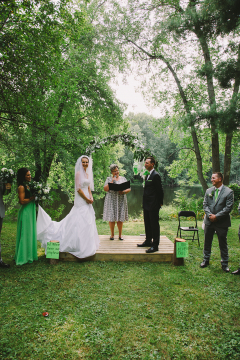 Lisa & Chris
Not only did Anne Harvey meet our expectations, she was a HIT with all guests. Anne is a natural. She can read a room very quickly. She asked great questions in our meeting and was able to deliver a ceremony that felt comfortable and kept us at ease the entire time. We laughed, there were a few tears, but most of all we were able to take in the experience and create an amazing memory thanks to Anne. August 25th, 2018
Krystle & Jacob
Anne Harvey was incredible, she helped make our day so personal, loving and overall exceptional. Perfect, thank you! [July, 2018]