Andy Visser, B.Th, B.A.
Born and raised in Northern Ontario, Andy now calls Kingston home. With an education in business, degrees in theology and world religions, and having traveled the world, Andy has an understanding and deep respect for various cultures and traditions, and personal identity.
Andy is easy-going and inclusive, with a great sense of humour, yet very professional with a keen eye for detail. He is a great experienced professional. He is a very experienced wedding officiant and he will work closely with you to ensure your personal design and touch shine through as you celebrate this life-affirming event together.
Request Andy Visser
Areas Served
Kingston, Napanee, Gananoque, Belleville, Westport, Brockville
Reviews
Benjamin & Julie
Andy was punctual, very easy going and adjusted with the weather Perfectly ! The ceremony was everything we wanted and more Thank you so much! August 2023
Grant & Margaret
The whole process of finding our Officiant Andy Visser was great. We loved getting married in confederation park! The whole ceremony was very professional. Andy is a great guy! He made it all very easy. August 2023
Leandre & Tara
Everything was very straightforward and simple. No stress! Andy Visser did a nice job keeping everything moving promptly, but with a nice tone. We have no complaints at all. We were looking for something very simple, but something we could share with a few close friends and family. Andy struck just the right tone and tempo for what we wanted. He was also very good about communicating with us prior to the wedding. I would be very comfortable recommending him to others. June 2023
Samuel & Fiona
Very simple. A quick Google search and a couple emails is all it took. We wanted it to be a simple bit of paperwork - no ceremony. It was exactly that. Absolutely Andy is a great guy.
Adewale & Lancia
The officiant was fabulous. He was patient and beyond met our needs on our wedding day. May 2023
Vanessa & Vince
Andy was amazing! He really helped make our day special and he was very knowledgable and friendly. He has been doing this for many years. He is a great choice for a wedding officiant and we are happy that we chose him. He was always available if we needed help with our vows and had some great ideas for us. We highly recommend him for your special day! Thank you Andy! April 2023
Benjamin & Xiaorong
Andy Visser met and exceeded our expectations, was happy to meet with us at our arranged location for the ceremony. He stayed for a tea and provided valuable insight, including taking pictures of paperwork as backup, and what to do next for my wife to apply for her PR. December 2022
Anthony & Sally
Andy Visser was absolutely perfect! Mother Nature cooperated with a beautiful sunny day! It was a tad cool by the water and a little windy. None of that mattered! Andy did a wonderful job ?October 2022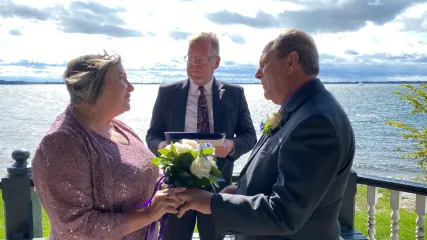 Colin & Emily
Andy Visser was absolutely perfect. We showed up very promptly, even texted the day before to ensure directions were correct. He was incredibly kind and accommodating with my very nervous fiancé. He was so light hearted and didn't mind our fun and upbeat ceremony. Would absolutely recommend Andy to anyone. September 2022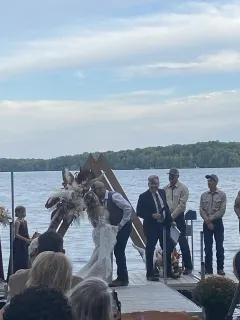 Liam & Kelin
Andy Visser meet our expectation . The ceremony was beautiful and memorable, just what we were looking for. June 2022
Alison & Brad
The wedding was a little chaotic with a loss of power and midges everywhere. Andy Visser was amazing, the ceremony was beautiful, and he tolerated my husband and I's goofiness and nerves. He even took care of an issue with an error on our license that we didn't notice. He was an absolute pleasure to work with and while I am not expecting to need an officiant again I would absolutely recommend Andy to anyone!! May 2022
Keith & Meghan
Andy Visser went above and beyond. We decided to make a location change last minute and Andy was happy to accommodate. He was very friendly, knew what he was doing, and made the entire process very easy for us. Extremely happy with our experience. October 2021
Guillaume & Martine
Thank you to Mr Visser. He was extremely professional and accommodating. Definitely recommend to anyone. October 2021
Michael & Amanda
Andy Visser was wonderful to work with! From the moment we were connected with him over email, he went above and beyond to make the day exactly the way we wanted it! Michael & Amanda June 2021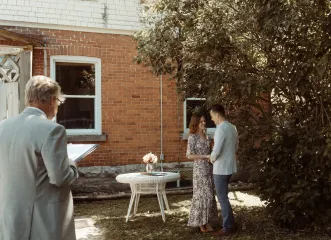 Zach & Danielle
Andy Visser was absolutely wonderful! Very communicative. We knew exactly what to expect the day of the ceremony. Zach & Danielle June 2021
Christopher & Leah
Andy Visser exceeded out expectations ! We are so blessed to have had Andy Visser as our officiant. His professionalism, inclusiveness and friendliness will be forever appreciated. And he has a great sense of humour! Christopher & Leah December 2020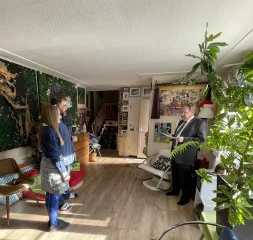 Scott & Laura
Andy Visser was absolutely exceptional! He made our day perfect and he was so accommodating to fit my uncle into the ceremony. I would definitely recommend Andy to anyone looking for an officiant. Thank you so much Andy! Scott & Laura September 2020
Ryan & Cara
Andy Visser was great. Talked us through everything, and made sure it was seamless.
Sarah & Mitchell
We had Andy Visser as our officiant. He was awesome. Nothing negative to say at all. He was very friendly, helpful, professional. He was great to work with. Have excellent suggestions. Able to meet us any time to discuss the ceremony and prompt with email response. During the ceremony there we no issues. He even coordinated his outfit to compliment the colour scheme we chose. I would highly recommend him to anyone. Thanks so much Andy and All Seasons Weddings!
Deborah & Jacques
Andy Visser was wonderful. He more than met our expectations. Andy assisted my partner with small reminders to keep things moving smoothly. He is a great speaker and the ceremony went very well.
Trudy & Phyo
Andy Visser, thank-you for conducting our wedding ceremony. Everything was perfect! You guided the proceedings with ease and kept us very relaxed, which made the whole experience even more enjoyable and memorable.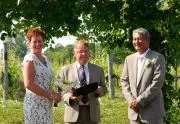 Tiffany & Adam
Andy Visser was very friendly and professional. He had some great suggestions for changes that we could make to the ceremony to include both sets of parents. We could tell that he was a really good guy and cared a lot about making sure that the ceremony went well and was exactly what we were hoping for. On the wedding day, he showed up early and looked great. The presentation of the ceremony was very professional, he had a really strong presence during the ceremony without outshining us and because he was so in the moment he had a calming effect on us. Plus, he was able to provide us with a pen for the signing as we forgot to put one on the table, which doesn't seem like a big deal, but it just helps to prove that it was important to him that things went well for us and it was much appreciated. We highly recommend him to anyone looking for an officiant. Thank you so much Andy! You helped to make our day perfect and we cannot thank you enough.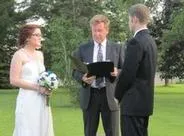 Jennifer & Jason
Andy Visser was great. He met with us prior to the wedding and reviewed all the details with us. He was also open to any changes we wanted to make to the ceremony. Andy was very friendly and helpful. He answered all of our questions and was always pleasant to speak with. Andy even coordinated his suit and tie to match the bridesmaids and groomsmen which was a nice touch! Everything was perfect and ran very smoothly. The entire process was super easy which is exactly what we wanted! Our guests also commented on our ceremony, expressing how nice and perfect everything was.
Katie & Brandon
Andy Visser was very thorough and helpful when helping us to plan our our ceremony. He was super friendly and definitely approachable with any questions and concerns we had when it came to our ceremony. He contributed his own ideas and allowed us to contribute ours. I will definitely refer Andy friends who are getting married in the future. Thank you for your services and thank you to Andy for doing such an amazing job. We could not have been happier with our ceremony and everyone commented on how beautifully done it was !