Andrea McDougall, B.S.S.
Andrea has lived in Greely, near Metcalfe, for over 25 years. While working full-time and raising a family, she completed a degree in Social Sciences at the University of Ottawa. Her current hobby is learning to play the guitar. She loves her Honda CBR motorcycle and recently started scuba diving. For over ten years she has worked with the local minor hockey executive. She has always done volunteer work in some capacity and always will. Andrea is a positive, cheerful and competent partner to conduct your wedding ceremony and get you started on the path to your perfect wedding day.
Request Andrea McDougall
Areas Served
Bob's Lake, Brockville, Cannamore, Casselman, Chesterville, Crysler, Cumberland, Embrun, Gloucester, Greely, Hallville, Kanata, Kars, Kemptville, Kenmore, Limoges, Manotick, Marionville, Metcalfe, Munster, Nepean, Oxford Station, Osgoode, Ottawa, Ottawa South, Ottawa East, Orleans, Oxford Mills, Perth, Russell, Spencerville, St-Albert, Vernon, Westport, Winchester, Winchester Springs
Reviews
Jeanne and Mike
Both my husband and I wish to thank you (Andrea) for the excellent service that you provided as officiant to our wedding. We appreciated the time you took during our initial meeting to discuss our needs and ideas for the ceremony and provided excellent input and feedback on an ongoing basis until the big day. Prior to and during the ceremony, you were poised and reassuring which greatly reduced our anxiety. We would, without reservation, highly recommend your services. Thank you once again. Jeanne and Mike
Mark and Sarah:
We highly recommend Andrea McDougall to perform a wedding ceremony. It was a pleasure to have her perform a service for us. She met with us in advance, and helped us to develop a ceremony that captured the sentiments we wanted. She provided us with some helpful suggestions, and was easy to work with in person, and by email to help us create a service that met our needs using a combination of vows and readings from All Seasons Weddings, online services, and our own words. With her help, we developed a 15 minute service that really captured the moment in a way that we were both very happy with. For the ceremony, we invited 60 guests in the Orange Art Gallery. Andrea showed up well ahead of time, and was professional, relaxed, and friendly during the ceremony. She adapted her style to meet our style and the atmosphere of our wedding. It was a very memorable event, and we were very happy to have Andrea play such an important part of it.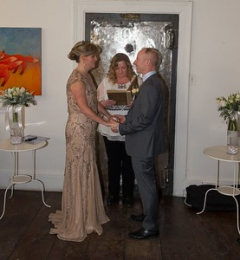 Stephanie & Josh
Hi Andrea! Thank you so much for being apart of our day! You did a fantastic job! I couldn't have asked for anything more perfect! Thank you again! Stephanie & Josh