Andrea McDougall, B.S.S.
Andrea has lived in Greely, near Metcalfe, for over 25 years. While working full-time and raising a family, she completed a degree in Social Sciences at the University of Ottawa. Now she enjoys conducting life celebrations in her role as an appointed designated minister. Andrea has always done volunteer work in some capacity and always will. She is a long time supporter of the United Way and for the past ten years she has focused her activities around children and sports. Go Metcalfe Jets!! Andrea is a positive, cheerful and helpful officiant who will work with you to get you started on the path to a perfect wedding ceremony.
Request Andrea McDougall
Areas Served
Bob's Lake, Brockville, Cannamore, Casselman, Chesterville, Crysler, Cumberland, Embrun, Gloucester, Greely, Hallville, Kanata, Kars, Kemptville, Kenmore, Limoges, Manotick, Marionville, Metcalfe, Munster, Nepean, Oxford Station, Osgoode, Ottawa, Ottawa South, Ottawa East, Orleans, Oxford Mills, Perth, Russell, Spencerville, St-Albert, Vernon, Westport, Winchester, Winchester Springs
Reviews
Emily & William
Andrea McDougall far exceeded our expectations! We had a small backyard wedding in September and Andrea officiated our ceremony. Not only was Andrea warm and welcoming but she also made sure we had all the information about the process and was willing to meet with us anytime we wanted to go over anything. Andrea was the face I looked for when I arrived at our ceremony for reassurance, and sure enough, as soon as I saw her, she blew me a kiss and I knew it would be a magical, perfect day. Sept 2022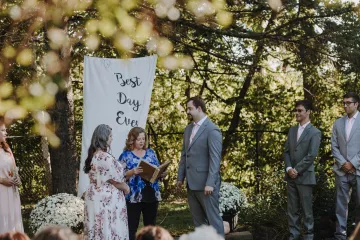 Eric & Tammy
We were rushing around to pull off a Thanksgiving wedding (changing the planned hosting of Thanksgiving dinner with family ?) in less than 5 weeks and Andrea McDougall was such an integral part of this plan. No officiant, no wedding. Our Zoom meeting was great and there was instant rapport like we've known each other for years. Our ceremony went beautifully and the only guest to "speak now or forever hold your peace" was are own black lab Gracie. Thank you so much Andrea for being part of our special day. We would 110% recommend her services! Oct 2022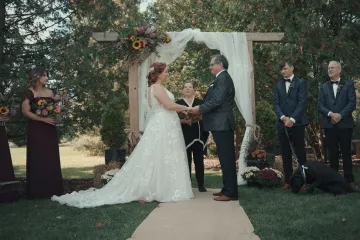 Emily & Thomas
"From the moment we first talked to Andrea about potentially officiating our wedding, we knew it was a good fit. She was warm, friendly, and easy to communicate with. You could tell she genuinely enjoyed every step of the process, and made it enjoyable for us as well! We're so glad that she was a part of our big day." Again, thank you for everything! Emily & Thomas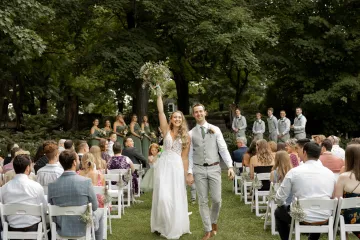 Caitlyn & Nicholas
Andrea McDougall was absolutely phenomenal! I couldn't have asked for a better officiant. She captured exactly what we wanted for the ceremony and braved the cold weather for an outdoor winter ceremony. Thank you Andrea for helping us seal the deal on our special day! Feb 2022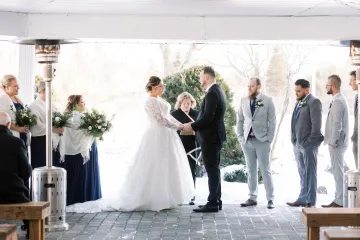 Emily & Shawn
Andrea fit in wonderfully at our wedding; a beautiful soul who felt like a welcoming neighbour. She helped Shawn and I throughout the whole process and truly took the time to understand us as a family to tailor the ceremony to ours needs. She went out of her way to help us find thoughtful options on how to include our daughter and family member's readings. You can tell that Andrea is passionate and caring as it shines through her work as an officiant!" - October 2021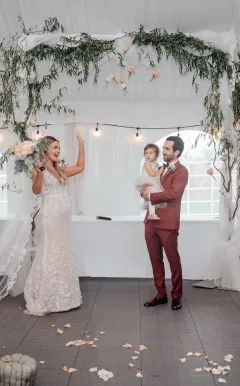 Chelsea & Jesse
Andrea McDougall was an absolute dream to work with! She was able to stick with us through the pandemic when we decided to postpone and we are so thankful! Andrea was an amazing part of our amazing day! August 2021
Rick & Meghan
Andrea McDougall made our day so special, the ceremony was exactly as we had envisioned. She was fun and upbeat, which made us relax and enjoy the experience. Thank you so much Andrea, I proudly recommend you!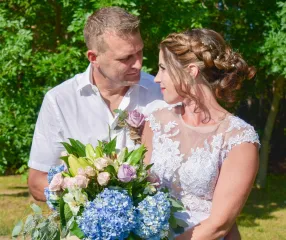 Michelle & Beau
Andrea McDougall was amazing! There really is nothing else to say other then she was very helpful throughout the process leading up to the wedding. It was amazing to meet her. Michelle & Beau July 2021
Clark Family
Andrea McDougall made our children's baptism ceremony at our home absolutely perfect. Her gentle spirit, ability to connect with our guests and openness to including a special gift presentation to our son and daughter during the service made the afternoon more than we could have imagined. Thank you Andrea for taking the time to celebrate our special day. July, 2021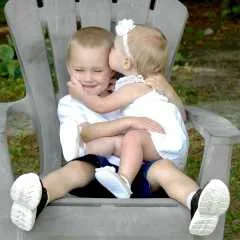 Valerie & Francis
Andrea was incredibly kind, helpful, and accommodating throughout our entire marriage process. She gave us exactly the ceremony we had dreamed of! Thank you again - it was the best day!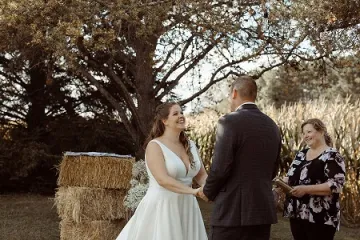 Ann & Stephane
Thank you, Andrea, for celebrating our wedding, we both enjoyed it very much. September, 2020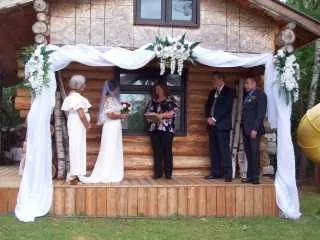 Stephanie & Josh
Hi Andrea! Thank you so much for being apart of our day! You did a fantastic job! I couldn't have asked for anything more perfect! Thank you again! Stephanie & Josh
Mark and Sarah:
We highly recommend Andrea McDougall to perform a wedding ceremony. It was a pleasure to have her perform a service for us. She met with us in advance, and helped us to develop a ceremony that captured the sentiments we wanted. She provided us with some helpful suggestions, and was easy to work with in person, and by email to help us create a service that met our needs using a combination of vows and readings from All Seasons Weddings, online services, and our own words. With her help, we developed a 15 minute service that really captured the moment in a way that we were both very happy with. For the ceremony, we invited 60 guests in the Orange Art Gallery. Andrea showed up well ahead of time, and was professional, relaxed, and friendly during the ceremony. She adapted her style to meet our style and the atmosphere of our wedding. It was a very memorable event, and we were very happy to have Andrea play such an important part of it.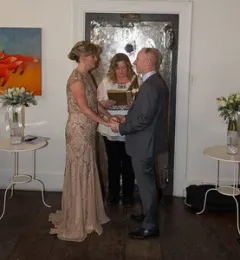 Jeanne and Mike
Both my husband and I wish to thank you (Andrea) for the excellent service that you provided as officiant to our wedding. We appreciated the time you took during our initial meeting to discuss our needs and ideas for the ceremony and provided excellent input and feedback on an ongoing basis until the big day. Prior to and during the ceremony, you were poised and reassuring which greatly reduced our anxiety. We would, without reservation, highly recommend your services. Thank you once again. Jeanne and Mike