Amanda Gulka-Armstrong
Amanda lives in Milton and is one of our top requested officiants. Deep down I am a true romantic who believes in happily ever after.It would be an honour to be a part of your day. I am outgoing, caring, and always have a smile on my face. Through various different experiences I have become comfortable speaking in front of groups of any size and always strive to combine professionalism with warmth. I believe that love takes many different forms and am excited to perform your ceremony.
Request Amanda Gulka-Armstrong
Areas Served
Milton, Georgetown, Acton, Guelph, Mississauga, Brampton, Halton Hills, Rockwood, Aberfoyle, Oakville, Burlington
Reviews
Stephen & Katherine
Amanda Gulka-Armstrong EXCEEDED our expectations. From the moment I met Amanda I knew she would be the perfect person to marry us! She has such warm, loving energy and she brings that with her throughout the planning process and on the wedding day. Amanda made the whole process easy to understand and helped us to create the perfect wedding ceremony that matched our goals. During the ceremony, she helped to keep everything flowing and made great recommendations to help things keep running smoothly. We received so many compliments about our ceremony, and I truly believe that Amanda was a big part of what made it so special. September 2021
Teejay & Nyza
We are so thankful for Amanda Gulka-Armstrong. She made our simple ceremony special and memorable for us. She was really professional, nice and sweet. She even made the whole planning process easy and stress-free. We highly recommend her to the couples looking for an officiant. Thank you so much again, Amanda! January 2022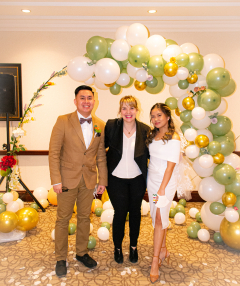 Joshua & Lauren
Amanda Gulka-Armstrong was amazing. She spoke with us a couple weeks before, knew exactly what we wanted, and was incredible on the day of. Showed up early, answered all our questions, and was just super amazing. Love how happy and bubbly she is! October 2021
Dion & Crystal
Amanda Gulka-Armstrong was awesome, we would highly recommend her to anyone. October 2021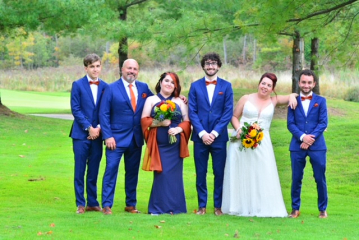 Diana & Jonathan
Amanda Gulka-Armstrong was AMAZING! She was kind, courteous, professional and so supportive throughout the pandemic. Amanda took the time to get to know us as a couple and make sure our day was the greatest it could be. I would recommend her in a second to anyone looking for a warm and truly loving officiant. We can't thank you enough Amanda! September 2021
Kelly & Matthew
Amanda Gulka-Armstrong was amazing and I couldn't have been more happy with her being apart of our special day!! Kelly & Matthew August 2021
Daniel & Lisa
Amanda Gulka-Armstrong was above and beyond wonderful to work with. Although our meetings were held virtually, we felt like we really got a good sense of who she is. Amanda is a warm, enthusiastic, and down to earth person! Amanda was very responsive and helpful and She walked us through every step of the process. Our ceremony was flawless and we felt like we could be ourselves with her. We would absolutely recommend Amanda to anyone we know! Daniel & Lisa August 2020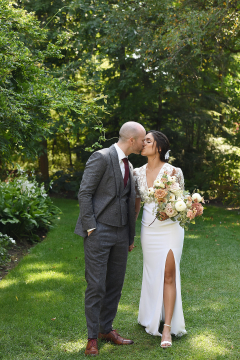 Mike & Kira
Amanda Gulka-Armstrong was amazing ! Amanda was everything we could have hoped for. Our "modified" wedding was put together pretty last minute and she was extremely helpful throughout. Thanks for making this part easy for us! Would recommend in a heartbeat. Mike & Kira June 2020
Leah & Salve
Amanda Gulka-Armstrong is super friendly and easy to deal with. Amanda made herself available for any questions or concerns which allowed me to not stress about the ceremony. Especially during this pandemic. Thank you for making my wedding happen. It was very important to us to keep our original date and you helped us accomplish that. We are grateful for the service. Leah & Salve June 2020
Ben & Olivia
Amanda Gulka-Armstrong was amazing! We booked her on VERY short notice for our small, impromptu marriage. Amanda made herself available to personalize the ceremony how we wanted. She was so friendly and lovely! As she led our ceremony, we noticed her calm and steady presence, as well as the emotion that she was able to convey. She was able to guide us (and our families) through an emotional event with such ease. I would highly recommend Amanda! You won't regret it! Ben & Olivia February 2020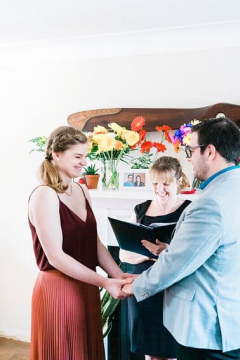 Ryan & Brittany
Amanda Gulka-Armstrong went beyond our expectations!!! Thank you SO much for helping us and make our day come together even in the middle of a pandemic! Ryan & Brittany May 2020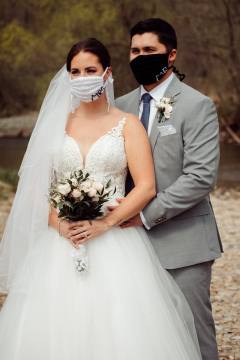 Rameez & Milena
Amanda Gulka-Armstrong was wonderful, friendly, funny, and personable. I could not imagine having anyone more wonderful than her to officiate my wedding. Her passion for love shows in the way she delivers the ceremony. She really does love love!! She has such a calming nature that helped me to feel at ease when I was overwhelmed with emotions. She helped to pull off a flawless ceremony that I will not easily forget. Rameez & Milena February 2020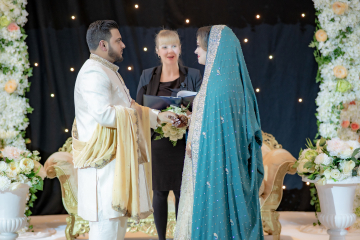 Robert and Wendy
Amanda Gulka-Armstrong exceeded our expectations. We want to thank you Amanda for all you have done for us and we are very glad we picked you to marry us. Thank you so much! Robert and Wendy February 2020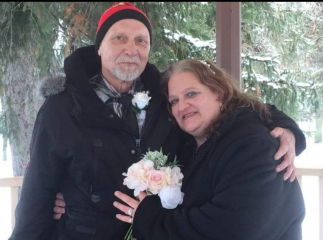 Adam & Carly
Amanda Gulka-Armstrong didn't just meet our expectations, she exceeded them. Amanda was wonderful! From the first time we spoke on the phone, Amanda was exactly what we were looking for- friendly, well-spoken and practical. When we met in person, we felt like we had known her for years. She was very flexible, open-minded, organized and professional. Amanda made planning this part of our wedding easy. We can't thank her enough! Adam & Carly December 2019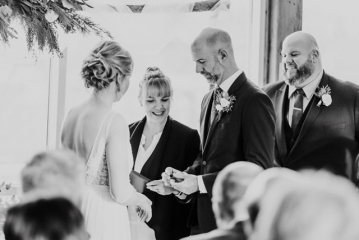 John & Kathleen
Amanda Gulka-Armstrong was amazing. She was very flexible when it came to meeting with us, she answered all our questions and she made some great suggestions. She was always prompt and prepared. Her kindness and friendly nature made it easy for us to feel comfortable with her. She understood how stressful wedding planning can be and she always reached out to us and offered support in any way she could. John & Kathleen November 2019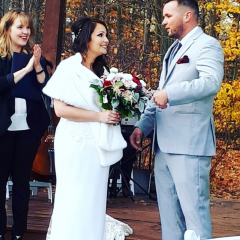 Jordan & Sonya
Our wedding was amazing and Amanda Gulka-Armstrong made everything so much easier! Thank you! Jordan & Sonya September 2019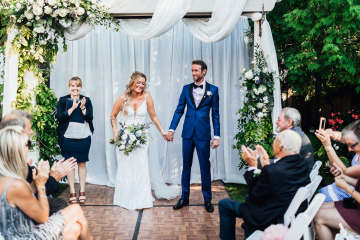 Lawrence & Jin Lin
Amanda Gulka-Armstrong was awesome! She accommodated to all our needs and requests. The ceremony was perfect. Thank you for being part of our special day. Lawrence & Jin Lin September 2019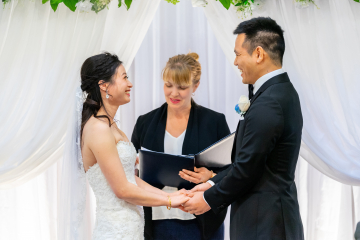 Linden & Tom
Amanda Gilka-Armstrong was the perfect wedding officiant and was a big part of why our day was so stress-free and fun! She worked with us to make sure our ceremony was exactly what we wanted, and was really clear and thorough in explaining the process (e.g., how to order our certificate, etc.). During our ceremony, Amanda was totally fine with our photographer being all over the place, which was awesome because it allowed our photographer to capture the most important and intimate moments. She was professional, punctual, always quick to reply to emails, and genuinely kind and easygoing. We cannot recommend her enough! Thank you, Amanda!!! Oct 2018
Diane and Mike
We both would like to thank you so much for officiating our wedding. We honestly could not have chosen a better officiant. Our ceremony was absolutely beautiful and we received so many compliments about how intimate and personal it was! This photo taken during our ceremony truly shows how genuine you are and just how much you enjoy what you do! - September 2nd, 2018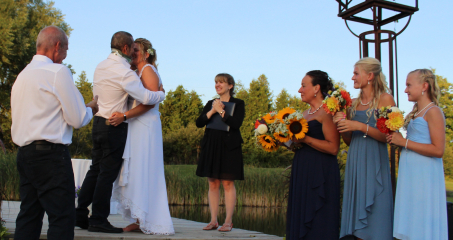 Elise & Ryan
Amanda Gulka-Armstrong was absolutely wonderful! She was energetic from the first phone call and we immediately felt 100% confident that she would make our day perfect. Thank you Amanda, we could not have picked anyone better to make our wedding official!
Christina & Joshua
Amanda Gulka-Armstrong was amazing! Amanda was so helpful. When my husband and I met her for the first time we just clicked. We were so happy to have her part of our wedding day. Thank you to All Seasons, and of course to Amanda.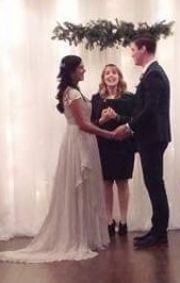 Rosanna and Raymond
Amanda was amazing! We asked for a short and sweet wedding and that is exactly what we got! She made us feel relaxed and helped throughout the whole process was always there to answer any questions or concerns we had. Thank you so much for making our wedding so special!!
Marisa & Jonathan
Amanda Gulka-Armstrong exceeded expectations! Alongside being professional, she was fun and authentic.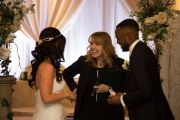 Alicia & Conor
Amanda Gulka exceeded our expectations. She was extremely organized, punctual, professional and friendly. She was very easy to communicate with throughout the process and was able to accommodate all of our requests. We would highly recommend Amanda's services to others!
Scott and Kelly
Dear Amanda (Gulka), Thank you so much for officiating our ceremony. Kelly and I were very pleased with your enthusiasm and professionalism from the initial meeting to our our wedding day. We also appreciated your flexibility to customize the ceremony according to our wishes. It was a great day and we were happy that you were a part of it. Sincerely, Scott and Kelly Dec 20, 2014
Rebecca & Keri
Hi Amanda, It is hard to believe that 2 weeks have passed since our wedding. Thank you so much for sharing in our day and for giving us an incredible ceremony. Our day was everything that we envisioned and more. We are still smiling from every memory we have from the day. We had so many compliments on you, Everyone thought that you were incredible. From reading your profile we knew that you were open and loving and we had hoped that you would be available to marry us. When we met you in the coffee shop you made us feel so welcomed and you were incredibly personable and we knew we had made the right choice. So thank you! Also, when I googled to you I had no idea that it was you who got engaged at Market Fresh and I can totally remember reading that in the paper after it happened and it made me love you even more. Thank you so so much!
Sigurd & Adele
Hi Amanda!! Thank You Very very very much for a Wonderful Wedding Ceremony Service. The ceremony was beautiful!! You did such a nice job Amanda and so many people commented on how wonderful you and the ceremony were. Congratulations to you and your new Husband on your wedding too, I hope your wedding day went really good too. Sigurd and Adele
Joey and Maria
Upon first reading Amanda's profile, we were instantly impressed with her feelings toward marriage. Our initial meeting was positive, with Amanda providing instant feedback regarding any concerns we had expressed about our upcoming nuptials. Amanda was consistently available when needed, willingly lending a hand with a smile. On our wedding day, Amanda was encouraging and bubbly, helping to put everyone at ease with her charismatic personality. We are glad that we chose Amanda, we wouldn't have wanted anyone but her! Thank you Amanda for your hard-work and dedication in making our special day one to remember!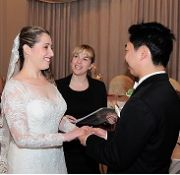 Melissa & Michael
Amanda Gulka surpassed our expectations. She was so pleasant and easy going. She saw that the ceremony was short and sweet as we requested (which was a good thing as the heavens opened and the rain came down shortly after the ceremony). We absolutely loved her! Amanda made the whole process so easy. She is so approachable. We had an instant connection. Thanks so much for being a part of such a beautiful day.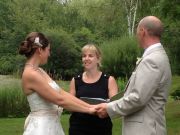 Ashley & Jordan
Amanda Gulka was amazing! I could tell by her profile she was exactly the personality I wanted to represent our day and when we met her she was just as I imaged! She is so positive and vivacious! Such a wonderful amazing person! We can't be more grateful to Amanda for helping us "seal the deal" and we will refer her to anyone looking for an officiant who cares about you and the type of ceremony you really want. Thanks Amanda!!
Sarah & Shawn
Amanda Gulka made this experience one to remember. From our first meeting to the ceremony she was extremely kind and helpful. We have already recommended her and your services to other couples we know who are getting married in the next few years! Amanda sent us suggestions and ideas which made it so easy for us. The ceremony was so lovely, exactly what we wanted and we know it was because of her kindness and because of who she is as a person. Thank you SO MUCH Amanda!!!! We will never forget what you brought to that day!!
Lisa & Robert
Amanda Gulka did an excellent job with both the meeting and the ceremony, she was dressed appropriatly and spoke with confidence. The day was perfect, your price was competative, it was a good experience.