Allison Adamovits, MSW
Allison lives in Carleton Place and is the proud parent of three children. She enjoys riding horses, kayaking, and gardening. She also skates, hikes, and has performed in musical theatre. She's active in charities that support animal welfare. Allison is excited to join in your commitment to each other and make your day all you want it to be. *Please note Allison is fully booked until Nov 2022.
Request Allison Adamovits
Areas Served
Lanark, Carleton Place, Smiths Falls, Perth, Almonte, Pakenham, Maberly, Merrickville. Ottawa West, West Carleton Township, Goulbourne Township, Stittsville, Richmond, Fitzroy Harbour, Dunrobin, Kanata, Bells Corners, Kinburn
Reviews
Trevor & Christie
Allison Adamovits was so lovely to deal with the entirety of the process. She has a very warm and compassionate personality. She was very accommodating with our schedules to book in the planning meeting and showed up the day of the ceremony very prepared. September 2022
Erin & Jeff
Allison Adamovits is fantastic. Even with Covid and all of the re-planning, she was very accommodating. Her ceremony was very good and she kept her cool while our baby screamed his lungs out. We have already referred her to others. Erin & Jeff August 2021
Sabrina & Konrad
Allison was amazing! She made us feel comfortable and relaxed through out all our meetings and on our big day!. When i had become nervous during the ceremony she made me feel comfortable and spoke softly so that i didn't mess up on the vows :)!. We are so happy that we chose her, I would highly recommend her! Thank you so much for making this experience comfortable for us, and making our day that much more special. Thank you so much. Sabrina & Konrad July 2018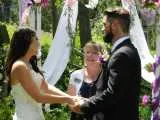 Janet & Chris
Allison Adamovits did a fantastic job, highly recommend her.
Alysha & Tyler
Allison Adamovits was very professional, made us feel super comfortable and she was amazing!